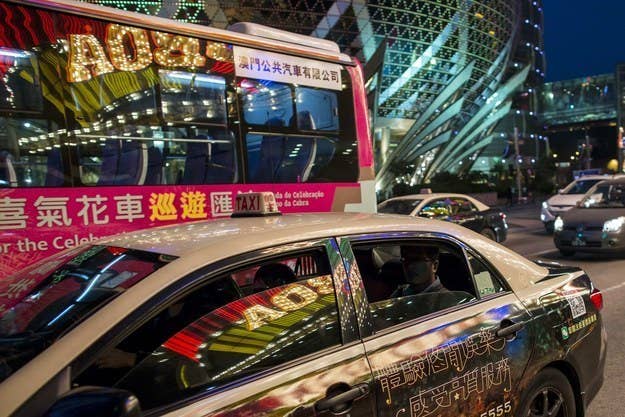 China's largest ride-hailing company is looking to move well beyond just taxis and limos to create a comprehensive transportation platform for the world's most populous country.
Earlier this month, Kuaidi Dache and Didi Dache ended their pitched battle for the No. 1 spot and merged to create a united company estimated to be valued between $15 and $20 billion, according to a company spokesperson (though earlier reports peg the combined entity's value at $6 billion). The merger combines the resources from Kuaidi Dache backers Alibaba — China's answer to Amazon — and SoftBank Capital with those of Didi Dache backer Tencent in a fight for the Greater China market.
With its deep pockets and newly expanded footprint, the company — which will continue to operate under both brand names — is looking to offer consumers more than just a way to hail a taxi or a limo. In an interview with BuzzFeed News, Kuaidi Dache chief strategy officer and co-founder Joe Lee said the company is exploring projects such as applying the mobile technology to hail buses — almost like a massive version of UberPool — and (curiously) giving people the option to hail nearby drivers to bring their cars home when they're drunk.
"With the big data we have collected we can do so many things," Lee told BuzzFeed News. Lee said the companies are also exploring carpooling — a service not readily available in the country. "In China people are lacking of trust of each other," he said. "But we already broke that lack of trust issue with the [feedback system] for riders and drivers. I think that we can use that [newly established trust] to also introduce carpooling."
Among the players vying for the same market is Uber, which recently received funding from Chinese web services company Baidu. But Uber is only operating in nine Mainland China cities, as opposed to the 350 that Kuaidi Dache alone is operating in, and Lee says the American company is inherently disadvantaged in China.
"Uber definitely is a very respectable player; it was one of the earliest players in the market," Lee said. "And Baidu definitely has a strong establishment. [But] this car service operation requires a very strong offline team. That service mentality has to be developed. Baidu is a search engine. It does not have a strong offline team and Uber definitely not."
Among the new ride-hail behemoth's advantages are its deep pool of drivers — 2 million, by Lee's estimate. It also has the considerable resources of Kuaidi Dache and Didi Dache's respective backers. Alibaba, for example, has Alipay, the leading third-party paying app in the country according to Lee, and Tencent is behind the leading instant messaging apps WeChat and Weibo.
"We have a lot of strategic resources," Lee said.
But the newly merged company also has another fundamental advantage over Uber: It's legal. The companies partner with fully licensed car rental companies, not private drivers — a fact Lee says facilitated the company's rapid expansion. Uber, otherwise known as "everyone's private driver," has been facing significant regulatory setbacks in the region, and while the company has seemingly overcome similar setbacks in the U.S., international markets and regulatory agencies won't necessarily cave to the company's demands in the way some local U.S. agencies have.
"From the government officials that I personally or my team has been in touch with, Uber doesn't have a very strong relationship with them and they don't know the policies," Lee said. "As you can imagine, the most important part is you have to spend a lot of time talking to the government."
The joint company is also considering using its new market share and resources to expand outside of the Greater China region. According to Lee, Kuaidi Dache has already had luck in Hong Kong, where it launched late last year. Lee said they expected to have a difficult time breaking into the market, which had several existing ride-hail players like Easy Taxi and Uber. But in a matter of months, Lee said, Easy Taxi bowed out of the Hong Kong market and Kuaidi Dache became the No. 1 player. "I am sure the way we have done things in China can be replicated in other countries," he said. "Our team has the international capability to move to different countries."
However, as BuzzFeed News reported, several Uber competitors around the world have floated the idea of a global anti-Uber alliance that may include things like cross-booking, or even a global network of taxi drivers. Potential players in the alliance include SoftBank-backed Olacabs and GrabTaxi, which both also operate in Asia. Just shortly after BuzzFeed News reported on the alliance, SoftBank Capital led a $600 million round of funding in Kuaidi Dache. And Lee confirmed there certainly have been talks — though nothing set in stone — among the players, including Kuaidi Dache and Didi Dache.
When asked whether the newly formed company's plan to expand beyond Greater China would jeopardize the potential alliance, Lee said, "As you can see in China, even two big competitors can merge with each other. Any kind of cooperation to any degree is feasible in the future. However we don't have a solid agenda. The talks haven't gone that far yet."