Behind The "Wheel" Of The Mercedes Driverless Car
LED touchscreens and laser projections promise a safer, more luxurious commute.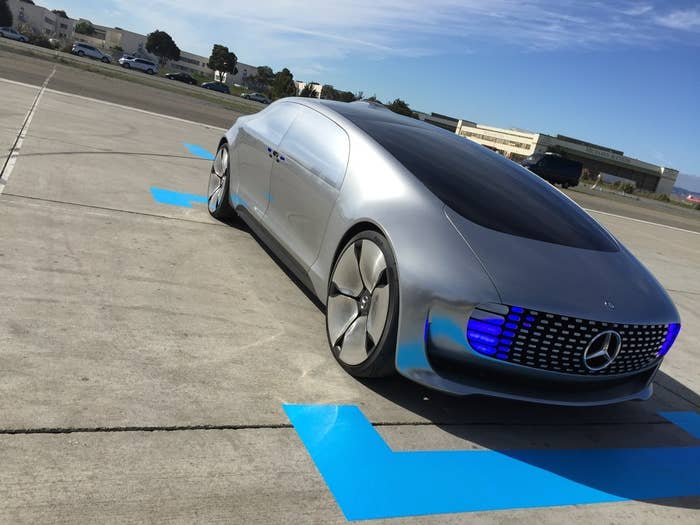 It's the year 2030 and your daily commute begins with the press of a button. Using a smartphone app, you summon an autonomous car — the Mercedes F015. The car starts, exits a parking garage, and drives itself to your house to pick you up.
Equipped with LED touchscreens, the F015's saloon doors open to a luxurious interior — hardwood floors and four white leather seats with a touchscreen table between them.
You step in, sit down, and tap "go" on the touchscreen nearest you. You enter your destination and the speed at which you want the car to drive — anything between "relaxed" and "dynamic," dynamic being the fastest legal limits will allow you. In a moment, you're on your way, free to check email or chat with fellow passengers. You ignore the car's gas and brake pedals and retractable steering wheel. This is 2030 and they're largely unnecessary.
Using an array of ultrasonic sensors and cameras, the F015 navigates freeways, steering clear of other traffic. When a pedestrian suddenly steps in front of it, the car projects a laser walkway and offers a diplomatic audio message: "Please go ahead."
This sort of situational awareness is important to passenger and pedestrian safety. And during my driverless F015 test-drive, it was clear Mercedes views it as key to the success of its driverless car efforts. The company is devoting a lot of time and money to safety cues like the laser walkway or other images that will be projected in the road in front of it like a stop sign or "SOS," which it hopes will help win consumer and government trust. But refining them is no easy matter when simple things like a sunny day can make them more difficult to see.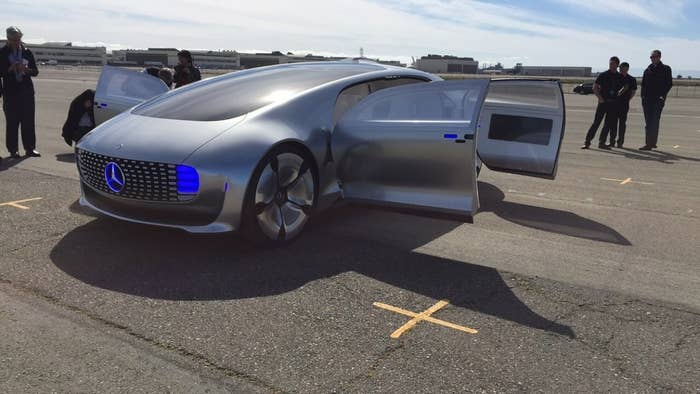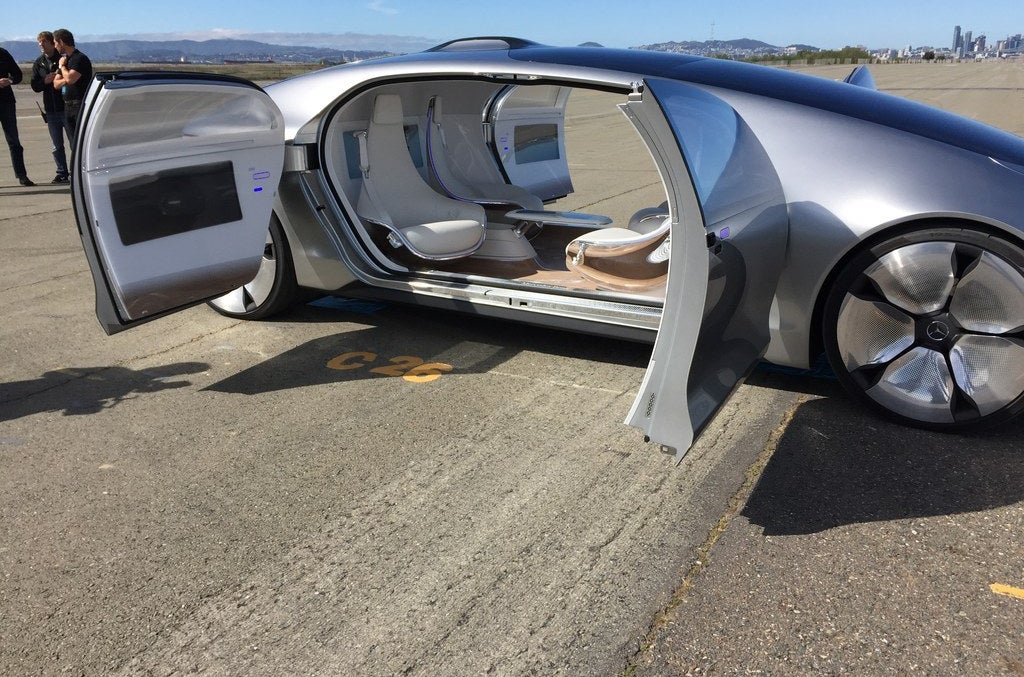 Riders, pedestrians, and regulators must trust autonomous driving technology for it to become a reality. And establishing that trust largely rests on constant communication. Governments must be certain that cars like the F015 can safely navigate their roadways. And passengers must be certain that they can truly relax in the car, particularly if what Mercedes is selling is the luxury of a commute that requires no human oversight.
Mercedes has plenty of time yet to dial things in. Alexander Mankowsky, head of future studies and ideation at Mercedes, told BuzzFeed News that he believes it'll be another 10 years before any of the technology on display in the F015 is truly road-ready and viable.
And even then, regulatory hurdles could slow or limit its deployment. Consider this: In the United States, just four out of the 18 states that have considered laws allowing autonomous vehicles to drive on public roads have passed them. Complicating the legal challenges facing Mercedes and other self-driving car companies is the fact that traffic and infrastructure, as well as definitions of autonomous vehicles, vary vastly across the globe but even within the United States.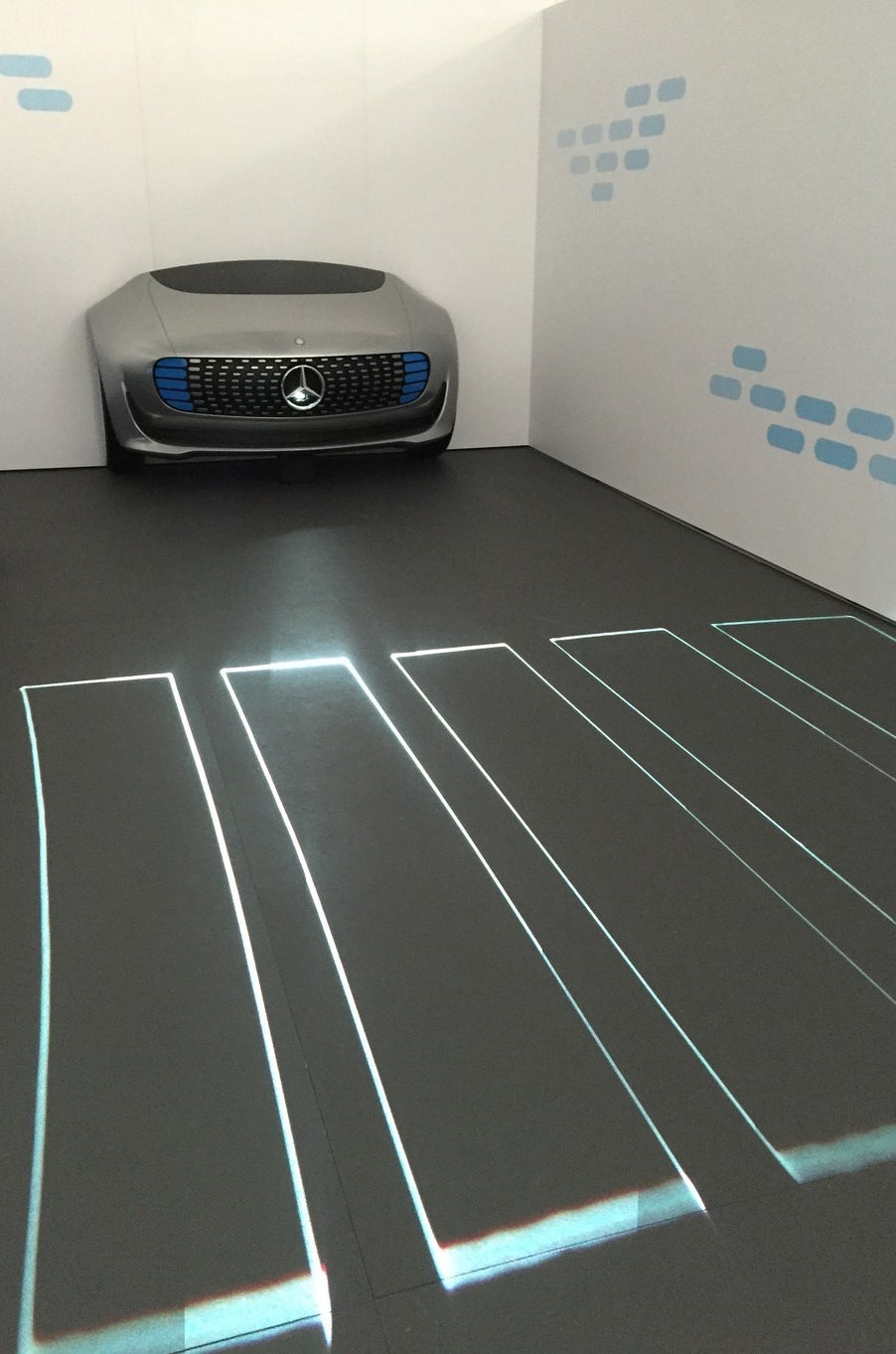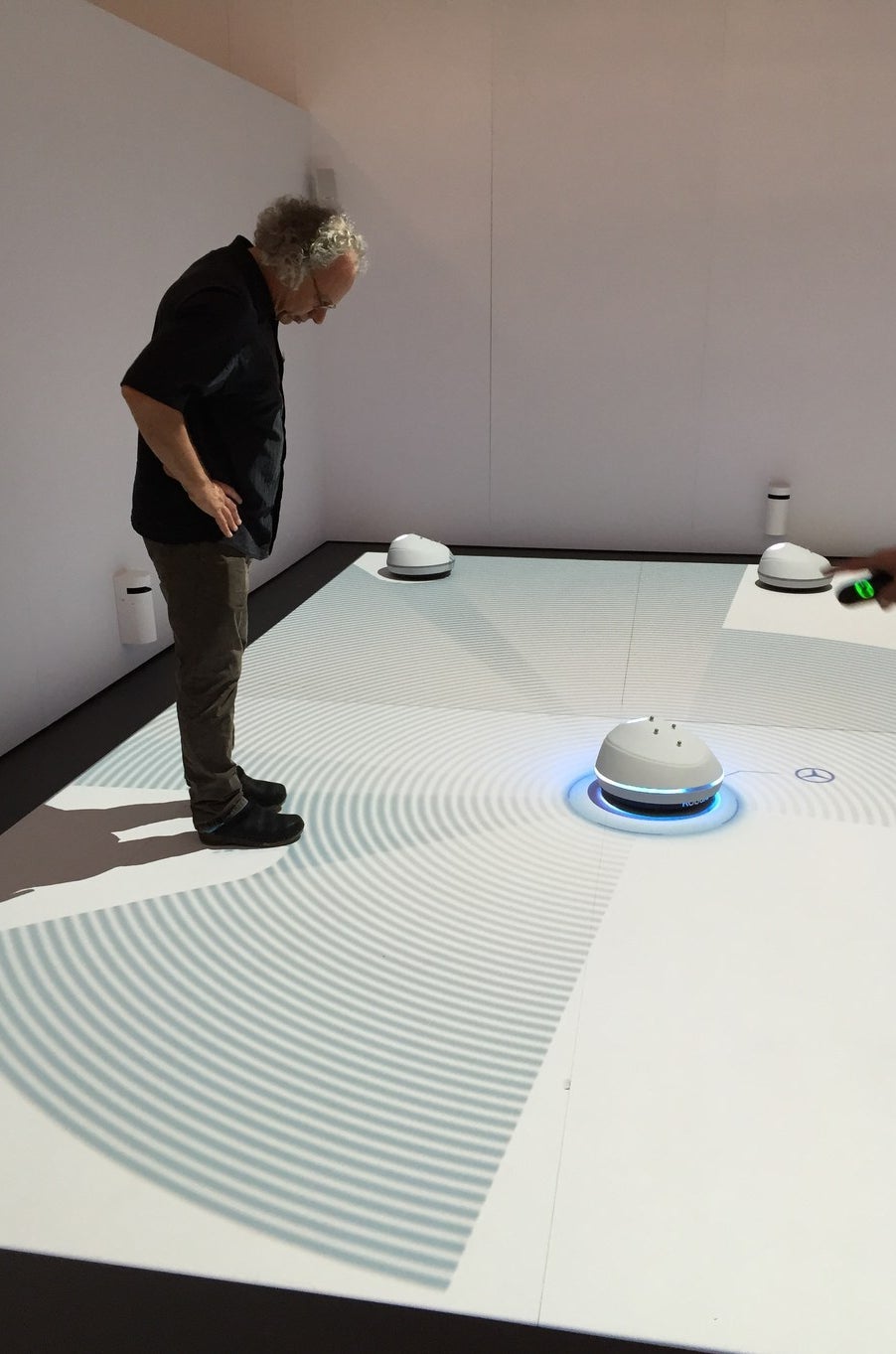 Alexander Mankowsky, Mercedes head of Futures Studies and Ideation, demonstrating how the F015 uses its radars to detect people and things surrounding it.
The simple truth is this: Driverless cars work best and most safely around other driverless cars. That's why companies like Mercedes and Tesla are pushing for autonomous vehicle lanes similar to today's low-emission zones. Changes like these won't come quickly or easily, but Mercedes is confident they will come. Indeed, Holger Hutzenlaub, the man behind the exterior design of the F015, believes they're inevitable.
"We assume that the world 15 or 20 years from now will spin faster than it does today," Hutzenlaub said."Cities will get even bigger, the population will increase faster, urban areas will become even denser. In short, city life will be busier and more hectic and will all be traveling more frequently than we do today. It's clear where this has to lead — private space and time will become the luxury commodities of the future."