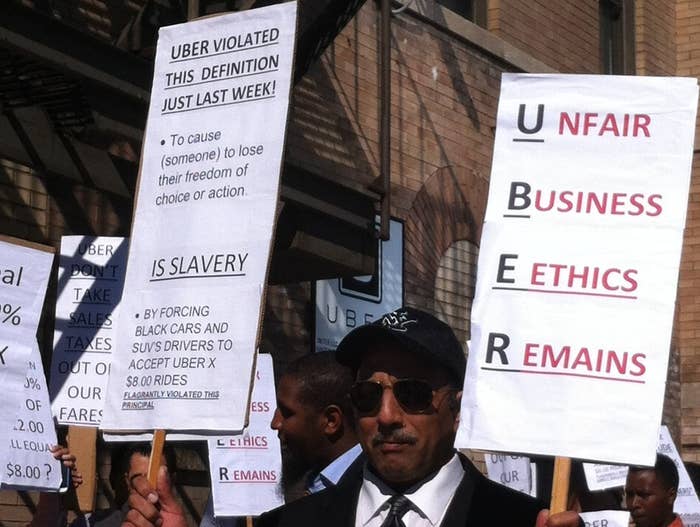 When New York area workers started flocking to Uber, they did so because the company promised better pay, more autonomy, and the opportunity to be treated as "partners" by the ride-on-demand startup that has taken the industry by storm. Instead, they've found themselves beset by rate cuts, mandatory fares, and underhanded corporate tactics.
In recent weeks, drivers have started taking a stand but they won't give up their jobs for one simple reason: They're certain Uber is the future of their industry and they're trying to shape it.
A group of more than 1,000 Uber drivers — operating as the Uber Drivers Network of NYC — have spent the past two weeks fighting the car-on-demand mammoth.
These drivers, who are independent contractors for Uber, have cycled through protests, work strikes, and organizational meetings, all in an attempt to return to the pay rate and policies that once made being an Uber driver — as Uber NYC's General Manager Josh Mohrer described to BuzzFeed News — "the best economic opportunity" for employees of the car service industry.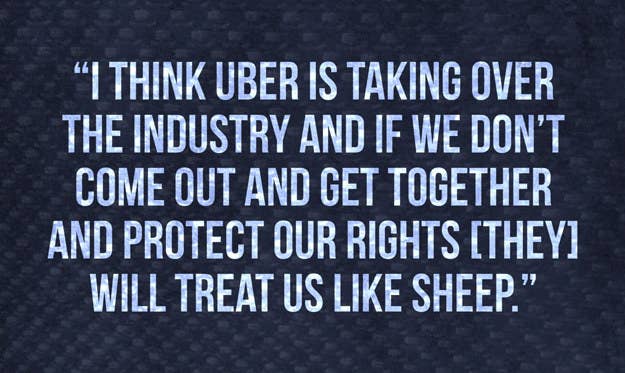 Though many of Uber's policies and cutthroat recruitment tactics point to the company's overriding lack of concern for the drivers' livelihood — at protests and the meeting the group held, drivers charged that the company is only concerned with clients and not the "partners" providing the service — these drivers possess a peculiar loyalty to the company and, despite the frustration, have no plans to stop working for Uber.
Why?
In New York, the car services industry, particularly yellow cabs, once represented a stepping stone for recent immigrants. Now, it's an industry where some have inherited the occupation, others have made a long-term career of it, and most are committed to either maintaining or developing better conditions for the greater good of the industry.
"We don't have the intention to change companies," Iliass S., an organizer, told BuzzFeed News. "I think Uber is taking over the industry and if we don't come out and get together and protect our rights [they] will treat us like sheep. They will just give us orders and we will have to accept them without having any voice."
The drivers argue that by undercutting the costs of taxis and other car services, Uber is trying to monopolize the industry, and if and when they do (a prospect held as inevitable by many of the drivers BuzzFeed News spoke to), drivers will be stuck with sub-taxi fares and no tips. Put simply, Uber is too big to ditch.
As BuzzFeed News reported, the drivers won a small victory when Uber changed its policy requiring drivers to accept less lucrative rides, though the company claims the decision had nothing to do with the protest.
Still, at an organizational meeting last Friday, drivers seemed optimistic, even convinced that it was their work that incited the change in policy. In their continued efforts, these drivers hold onto that optimism.
"I believe we can make changes," Riaz Abdeen, one of the eight organizers, told BuzzFeed News in a phone conversation today. "What we need is 2,000 drivers or more. We need more drivers to protest, go strike."
The group is waiting until it recruits 2,000 drivers to begin protests again, Abdeen said. But at this past Monday's protest, the number of drivers dwindled to fewer than those at Friday's meeting — which saw just under 200 or so drivers — and far fewer than the 1,000 or so drivers at their first protest in front of Uber's Long Island City offices.
Despite what the numbers may indicate, the movement isn't losing steam. Many drivers struggled to find parking near the offices and others didn't know about the protest. Within a matter of days, in fact, the group's Facebook page grew from approximately 700 or so likes to 1,025.
Reaching and mobilizing these drivers is no easy task. The obvious disadvantage of driving for app-based services like Lyft and Uber is that drivers don't have a physical centralized hub or base. This is only made worse by language and cultural barriers, as well as many of the drivers' limited use of social media. Indeed, the first group of protesting drivers found one another through other personal connections, word of mouth, or because drivers' frustrations led them on a search for a place of solace or help which brought them to the group's Facebook page.
The group's organizational meeting on Friday, held in the Woodside neighborhood of Queens, was the first time many of these drivers had met face-to-face gathered as Uber drivers. Even in the presence of like-minded and equally frustrated drivers, the organizers had trouble controlling the crowd. Emotions were high. On several occasions, drivers interrupted the main speaker, Abdoulrahime Diallo, to voice their own concerns — often times they were Uber X drivers who were worried the movement was too focused on SUV and Black Car drivers' concerns. Twice heated arguments broke out among two drivers, and both times they were of different ethnicities.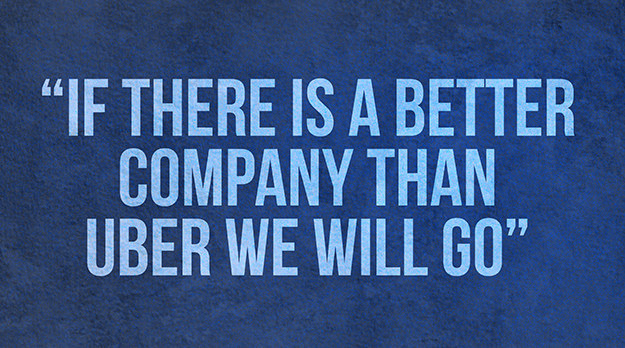 The organizers — and the drivers — comprise a patchwork of ethnicities, speaking many different languages. Two of the organizers, who are related, are from Guinea, one was Bangladeshi, another had a Spanish background, and another was of Middle Eastern descent. After the meeting, many of the drivers stayed back to continue to discuss the group's plans after they prayed the Muslim evening prayer. Scattered near the entrance of the park, there were several circles of men each speaking their own language, some Arabic, some Urdu, some Bengali.
Much of the fragmentation within the group is being played out in the comments section of the network's Facebook page, which serves as a stand-in for a centralized hub. After last Monday's protest, the organizers chided the drivers who didn't show up. Others bemoaned on the lack of unity among drivers, or questioned the group's strategies.
The group's impact on Uber and the industry in general seems to hinge on dissolving the barriers and disjointedness within the group.
The group's primary grievances now are the "temporary" summer Uber X discounts that made the service cheaper than taxis and the company policy that discourages riders from tipping their drivers because it is "included" in the already discounted fares.
Earlier this week the company announced these temporary fare cuts will be implemented year-round in San Francisco, a move that is likely to be mirrored in New York if the data supports it.
But the drivers won't stop fighting and, what's perhaps more puzzling, they also won't immediately quit Uber if the company does implement the 20% price cut year-round in New York.
Both Abdeen and Iliass told BuzzFeed News that if the company rolls back the 20% price cut and encourages riders to tip their drivers they will be satisfied and will be able to enjoy the advantages Uber undoubtedly provides.
"If there is a company better than Uber we will go," Iliass, one of the organizers of the group who drives for both Lyft and Uber, said. "There are advantages with these companies that use the app. They cut the middle man, as they say. I don't have to wait in a certain place for a dispatch to call me or tell me where to go. Uber still gives us the opportunity to benefit from the surge pricing. When the prices is double we still get something out of it, even if they charge 20% and taxes ... it's still better than Lyft in terms of how much we make. Lyft doesn't have enough customers; they just started."