An Entrepreneur Says Travis Kalanick Stole The Idea For Uber
Kevin Halpern argues that his company, Celluride, was the basis for Uber. "I thought I could form a business relationship with Kalanick as an advisor or team member," Halpern said in a video statement. "Kalanick created an exact replica of Celluride and called it Uber."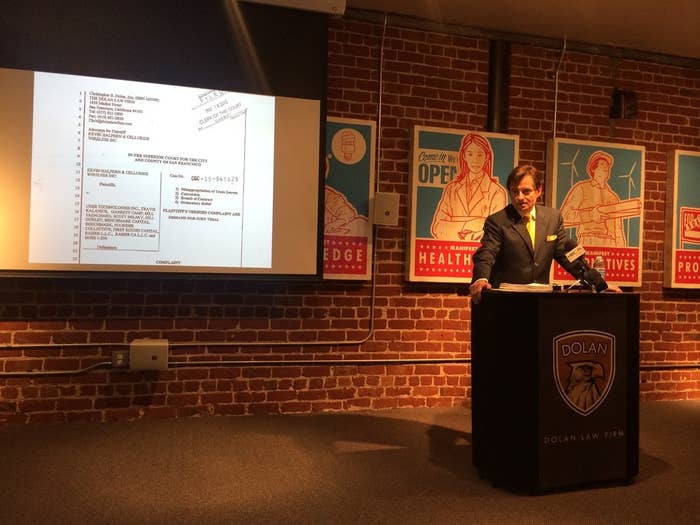 Kevin Halpern, the founder of a company called Celluride, is suing Uber CEO Travis Kalanick, his co-founder Garrett Camp, and a number of early investors, such as the venture firm First Round Capital, for stealing the idea of an on-demand car service.
In the suit, filed yesterday in the Superior Court of San Francisco, Halpern argues that Kalanick stole the idea in 2006, when he and Halpern worked in neighboring office spaces in San Francisco. At the time, Kalanick was the CEO of a company called Red Swoosh and Halpern was in the midst of developing Celluride — a mobile, peer-to-peer private-car-hailing service that Halpern had been working on for years. The company was operating in stealth mode and only a trusted few people were fully prepped on what the logistics behind the service would entail. One of those people was Kalanick: the man who, years later, founded a similar company called Uber.
Halpern is suing Kalanick and various others — including Camp, and early Uber investors Bill Trenchard and Bill Gurley — for misappropriation of trade secrets, conversion, and breach of contract, and is asking for "compensatory damages." Neither Halpern nor his lawyer, Chris Dolan, has announced the amount of the damages, though the suit alleges that he has been "injured in excess of" $1 billion.
According to a video statement Halpern produced himself and published yesterday, he trusted Kalanick because they both were renting office space from a mutual friend: Jonathan Abrams, the founder of Friendster.
"Kalanick was brilliant at gaining my trust," Halpern said in his video statement. "I thought I could form a business relationship with Kalanick as an advisor or team member and shared Celluride's presentation, architecture, brochure, and cell phone demo. Most importantly we discussed the massive business opportunity of the private transportation market, which he knew nothing about at the time."
In the video voiceover Halpern says Kalanick then "created an exact replica of Celluride and called it Uber."
This isn't the first time that Halpern has filed a suit of this nature that also involved Abrams. In 2009, Halpern sued the founder of Offerpal Media, Anu Shukla, for breach of contract, arguing he was cut out of stock options he was promised for helping create the company. In that suit, Halpern also alleged that he and Shukla developed a personal relationship after Shukla consulted Halpern for advice on creating a new social network.
According to court documents, part of the case was thrown out because Halpern did not show up to his deposition.
"You'll find that in the court record," Dolan said at the press conference. "But he indeed did resolve it with some of those involved, indicating that his claims were valid."
In the suit, Halpern argues that in addition to Kalanick, Trenchard, now a partner at First Round Capital, played a particular role in stealing the idea for Celluride. Halpern argues that he reached out to Trenchard — a fellow Cornell alumnus — through a mutual connection for advice on how to best launch Celluride. At the time, Trenchard was the CEO of a LiveOps, a cell center platform for home-based contractors, and, as Halpern referred to him, was the pioneer "of the scaling of a distributed workforce platform." "Finding someone ... that went to Cornell and I trusted was a dream," Halpern said.
But soon after Halpern and Trenchard began corresponding, Trenchard joined First Round — an early investor in Uber. "It is clear to me now that while I thought Trenchard was helping Celluride, he was taking my information as an agent for First Round and the Founder's Collective," Halpern said in the video statement citing articles about Trenchard's involvement with both firms. "As an authorized agent his conduct is their conduct."
And indeed, copies of email exchanges included in the suit and shown in the video statement do indicate that Trenchard and Halpern in fact spoke about Celluride and had an ongoing correspondence.
The 44-page lawsuit contains little hard evidence that Kalanick and Halpern discussed Celluride — but at the press conference Dolan told BuzzFeed News that not only were there witnesses to some conversations, but more documents and evidence would come out during the discovery process.
"Jonathan Abrams was there for some of them," Dolan told BuzzFeed News after the press conference. "There are also certain things that Mr. Halpern knows after having discussions with Mr. Kalanick that he believes people don't know publicly yet. That's often how people demonstrate they had contact with someone."
Uber argues that that no such interaction has occurred and the claim that Kalanick or any investor stole the idea for Uber is patently untrue. In a statement provided to BuzzFeed News, Uber spokesperson Kristin Carvell wrote: "These claims are completely baseless. We will vigorously defend against them."
To that, Dolan said: "I had asked them previously before the lawsuit was filed if there was anything they disagree with and if they have contrary facts to let me know. I don't want to pursue a lawsuit that was frivolous. We got nothing from them. Why didn't they provide information or even a statement that this was not true or explain why? If it was frivolous, it would have been, I think, to their benefit to provide something."
When asked why Halpern waited so long after his initial interactions with Kalanick — and the creation of Uber — to file suit, Dolan said that Halpern only recently realized how big the company was, and how much of a role Kalanick played.
"There was a period of time when Uber wasn't such a big deal," Dolan said. "And Kalanick's role wasn't as obvious until the last year or so. Mr. Halpern believes Kalanick was hiding in the background. Until Travis came on the scene and pissed everyone off it wasn't clear Kalanick was the puppet master."