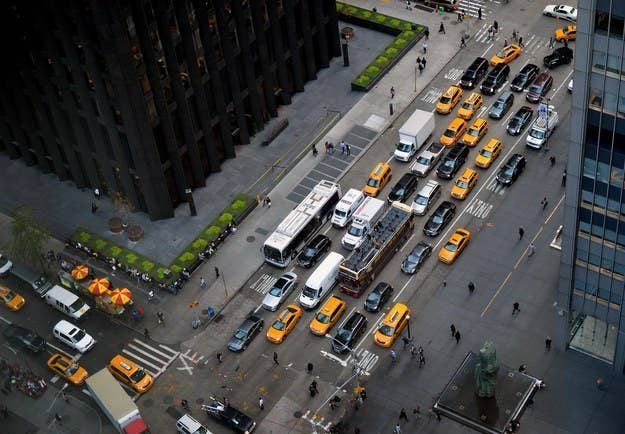 Here are some facts: New York City traffic is notoriously bad. More cars mean more carbon emissions, which is bad for the climate. And finally, New York City is the largest market for Uber in the United States.
The city has taken those facts to mean that Uber and companies like it may be the cause of slower traffic speeds and increasing congestion over the last few years.
To that end, the city council and Mayor Bill de Blasio's administration have proposed a yearlong freeze on growth of all for-hire vehicle companies while the city conducts a study of traffic patterns, congestion, and air quality. In Uber's case, the cap would limit the ride-hail giant to just 201 new drivers for the year.
And this could very well cripple Uber, perhaps permanently, in one of its crucial markets.
Uber has 26,000 active drivers and 18,000 registered vehicles in New York alone (that means New York City makes up about 16% of the ride-hail giant's American driver force). That's a lot of cars, so a yearlong cap on growth may not seem like a death sentence.
But consider that Uber sees 25,000 new users every week in New York. If demand continues at this rate and the supply of rides stays more or less stagnant, the time riders spend waiting for their Uber driver — especially in the outer boroughs — will certainly increase.
In 2014, wait times in Manhattan were only 2 minutes and 25 seconds, while in the outer boroughs they were 3 minutes and 8 seconds. With the cap, however, it's likely that outer borough service will falter as most drivers will flood Manhattan to meet the exploding demand. And for a company that has staked its reputation on getting you a ride — fast — longer wait times are a very, very bad thing. Uber's worst-case scenario in New York City is that formerly loyal riders will grow frustrated with this and turn to a faster alternative.
With the rapid growth of Uber and similar services, it makes sense that the city would want to freeze growth in order to effectively analyze traffic congestion. "With an anticipated 2,000 additional vehicles coming online each month, it's not a great stretch of logic to say that hitting a temporary pause button prevents a lot of skewed results," TLC spokesperson Allan Fromberg told BuzzFeed News.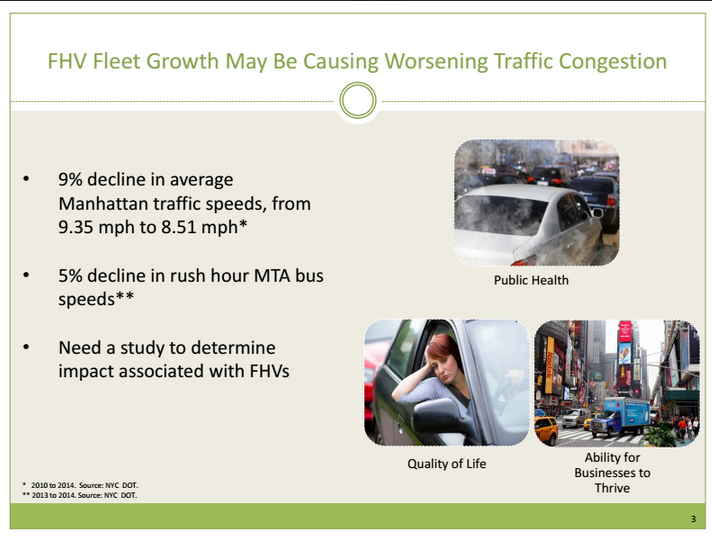 According to a PowerPoint provided by City Hall, there are currently 63,000 for-hire vehicles — 63% more than there were in 2011 — and 13,587 taxis on the road in New York. And according to that same PowerPoint, average traffic speeds in Manhattan went from 9.35 mph to 8.51 mph between 2010 and 2014, based on data from the Department of Transportation.
However, TLC data published last year, which is broken into two to three month increments, paints a slightly different picture. According to that data, speeds in Manhattan ranged from 8 mph to just under 9 mph in 2007 and 2008. And also according to the data, average speeds went back down to under 9 mph between April and December of 2013.
That's to say that traffic speeds in Manhattan seem to vary by about a mile — and have been doing so since 2007. Though traffic did decrease in 2014, perhaps this was a return to the city's norm of 2007, rather than a clear linear downward pattern.
"The de Blasio administration is pushing a policy to cap Uber that is contradicted by their own data," Uber spokesperson Matt Wing told BuzzFeed News. "Given this information was conveniently left out of the city's proposal, can anyone honestly still say their motivation is solving congestion?"
But the deBlasio administration contends there is a difference between weighted data over an entire year versus incremental data. It also contends that even a 1 mph decrease year over year is indicative of substantial congestion given the sample size of 24 million rides.
"Speeds last year were the slowest since the city began measuring taxi GPS data, and coincided — paradoxically — with a drop in vehicles entering the Manhattan core," de Blasio administration's Deputy Press Secretary Wiley Norvell told BuzzFeed News. "These two contradictory phenomena, coupled with the unprecedented increase in for-hire vehicles, is what is driving our belief that a thorough analysis is needed here. The functioning of our transportation system is a vital priority for us as a matter of public policy. We are ensuring that during the evaluation period there will continue to be more and better for-hire service than at any time in our history, with modest growth continuing to serve New Yorkers."
Uber does have other options, however. If the cap passes, the company can promote its service to existing black car drivers who already have TLC licenses and vehicles. Whether that will either be necessary or enough is yet to be seen.