A New App Lets Uber Drivers Report Fare Discrepancies
SquaredFare, an app independent of Uber, keeps track of rides to make sure Uber pays drivers the right amount.
When it comes to interacting with Uber, its drivers have only two options: email support or physically go into the nearest office. Neither of which is easy for someone who spends all day driving to wherever their next passenger wants to go. If, say, there is a problem with the fare Uber calculated, how does a driver know — much less quickly report it to Uber?
Now, drivers have a fast, efficient means to rectify a fare discrepancy. SquaredFare, an app created by president of the California App-Based Drivers Association Joseph DeWolf, works alongside and yet independently of the Uber app to keep track of all your fares in order to ensure they are accurate. (This app, DeWolf told BuzzFeed News, is not affiliated with CADA.)
"Another thing the app does is it allows the driver to report rider issues in a very efficient way," DeWolf told BuzzFeed News. "If there was an unsupervised child in the car, drivers can immediately send Uber a pre-scripted email explaining exactly what's happening. Drivers don't have a lot of time to stop their cars and type out emails so we have tried to make it as simple as possible to report fare issues and rider issues and get back on the road."
And even if there is nothing to report, SquaredFare keeps a record of all of a driver's rides and fares in case a driver's account is deactivated or deleted for any reason. The logistics of the app is much like that of Uber: A driver will start and stop the trip and the GPS-activated algorithm will input the time, distance, and local base fare and any applicable surge pricing into Uber's formula to determine how much that trip costs. SquaredFare, however, is not integrated with Uber's open API, which prevents the app from starting and stopping a trip automatically when the driver does so in the Uber app. In other words drivers have to start and stop the trips in SquaredFare themselves. But DeWolf said there was good reason for that choice.
"We did not use their API because number one we didn't want them to access what we're doing," DeWolf said. "It's just a trust issue, but also if we were using their API any network error that was happening in the Uber app would happen to us too. Our calculation would be shorted if Uber's was."
Though DeWolf initially feared a backlash from Uber he provided emails to BuzzFeed News showing that Uber's customer service has responded well to the pre-scripted requests to change a fare. After listing the pick up and drop off locations the pre-scripted email reads:
Please be advised that Uber undercharged the rider.

My calculation shows my mileage at 4.43 Miles, and the trip duration was hours:0, mins:13, secs:55. The fare breakdown was a base fare of $5.00. Mile charges were $10.41. Time charges were $5.57. Toll charges were $5.00. The safe rides fee was $1.00. The surge was 1.00 x.

According to my calculation, that the fare should have been $26.98. The Uber fare was shown on my phone was $26.39.
And after requesting some more information, Uber responded:
Happy to adjust this trip for you, Mohsen.

The fare has been adjusted to the correct amount of $26.98 to reflect the pickup and drop-off locations you provided.

Please continue to let us know about any trips that may need adjustment within 48 hours so that we may charge the rider and adjust appropriately.
As of right now, SquaredFare is only available in Los Angeles and San Francisco and cannot be used to report Lyft fare discrepancies. It is free to download and use for now, but DeWolf says all that will change as the company grows. "When we come up with the second version that we're already working on we'll ask for a subscription from the drivers," he said. "Some of our drivers are saving up to $70 a month on just fare adjustments and they have said to us for this particular service they'd be willing to pay up to $10 a month for this."
As for why DeWolf and his team chose not to build an app that reports discrepancies to Lyft, he said: "The vast majority of the complaints were regarding the Uber network and we saw fewer complaints about Lyft. We decided that there was a definite need for Uber riders but not so much for Lyft drivers. But certainly if they reach out to us we can build one for Lyft."
A pre-scripted email an Uber driver sent through SquaredFare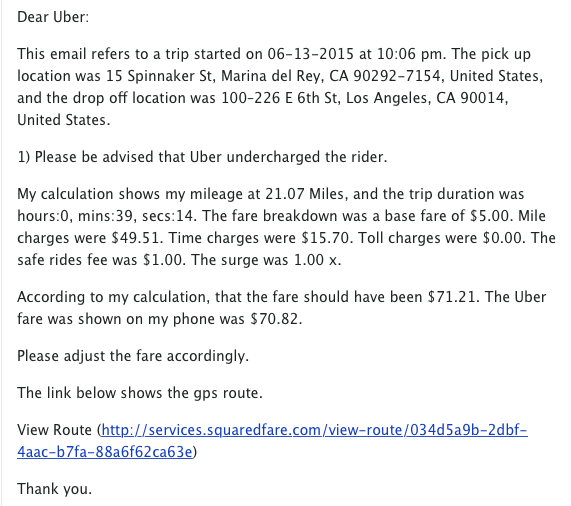 Uber's response: