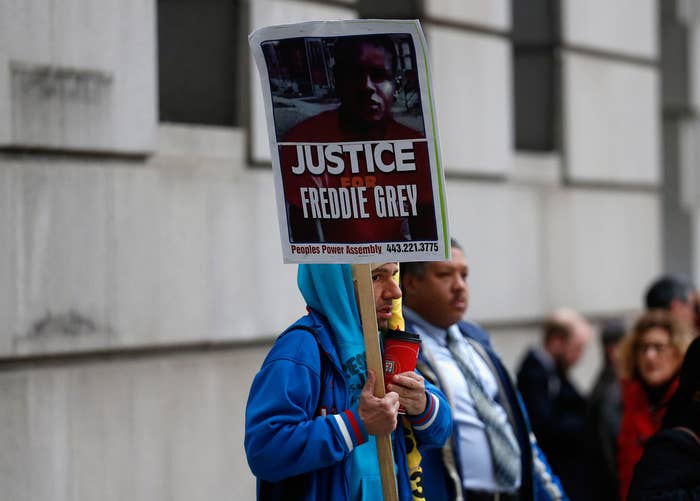 BALTIMORE — Monday marks the first day of the trial for the first of the six Baltimore police officers charged in the death of a Baltimore man whose death in police custody sparked riots in the city last May.
More than 70 jurors — and about 50 protesters — showed up at the downtown courthouse for the opening day of the trial of Officer William Porter, who faces charges of involuntary manslaughter, second-degree assault, misconduct in office, and reckless endangerment associated with the death of Freddie Gray, a young black man who died after suffering fatal spinal injuries while in the hands of police.
In the wake of renewed concerns about police use of deadly force against black citizens, including recent protests in Chicago and Minneapolis, Baltimore — a city long dogged by racial unrest and accusations of police brutality — is the first to stage a criminal trial for an officer.
In particular, Baltimore should prove an intriguing testing ground for the challenges in prosecuting police violence against blacks: Most of the case's notable figures — the judge, the prosecuting attorney, and the defendant — are black. Indeed, Baltimore has the nation's fifth-highest proportion of black residents at little more than 65%.
Porter, 26, has pleaded not guilty — the officer was the same age as Gray the day of the encounter. The other five officers will be tried consecutively, starting Jan. 6. Judge Barry Williams, a former attorney who made his name pursuing police misconduct cases for the federal government, said the trial should last no longer than Dec. 17.
The people summoned to court Monday morning generally reflected Baltimore's demographics: About 40 members of the jury pool appeared to be black, a little more than half of them women.
In a commanding baritone, Williams took the prospective jurors through a lengthy series of questions designed to suss out potential conflicts or biases. One of the few moments of levity came when Williams asked if they or any of their close family members or friends had been previously employed with a law enforcement agency.
"This doesn't mean your play cousins from North Carolina you haven't talked to in years," he said, drawing some muffled laughter in the courtroom.
Williams also read off a list of about 170 potential witnesses, inquired if any had "strong feelings" about the race of Porter, who is black (only one stood up, a black woman), and also asked them if any had been victims of crime, previously investigated by law enforcement, been jailed, or had any pending criminal charges (37 stood up in response).
Nearly 30 claimed to have reasons they couldn't serve on the panel because of pre-planned trips or medical issues preventing them from sitting for more than an hour and a half.
"I believe it's important for members of our community to be part of our juries," Williams told them.
He then adjourned the open court session and started interviewing the jurors in closed quarters, a courthouse spokesperson said.
The trial is expected to feature the first public account of what happened April 12 when Gray, a 25-year-old high school dropout who'd been in and out of prison for various drug charges, was arrested on a weapons charge after running from an officer in his West Baltimore neighborhood.
During his arrest, Gray suffered a severe spinal cord injury in the back of a police van that led to his death seven days later. The nature of Gray's injuries has led to speculation that he was subject to a "rough ride," in which a handcuffed suspect is placed in the back of a police van and deliberately jostled.
Porter's attorneys have said Porter will likely take the stand. The Baltimore Sun has previously reported Porter was present at multiple stops of the van in which Gray was injured, with prosecutors likely to allege that he should have sought medical attention for Gray.
On Monday, the broad-shouldered, round-cheeked Porter sat with his attorneys, wearing a dark blue suit and yellow tie.
The case has again galvanized protesters, who showed up outside the courthouse and could be heard yelling even from inside the courtroom. It was a reminder of the tumult that gripped the city in late April when a week of protests followed Gray's death, with some of them turning violent and resulting in widespread damage in several parts of town — including Gray's old neighborhood.
Thus, activists, attorneys, and public officials will be keeping close tabs on events inside the courthouse believed to be the first in a major U.S. city named for a black person. The 115-year-old, six-story, white marble courthouse that occupies a full city block was named for Clarence Mitchell, a Baltimore civil rights icon whose work as an NAACP lobbyist earned him the nickname the "101st Senator."
"For much of its history, the turn-of-the-century local courthouse on the corner of Fayette and St. Paul streets was a place blacks went to only when they got into trouble," the New York Times wrote in March 1985. "Everyone who worked there, from the judges to the janitors, was white."
Mitchell left behind a legacy of work that some of his descendants took up themselves. In a story from April 2000 headlined "Police Silences Can Be Broken, Experts Say," the Washington Post closed with a quote from Mitchell's grandson. Clarence Mitchell IV, then a state senator, told the Post that he'd proposed a bill that would enable the state prosecutor to investigate fatal police shootings.
"It's very difficult for state's attorneys to indict police," said Mitchell, now a host on local radio station WBAL. "The relationship is so critical to them to do their job that they don't want to indict people they need to make other prosecutions."