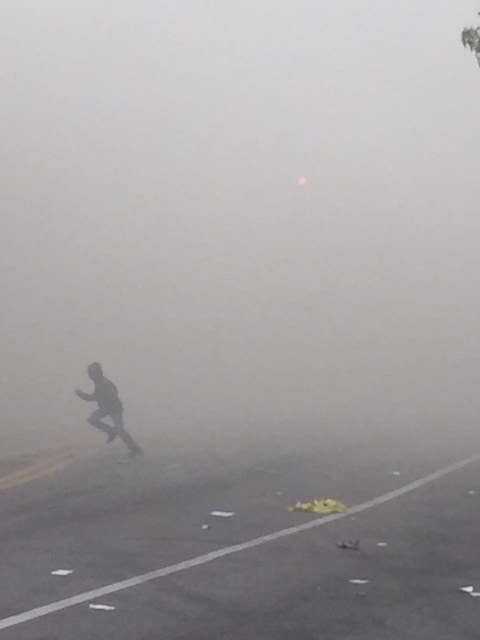 BALTIMORE — With sirens wailing from blocks away in all directions, and helicopters whirring overhead, Baltimore spent Monday preparing to burn.
From his stoop on West North Avenue, Deron Martin could see officers and young protesters facing off in the middle of the street about a quarter mile away.
Behind them were the smoldering remains of the intersection of West North and Pennsylvania avenues, an important intersection in the struggling neighborhood of West Baltimore. Only hours earlier, there had been a CVS store, a Subway restaurant, a check-cashing business, and a few other small shops near the bus stop there.
They were all gone now, consumed by flames. And perhaps the anger of neighborhood youth.
Their anger surged shortly after the funeral of Freddie Gray, a 25-year-old black man who died on April 19 — a week after he somehow suffered a major spinal cord injury while in Baltimore police custody. The violence in Baltimore is a dreadful echo of the unrest in Ferguson, Missouri, that followed the killing of Michael Brown, an unarmed black man, at the hands of Darren Wilson, a white police officer who said he acted in self-defense. Since then, the killings of unarmed black men across the country have sparked a nationwide movement protesting what they see as excessive force by police. On Monday in Baltimore, that frustration with police boiled over into violence.
"It's from years and years of taking shit," said Martin, a longtime resident and a cook at a nearby soul food restaurant. "Now we're at a point where people just don't give a fuck."
This hopelessness — expressed by many young protesters in Baltimore — arose from frustration with a system that they believe has consigned them to police brutality, poverty, and even poorer prospects. The streets were filled with children Monday, many of them fresh out of school and itching for a fight with police. By 4 p.m., around the time schools let out for the day, people were hustling out of office buildings, and stores and restaurants were closing their doors to customers.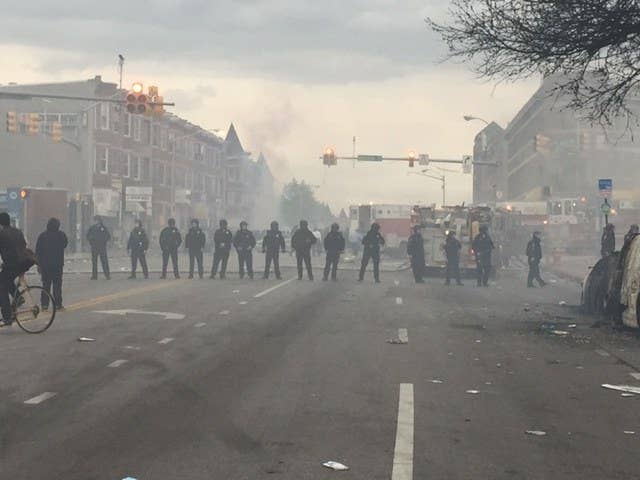 Fires burned around Baltimore as law enforcement agencies scrambled to contain the violence. Maryland Gov. Larry Hogan declared a state of emergency, activating the National Guard. The Baltimore Orioles canceled their game against the Chicago White Sox. And at least 15 officers were injured as demonstrators threw rocks and bricks.
"Ain't nobody scared of y'all," shouted one teenage boy, wearing a blue hooded sweatshirt. "This is karma!"
Much of the damage occurred in the West North corridor's row of small businesses, which mostly includes convenience and liquor stores, hair and beauty shops, and fast food restaurants. Looters also hit nearby Mondawmin Mall, but officers in riot gear quickly made their way to the scene. Once there, the mostly teenage crowd threw rocks, bricks, and bottles while officers responded with tear gas and pepper spray. In East Baltimore, the Baltimore Sun reported, a senior center under construction was set aflame.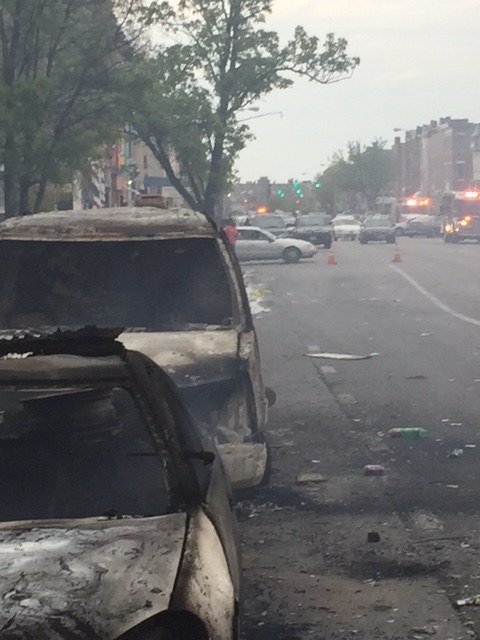 "Can I get something?" a man said, rushing up to the Shake Shack in Downtown Baltimore.
"Sorry," said one of the employees, stacking up chairs on the patio. "There's nothing open down here. It's going to be bad."
On the Baltimore Police Department's Twitter feed, officials repeatedly warned motorists to stay away from West Baltimore.
In a neighborhood that's been on the decline for decades, Monday's clashes could have been a devastating blow.
"This has set West Baltimore back at least 10 years," said David Lemus, who works at Frozen Desert Sorbet, which had been scheduled to open next week. "I don't know why they choose to do this in the slums and the hood, because this is where those businesses were needed."
Lemus said Frozen Desert's other store, at Lexington Market in Downtown Baltimore, was damaged in protests on Saturday afternoon. Mostly broken windows, Lemus said.
But anticipating a repeat Monday, Lemus and a few of his co-workers came out to their store in West Baltimore — next door to the Islamic Community School — to protect against any more vandalism.
They stood by as dozens of children bolted up and down the street, breaking into a pharmacy, clearing off the shelves, and disappearing down side streets. Other teenagers — many of them wearing bandanas to cover their faces from the smoke — came down the street, carrying items stolen from stores farther up the block.
Lemus shook his head.
"I know people are frustrated," he said. "But we live here. This is our neighborhood. Tomorrow, when the people want to get a sandwich from Subway while they wait for the bus, it ain't gonna be there."
He paused. "This ain't about Freddie Gray."