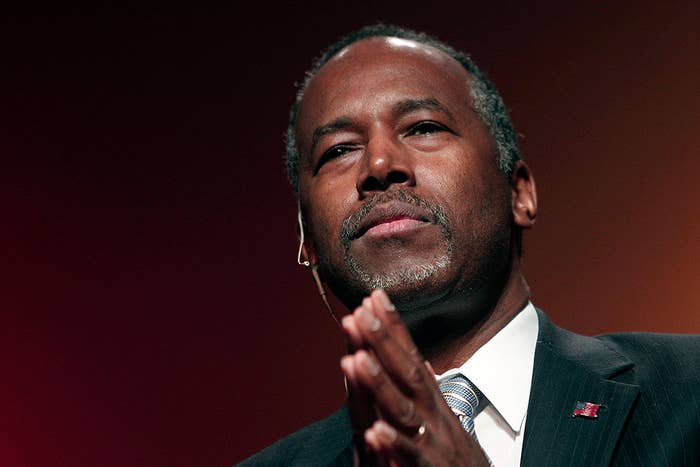 DETROIT — Ben Carson had one last stop before he announced his presidential bid: the Ben Carson School of Science and Medicine.
The retired neurosurgeon had a comfortable chair, a microphone, his wife at his side, and a captive audience of overachieving teenagers at his namesake school. In this building, Detroit welcomes him — and he is in his element. Carson, who has received more than 25 honorary college degrees, noted the high school had also granted him an honorary diploma.
"Which is great," he said, "because my high school" — meaning the one he actually attended — "is closed."
Carson changed the course of his life through education. His improbable story has been told many times — how he was a bad student from a very poor family, but his mother refused to let him drift into further disadvantage and instilled in him the values that would turn him into a world-famous neurosurgeon. Detroit, and its poverty, serve a crucial role in that story. And outside this warm room at the Ben Carson School of Science and Medicine — where he is a living, aspirational piece of history — the parts of Detroit Carson hails from, the ones he has long sought to inspire, have fallen deeper into deprivation and ruin as the city's financial woes have worsened.
The aside might have been a joke, but his alma mater's closure is real — and recent. Southwestern High School, once a basketball powerhouse, is now a shuttered brown-brick shell of its former self. The high school was one of five closed in 2012 as Detroit spiraled into bankruptcy and residents fled, forcing district officials to cut costs.
Today, the building is a three-story eyesore in a city full of them, a vacant wreck of broken glass, toppled ceilings, crumbling bricks, and discarded books and desks. It is covered in graffiti, a sign of lifelessness that has made it an inviting target for scrap-metal thieves and drug dealers.
In places like these, the Ben Carson story — the one told in tandem to poor black kids and older white evangelicals — isn't as alluring.
"Listen, I'm from Detroit and I'm somewhere in the loop of things," said Courtney Guillebeaux, 60 years old and a former member of the city's Black Panther Party. He spent much of Tuesday rounding up friends and neighbors and bringing them to polling stations on a big election day throughout Michigan.
"I think the purpose for him being in the race is to pull away votes from someone legitimate," Guillebeaux said. "It's manipulative. He needs to get out and stop trying to fool people."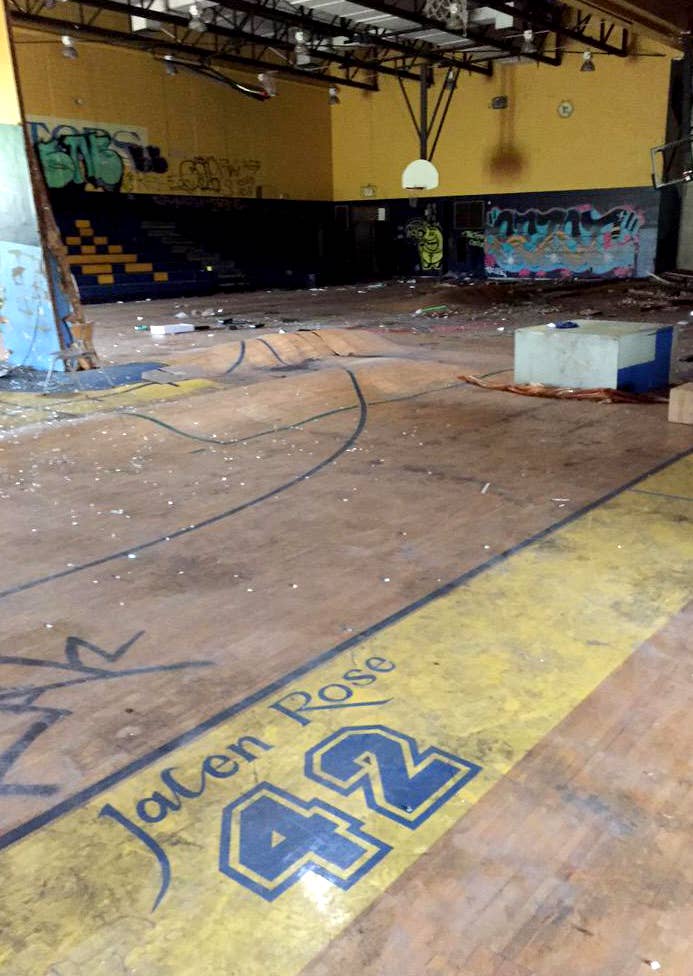 Once upon a time, Southwestern High and the surrounding neighborhood were the pride of the community. The school's campus faced a bustling thoroughfare that led all the way into downtown and was lined with automotive factories and warehouse facilities, stores, and restaurants. It was a poor part of town, but a living one. College and NBA standouts like Jalen Rose and Voshon Lenard played at Southwestern. The school once advanced to the state championship game seven times in nine years.
Today, one of the remaining safe areas on campus is the track behind the high school, where members of the track team from Catholic school Cristo Rey High School hold their practices.
Stopwatch in hand, coach Karl Riley said Monday was one of those rare days when you couldn't hear scrap-metal thieves — known as "scrappers" — going to work inside the hollowed-out campus buildings.
"This is how they left a lot of the schools here," Riley said. "You'll probably see about 50 parcels like this across the city."
A Detroit native, Riley said Carson graduated with his brother-in-law in 1970. Despite that familiarity, Riley politely dismissed Carson's chances of finding much political support in his hometown.
"This is a Democratic area," Riley said. "I know he's black, I know he's hometown, but I don't think a majority of the people here want to deal with a Republican."
Several blocks away, Rubin Godinez had caught a glimpse of Carson's announcement on TV — he was enthused. A native of Sabinas, Mexico, Godinez came to Detroit in 1965 to build a new life, and he and his wife raised six children, all of whom graduated from Southwestern High.
Godinez had been particularly impressed with Carson's wife, Candy, who played the violin during a rendition of the "Star-Spangled Banner."
"That's a family thing," Godinez said, excitedly. "When you play together, you stick together."
Now 75, Godinez's neatly tended garden is an oasis in a neighborhood that has slowly succumbed to drugs and crime.
In 2009, Southwestern's recently hired basketball coach had to step down after he was wounded by gunfire while walking to his sister's house. In 2011, Southwestern was placed on the Michigan Department of Education's Persistently Low Achieving (lowest 5%) list, making it eligible for closure by the state. In 2012, the school was forced to close.
"There's no windows left in the thing," said a surveyor working on the grounds Monday. "It's a bummer. There's parts of that school that I wouldn't go into, that's for sure."
Community organizer Simone Sagovac said when residents in the city's southwest side neighborhoods initially heard about plans to name a school after Carson, they assumed it'd be his alma mater.
"Then we heard it was going to be another school, and that was the insult to injury," Sagovac said. "There's all this targeted investment, where resources are channeled into certain areas of the city. Nobody has done it out here."
"Sometimes I think people forget where they came from," said Rashida Tlaib, a 1994 graduate of Southwestern High and a former Democratic member of the Michigan House of Representatives.
Tlaib, who is the first Muslim-American woman to serve in the state legislature, was prominent among the voices who fought hard to keep school officials from closing Southwestern. Many times, Tlaib said, she reached out to Carson and Rose, the former Michigan basketball star, and heard nothing back from them. She noted Carson has rarely been involved in recent efforts to revitalize his old neighborhood and that Rose has his own charter school in the city.
"It's easier to go into areas that are striving, that are doing much better," Tlaib said of Carson. "But it would have been more powerful if he'd come to the neighborhood where he grew up."
The school named for Carson is a different story.
Only 4% of Detroit's high school students are proficient in science, 6% in math, and 33% in reading, according to the governor's office. How to address the miseducation and mismanagement of the city's schools — in the face of spiraling debt — remains a bitter political battle.
But the Carson school, which the district takes care to note is "located in a safe area with accessible bus routes," is one of the jewels of Detroit's troubled public school system, a beacon of hope in an otherwise desolate landscape.
The Carson school may also be one of the few areas inside Detroit, for decades now a black Democratic stronghold, where everyone still knows and reveres Ben Carson.
"This is history," said a black female bus driver, who came into the school solely to snap pictures of Carson. "I might even give him a chance [as a presidential candidate] and see what he says."
The campus of Carson High School is on the edge of downtown, the area that has witnessed years of redevelopment efforts. There is a Whole Foods only blocks away. And the school is located in the heart of the Detroit Medical Center — better for the students to get the sort of medical and science training that makes the school unique among Detroit's flailing public school system.
Carson High serves an overwhelmingly black (94%) and female (66.5%) student body, according to school district data. But the school — perhaps by virtue of its application for admission process — pulls from a slightly more affluent crop of students, with 53.8% receiving free or reduced lunch, rather than the 84.6% who do across Detroit public schools.
Ninety-three percent of the school's 103 seniors have been accepted into college or the military, and the school expects that number will reach 100% before graduation in June. The seniors, the first in the school's four-year history, have been awarded more than $2.2 million in scholarships, and 80% of them have participated in college courses, internships, or a pre-nursing or phlebotomy program.
About 100 of those students greeted Carson on Monday, gamely playing their role in the political rollout for the world-famous neurosurgeon from their hometown. A handful hosted a live talk show–style event called "Think Big" — a reference to one of Carson's favorite mottos and his second published book. Carson may well have seen himself in these students, who meet regularly with professionals in the science and medical fields as part of the school's unique curriculum.
"You guys seem to be a lot nicer than the guys I went to school with," Carson joked, to tepid laughter. "You guys seem to be a lot more mature than they were."
It was easy to see why Carson chose to include the school that is a virtual shrine to his life and accomplishments as part of the launch for his longshot bid for the White House.
When Carson took the stage, he revisited themes he's touched upon hundreds of times before in his books and speeches, some well before he was publicly identified as politically conservative: "The person who has the most to do with what happens to you is you," he told the students.
One student asked Carson about how he learned from mistakes, giving him an opening to draw a parallel to the earliest — and failed — attempts at organ transplant surgeries and how perseverance was necessary for growth.
He also used the question as a chance to pivot to the dangers of premarital sex, telling girls that teenage pregnancy would hold them back and that boys left themselves vulnerable to sexually transmitted diseases.
"It's a mistake to have a baby while you're young and out of wedlock," Carson warned. "Don't just give yourself away to some guy."
Afterward, students were given a chance to get autographs and take pictures with Carson. At least a couple of them got confused in the scrum, begging Carson's — much shorter, much darker-skinned — business manager Armstrong Williams for a picture.
"Dr. Carson? Can you take a picture, Dr. Carson?" asked one of the girls, repeatedly.
For Asiah White, the senior class president, this was the fourth time she'd been at school for a visit by Carson. She expected to see him again in June, during her graduation ceremony.
It was impressive that he came back so often, White said, because it was a reminder that kids from Detroit could indeed go on to do great things. Even become president.
But White, who turns 18 in January, wouldn't promise to cast her first presidential ballot for the man whose quotes and pictures and achievements adorn the walls of her high school.
"I know about his politics," she said. "I just choose not to say anything about them."