In the summer of 1997, Clementa "Clem" Pinckney and his rookie campaign manager braved the sweltering heat day after day to knock on doors all across the South Carolina Lowcountry.
Friends said Pinckney had little trouble maneuvering the dirt and gravel roads — most with no shoulders, only shallow ditches lining the way — of the swampy backwater. He never seemed to wilt in the stifling humidity. No home or double-wide was too run-down for a visit. He carried with him a Bible translated into Gullah, a language of enslaved people and their descendants spoken among people in the Lowcountry. And if Pinckney did come across a stranger on those junkets, they didn't remain one for long.
But along the way, the campaign manager eventually figured out the one part of campaigning that was wholly uncomfortable for Pinckney, who at the time was the youngest African-American ever to serve in the state legislature. Fundraising.
"This was a guy who was almost ashamed — he didn't even wanna ask people for money," said Jason Johnson, now a professor at Hiram College in Ohio and a political analyst. "He knew the people didn't have a lot. He felt like he was one of them, so he understood how much even a little money was to them."
Friends and colleagues say Pinckney never forgot those people or their challenges, not on the campaign trail, not when he took his seat at the state capitol in Columbia, and not when he spoke from the pulpit of one of Charleston's most prominent black churches. They also say those people, who are disproportionately black, poor, and vulnerable, lost an important advocate on the floor of the statehouse when Pinckney, state senator and pastor of the state's oldest black church, was slain along with eight of his parishioners last week by a killer said to be an avowed white supremacist. His wife and two children lost a husband and father.
In an era where many ambitious black politicians present themselves as post-partisan technocrats, Pinckney was a man in the mold of an earlier age: born of modest means, raised in the church, and bearing the kind of populist, faith-based, left-wing politics shared by so many leaders of the 1960s civil rights movement.
Some speculated that he might move into U.S. Rep. James Clyburn's spot upon his eventual retirement. Others thought he might've made a future run at the governor's seat. A few saw him focusing more on his career in the church and becoming a bishop in the African Methodist Episcopal church. For those who knew him best, "Clem" seemed called to faith and struggle even from a young age, work that an assassin's bullet has left unfinished.
Pickney will be eulogized in Charleston by President Obama on Friday, a gesture that shows just how much Pinckney meant to the state, and now, in martyrdom, to the country.
"It's a tremendous loss that this community will never get over," said state Sen. Ken Williams (D-Marion), who was a cousin of Pinckney's. "He worked tirelessly for the downtrodden, the less fortunate. He was their eyes, their voice, their ears."
Pinckney represented South Carolina Senate District 45, a sprawling, contorted product of redistricting that covers the swampy southern tip of the state, picturesque coastal towns — including Charleston — in the east, and parts of the former sharecropping belt along the western border of the state.
Inside that peculiar bundle of boundaries is Ridgeland, a town of about 2,500, only a short drive from the desirable coastal towns of Hilton Head and Beaufort. That's where Pinckney grew up, where he settled after college, and where he launched his career in public service.
After visiting Pinckney's childhood home during that summer on the campaign trail, Johnson still couldn't understand why Pinckney — a man of considerable smarts, charisma, and work ethic — decided to return home instead of moving somewhere like Washington, D.C., or Atlanta, and making lots of money.
"A lot of men and women who are black who come from that part of the country, they leave," Johnson said. "They get that degree and they're out of there. The racial and economic oppression is so intense that a lot of people don't want to stay."
Johnson couldn't believe the condition of Pinckney's childhood home: "It's not a stretch to say that it was a shack," he said. Most of the neighboring homes were just as decrepit. There were few good jobs. The climate, both literally and politically, was generally inhospitable. It didn't make sense for Pinckney to be there, let alone with a wife and two children.
"It's really amazing that you had someone with all of his talent and ability say, 'No, I actually want to build my life here,'" said Johnson. "Not because he didn't have any other options, but because, at his core, he cared about that community."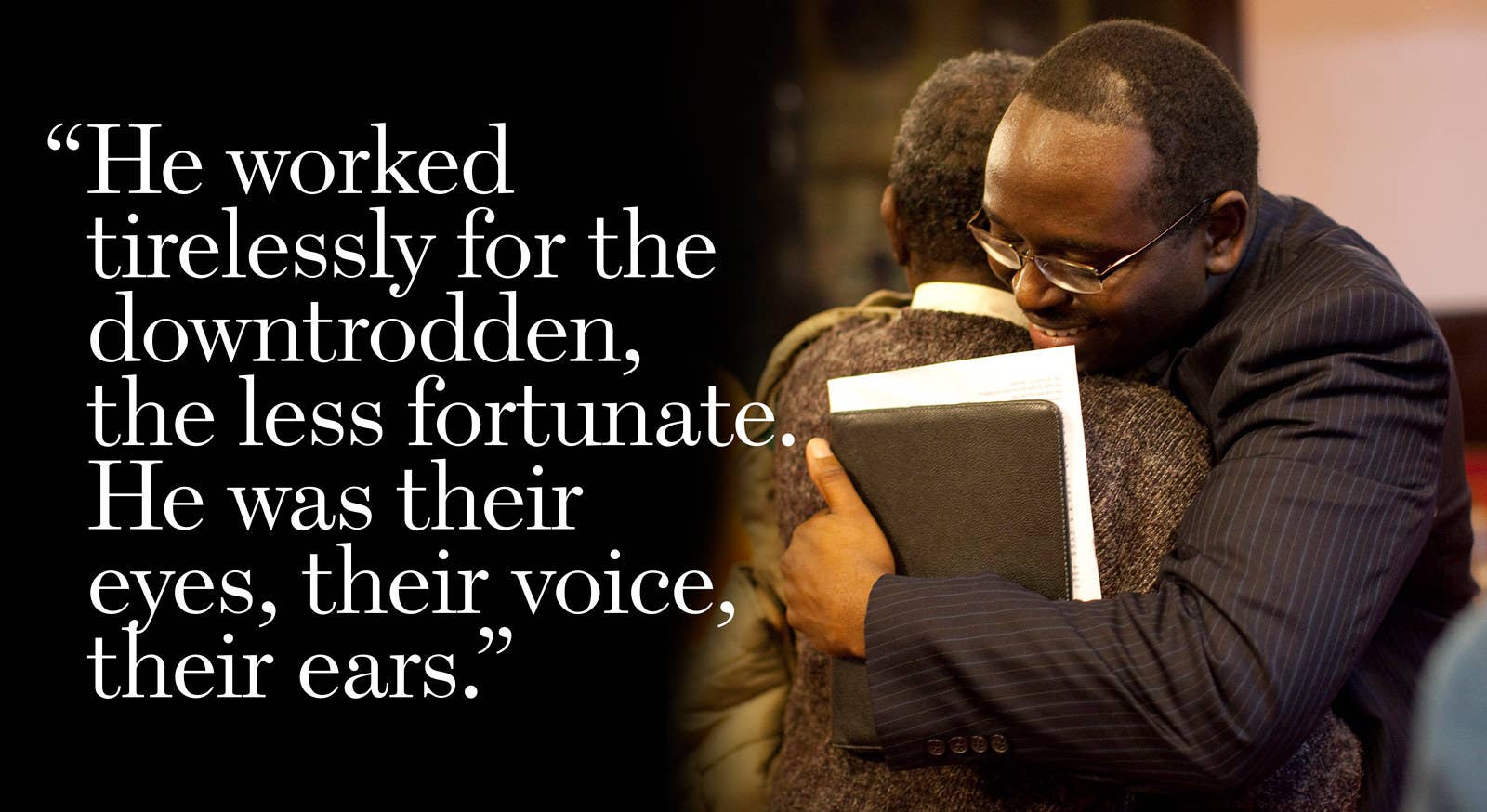 One hundred miles north of downtown Charleston, where hundreds packed into Emanuel AME Church for the first service since the mass shooting that claimed Pinckney's life, Rev. Timothy A. Johnson Sr. was reminding his much smaller flock about their own connection to the late state senator.
"He is a son of this soil," Johnson told the congregation of about 50 members — all but a couple of them black, most of them elderly — at St. James AME on Sunday morning. "He was our blood cousin."
Pinckney's roots reach all the way to this little stucco church along a narrow two-lane highway in Marion, South Carolina, where his mother's family settled more than 100 years ago. Those bloodlines make it easy to understand why Pinckney never ventured too far from home or the family calling. Pinckney's political awakening was informed not just by the AME's history of fighting for civil rights and social justice but by the battles fought by his own relatives.
The Post & Courier reported in 2001 that Pinckney came from a long line of rabble rousers who stirred up trouble when it was extremely perilous for black Americans to do so. Pinckney's great-grandfather, the Rev. Lorenzo Stevenson, sued the Democratic party to lift the party's racial restrictions on party primaries. His great-uncle, the Rev. Levern Stevenson, lead boycotts over voting restrictions, eventually filing a lawsuit that ultimately led to "black representation for the first time in South Carolina."
"My Uncle Levern taught me to keep your head in the clouds and your feet on the ground," Pinckney told the Post and Courier. "You have to want something more than anyone else and go after it."
Those men, the Stevensons, were also pastors and integral to the operation of St. James AME. Pinckney's mother went to church there until she moved to Ridgeland.
It's not often visitors find their way to Marion or St. James, which is believed to be more than 120 years old and is essentially maintained by a pair of families — including another generation of Stevensons. "Everyone is cousins out here," said Williams, one of the pastors at the church.
This was where people first pictured a future of importance and influence for little Clem, who as a youth had the presence of a much older child. They saw it even before his much-documented account of being called into the ministry at 13.
When Clem was 9, he was invited to recite the Pledge of Allegiance at the South Carolina Democratic Convention in Columbia.
"That's when I started noticing him," said Marvin Stevenson, a cousin who is also a longtime Marion County politician and a member of the state's Board of Paroles and Pardons. "He had this aura about him."
Asked why little Clem was invited to read the pledge, Williams jumped in with an answer: "I can tell you why they asked him. Because they saw the same thing in him that we saw in him. They saw an anointed one."
To them, everything about Pinckney's life made sense but the very end. He never forgot their faith in him, or his connection to the land, coming back every now and again for church and to check on his grandmother in a nearby town.
He was supposed to return in the fall for homecoming, the first held in the congregation's new low-slung, cocoon-like church. St. James made only modest upgrades to its historic brick church next door, still maintaining the look and feel of a little white country church. The pews are still wood. The walls are still white. The women still wear ornate hats.
Pinckney felt at home out here, not too far from the old tobacco, corn, and cotton fields where he worked for his uncles. He even purchased a pair of stained-glass windows for the front of the church, donating them in honor of his family.
"He told me I was his pastor," Johnson said, pride evident in his voice. "He had that love for us."
That meant a lot to Johnson and this small church in this tiny town, where Pinckney will be buried Friday alongside his mother.
"It's a big loss, especially to our young folk," Williams said. "They saw hope through him. They were inspired by him. For a son of this soil to go on to do what he did, it helped us when we talk to them about what's possible."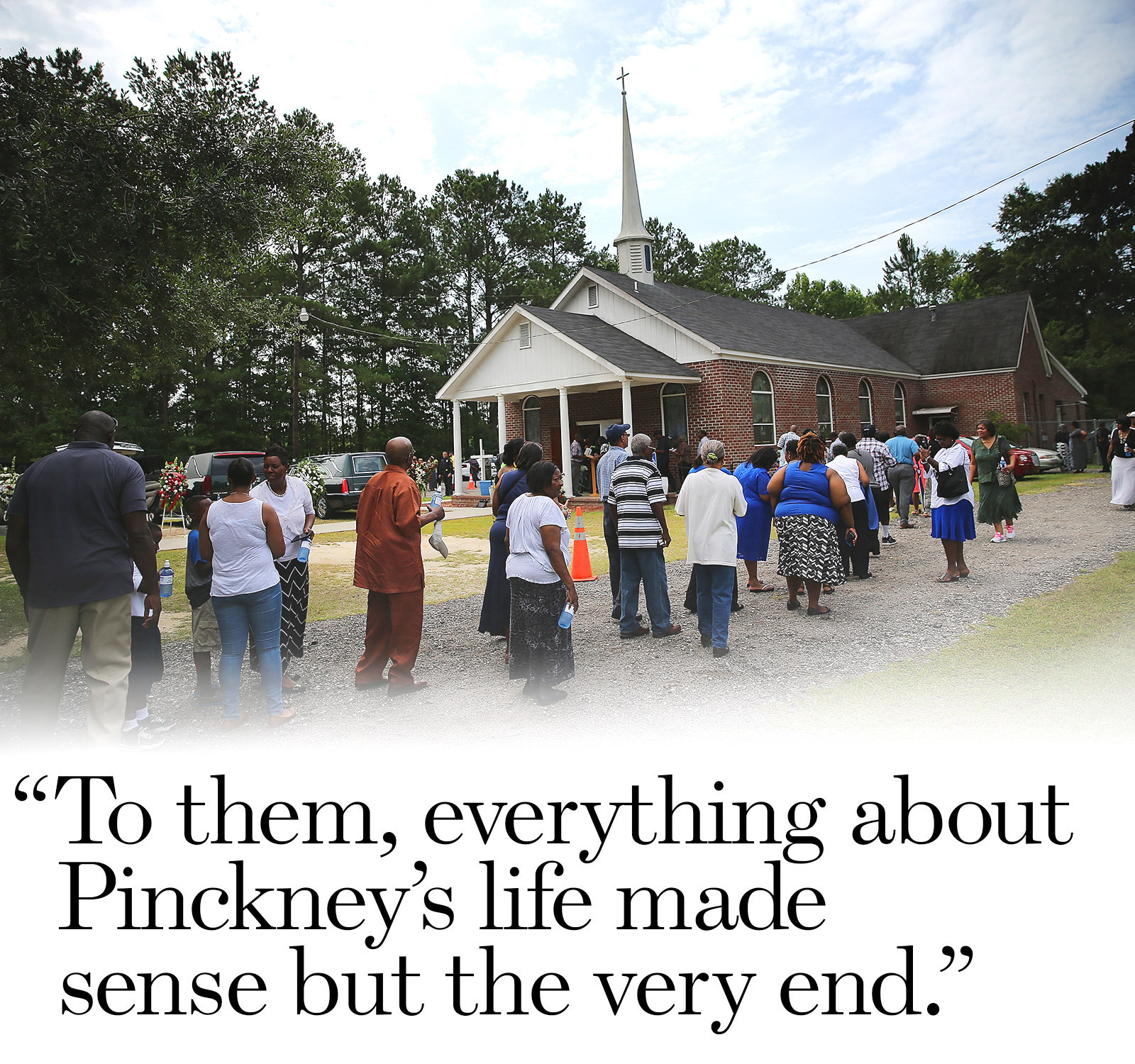 Ridgeland has its fair share of cheap motels and old gas stations, befitting a stopover on the way to South Carolina's scenic coastline towns. Pinckney grew up here, among forgotten neighborhoods of unkempt, weed-filled yards and shabby double-wide mobile homes.
As a teenager, Pinckney wasn't just a preacher. He was twice elected student body president of Jasper High School and was also a member of the high school band and the baseball team. He was literally voted "Most Likely to Succeed."
"You could tell that he wanted something out of life for him," said Tonia Williams, who went to high school with Pinckney. "He had a grown-person mentality. He didn't put up with foolishness."
Pinckney left for college and resumed his frenzied pace, graduating magna cum laude from Allen University in Columbia in 1995, and later earning his master's degree in public administration from the University of South Carolina. Along the way, Pinckney also served as a page for state Rep. Juanita White.
His priority was the church, but politics turned out to be another sort of calling for him: A year after he graduated from Allen, White announced that she was retiring and told him that she wanted him to run for her office. He went on to be elected to the legislature, at 23, becoming the youngest African-American to serve in the statehouse. He won re-election in 1998, and then ran for and won a Senate seat in 2000.
By most socioeconomic standards in an already poor and depressed state — South Carolina has the ninth-highest poverty rate in the country — Pinckney represented a constituency that was especially poor and depressed.
Twenty-three percent of District 45 residents live below the poverty line (and 34.4% of children under the age of 18) compared with 18.1% (and 26.4% for children) across the state.
The median income is a little less than $20,000 a year; more than 40% of people who live there earn less than $25,000 year; about a fifth of residents don't have health insurance; and 13% are unemployed — the unemployment rate for black people is 18%.
The breadth of deprivation around his district, and even the state, was eye-opening for the young lawmaker.
"We need some serious help," Pinckney told the Post and Courier in 2001. "Given time and the infinite fortitude of our leaders, we can make changes. Sometimes I think of the Billie Holiday line 'I've been down so long, down is OK.' We need to give hope to the hopeless."
Pinckney pushed to raise the state's minimum wage, acutely aware, colleagues said, that nearly a quarter of his constituents worked in the service industry. He proposed spending more money on education, from improving aging infrastructure to building newer facilities to ease overcrowding, in a Senate district that has three of the state's five worst-performing school districts.
Pinckney also fought against the state's voter ID law; he fumed as the state refused money from the Affordable Care Act that would have helped expand Medicaid; he pushed to restore voting rights to ex-felons; he called for strong gun control legislation; he even joined with Gov. Nikki Haley on a plan to dredge the Savannah River, hoping it might mean more jobs for his district even as critics worried it might hurt Charleston's port business.
But in May, Pinckney made headlines by being at the forefront of the movement to outfit law enforcement agencies with body cameras following the fatal police shooting of Walter Scott in North Charleston. "I believe that as a legislature, that as a state, we have a great opportunity to allow sunshine into the path of this process," he said from the well of the Senate chamber.
"His faith spurred him to action," said Ken Nelson, a friend and coordinator of clergy services for the South Carolina Conference of the United Methodist Church. "His goal was to lift people up."

Though Pinckney had been a public figure in South Carolina for more than a decade, his assignment in 2010 to Emanuel AME — dubbed "Mother Emanuel" because of its history as the oldest AME church south of Baltimore — raised his profile throughout the state.
After spending years leading small, rural churches, Pinckney would have the stage of one of the state's most iconic institutions.
"That's like becoming mayor of Baltimore, or the county commissioner of Cook County" in Illinois, said Jason Johnson. "It's essentially like, 'OK, now we know then that you're running for governor someday.' That's a launching-pad place if you're Clem's age."
At a church steeped in tradition and what Charleston City Council member William Dudley Gregorie calls the AME "method," Pinckney's ambitiousness and energy ruffled a few of the old-timers at first.
"What it did was let us work through our differences so we could determine what was best for the church," said Gregorie, also one of the members of the church's board of trustees. "He was a person who thought that was important, to have those kind of dialogues, and we did.
"In order to rebuild, it was going to require us to take on loans and not leave the church vulnerable. We needed to all be on the same page."
In a city so crowded with churches that Charleston is known as the "Holy City," Pinckney wanted to shore up membership and create enough funding sources that the church wouldn't rely so heavily on its dwindling, aging congregation.
In Pinckney's five years at Mother Emanuel, the church was able to repair three of its most dilapidated properties and has started collecting rent on two of them. The church also underwent a face-lift to restore its 19th-century look, and raised more than $30,000 from its members to build an elevator.
As Pinckney assisted in the restoration of Mother Emanuel, he gradually endeared himself to the congregation and surrounding community. Friends and colleagues say he spent more and more time in Charleston as the church took priority in his life.
He cut a striking figure in Charleston — tall, dark-skinned, and nattily dressed with a commanding voice befitting the pastor of a large black church.
"When I first met him," said Terry McCray, who works at Dave's Carry-Out, a restaurant only a few blocks from Emanuel, "I told him that if this pastoring thing doesn't work out, you should do voice work in Hollywood."
"Everybody looked up to him," said Shelly Simmons, president of the local Queens of Carolina social club and family member of a number of Emanuel church members. "He was like a god to us."
At 41, though he'd already done so much, it seemed like Pinckney was starting another phase of his career.
Instead, Pinckney leaves behind a legacy that looms large over whomever his eventual successor turns out to be.
"I'd hate to be the person to come into state Senate after [Pinckney]," said Clemson political science professor David Woodard. "They're going to have a hard time carving out their own niche."
Beyond that, others wonder if his violent death — recalling the days when civil rights leaders were regularly terrorized and assassinated — might discourage similarly talented people from attempting to follow Pinckney's path. That's what resonated with Pinckney's old campaign manager, who remembers the condition of the people Pinckney represented in his rise through South Carolina politics.
"You can't ever have enough of those people," Johnson said. "To lose a leader who has a legit cultural connection? Married? Clean background? You can't replace stuff like that. They come around once every 20 years."
Much of South Carolina has rallied around a call to take down the Confederate flag, the alleged killer's most cherished emblem, from the state Capitol grounds. But the Confederate banner still waved as Pinckney's body lay in state in the state Capitol building Wednesday. Below, mourners, particularly those in Charleston's black community, were left to ponder the loss of someone who Johnson described as more than a representative or statesman, but someone who refused to leave them behind.
"It's a significant loss," Johnson said. "If capable advocates grew on trees, they wouldn't hang us so often."