The San Francisco Police Department said Monday it was "looking into" a comment allegedly left on a Facebook post by one of four officers exonerated last week in the shooting death of a young Latino man.
Only hours after a civil court jury found Officer Roger Morse and three other SFPD cops did not use excessive force in the death of Alex Nieto, someone writing under Morse's Facebook profile commented on a post that included a news story about the verdict.
"Smiling. Ugh," read the comment, referring to a picture of Nieto that accompanied the post. "How about burning down his house and tazing his friend who pressed charges."
The comment appears to be a reference to previous incidents involving Nieto, which were outlined in the District Attorney's Feb. 12, 2015, report on his fatal shooting.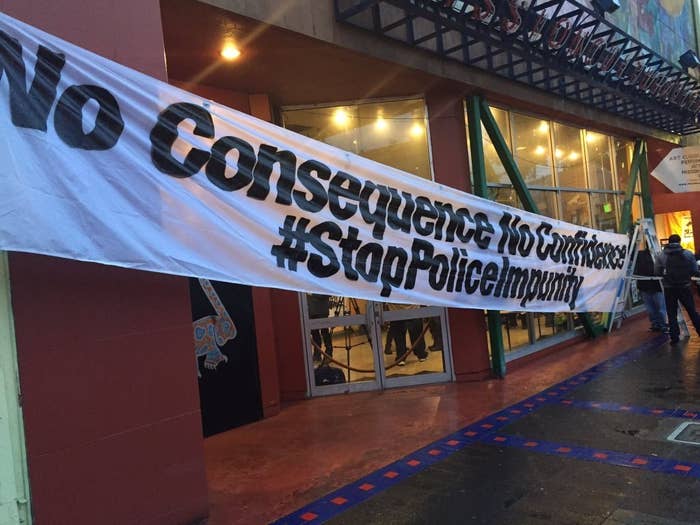 "We are looking into the circumstances of the posting," Michael Andraychak, a spokesman for San Francisco Police, told BuzzFeed News in an email Monday. "Certainly if those are the officers' comments, they would be inappropriate."
BuzzFeed News has also reached out to Morse and Nieto's attorneys.
On Aug. 15, 2011, Nieto was taken into police custody and placed on a 72-hour mental health hold for allegedly setting items on fire in his parents' home. In another incident, on March 3, 2014 — less than three weeks before his death — Nieto allegedly used a Taser on the estranged husband of a friend.
That Taser was later a pivotal factor in the civil trial and the district attorney's decision to not press charges against Morse and the officers.
Nieto was shot and killed March 21, 2014, in Bernal Heights Park, when officers — responding to a call about a Latino man in a red jacket with a gun — opened fire after saying Nieto reached for his weapon instead of showing them his hands.
Nieto died at the scene. Officers soon discovered that weapon was a Taser he was issued for work at a local nightclub — not a gun. Nieto's attorneys said the cops fired 59 bullets at him.
After a nine-day trial, an eight-person jury deliberated for a total of eight hours before finding that the officers didn't violate the constitutional rights of Nieto and his parents — denying them any monetary damages in the case.
Nieto's case has reignited concerns in the Bay Area — long known for progressive politics and a diverse population — that its law enforcement agencies are no better than others around the country facing accusations of brutal and excessive deadly force against black and brown citizens.
Morse's alleged Facebook comment was passed around Friday by a number of local activists, many of whom were active in protests and demonstrations following the December shooting death of Mario Woods, who was shot more than 20 times by five officers who claimed he was wielding a knife in a threatening manner.