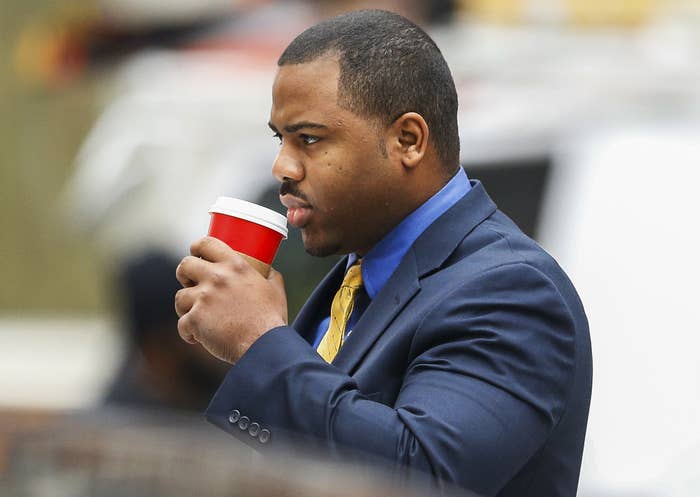 Prosecutors rested their case Tuesday morning in the first of six trials for Baltimore police officers facing charges associated with the death of Freddie Gray.
Office William Porter, 26, faces charges of involuntary manslaughter, second-degree assault, misconduct in office, and reckless endangerment related to Gray's death from spinal injuries while in the hands of police April 12. Prosecutors have accused Porter of failing to get prompt medical attention for a clearly ailing Gray, and not restraining him in a seatbelt in the back of a police van — per police policy — while being transported to the police station.
The April 19 death of Gray, a 25-year-old black man with a lengthy history of run-ins with police, set off protests against police brutality and ultimately rioting in West Baltimore in the following weeks.
Porter has pleaded not guilty. His attorneys maintain he sought help for Gray and is therefore not responsible for Gray's death.
After 16 witnesses and four and a half days of testimony, prosecutors told Judge Barry Williams they were wrapping up their case late Tuesday morning. In a standard — and expected — legal move, Porter's attorneys responded by seeking a motion of acquittal.
"There's been no testimony that Officer Porter's behavior has deviated from what a similarly situated police officer would have done," said Gary Proctor, one of Porter's two attorneys. Proctor referred to earlier testimony showing Porter told Officer Caesar Goodson, driver of the police van and another of the officers facing criminal charges in Gray's death, that Gray would need to go to the hospital.
The medical examiner "said if Goodson had done what Office Porter told him to do, she would not have ruled it a homicide," Proctor said.
Prosecutor Michael Schatzow argued Porter showed a "callous indifference for life" when he didn't make sure Gray got immediate medical attention, failing to meet police department policies.
"The record is clear here that this defendant did nothing," Schatzow said.
Williams denied the defense motion for an acquittal, and then sent jurors home for the day. Porter's attorneys will begin their case Wednesday. At least four members of Porter's family are expected to be called to the stand as character witnesses.
Williams has previously said the trial won't last longer than December 17.