Police Brutality Protesters Face Prosecution, Fines In Minnesota
Months after a large protest in Minnesota's Mall of America, protesters from the Black Lives Matter movement are facing prosecutions.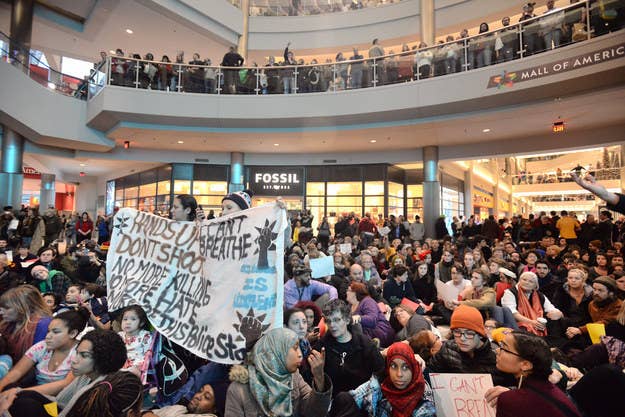 Minnesota authorities are being accused of overreaching in their efforts to tamp down Black Lives Matter protests held in December in the vast Mall of America.
Police sent undercover officers to spy on protest planning meetings, the FBI surveilled protesters, and employers debated whether to ban mall employees who showed support for the protesters.
Still, on Dec. 20, hundreds of protesters pushed through the main entrance of the nation's largest mall, ignoring the uniformed officers, security guards, and an image that would go viral: a giant computer screen telling them to disperse.
Twenty-five people were arrested, mostly on trespassing charges; 11 people face six criminal misdemeanor charges, including trespassing, disorderly conduct, and aiding and abetting trespass. More protesters could face charges as authorities continue their investigation. All of the defendants, wearing black clothes, pleaded not guilty to the charges and left the building to raucous applause.
"It is unprecedented," said Charles Samuelson, executive director of the American Civil Liberties Union of Minnesota. "Usually protesters are charged with one count."
Bloomington City Attorney Sandra Johnson told BuzzFeed News that she also plans to recoup more than $30,000 from the protesters in overtime costs accrued by Bloomington police.
"We need to deter future criminal activity," Johnson said. "We try not to be influenced by the politics of the day."
Mall officials and local authorities had tried to thwart the protest before it could get started. They warned protest organizers in meetings and cease-and-desist letters that they could be removed, arrested, and banned.
It didn't work.
"It was obvious that we had to do it there," said Mica (pronounced ME-sha) Grimm, a 24-year-old Minneapolis native and one of the leaders of the Black Lives Matter movement. "It's the one place in the Twin Cities that everyone knows and can get to and is indoors."
As demonstrators poured into the mall's rotunda, surrounding two-stories-high silver Christmas trees, chanting loudly and staging several "die-ins" in front of stores, police in riot gear came out to meet them.
"THIS IS A FINAL WARNING," read the command on the scoreboard-size video screen in the rotunda. "This demonstration is in clear violation of Mall of America policy. All participants must disperse immediately. Those who continue to demonstrate are subject to arrest." A number of stores were forced to shut down, and it took nearly two hours before police were able to clear protesters out of the mall.
The Mall of America is far and away the top attraction in Minnesota, a virtual city between the Twin Cities that bills itself as "the Hollywood of the Midwest." It has a Nickelodeon theme park, an aquarium, a 14-screen movie theater, and once was even home to a small public high school. It also strictly limits demonstrations.
In 1999, the Minnesota Supreme Court found Mall of America had the right to ban animal rights protesters from holding signs inside the mall. Protesters had argued their free speech rights had been violated, and that they should be allowed to demonstrate outside the Macy's department store because public money — Bloomington provided $186 million of the $700 million bill — was used to build the mall.
"Mall of America has a longstanding policy banning political demonstrations and protests on our private property," the mall said in a written statement to BuzzFeed News. "This policy exists to preserve a safe and enjoyable atmosphere for our guests and tenants, as well as to protect Mall of America's status as a private property, which was upheld in a 1999 Minnesota Supreme Court Case. We have been indiscriminate in our implementation of this ban since our opening."
Samuelson countered that the Mall of America regularly allows big events inside of its massive corridors, including a gathering of about 5,000 people in December 2013 to sing a song written by a Minnesota teenager who died of bone cancer.
"In the past, Mall of America has advertised itself as a new town square," Samuelson said. "They've had events for all kinds of causes they like — cancer, kids, and puppies. But they don't like" Black Lives Matter.
According to police reports, mall officials and authorities were alerted to the Black Lives Matter Facebook page on Dec. 8. Mall officials responded by offering the group an adjacent outdoor space, telling them to contact Johnson for an expedited $25 permit to use the lot.
"This information should also be disseminated to all known participants, so they are aware of the potential consequences of any attempted political gathering on Mall of America property," the Mall of America wrote in a letter to three activist leaders on Dec. 12. Black Lives Matter declined the offer, saying they weren't interested in paying to protest and that it would be much too cold to demonstrate outside of the mall.
On Dec. 17, police sent several plainclothes officers to a protest planning meeting of about 250 people. "We did have some undercover officers attend what was billed as a public meeting," Mike Hartley, deputy chief of Bloomington police, told BuzzFeed News. "That's a vital tool that law enforcement uses on a daily basis."
On Dec 18, protest leaders called a meeting with authorities, including Hartley and the police chief, and gave them a general idea of how the demonstration was going to unfold. "They acted like they were going to cooperate with us to some extent," Grimm said. "But it didn't play out like that at all."
On the day of the protest, police — with assistance from other local agencies — showed up at the mall in riot gear. Members of an FBI Joint Terrorism Task Force tracked the time and location of protesters, according to a recent report by The Intercept. Security officials quickly identified and escorted one of the organizers off of the property.
"The crowd engaged in loud, boisterous chants," according to a complaint filed by Johnson with a local court. "Officers observed many families with children who appeared visibly frightened and upset by the protesters." At least two officers said they were spit on during the protest, according to the complaint.
Within days, Johnson followed through on her promise to press charges against protesters.
Minneapolis-area media outlets later published emails that appear to show that Mall of America officials consulted with Johnson over whether to attempt to restrict the access of employees of the cosmetics store LUSH who showed support for the protesters. Ultimately mall officials decided against doing that.
Two Lush employees declined comment and referred BuzzFeed News to the corporate office, which didn't immediately respond to a request for comment.
Members of Black Lives Matter and their allies point to those emails and the coordinated response to their protests as evidence that the mall and local authorities are working together to thwart their efforts.
"Their plan is to wear (protesters) down," Samuelson said. "Mall of America has pushed the police to charge us up the ying yang. They're basically saying, 'We'll teach them to mess with us.'"
Johnson brushed off accusations that she was pushing the prosecution of the protesters at the behest of the mall.
"That's just plain ridiculous," Johnson said.
Protesters have said that they intend to keep demonstrating, no matter how the prosecutions pan out.