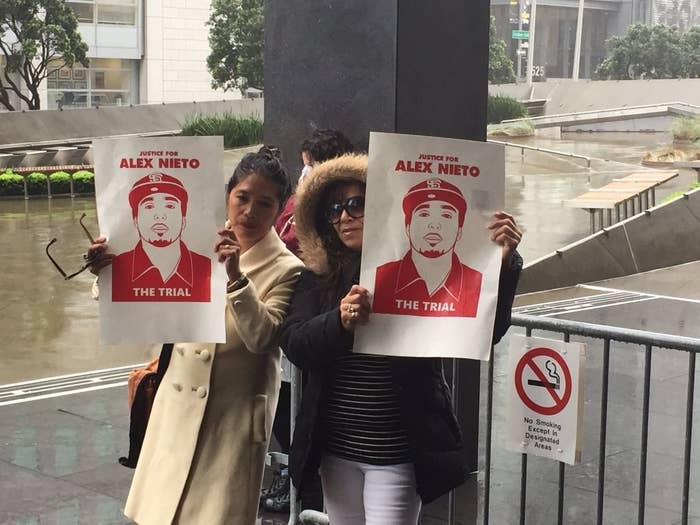 The four San Francisco Police Department officers who fatally shot a 28-year-old Latino man in March 2014 did not use excessive force, a civil jury found Thursday, denying his family monetary damages in the case.
Alex Nieto was fatally shot March 21, 2014, in Bernal Heights Park, where he'd gone to watch the sunset and eat a burrito and potato chips before heading to his job as a security guard. Police officers were called to the park just after 7 p.m. when they received reports of a Latino man in a red jacket with a gun.
Police Officer Richard Schiff and Lt. Jason Sawyer said they pulled into the park in their patrol car and saw Nieto in the distance with a bulge on his right hip. The officers said they stopped their car in his path — about 100 feet away — and got out with their guns drawn, telling Nieto to show his hands.
The officers then claimed that Nieto said, "No, show me your hands," and then reached for what they feared was a gun under his jacket.
The cops fired at Nieto a number of times, and they were soon joined by officers Nathan Chew and Roger Morse, who also fired. Nieto's attorneys said the cops fired 59 bullets at him.
Nieto died at the scene. Officers soon discovered that the unknown bulge on his hip was a Taser he was issued for work — not a gun. No witnesses at the trial corroborated the officers' claims that Nieto said anything to them before hearing gunfire.
Nieto's Taser — and whether it had actually been pointed at the officers and then fired — became a pivotal point of contention in the nine-day trial.
An expert from Taser International testified earlier in the week that Nieto's stun gun trigger log had registered three pulls. The expert, Brian Chiles, told jurors he added four minutes to the weapon's internal clock to correct for "time drift" and to adjust the clock from to Pacific Daylight Time from its default setting of Greenwich Mean Time. The trigger pulls came within seconds of the officers' gunfire, according to recordings of police radio traffic.
Attorneys for Nieto's family contended that Chiles' testimony was unreliable because he initially provided a different set of times to the city. Chiles testified that he resubmitted corrected times after being contacted by someone — who couldn't remember who it was — from the city.
Nieto's attorneys also said the Taser was recovered with its safety on, making it unlikely the weapon had been fired.
"It was a very difficult case," one of the jurors said after the verdict. "We did the best we could."
The jury's verdict came just after noon Thursday, about eight hours after they began deliberations and roughly a year after District Attorney George Gascón announced that he wouldn't bring criminal charges against the officers. Gascón told reporters at the time that "given the circumstances, I'm not sure this was a preventable shooting."
The eight-person civil jury — which included five white women in a county that's nearly 54% white, according to the 2010 Census — ultimately ruled that the four officers didn't violate the constitutional rights of Nieto or his parents.
Nieto's case made San Francisco a recent — and somewhat surprising — addition to the list of U.S. cities roiled by racial unrest and accusations of police using brutal and excessive deadly force against black and brown citizens.
"This is a sad day," said Adante Pointer, lead attorney for Nieto's family. "But it's an even worse day for the citizens of San Francisco."
Long known for its progressive politics and diverse population, San Francisco has nonetheless faced mounting criticism that its police department bears the same sort of scrutiny as embattled law enforcement agencies in Baltimore, Chicago, New York, and Oakland.
The December shooting death of Mario Woods — who was shot more than 20 times by five officers who claimed he was wielding a knife in a threatening manner — sparked weeks of protests and demonstrations around the Bay Area. In response, Police Chief Greg Suhr has asked the Justice Department to review the his department's policies and has already made changes to firearms training and policies. The department will also soon carry less-lethal devices, including protective shields and extended-range beanbag guns.
In a statement released in December, the SFPD said "we need to do everything we can to prevent this from occurring again," referring to the Woods shooting.
Nieto's death drew little attention outside of the Bay Area — it happened several months before Michael Brown's fatal shooting by police officers in Ferguson launched a national debate about police violence.
Raised in city's immigrant-heavy Mission and Bernal Heights neighborhoods, Nieto was a criminal justice student at the City College of San Francisco. Nieto also worked full-time as a security guard at a local nightclub, where he was headed on the night he was shot to death.

"This is someone who looked up to the police," said Ely Flores, a friend of Nieto's who sat with the family throughout the trial. "He knew not to move his hands in a threatening way. That's the irony."
Deputy City Attorney Margaret Baumgartner, who represented the four officers, said that her clients were relieved by Thursday's verdict and would likely return to work within a day or two.
Standing outside of the courthouse, Baumgartner said she was pleased the jury was able to ignore press coverage about other police shootings and "saw the facts" of the case.
"This was a singular event by these officers who had to make an instantaneous decision on what to do," Baumgartner said.

Her impromptu news conference lasted only a few minutes: She was driven from the courthouse and into a driving rain by a handful of Nieto protesters, who talked over her and demanded she answer questions about allegedly inconsistent testimony by the officers.
"No blacks, no Latinos," on the jury, shouted one man. "Is this justice?"