Jury Begins Deliberations Over Officer Charged In Freddie Gray's Death
In closing arguments on Monday, prosecutors called Baltimore police Officer William Porter "callous" and "indifferent" to Gray's suffering. Porter is the first of six officers charged in Gray's death.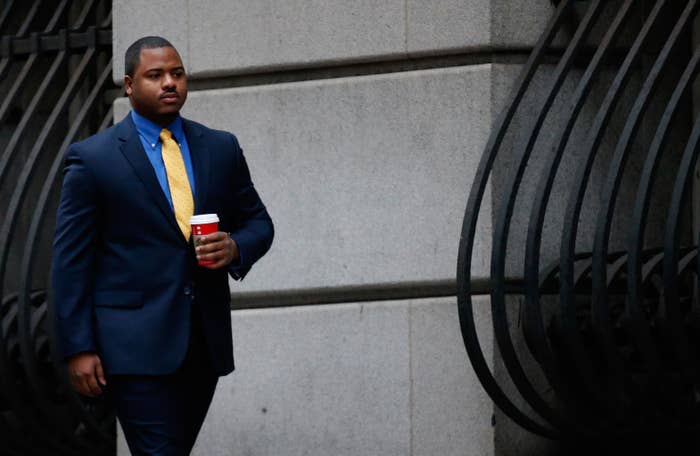 BALTIMORE — In front of the jury box, in her hands, prosecutor Janice Bledsoe held aloft a soiled dark-blue seat belt. It came from the police van where Baltimore police officers found Freddie Gray with a broken neck, unconscious, and near death on April 12.
Bledsoe theatrically set down the seat belt on the prosecutor's table, the metal buckle clinking loud enough for everyone to hear.
"The very thing that could have helped save his life," Bledsoe said Monday, "it's got Freddie Gray's blood on it."
It was the dramatic punctuation of an emotionally-charged closing argument in the trial of Baltimore police Officer William Porter, one of six cops charged in the death of Gray. Prosecutors called Porter "callous" and "indifferent" to the suffering of Gray while he was in the back of the police van following his April 12 arrest. Gray died of a spinal injury April 19, setting off protests and ultimately rioting in West Baltimore.
Porter "knew Freddie was hurt badly, but he did nothing," Bledsoe told jurors, also accusing the 26-year-old Baltimore native of making misleading statements and covering for his fellow officers.
In the wake of renewed concerns about police use of deadly force against black citizens, including recent protests in Chicago, Minneapolis, and San Francisco, prosecutors in Baltimore — a city long dogged by racial unrest and accusations of police brutality — wrapped up their case Monday by characterizing Porter as part of a policing culture in Baltimore that has little regard for those who churn through the criminal justice system.
Porter's attorney, Joe Murtha, argued that prosecutors wrongly pressed the case against Porter because of the national attention surrounding Gray's death.
"There is an absence of real evidence in this case," Murtha told the jury. "It seems the case was premised on fear and a rush to judgment."
Porter, 26, faces charges of involuntary manslaughter, second-degree assault, misconduct in office, and reckless endangerment related to Gray's death. He has plead not guilty.
The other five officers will be tried consecutively, starting Jan. 6.
Throughout the trial, prosecutors have argued that Porter's failure to place Gray in a seatbelt or promptly seek medical attention means that he bears significant responsibility for Gray's death. Porter's attorneys have maintained that he acted to help Gray, implicitly shifting the responsibility for his death to the other officers charged in the case.
They resumed those arguments Monday, with Porter's family members watching stone-faced near the back of a courtroom that was filled to the brim with media and spectators for the first time in 11 days.
Bledsoe opened her hour-long argument by buckling the seat belt in front of the jury.
"How long does it take to click a seatbelt and to click a radio to call a medic," Bledsoe said. "Two seconds? Three seconds? Maybe four? It two or three or four seconds worth a life?"
For more than an hour, Bledsoe portrayed Porter as evasive under questioning and apathetic to Gray's suffering. Her presentation was interspersed with clips of Porter on the witness stand and in an interview with detectives, and dramatic cell phone videos from the scene of Gray's arrest.
Some of his statements as a witness conflicted with his testimony on the stand, Bledsoe said, using video to prove her point. She pointed out Porter never mentioned Gray was able to hold up his head, or use his own power to get off the floor of the van, until he was on the witness stand last week.
"Not once did (Porter) say Freddie assisted himself," Bledsoe said. "There's only one reasonable conclusion: Officer Porter was not telling the truth about his involvement in this incident."
As Bledsoe closed out her closing argument, the words "The Responsibilities of William Porter" flashed on a large screen TV facing jurors.
"He abused his power," Bledsoe said. "He failed in his responsibility. Hold him responsible."
In defense attorney Joe Murtha's closing argument, he reviewed the testimony of nearly all of the 28 witnesses called to the stand during the trial, saying the prosecution hadn't proven their case. "In this case, the state is asking you to fill information into blanks that doesn't exist," he said.
Murtha made not-so-veiled references to the atmosphere surrounding the case, which has included regular protests around Baltimore, the resignation of the previous police commissioner, and pleas for calm from the mayor and new police commissioner.
"I understand there's this need to find somebody, to hold somebody accountable for the death of Freddie Gray," Murtha said. "That is a natural human reaction. But we sit and stand within the walls of a courtroom."
Murtha also attacked Dr. Carol Allan, the medical examiner who performed Gray's autopsy, derisively referring to her as the "star witness" and indicating that she ruled the death a homicide because of political pressure.
"The state, for whatever reason, wanted its homicide conclusion," Murtha said. "And Dr. Allan gave it to them."
In the prosecution's response — their final argument to jurors, prosecutor Michael Schatzow closed by reminding them of Porter's contention on the witness stand that he and Gray — a 25-year-old West Baltimore native with a lengthy history of drug crimes — knew and had mutual respect for each other.
"Who is he to talk to you or anybody else about what Freddie Gray felt?" Schatzow said. "How much respect does he have for Freddie Gray when he doesn't call for a medic? How much respect does he have for Freddie Gray when doesn't even take two seconds to put him in a seatbelt?"
Porter's fate rests in the hands of the jury, which is comprised of five black women, three black men, three white women, and one white man. In a city where nearly two-thirds of the population is black, the demographic makeup of the jury was one of the most highly anticipated developments in the case. Defense attorneys had previously argued there was no way that Porter — also a black man, but a member of a police force long dogged by accusations of racial profiling and brutality — could receive a fair trial in Baltimore.
To that end, city officials have taken steps to prepare for the verdict. The police department has announced that officers are banned from taking leave this week because "the community has an expectation for us to be prepared for various scenarios," according to Police Commissioner Kevin Davis.
And so, after eight days of testimony, 28 witnesses, and more than 100 exhibits, Baltimore waits for a verdict.