NEW ORLEANS — As Hurricane Katrina barreled toward the coast, small-time drug dealer Jabbar Gibson and a friend decided to hunker down in a motel down the street from his home in the dilapidated Fischer public housing complex. The rain and wind were so fierce that the windows blew out as they huddled inside.

By morning, Gibson returned home to find the Fischer had damage, too. Fallen trees had gouged out large chunks of some of the homes. The winds had shattered windows, destroyed wooden fences, lifted off tile from the roof, and even taken pieces out of some of the bricks.
Things seemed plenty bad even before he and the rest of his neighbors heard reports about the breach in the levees on the other side of the Mississippi River. Slowly but surely, across the river, other neighborhoods — the Ninth Ward, Bywater, Mid-City — were being swallowed by floodwater.
After two days without power, food, or even a merciful Gulf Coast breeze, and no assurances that anyone would come save them, Gibson and a small group of friends started thinking of ways to escape. They hit the streets with a piece of hose pipe and a plastic jug to siphon gas. Within hours, they had found gas, but the truck they wanted to use wasn't reliable enough or big enough for an escape.
"We were desperate," said Kerry Lavinette, a longtime resident of Fischer. "It was either that or we were going to drown."
Soon they spotted a school bus rumbling down L.B. Landry Avenue, a major street that runs from the Mississippi River Bridge through the Fischer Projects and into Algiers, a neighborhood sometimes called the 15th Ward. Gibson and his friends flagged down the driver to ask where he got the bus. "Algiers Point," he told them.
There they found about a dozen yellow school buses parked in a barn. Inside an unlocked office, Gibson and his friends found keys hanging on a door. They checked the numbers on the keys and matched them to the buses. It took about a half hour to find a bus that would start. Orleans Parish school bus No. 0232 had been left behind with a full tank of gas.
"I learned how to [drive the bus] right then and there," Gibson said, a smile creasing his face. "I was driving all right for the first time."
A handful of other friends and neighbors managed to get buses running too. They all headed back to the Fischer for those who'd been stranded.
"He pulled up with the bus," said Roger Robinson, a friend of Gibson's, "and was like, 'Let's go.'"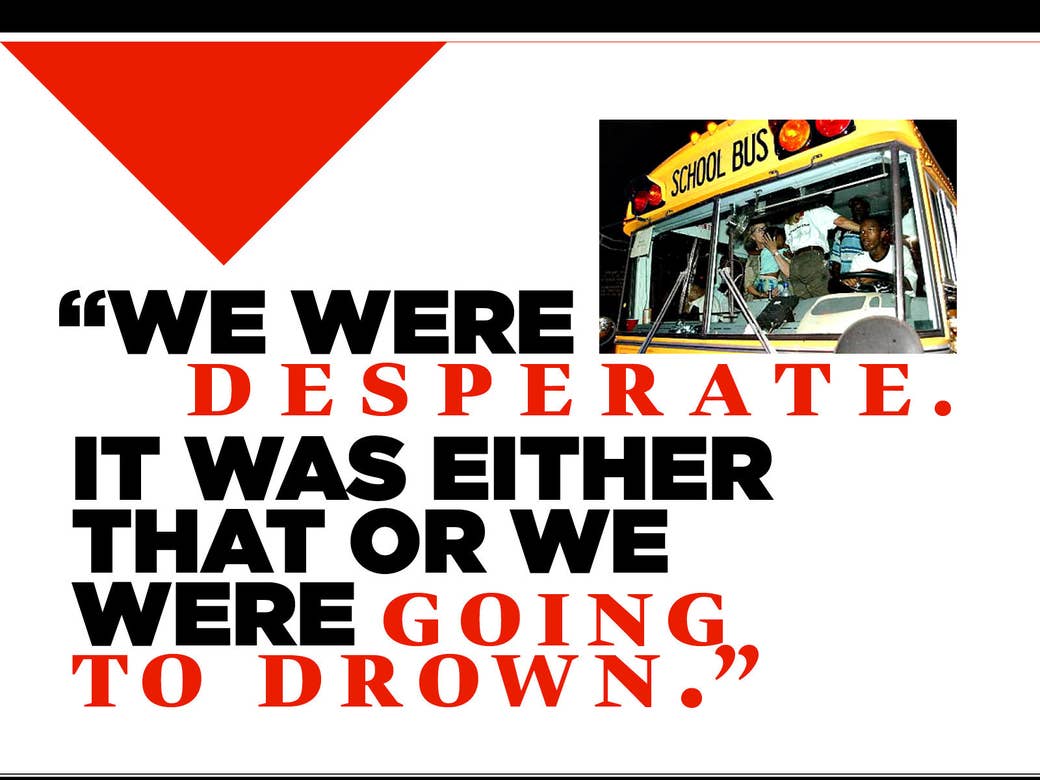 In this corner of the old Fischer Projects, they will never forget the swollen drainage ditches, the mounds of tree branches and debris, the relentless mosquitoes, and the heat and darkness of cramped old apartments that no longer had electricity.

They will never forget the mounting desperation as their neighborhood ran out of food and water. The toilets wouldn't flush. There was nowhere to refill prescriptions. The only breaks in the silence were the occasional echoes of gunfire and shattering glass. Hurricane Katrina had turned them into prisoners of a drowning city.
"We all thought we were going to die," Lavinette said.
While the memories of their misery are vivid, so are their memories of the lanky young man who saved them: Jabbar Gibson.
These days, he's better known as Inmate No. 29770-034 at the Federal Correctional Institution in Pollock, Louisiana. Gibson has been there since 2010 for gun and drug possession, locked away from his people and the Fischer, which has since been razed and rebuilt into a sprawling development of small, pastel-colored homes built on the same sun-baked dirt of the West Bank of the Mississippi.
Tucked deep in the piney woods of central Louisiana, the prison is a medium-security facility of about 1,600 inmates. Among them are the brother of notorious New York crime boss John Gotti and one of the co-founders of the Black Mafia Family drug trafficking organization.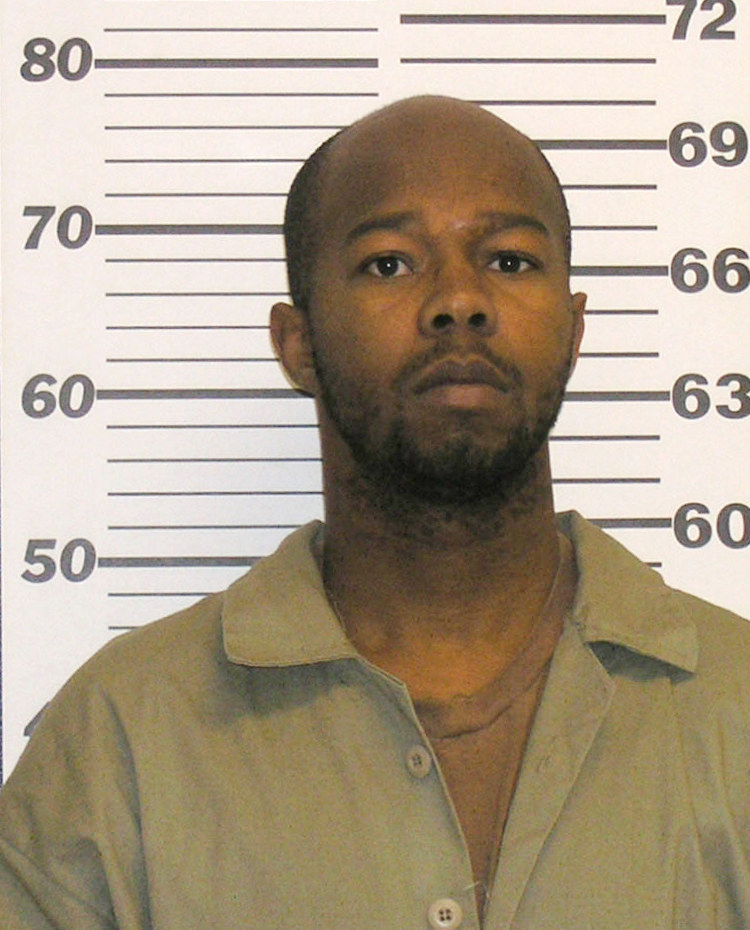 Gibson relished the idea that anyone on the outside still remembers him as something more than a low-level drug pusher from New Orleans. "Being called a hero was cool," Gibson told BuzzFeed News during a May interview at the prison. "I've missed out on a lot being up in here."
Like a lot of the men serving time in Pollock, Gibson almost seemed destined to end up behind bars.
Built in the shadow of the Mississippi River Bridge, and isolated from most other West Bank communities by the bridge, a canal, and a railroad line, the William J. Fischer Housing Development — better known as the Fischer Projects — was home to three generations of Gibsons.
Almost from its opening in 1965, the Fischer was beset by crime, drugs, and all the other ills that come with crushing poverty. Bernice Gibson was raised there as a child, raised her own children there, and today, her daughter Tranice is raising her own child in one of the newer homes on the isolated 50-acre property.
"It wasn't really no place for nobody to grow up," Bernice Gibson said. "You always had to fight all the time."
Gibson recalls having little choice but to protect himself and his three younger siblings. "I grew up fighting," he said. "I learned it from my father." He paused. "Before he got into drugs."
His late grandmother dubbed him "Peter Jackrabbit" as a toddler because of his almond-shaped eyes and restlessness, a boundless enthusiasm that could barely be contained by the project's brick walls and bleak prospects.
"He looked like a little bunny. He was always smiling," said Marie Gibson, his eldest aunt and the woman who raised him when his mother struggled with drugs and petty crime. "And every time you saw him, he was hopping somewhere."
At school, Jabbar played basketball, ran track, and developed a reputation as a class clown. His calm demeanor and playfulness caught the attention of one classmate, Shareena Hills, the summer before they entered L.B. Landry High School.
"He was funny, goofy, and always wanting to joke around and play," said Hills, his longtime girlfriend and mother to his oldest daughter. "He was never was about trying to do no harm to anybody."
But school didn't stick. Jabbar's penchant for fighting got him kicked out in the 10th grade. By that time, he had already started gravitating toward the streets and a group of older boys who had their run of the projects.
Raised in a home without much money, Jabbar wanted the things his parents couldn't give him. Working odd jobs, dealing, and playing dice, he got them. "Every time the Jordans came out, I got them," he said.
He was also generous — almost to a fault — with siblings and close friends. He made sure his brothers and sisters had Christmas gifts. He'd bring home some cash and extra snacks, and even take them out for dinner.
"He just used to pop up with stuff," said Tranice, his 27-year-old sister. "Whatever mama say I couldn't have, he'd come up with it."
When his younger brother Troy started playing on a traveling youth basketball team, Gibson did his best to attend all of the games. And before more than a dozen games, Troy recalled, Gibson left a brand-new pair of shoes on the bench for him and a close friend.
"I didn't have no father," said Troy, who is now 28 and works at the New Orleans Convention Center. "Jabbar was my father, even though he was only two years older. He showed me how to be a father."
Gibson worked at a local flea market, but the rest of the money came from supplying drugs to the junkies around the neighborhood. His mother didn't ask questions. "I never paid no attention to him. That's all on him. What I gotta do with it?" she said.
Around the Fischer Projects and the West Bank, Gibson seemed much older than his age. Even as a teenager, he had no problem taking care of himself or his people. In fact, he seemed drawn to it.
"It feels like he's a mastermind," his sister said. "Everybody listens to him."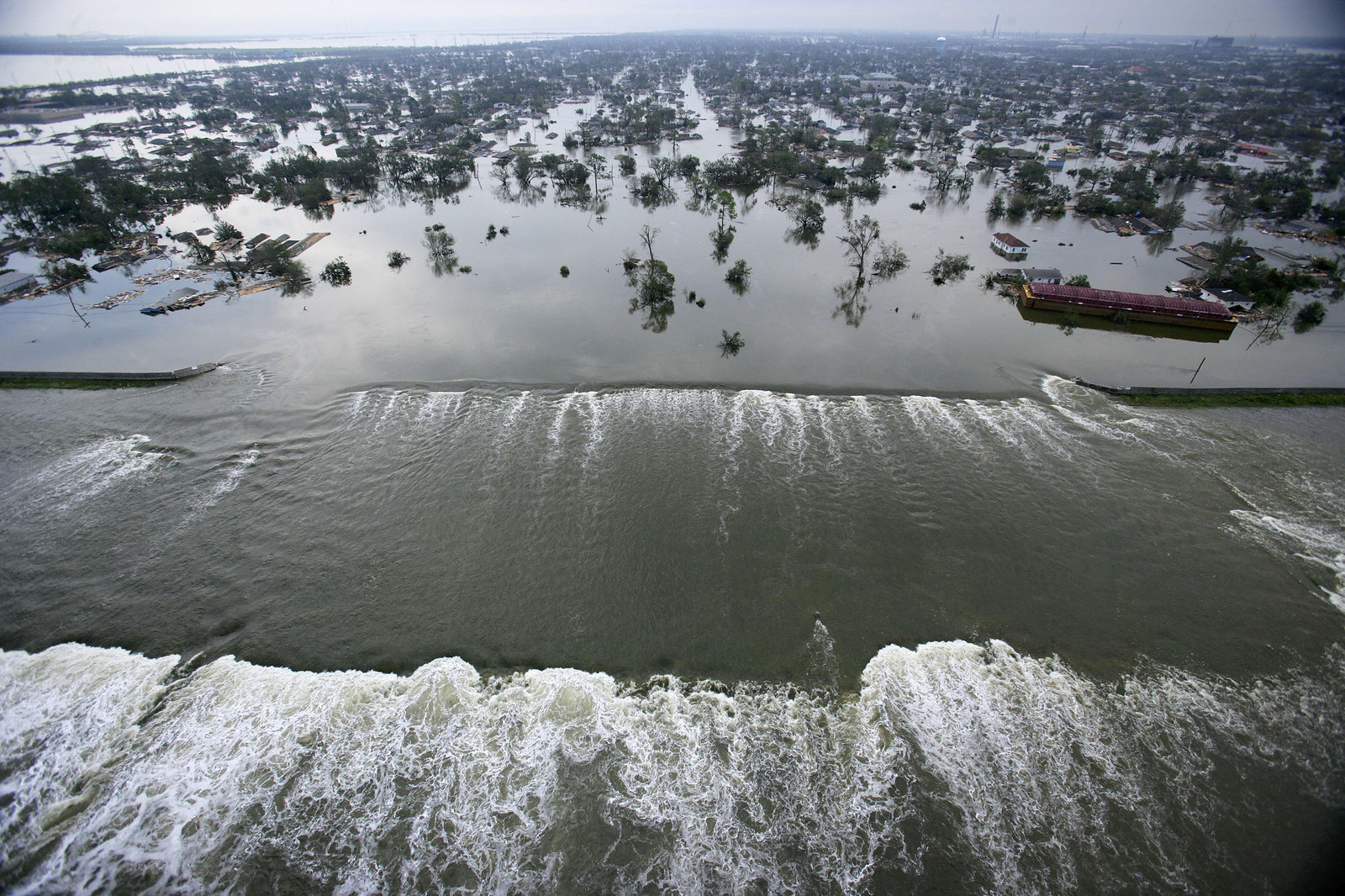 In the early morning hours of Aug. 29, 2005, Katrina came ashore and leveled New Orleans and much of the surrounding area.

Thousands of local residents followed Mayor Ray Nagin's orders to evacuate hours earlier. But at the Fischer, populated by several generations of residents who'd survived hurricanes Betsy and Camille, there wasn't a rush to leave. High winds and surging waters had never done much damage to those bricks.
They also had no means to leave. Many Fischer residents, including Bernice Gibson, didn't have driver's licenses, let alone vehicles. They relied on the city bus and taxi cabs when they had to venture beyond their neighborhood.
As things grew more desperate, Gibson was willing to take a risk. To escape, they'd have to think big. He'd seen that bus coming down Landry Avenue. He knew the bus lot wasn't too far away. He'd stolen a vehicle before. Why not now, with their lives on the line?
"He was like, 'I'm about to go get a bus and I'm coming back,'" Tranice Gibson said.
There wasn't much time to waste — they figured they'd have to beat the rising waters or the police, who might try to stop residents from using stolen buses to escape — to get to safety. Word had already filtered through the gossipy webs of Fischer, and people were lining up to get onto the buses, their meager belongings in tow.
About 60 people had climbed aboard Gibson's bus when the police arrived at the scene. The officers made everyone get off the bus. Gibson handed over the keys and fled the scene. Only his mother remained.
"I stayed on the bus to protect Jabbar," she said. "He ran because he [saw] the police."
He had a reason for running. Nearly two weeks earlier, Gibson had been apprehended after leading New Orleans police on a high-speed chase that ended with a car wreck and four officers suffering minor injuries, according to local media reports. Gibson, who told the Times-Picayune in a 2005 interview that he was known as the "kingpin" of Fischer, also faced a pending charge of possession of crack cocaine stemming from an arrest in June of that year.
Nonetheless, Bernice Gibson said she managed to convince the officers that giving Jabbar the keys and letting him take control of the bus was necessary to evacuate people who were in dire need of help.
"It ain't the police who was helping us" get out of there, she said. The officers relented and handed the keys back to Gibson when he returned.
"Get on the bus," Gibson recalled one of the officers telling him, "and don't stop."
People streamed out of the Fischer again, yelling and running in all directions. They crowded onto the bus again. Gibson had no fewer than a dozen family members and nearly as many friends coming along for the ride. Three to four people were crammed onto each seat. Some stood in the middle aisle, while those lucky enough to sit had someone on their laps.
"We were bunched up all kinds of ways," Robinson said. But they were thrilled, relieved, almost delirious. "We all were clowning," recalled Byronisha Crockett, still a Fischer resident today.
Few people seemed concerned about Gibson's ability to navigate a lengthy road trip in a wobbly school bus, which, as it turned out later, had been in need of serious repairs, according to the Times-Picayune. They had little choice but to place their fates, if not their very lives, in the hands of this drug-dealing 10th-grade dropout.
Except his mother. "I couldn't convince her to come," Gibson said, the resignation in his voice even today. "She didn't trust me."
"Jabbar didn't know how to drive no bus," she said.
With his mother in the rearview mirror, Gibson pulled the bus onto Landry Avenue, merged onto the West Bank Expressway service road, and headed west out of town.
Someone on the bus had mentioned going to Texas. He figured he could come up with a plan and get directions somewhere along the way.

Only a few minutes into the journey, Gibson and two other buses came upon a police barricade to state Highway 90 — the only route off the West Bank. The officers were standing outside with several people who'd reportedly tried to get away in a pair of mail trucks.

With the officers preoccupied, Gibson managed to gently guide the bus by the barricade and onto the highway. The officers never took off behind them; they were free to go.
Even with little space to spare on the bus, Gibson stopped several times along Highway 90 and picked up people who needed a ride. "I just couldn't leave them behind," he said.
"Some of these people were barely making it," said Sherrell Gibson, one of his cousins who still lives in the Fischer.
Many passengers were in emotional and mental distress from the previous few days. Others were sick or disabled and in need of immediate medical attention. At least a couple were pregnant.
There was a lot of need for such a tight space, and Gibson's largesse continued as they made it down the road. He bought gas, snacks, and even diapers.
Some of this was practical: Gibson didn't want people to rush off the bus and draw attention to law enforcement in the remote towns that dotted Highway 90. Some of this was borne out of necessity: He was one of the few people who had money. He figures that he spent about $1,200 during the trip.
"He treated us real nice," Robinson said. "Because of him, we were all straight."
At one of their final stops along the way, near Lake Charles, Louisiana, a cashier gave the passengers two full ice chests and two cases of water. He also told them something they didn't know: The Astrodome in Houston was being opened as a shelter for Katrina evacuees.
The bus arrived at the Astrodome just after nightfall, about 12 hours — a trip that normally takes about five hours — after pulling out of the Fischer parking lot. It would be the first to arrive at the stadium. Gibson and his bus had beat a caravan of other buses — those being run by FEMA — to the Astrodome by several hours. As for the other two buses from the Fischer, they didn't make it; one ran out of gas, and the other got a flat tire.
Gibson and the people on his bus were initially refused entrance. They were told the Astrodome was reserved only for those who were being evacuated from the Louisiana Superdome in New Orleans.
"This is not the bus that we were expecting," Tranice Gibson remembered the Red Cross workers telling them. Then Gibson explained their situation.
"Now, we don't have nowhere to go," Gibson told the Houston Chronicle that night. "We heard the Astrodome was open for people from New Orleans. We ain't ate right, we ain't slept right. They don't want to give us no help. They don't want to let us in."
Red Cross officials eventually worked it out, and Gibson and all of the passengers from Orleans Parish bus No. 0232 were allowed to stay in the Astrodome.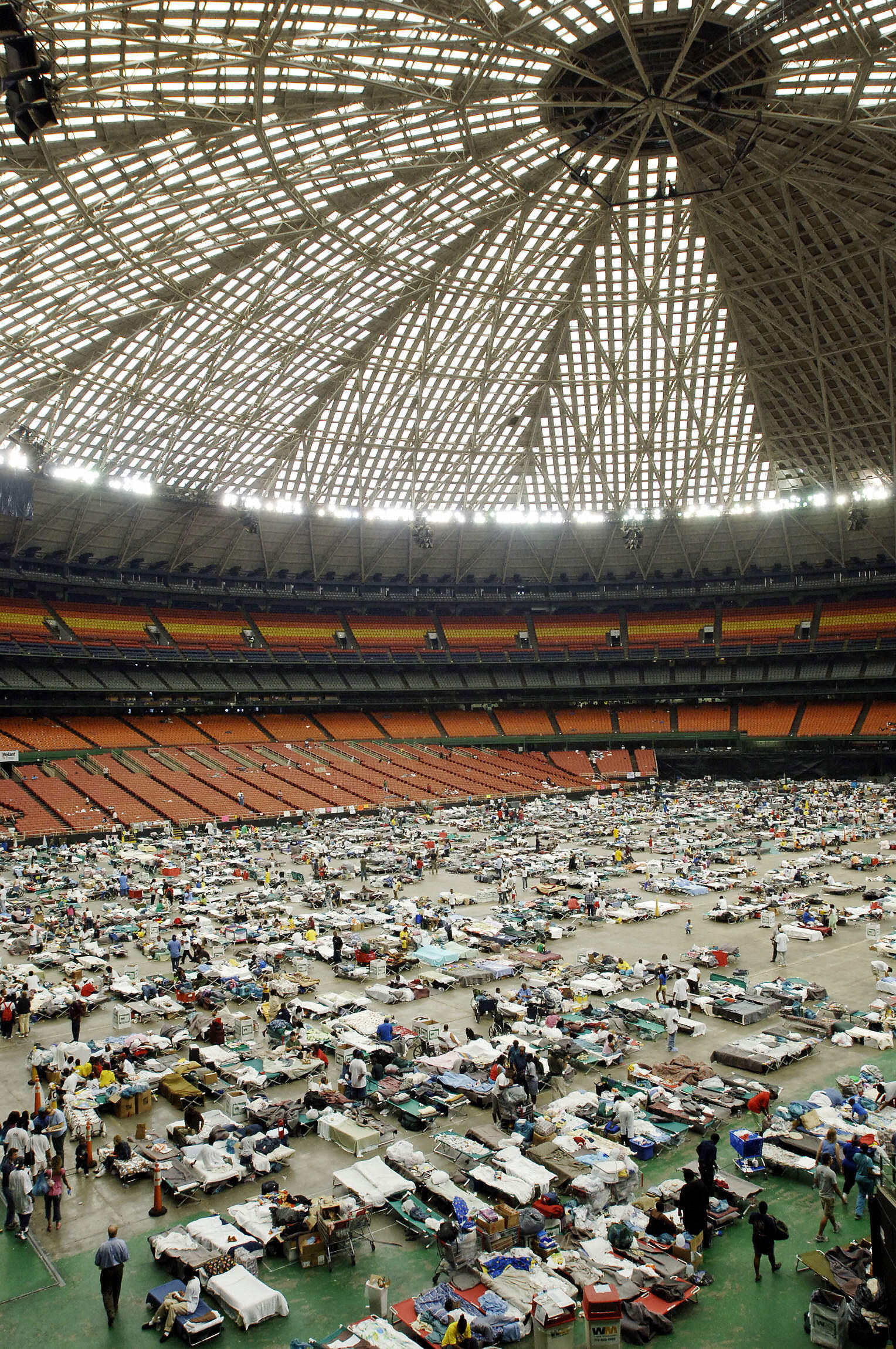 It didn't take long before reporters and TV cameras found the bus and its disheveled-looking passengers as they trudged into the stadium. They were drawn to the baby-faced Gibson, driver of what law enforcement and Red Cross workers had taken to calling the "renegade" bus.

Gibson remembered that one of the police officers there couldn't believe his age. "'You drove that bus all by yourself?'" he said the officer asked him. "'How old are you?' I told him and he said, 'You don't look that old.' I was looking like I was 12."
Gibson was among the early heroes of Katrina, a man barely out of his teens who did what the government had failed to do: rescue dozens of poor people from an impending disaster. He was the perfect man for that moment — someone willing to ignore media reports of looting in New Orleans and hijack public property for the public good.
Gibson's resourcefulness had finally earned him praise and media attention instead of a rap sheet. He said he got to meet Will Smith, Oprah Winfrey, and Spike Lee, among others. His bravery earned him the kind of admiration that eluded even public officials and police officers.
"To some he is a thug," read the headline of his hometown newspaper, the Times-Picayune, on Oct. 16, 2005, "but to the 60 people on the school bus he commandeered as Hurricane Katrina's floodwaters rose, Jabar [sic] Gibson is nothing short of a hero."
He recounted the story of stealing the bus for all of the major cable networks. He got to meet Oprah and claims that she promised him a home and some money for his family. ("She gave me a big hug," Gibson said.) Dozens of people around the country pledged their support to him.
"When they blew it up on the news, I took it for a joke," he said. "Before you knew it, I was at a CNN table."
Gibson said he doesn't remember the name of the man who offered to make a movie about his life and flew him out to L.A. for negotiations. Many of his claims can't be corroborated or verified by anyone other than himself; none of the media reports from that time ever cite the alleged moviemaker by name. But it's a story Gibson's told and retold: the first-class flight to L.A., the fancy hotel, the wining and dining.
"I felt like he was going to take this story and run with it," Tranice Gibson said.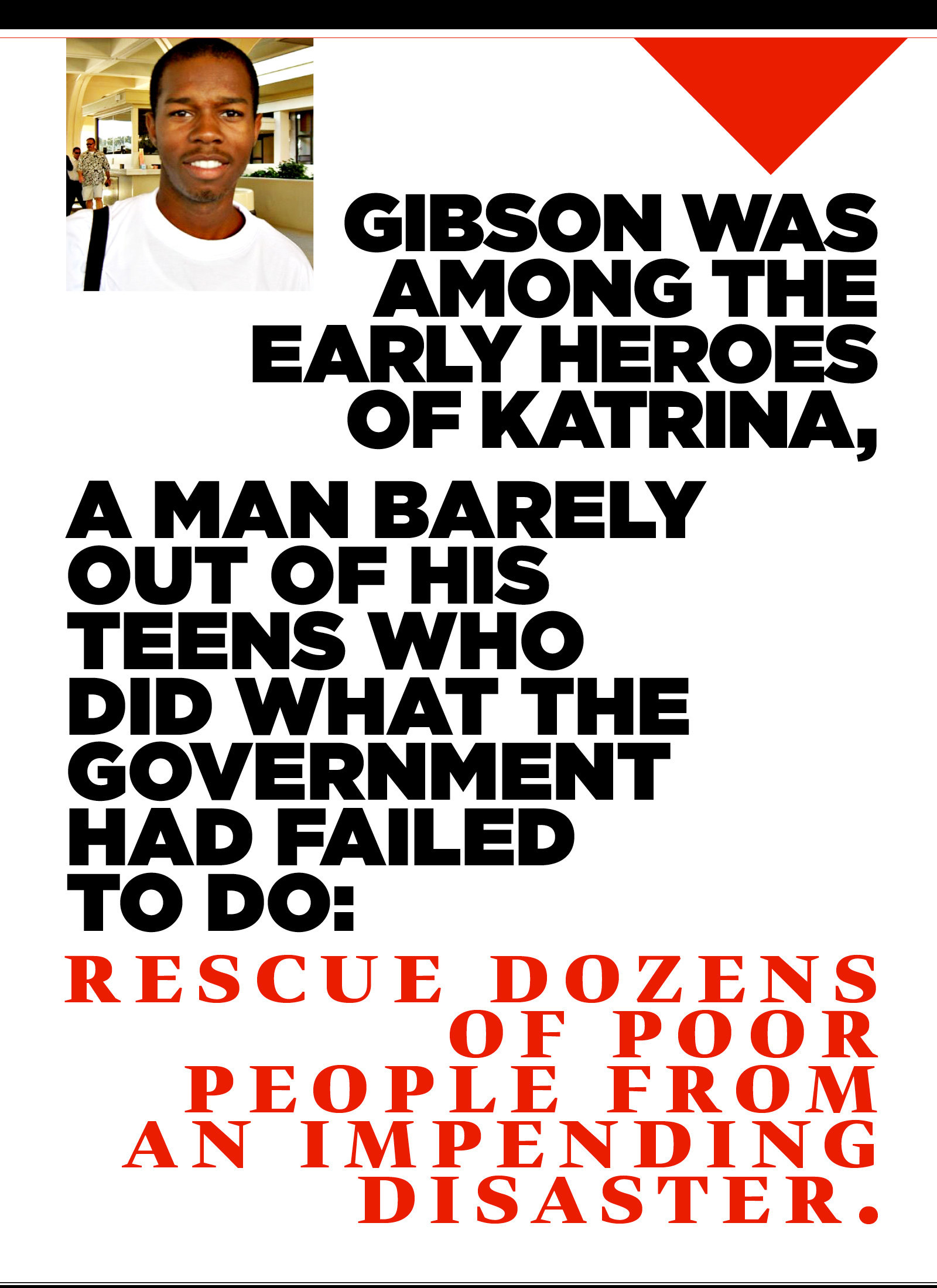 Over the next few days, the Astrodome welcomed more buses and evacuees from New Orleans. Among them was Bernice Gibson.

She'd been waiting around in her stuffy little apartment at the Fischer, in the dark and the heat, shrugging off still more pleas from Jabbar to evacuate the flooded city. But when U.S. marshals finally ordered her out of the projects, she caught a bus waiting at the West Bank Expressway for the remaining residents.
"They told us it was too dangerous to stay," she said. "So they brought us straight to Texas."
By the time she got to Houston, Jabbar and his family were ready to move into one of the nearby hotels. Conditions inside the Astrodome had gradually turned unsafe, Jabbar said.
"There were all kinds of people in there," he said. "Rapists. Child molesters. Thieves. People on drugs. You didn't know who was who. It was a disaster."
Jabbar and his family moved to a Howard Johnson hotel paid for by FEMA, only a few blocks from the Astrodome.
In the weeks that followed, he alternated between frustration — "It's all been the run-around. Why can't somebody just give me a job and a place to live?" he told the Houston Chronicle in September 2005 — and excitement about opportunities to cash in on his story.
It even appeared as if the New Orleans police were prepared to let Gibson go without any fuss. The department spokesperson told the Times-Picayune that they weren't searching for him. "He could go from thug to hero from hero to thug again," the spokesperson said.

Gibson said that almost as soon as he got back to Houston in late September, he linked up with a BBC TV crew that wanted him to lead them back into New Orleans. The devastated city was finally reopening, even though wide swaths of the area still didn't have power and many roads were still impassible because of debris and water damage. Gibson was going to help show the scale of the damage to his city for the cameras.

One of the first places they went was the Fischer, which rescue workers had essentially moved into now that most of the residents had vacated and had little means of returning anytime soon. Gibson returned to his home only to discover that a pair of U.S. marshals had started living there, using candles to light the small, dark rooms and pushing his family's old furniture out of the way.
"They just took it over," he said. "But what were we going to do?" A spokesperson with the U.S. Marshals Service denied Gibson's claims.
Gibson returned to Houston, where some of his family was still living in hotels around the city. But getting around the far-flung city of 2 million was a chore, if not impossible, without a car. They could feel the weariness of locals who had once welcomed the evacuees into their city.
"New Orleans people really took over Texas," Bernice Gibson said. "They treated us well and showed us a lot of love. But they were so glad to get us out there."
The feeling was mutual, as far as Jabbar was concerned. He wanted his own money. He wanted to live near his family again and provide for his two children. And he felt Houston's attempt at New Orleans–style food was a poor imitation.
"They didn't have no crawfish. No sausage. No jambalaya," Jabbar said. "Their food just didn't taste the same."
He said he didn't call the man in Hollywood, the one who he said promised him a movie and a book and the kind of money that would've lifted his family out of generations of poverty. Instead, he headed back to New Orleans for good in October.

In November, Gibson was arrested by New Orleans police on charges of possession with intent to distribute heroin.

According to the Times-Picayune, Gibson had been driving his rental car erratically and nearly struck a police cruiser. When the officers set out after him, Gibson stopped the car, and he and another man ran toward the Fischer housing complex. That's where they were caught by the officers and taken into custody.
It was a swift and embarrassing nosedive. "He came home and was his old self, getting right back into the same old things," Bernice Gibson said. "You can't tell Jabbar nothing. He's hard-headed. I tried to tell him that what he's doing wasn't working."
While he was out on bond, in January 2006, Gibson was arrested again. He was charged with cocaine and heroin trafficking and possession of a gun while dealing drugs.
Gibson was carrying 1.7 grams of cocaine, an undisclosed amount of heroin, and a .357-caliber revolver when he was caught by New Orleans narcotics detectives and federal agents, according to the Times-Picayune.
When media reports referred to Gibson this time, they placed quotation marks around "hero." He was sentenced to two years in a medium-security federal prison in Yazoo City, Mississippi.
"I was the main one disappointed in him," said Tranice Gibson. "Actually, I'm pissed at him."
While Gibson was in prison, he claims he missed out on a chance to appear in Spike Lee's HBO documentary about Katrina, When the Levees Broke. (Lee's production company did not respond to a request for comment.) All those promises of homes and money the Gibsons claim Oprah made to them never materialized. (A spokesperson for Winfrey said, "Oprah Winfrey spoke with numerous individuals during her 2005 visit to the Houston Astrodome and through the Angel Network supported organizations which further aided various people and communities. We cannot verify that any outreach was made to this specific individual.")
"If Jabbar don't get in trouble with the law, he'd be a millionaire," said Deidra Gibson, another cousin who today lives in the Fischer. "Oprah would've made sure of that. To scheme on some small-time money like he was doing, it didn't make sense."
When he was released in 2008, Gibson moved into a two-bedroom, shotgun-style home in Gretna, only a short drive from the Fischer but far enough from the trouble.
He lived there with his girlfriend Shareena and their daughter Sha-Mei. He got a job as a construction worker.
When he crossed paths with an officer who was familiar to him, he felt as confident as ever that he was done with the streets. The cop, who knew him from past arrests, wasn't so sure. "Nice jeans," Gibson said the officer told him, a smirk on his face, then added that it would only be a matter of time before Gibson was back in the slammer.
Gibson admits that he was still dealing drugs, even as he tried to transition into becoming a family man. Gibson's family say that he got lured into a turf war between rival neighborhoods and housing projects, a conflict that started over drugs.
"It was, like, a back and forth thing between Algiers and the projects," Troy Gibson said. "They felt like Jabbar was down with those dudes at Fischer. And you know how it gets when there's beef."
One early afternoon in November 2008, Jabbar Gibson was driving home from work on Landry Avenue when he noticed a car following him. Soon after, Gibson said, he was pulled over by a police officer for a minor traffic violation.
The officer let him go without even a citation, Gibson said. That was unusual, he thought, given his history with police. Minutes later, the other car that had been following him pulled up alongside him and pointed a gun into his driver's side window.
"All I saw was the gun," he said. "When I woke up, I was in the hospital."
He got shot three times, in his left cheek, in his left arm, and on the left side of his torso. Somehow, he survived.
Police never found the shooter, though Gibson and his family said they know who shot him. Gibson refuses to identify him, even from federal prison. "He's around," he said, cryptically.
Gibson hadn't even fully recovered when he was arrested on charges of possession of cocaine and possession of a firearm by a felon. According to the arrest report, New Orleans police pulled him over for a traffic stop and found 5.4 grams of crack cocaine packaged for distribution hidden in his left shoe.
When media outlets covered his legal troubles this time, they didn't even make reference to his heroic exploits five years earlier during Katrina. He was just another repeat drug dealer busted by the cops.
In October 2010, he was sentenced to 15 years in prison.
Gibson and his family want his hurricane rescue to matter, to resonate beyond their projects, to define his life. But it could be that, much like his hometown post-Katrina, Gibson's hardscrabble heroics captivated the nation for only a moment. Oprah and Spike moved on, and the newspapers now see him only as a criminal. When he went behind bars, his best moment disappeared with him.
"He could have been famous," Bernice Gibson said. "Everybody was on his side. It could have changed everything for us. I was a little disappointed at first. But I had to get over it."
On a recent summer afternoon, his family members gathered in the living room of a cousin's home. Over the years, they have grown weary of talking about those post-Katrina days when they were forced from their homes and lost the few meaningful possessions they had. But today was different because they had a chance to talk about Jabbar.
"If it wasn't for him," said Deidra Gibson, one of his cousins, "we'd have been stuck here with nowhere to go."
"They can say he went from a hero to a zero or whatever they want," said Bernice Gibson. "He saved my whole family's life, and he saved everyone in the Fischer. And the world should know it."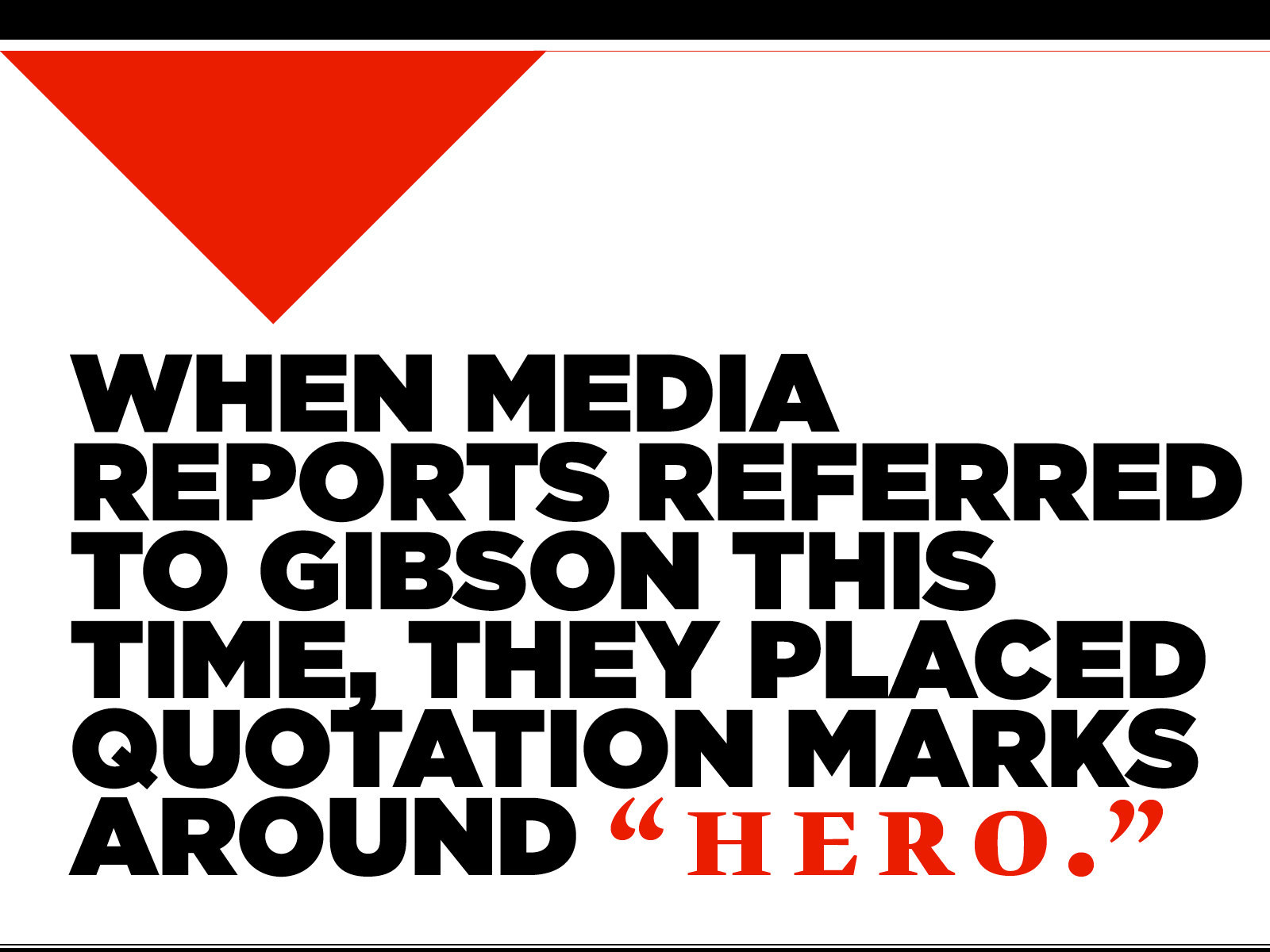 Now 30, Jabbar Gibson doesn't look all that different from the young man who crammed himself behind the steering wheel of that Orleans Parish bus.

His head is covered with a thin layer of stubble. His eyeglasses give him a boyish look that the billowy prison uniform and the tattoos covering his torso and arms don't.
It's been years since he's given an interview. After he started getting into trouble, he said, no one was all that interested in his story anymore.
"I ain't really a bad person," he said. "I did a little bit to support myself. But I never intended for it to be like this."
Ironically, it was in prison where Gibson finally caught a real break. His public defenders — none of whom responded to a number of interview requests — argued in 2012 that his case should be considered under the Fair Sentencing Act, which reduced sentencing disparities for those found guilty of dealing crack. The judge agreed.
"I was really about to give up," Gibson said.
Gibson will be released 10 years earlier than expected, a bit of fortune that saved him from the daily despair of lockup. He will be sent to a federal halfway house in Baton Rouge on July 31, and will be officially released in January.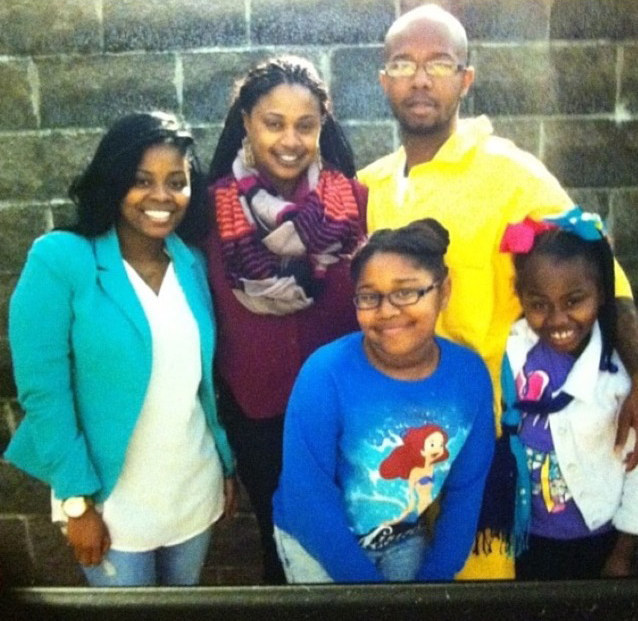 Waiting for his return will be his two daughters, Sha-Mei, 13, and Jakyra, 10; his longtime girlfriend; his mother and three siblings; and many more family members who have grown to think of Jabbar as the family's glue.
"Jabbar is like the golden child of the family," Tranice Gibson said. "He was always under my grandmother a lot and he was her favorite. When she died, it's like he kept the family up and together."

He doesn't plan to live in New Orleans. "I'm gonna live in Baton Rouge," he said. "I gotta change my people, places, and things."
Gibson said he'll try to get back into construction work, or failing that, maybe try to apply for a commercial driving license. He's got some experience driving large vehicles.