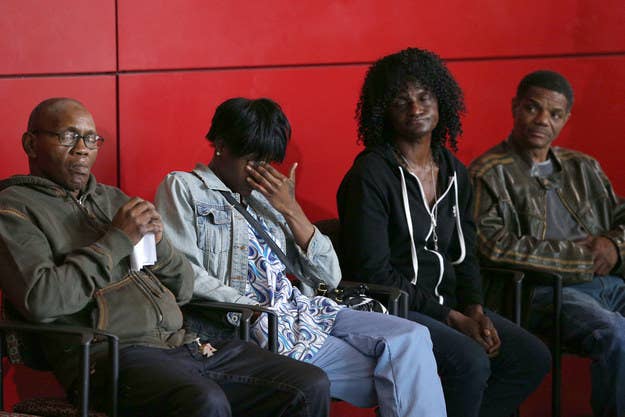 BALTIMORE — The applause in the conference room, located on the 23rd floor of one of the city's few skyscrapers, sounded similar — but much smaller, in scope — to the whoops heard from the steps of city hall.
In the room was the mother, stepfather, and younger sister of Freddie Gray, the 25-year-old who suffered a fatal spinal injury while in Baltimore police custody on April 12. They were joined by their attorney, Billy Murphy, and a couple other staff members.
All of their eyes were focused on the taped press conference of Baltimore state attorney Marilyn Mosby, who had announced that the six police officers involved in Gray's death would face felony charges. Mosby finished her statement to raucous cheers from those watching from the city hall's War Memorial Plaza.
None of this was a surprise to anyone in the room. Word had gotten out a couple hours ago.
But seeing that the indictments were real, for themselves, was a sort of catharsis. The air in the room was now thick with praise and, for at least a moment, gratitude.
"Amen," said Gloria Darden, Gray's mother. She clasped her hands together. "Thank you, God."
Everyone rose to their feet for hugs and high-fives except for Murphy, who had impassively watched Mosby's announcement while leaning back in his chair with his arms folded over his belly.
When it was over, Murphy swiveled his chair toward everyone else in the room. His eyes were red with tears.
"He did it," said Richard Shipley, Gray's stepfather. "He did it for us."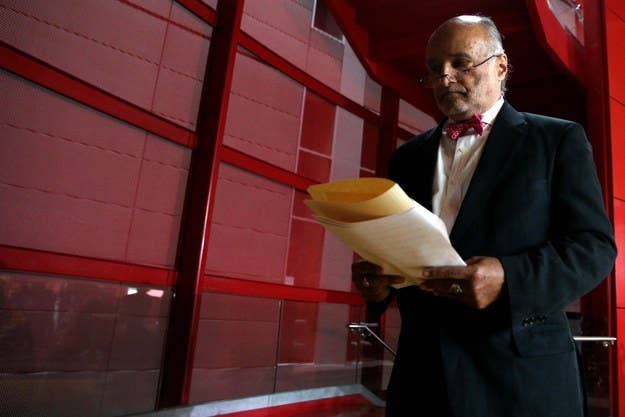 It was an especially big day for Murphy, one of Baltimore's most revered attorneys, a former circuit court judge, and a one-time mayoral candidate. Murphy looms so large in the city that he once played himself in an episode of "The Wire," the gritty HBO crime drama about the city and its institutions, from politics to the drug trade.
Murphy's Friday started at a business hotel in Columbia, a leafy suburb about 20 miles south of Baltimore. He had been tasked with giving an hour-long address to a room full of trial attorneys as part of a seminar on medical negligence and nursing homes.
Murphy arrived in a cab about an hour early, his breath smelling of coffee. Known both for his folksy manner and long gray ponytail, Murphy received an enthusiastic welcome, eagerly accepting handshakes and praise from younger attorneys. One younger man had approached him, full of gusto: "One day," he told Murphy, "I plan to be you."
His speech to the trial attorneys was supposed to focus narrowly on opening statements in medical negligence cases. But he often referred back to his role representing the Gray family.
"I prayed to be involved in this national debate on police brutality," Murphy said, choking up several times. "It was an answer to my prayers because I'm tired of it."
Then he asked the room, filled mostly with middle-aged white men, to "pray for me. If I make one serious mistake, I've set the cause back one million years."
His speech closed to a standing ovation.
When Murphy stepped from behind the podium, several people rushed over for hugs, handshakes and to inform him that Mosby had announced — while he was speaking — her plan to press charges against the officers involved in Gray's death.
He started tearing up again.
The rest of the day was spent at his downtown office, meeting with Gray's family, putting together a press statement, and arranging for an afternoon news conference at the Reginald Lewis Museum of Maryland African American History & Culture.
Gray's mother Gloria Darden, on her way out of the office, told BuzzFeed News: "I feel good because we got all six of them." Darden paused, then added: "You can rest, Freddie. You can rest. You can be in peace now."
They all gathered again a few hours later at the nearby museum for the news conference. Shipley was the first to address the crowd of about 75 media members.
"We are satisfied with today's charges," Shipley said. "These charges are an important step in getting justice for Freddie. And we ask that whoever comes to our city, a city that we love, a city that we live in, come in peace."
Murphy, as is his custom, spoke at length during the press conference. Murphy called for a new culture "where good policing is rewarded and bad policing is punished."
He went on to say that "we must seize this opportunity" to reform policing, and in doing so, honor Gray's legacy. When asked if he believes the six charged officers are guilty, Murphy noted that the case had just been filed.
"We haven't said we believe these officers are guilty," Murphy said. "We have said we want justice and justice is following the true facts wherever they lead."
When it was over, Murphy and a few members of his entourage walked the half-mile back to his office. They were greeted as if they were conquering heroes.
"You did so wonderful," one woman told him. "This is your moment."