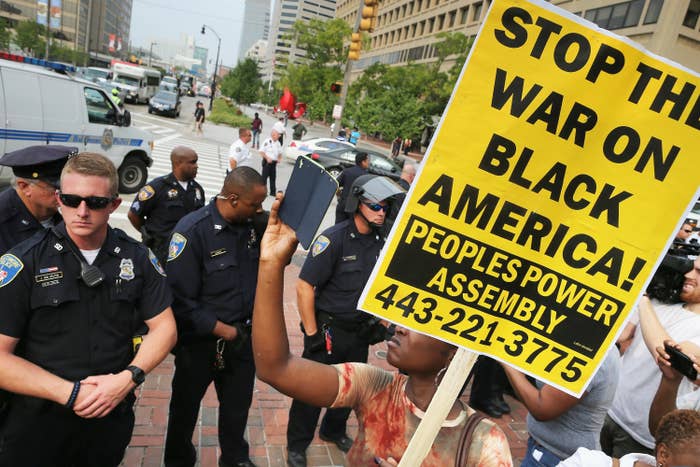 Baltimore police Officer William Porter approached the rear of the police van and peered through the open doors. Inside was Freddie Gray, a guy known to Porter and other police officers as a local drug dealer and someone who regularly put up a fight during arrests.
That certainly was the case on the morning of April 12, when Gray was taken into custody in the streets of West Baltimore. But after initially screaming in pain and saying that he needed medical attention, Gray grew more quiet inside the van.
To the point of being unresponsive, Porter said.
Gray had been placed on his knees, slumped against a bench, with his wrists handcuffed behind his back. Porter called out to him. "Freddie, what's up?" There was silence — Gray wasn't breathing and had lost consciousness.
"Oh shit, we need to call for a medic," Porter recalled telling another officer, according to video of his statement made to detectives.
Friday offered the first public glimpse into Porter's version of events from that day, told in the form of a recorded video of his nearly hour-long interview with detectives. Prosecutors played the video for jurors as part of their morning-long inquiry of Det. Syreeta Teel, the department's lead investigator on the case.
Porter, 26, is one of six officers charged in Gray's arrest and death on April 19. He has pleaded not guilty. Gray's death, from a spinal injury suffered while in police custody, sparked unrest in Baltimore in May.
The video of Porter's interview was the highlight of the morning session, the first time the jury and public have seen — or heard — the three-year police veteran talk at length about what happened when he arrived on the scene of Gray's arrest on April 12.
Porter sat down with Teel and another detective on April 17, two days before Gray would die from fatal spine injuries suffered while in police custody.
In the video, Porter sat down at a small table in a small gray room at police headquarters. Teel sat in front him and the detective took the seat to Porter's right. Porter signed a number of documents apprising him of his rights before offering his statement and then calmly, if not cooly, launched into his testimony.
Porter said he arrived at the scene of Gray's arrest at about 8:40 a.m. He said he heard Gray yelling inside of the van before he saw him. Since Gray was already in custody, Porter said, he focused on maintaining the crowd that had gathered at the scene. He said he heard someone make an allegation of "police brutality."
Porter later met the police van at another stop, where he noticed the officers had taken Gray out of the vehicle. "It's always a big scene when you try to arrest Freddie Gray," Porter told the detectives, recalling he'd once heard a story about Gray trying to kick out the windows of a police cruiser during one arrest.
Asked repeatedly by the detectives which officers put Gray back into the van, Porter couldn't remember. "I'm sorry," he said, trying to remember. "Skinny white guys."
Porter said the officers lifted Gray under his arms and slid him back into the van.
At the van's next stop, not too far from that one, Porter approached the van and saw Gray laying on his side with his hands cuffed behind him. "What's up, what's going on?" Porter recalled asking Gray.
"Help me," Porter said Gray told him. "Help me up."
Porter said he then lifted Gray up off the floor, leaning him against a bench in the back of the van — often referred to as a "wagon" during testimony. "I asked him what was wrong and he couldn't say what was wrong," Porter said.
Porter said he figured that Gray had expended a lot of energy trying to run from officers and then banging around in the van, and was finally started to calm down. Porter told another officer that it looked like Gray would have to go to a hospital. "He looks like he's in bad shape," Porter said he told another officer.
The van made another stop to pick up another arrestee, Donta Allen, and then headed to the district station. It was there, testimony showed, that another officer, Zachary Novak, called for a medic while Porter tended to the limp and nearly lifeless Gray.
"Wasn't Officer Porter holding Mr. Gray in a lifesaver position?" defense attorney Gary Proctor asked Teel during the cross-examination.
"Yes," Teel responded.
"Keeping his airway clear?" Porter asked.
"Yes," Teel said.
Later in the day, Assistant Medical Examiner Carol Allan testified Gray arrived at the hospital on April 12 with a significant spinal cord injury. Over a series of objections from the defense, Allan said the cause of Gray's death was the neck injury and that the "manner of death" was homicide. Allan will face cross-examination from the defense, which unsuccessfully raised an objection to her being classified as an "expert witness," when the trial restarts on Monday.
Gray's spinal cord was "functionally cut through'. … This is not a normal spinal cord," said Allan, who performed the autopsy on Gray.
Over the next several hours, Allan deliberately went through what happens to someone who suffered a neck injury similar to Gray's. She said the sort of fracture Gray was later found to have "would have the effect of decreasing the capability of Mr. Gray to breathe." And even if Gray was initially able to speak and breathe, that the damage to his diaphragm would only worsen his condition and make it harder for him to breathe.
"You would suffocate," she explained.