St. Louis Police, Ferguson Protesters Agree To Tear Gas Ban
Civil rights attorneys and St. Louis-area police have reached an agreement that prohibits the use of chemical agents against anti-police-brutality demonstrators.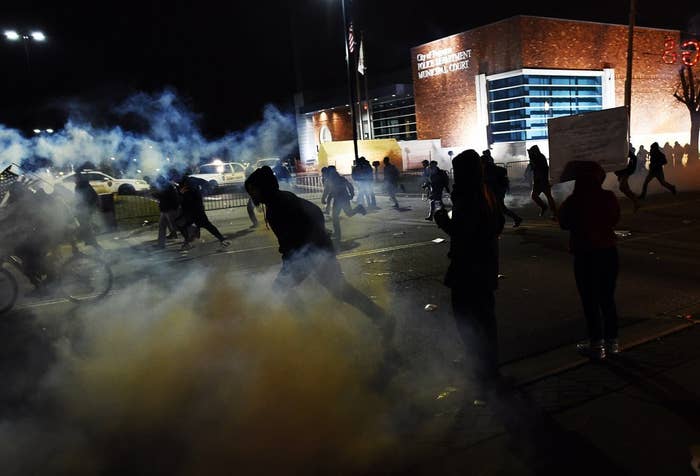 Law enforcement officials for the Missouri area that includes Ferguson and attorneys for anti-police-brutality protesters have reached an agreement that would prevent the use of tear gas or other chemical agents to disperse peaceful protests.
Calling it a "monumental, unprecedented victory," attorneys for the protesters said the judge's order will prohibit police from "frightening" or "punishing" protesters with tear gas and other chemical agents.
The agreement means local law enforcement agencies — including the city police department, the county police department, and the Missouri State Highway Patrol — can no longer use tear gas, smoke, pepper spray, or other chemical agents against peaceful protesters, or without issuing clear warnings and allowing demonstrators to exit the area.
"This sets forth some pretty common sense standards here, " Denise Lieberman, a senior attorney with The Advancement Project, told BuzzFeed News. "We haven't seen this kind of heavy-handed response to protests in a long time."
Ferguson, a suburb of St. Louis, erupted in protests last August after the shooting of an unarmed black teenager by a white police officer and again in November after a grand jury decided not to indict the officer. Police responded forcefully to the protests that followed, frequently firing tear gas at crowd they felt had grown out of control.
Last December, several plaintiffs — including the owner of popular St. Louis coffee shop MoKaBe's, a 20-year-old student from Southeast Missouri State, and two co-founders of Millennial Activists United, among others — filed a lawsuit against police, alleging that officers targeted them for excessive force and used tear gas in enclosed spaces where they were unable to escape.
The directors of the Unified Command — St. Louis Metropolitan Police Department Chief Sam Dotson, St. Louis County Police Department Chief Jon Belmar, and Missouri State Highway Patrol Capt. Ron Johnson — were named as defendants in the lawsuit.
"The agreement approved by the Court today documents a commonsense agreement that will allow the St. Louis Metropolitan Police Department to continue to protect protesters' constitutional rights, keep people safe, and protect people's homes and businesses," St. Louis City Counselor Winston Calvert said in a written statement to BuzzFeed News.
The lawsuit asked Judge Carol E. Jackson of the United States District Court for the Eastern District of Missouri to issue a temporary restraining order to stay within the legal guidelines for determining illegal assembly and to restrict the use of chemical agents.
The police response "appeared designed to chill people's speech and make people scared to participate," said Kira Banks, a psychology professor at St. Louis University who was also one of the plaintiffs. "Gratuitously tear-gassing everyone felt like an intimidation tactic; the message being sent was: 'We are punishing you for being part of this movement.'"
Witnesses for the law enforcement agencies countered that tear gas prevented property damage in earlier protests and that chemical agents were used in response to businesses being looted and shots being fired from crowds.
But Jackson rejected those arguments, even denying a request that tear gas be used only as a "last resort," saying there was no way to gauge that circumstance. In late December, Jackson issued a temporary order prohibiting police from using chemical agents without giving a clear warning or a clear means of exit.
It was at least the second time a federal judge has had to weigh in on police action during protests in the St. Louis area following the shooting of Brown. In October, U.S. District Court Judge Catherine Perry issued an injunction barring police from enforcing what became known as "the five-second rule," in which protesters in Ferguson could only stay still for that brief amount of time. Perry ruled that the statute was unconstitutional because it violated protesters' freedom of speech rights, as well as due process.
But while police and protesters' attorneys tried to negotiate a settlement in January, another group of protesters stormed the St. Louis Metro Police Department, demanding the release of their colleagues and meetings with department officials including Chief Sam Dotson and Mayor Francis Slay. Officers arrested five demonstrators and used pepper spray on others.
That protest complicated negotiations, which dragged on until this week. A new motion was filed with the court Wednesday, and Jackson issued the order today.
Lieberman said the order strikes a blow for freedom of speech and police accountability, saying that officers have been trying to "silence the voices" of protesters.
"This harkens back to the civil rights movement," she said. "It makes me think of fire hoses and things like that. Their response has been designed to paint people on the street as thugs and criminals and people that can be ignored."
UPDATES with quote from police.