Ferguson, Missouri — Four months ago, Jenay Robinson and her two cousins looked at a modest two-bedroom apartment for only $550 a month in the Canfield Green Apartments.
Sure, the Canfield Green area was known as a hotbed of drugs and crime. But Jenay, a 19-year-old community college student and Steak 'n Shake employee, didn't have a lot of options.
She and her cousins signed a one-year lease on Aug. 1.
Eight days later, Michael Brown, their friend and onetime classmate, lay bleeding to death outside their new apartment.
"Our first month here was hell," Jenay said a few days ago.
They wanted out — and they were not alone. Brown's death has caused Canfield Green, long troubled by drugs, crime, and aggressive policing, to hemorrhage tenants. About a dozen residents interviewed over the past week were unanimous: Anyone who can leave is doing so.
"I will say a lot of residents have moved out over the past several months," said Randy Lipton, president of the St. Louis-based Lipton Group, which owns Canfield Green. He declined to give figures, but only 60% of the apartment's 450 units were occupied as of Friday, according to an employee in the leasing office who didn't want to be identified. While she wouldn't say how much the occupancy rate had fallen since August, she did say, "It's down."
Parking lots are virtually empty. Unkempt shrubbery reaches through the chain-link fence that rings the perimeter of the complex. At least one building has no signs of life at all — there are no cars in front, and all the windows along the back remain dark at night. Canfield Green often looks abandoned.
A new round of protests are expected at the apartment complex and throughout Ferguson after a St. Louis-area grand jury decides whether to indict Darren Wilson, the white police officer who killed the 18-year-old Brown. The decision is expected any day.
Canfield Green's remaining residents are playing a familiar role in an old American racial drama. They fled to this suburb of 21,000 to escape the perils of the city, only to watch whites retreat even further to the outer suburbs, taking the promise of economic prosperity with them. Now Canfield Green's residents find themselves trapped in the same kind of segregated, violent, deteriorating neighborhood they had hoped to leave behind.
That process took years, but since Brown's death, the change at Canfield Green has been swift and ominous. "It's a ghost town over here now," said David Whitt, a 35-year-old married father of three who's lived here for a year and a half. "Nobody wants to live like this."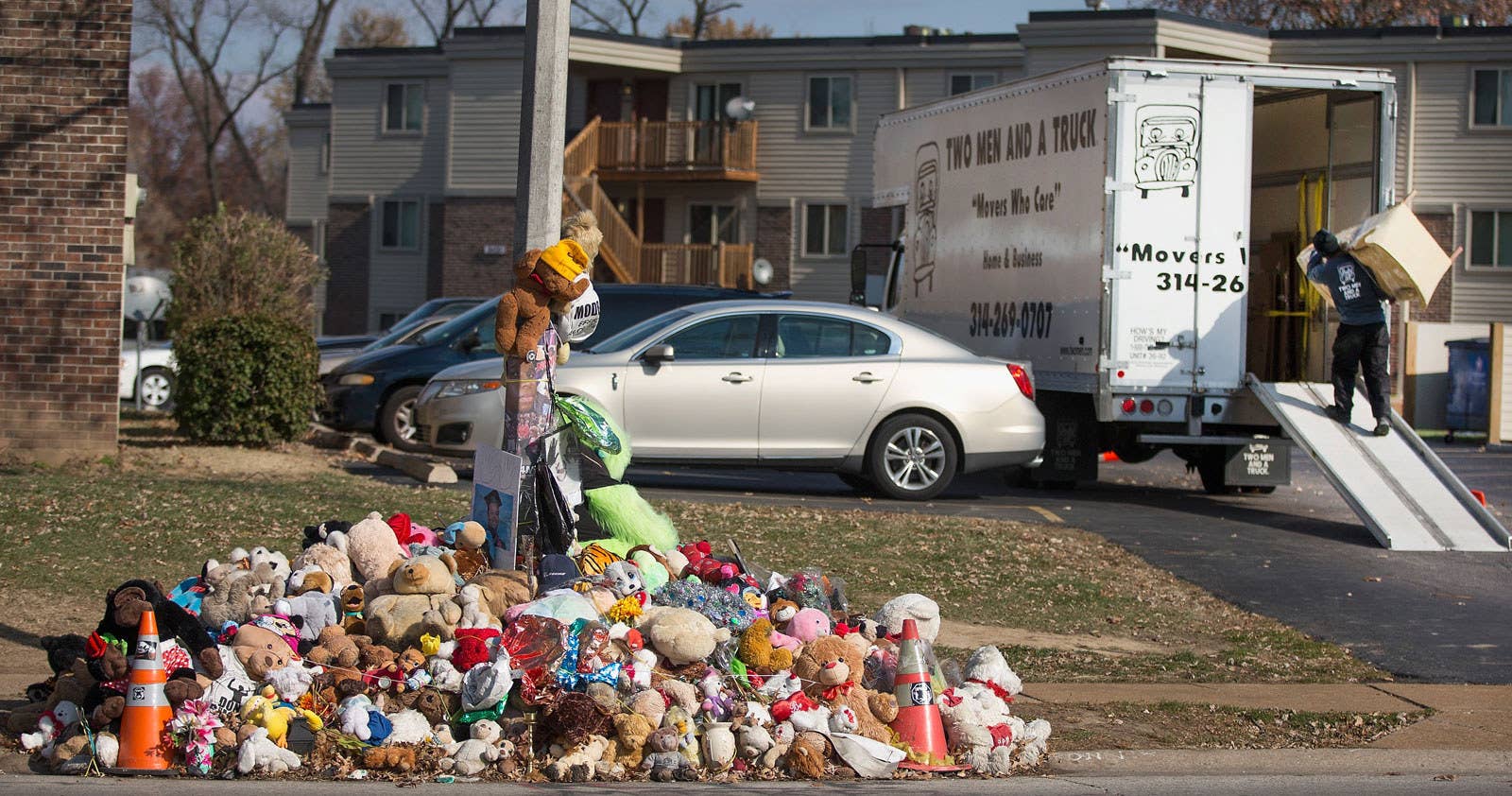 Brown was shot walking through the complex where he was living with his grandmother. Hundreds of residents saw his body lie for four hours in the street under the hot August sun — and they cannot escape the memory. In the middle of Canfield Drive, near the very center of the apartments, dozens of people come every day to visit the makeshift memorials: mounds of stuffed toy animals, potted flowers, and candles. Some take pictures or record short videos of the memorials, one in the median of the two-lane street that runs through the complex and the other at the base of a nearby light pole. Other visitors leave a memento of their own, maybe another teddy bear or perhaps a baseball cap. A few take in the morose scene silently.
"This used to be a beautiful community," said a 68-year-old man who's lived at Canfield Green for 18 years and didn't wish to be identified. "Then we went through a cycle of drugs, crack, and then marijuana, and now back to crack. I wouldn't recommend anyone move over here."
In the 1960s, Ferguson annexed a wide swath of property near Canfield Drive and West Florissant Avenue. Canfield Green, which opened in 1978, was one of four large complexes clustered in this isolated corner of town.
Initially, Canfield Green was considered a safe and affordable option for middle-class people looking to eventually buy a home in the area. The complex had as many whites as blacks through the 1980s, former and current residents say.
"It was a nice, diverse group of tenants," said Hubert Hoosman Jr., a black real estate consultant in Ferguson who lived at the complex in its first couple of years. "I had lots of white neighbors. It was very well maintained."
By the end of the decade, relentless socioeconomic forces swept through the St. Louis area. Many whites in Ferguson continued their migration to the outer suburbs while black residents took their place seeking better schools, nicer stores, safer streets, and more promising work.
A recent report by the NAACP's Legal Defense Fund notes that Ferguson was 85% white and 14% black in 1980; today, Ferguson is 29% white and 67% black, according to the 2010 Census. "These rapid demographic changes — and the discriminatory practices that enabled their development — laid the groundwork for the racial tension that has surfaced in Ferguson," the report says.
Black people in America are always attempting to escape segregation, while white people often flee when blacks move into their neighborhoods. "Once a place gets about 35% black, it's probably going to be 90% black," said Jeff Smith, a former Missouri state senator and urban policy professor at the New School in New York, whose observation is supported by research. "I just watched it happen in neighborhood after neighborhood. You could see it happening in Ferguson too."
Today, Canfield Green sits in the midst of one of Ferguson's most troubled areas. A St. Louis Post-Dispatch analysis of crime data found that the relatively small area along West Florissant Avenue and east of it — the site of the most violent clashes between protesters and police following Brown's death — accounted for nearly a fifth of all serious crimes reported in Ferguson between January 2010 and August 2012.
That area, located on the very fringe of the town's boundaries, is mostly composed of four apartment complexes: Canfield Green, Northwinds, Oakmont, and The Versailles. They have little in common with the town's neighborhoods of mostly single-family homes, but now, perhaps more than ever, their fates are linked.
"The prices on existing listings have been coming down very rapidly," said Claire Jackson, a real estate agent who's trying to sell a two-bedroom home about a mile from the apartments. "And sales were already slow in the area."
Luring new tenants is virtually impossible at Canfield Green, where some who live in the complex estimate occupancy has dropped to somewhere between 25% and 50% despite the front office's claims.
"Who wants to live in someplace like this?" said Lauera Smith, a 24-year-old unemployed college graduate who's lived here since February. "This was a last resort. I didn't have anywhere else to go."
Those who remain say many of their neighbors left following the protests in August or were evicted because they lost their jobs and could no longer afford the rent.
It was an exceptionally rough stretch. Tear gas and gunshots filled the air almost every night in the weeks after Brown's death. Canfield Drive, the narrow street that runs through the complex, was clogged with protesters. Police closed off nearly all access points to the apartments with concrete barriers and fencing, hoping to frustrate demonstrators who came from out of town. That left some residents trapped, making it hard to get to work or school, let alone run errands.
"It was very hectic," said Reggie Rounds, a 57-year-old community activist who moved out of the complex in September. "We had problems just every day existing. It changed everything in the community."
"Like many businesses in Ferguson, we have experienced severe hardship and struggle," said Lipton, president of the company that owns Canfield Green. "We are doing what we can to support our employees and residents. Our residents just want to return to normal, and obviously it's very difficult given the circumstances."
The company is still working to rent out its remaining units. On its website and Craigslist, it boasts of Canfield Green's "beautiful rolling hills with fitness trail," individual balconies, large dine-in kitchens, and access to public transportation, among other amenities. "You will be AMAZED by the out-of-this-world space," says one ad. "Stay calm and rent at Canfield Green," says another. "You can have it all," says the property's page on the Lipton Group's website.
As bad as the previous months, nay, years, have been, Canfield Green's remaining residents fear what could happen to their homes following the grand jury's decision.
"They're going to burn this motherfucker down," predicted Robinson. She didn't specify whether she meant protesters or the police.
Either way, the tension is palpable. Residents inspect unfamiliar cars that idle in the parking lots. Others have encouraged their neighbors to shut out the media who are constantly recording footage near the memorials set up for Brown. Some believe that management is actively looking for reasons to evict them now.
"I don't think that's true at all," Lipton said.
A handful of residents have organized Canfield Watchmen, a loose group that encourages neighbors to record encounters with police.
"We were teargassed out of our whole neighborhood," said Whitt, a spokesman for the organization. "We have to look out for each other. It's open season on us n****s now."
No matter what happens in the aftermath of the grand jury's decision, many of the remaining residents of Canfield Green have made up their minds.
"I hate it," said Tamera Cole, a 22-year-old who said her lease expires in February. "I can't wait to get out of here, just like everyone else."