Dallas As A Model Police Force? Not So Fast, Say Activists
Dallas activists who have been pushing for police reform find themselves on the defensive, accused of kicking a decent department when it's down or even being in league with cop killers.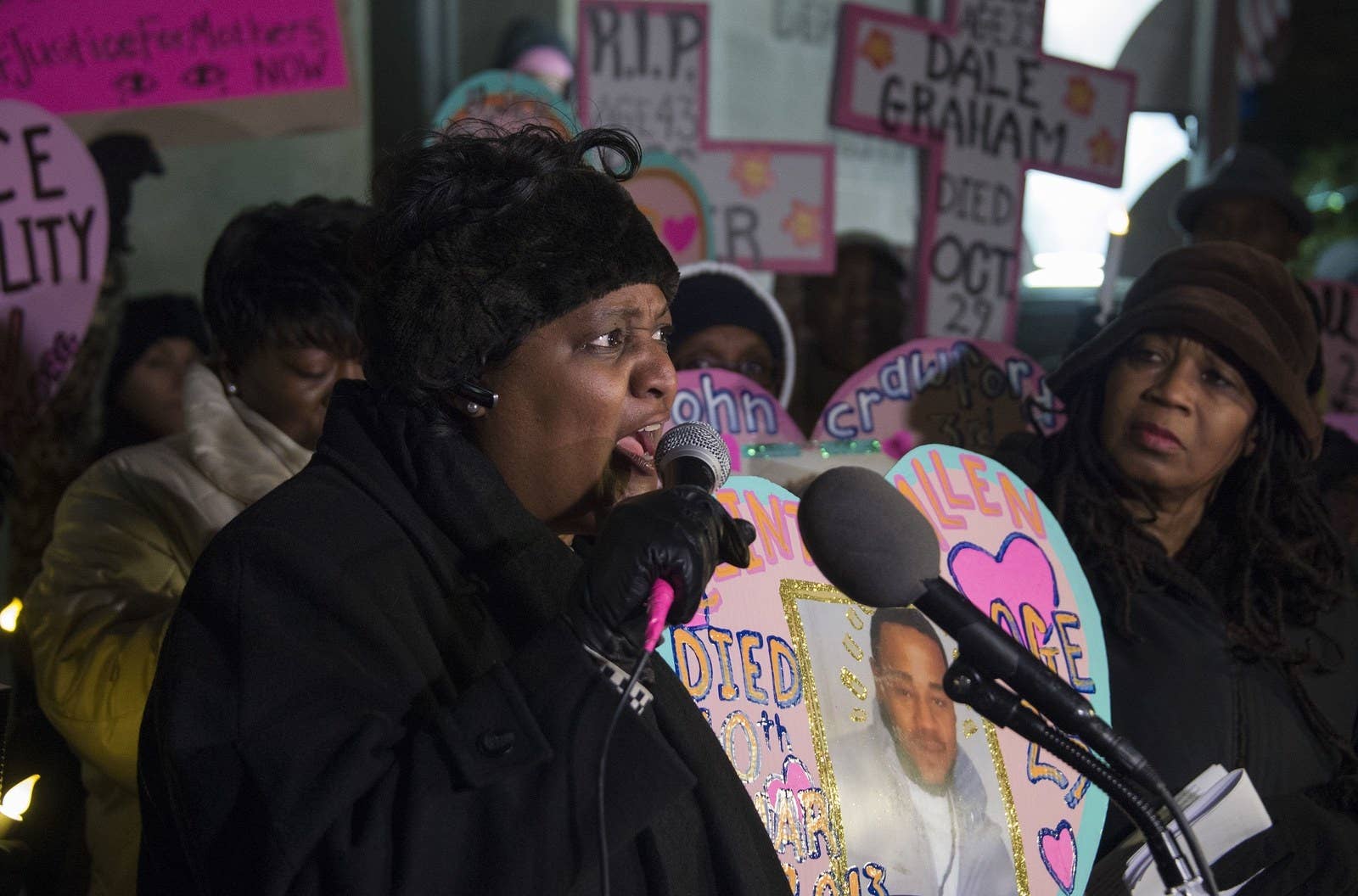 For months, Collette Flanagan wondered if there were more people out there like her: parents who were grieving the death of a child at the hands of the Dallas police.

On an autumn day in 2013 — several months after her 25-year-old son Clinton Allen was shot and killed during a confrontation with a Dallas police officer — Flanagan set out to find other mourning families. She kept the internet search simple, typing "black man shot by Dallas police" into the Google search engine.
Flanagan was aghast. "All these stories started popping up," she said earlier this week, settling into an armchair in the cluttered den of her home in the southern Dallas suburb of DeSoto. "I was like, oh my god."
This was almost a year before the fatal shooting of Michael Brown by a police officer in Ferguson, Missouri, galvanized a national movement against police brutality. Back then, Flanagan could remember only a few TV news snippets and newspaper headlines about police shootings. She couldn't recall the names of any of the victims. She'd never heard of a website, Facebook page, Twitter hashtag, or support group for this particular heartache.
But she soon found them, visiting them at their homes. The mother of James Harper, who had been fatally shot in July 2012 after an officer chased him over three fences and into a horse corral, still couldn't bring herself to talk about her son's death.
"Sandra Harper. She just couldn't deal. So it was [James Harper's] sister who was telling her, 'This lady is going to fight for us, mom,'" Flanagan recalled. "I remember thinking, I ain't trying to help anybody. I was too hurt myself. But then I understood this was bigger than any one child, any one mother."
Flanagan established Mothers Against Police Brutality, which has pushed the Dallas Police Department to change its lethal force policies and make public more information about fatal police shootings, among other efforts.
The group has been vocal and passionate — but often outmatched by the nearly 3,500-officer agency, which in recent years has earned national acclaim under the savvy, media-friendly stewardship of police Chief David Brown, the department's second black chief.
"He's a very shrewd politician," said Flanagan, a characterization not meant as a compliment.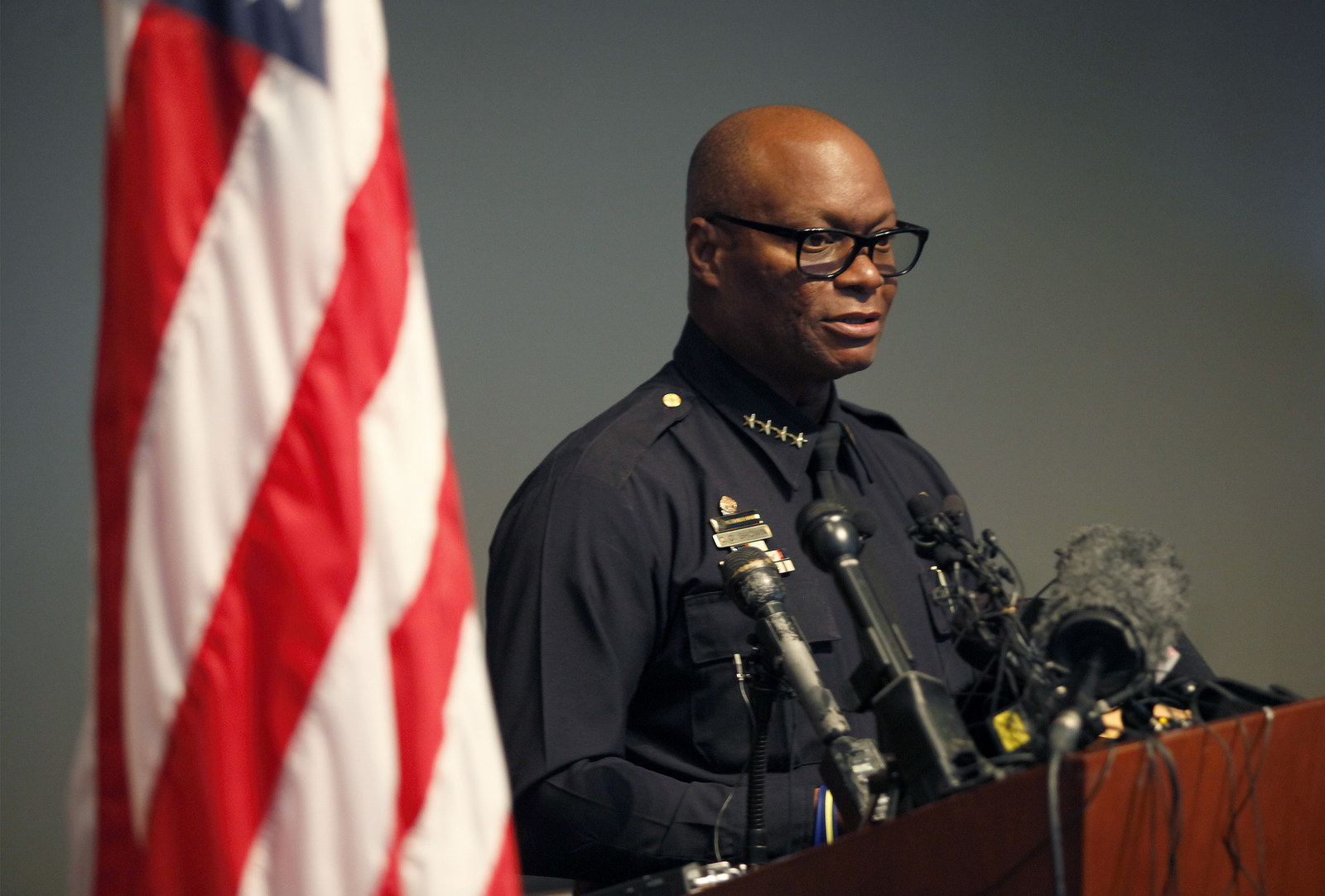 In the wake of last week's sniper shooting by Micah Johnson, which left five Dallas police officers dead, authorities, local officials, national media outlets (including this one), and even President Obama highlighted Brown's police force as a national model for reform.

"The Dallas Police Department is a great example of a department that has taken the issue of police shootings seriously," Obama said last week, noting that the department has "drastically reduced complaints about police misconduct."
There is little doubt that the Dallas Police Department today is better than it was in the 1980s, when it was so notorious for police brutality and lethal force that it came under congressional scrutiny. But the poignant displays of public support for the DPD and the emergence of Brown as a tragic national icon have also obscured many of the department's simmering problems.
Activists' biggest indictment of the Dallas police: Its internal affairs department almost never finds that a police officer did anything wrong. The last time it ruled that an officer-involved fatal shooting was "unjustified" was back in 1973, when Officer Darrell Cain killed a 12-year-old boy who was actually wearing handcuffs when Cain shot him in the head.
"The department has, in fact, a decades-long history of unaccountability," said John Fullinwider, a longtime community activist.
Brown — who declined to be interviewed for this story because, a spokesperson said, he was attending funerals — has said that most officers who have been involved in shootings have not violated "our deadly force policies. Some have and they've been held accountable."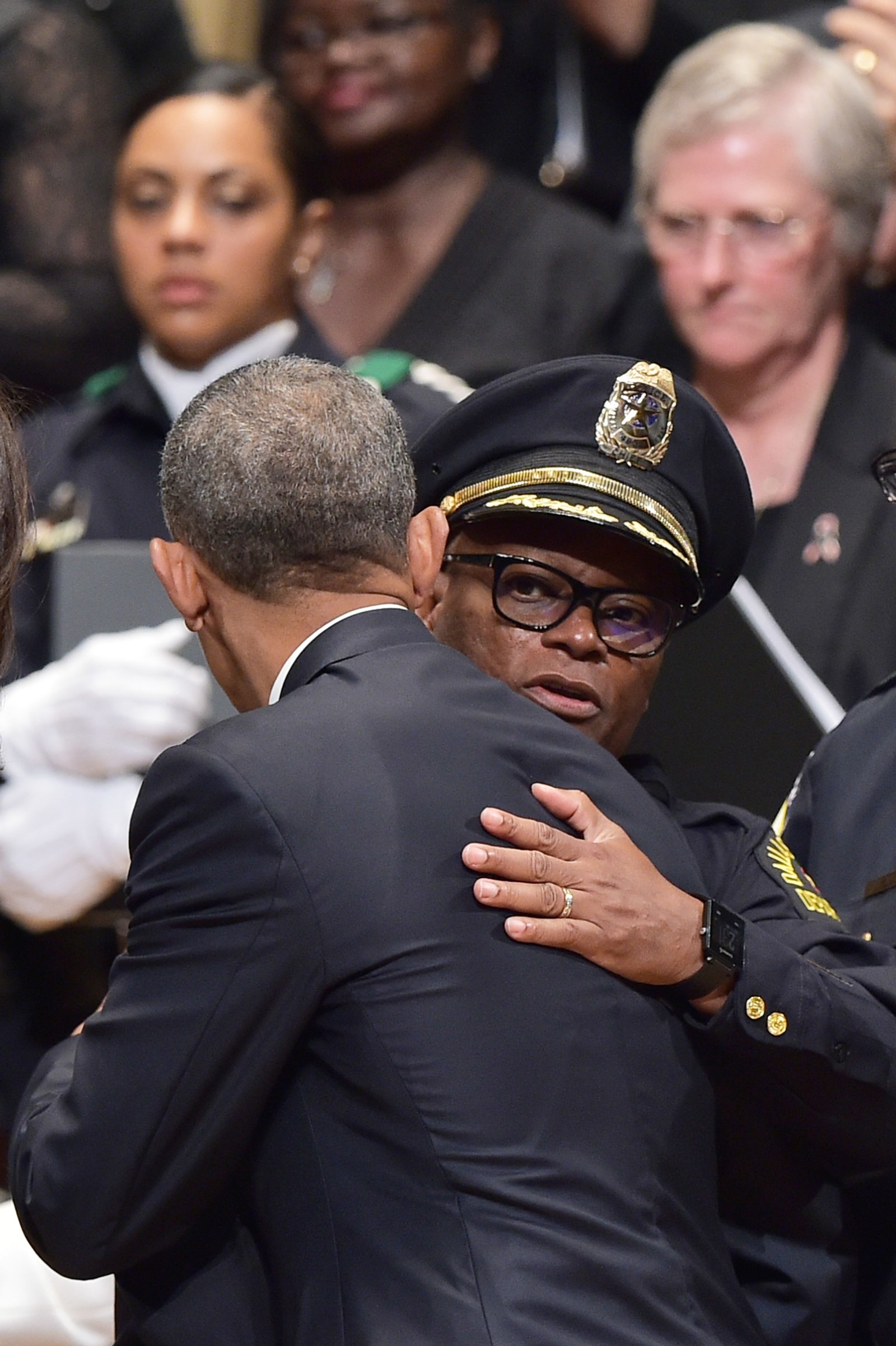 Mothers Against Police Brutality claims that the Dallas Police Department has dismissed more than 95% of all complaints filed by citizens from 1995 through August 2015. That overwhelming dismissal rate, they say, undercuts one of Brown's signature achievements: the 64% drop in excessive force complaints since he took over as chief, which even President Obama referenced. If virtually all complaints are dismissed, activists say, then the ballyhooed decline could merely reflect a hopelessness, a belief that filing a complaint is a waste of time.
Activists also object to Brown's introduction in 2013 of a policy that allows officers to wait 72 hours before answering questions about a shooting. While such waiting periods are common among police forces, they have come under intense criticism for giving officers time to review evidence against them and concoct a convincing cover story.
Brown instituted the policy in the wake of a particularly controversial police shooting of a mentally ill man. One of the two officers on the scene stated that the victim had lunged at them with a knife. But then surveillance video surfaced, showing that the victim was standing still when he was shot.
Less than a month after the shooting, and having given the public little opportunity for input, Brown used his power as chief to enact the 72-hour waiting period. Brown referred to studies showing that officers need rest before accurately remembering traumatic events and told the Morning News, "It is my belief that this decision will improve the investigation of our most critical incidents."
Still, the move infuriated some activists, fraying their trust in him.
"It's crazy that this chief says, 'We have a great relationship with the community,'" Flanagan said. "They don't even have an outreach program for the families of the people that they kill."
For activists trying to change the Dallas Police Department, last week's shootings of five police officers have dealt them a double blow. While Brown had been embattled, facing rising crime and discontent from rank-and-file police officers, he is now a national hero, largely untouchable.
Meanwhile, black activists who have been pushing for police reform find themselves on the defensive, accused of kicking a decent department when it's down or even being in league with cop killers.
Perhaps best known for an infamous grassy knoll, Dallas also carries the legacy of generations of housing discrimination that have reinforced North Dallas affluence and South Dallas desolation. In a recent survey of segregation in the 33 U.S. cities with half a million or more residents, Dallas came in as one of the worst at No. 30.
"We really have two Dallases," said Timothy Bray, director of the Institute for Urban Policy Research at the University of Texas at Dallas.
For decades, one of black Dallas's biggest complaints was police brutality.
In 1987, activists prompted Rep. John Conyers to chair a congressional hearing. By all accounts a watershed moment, the hearing exposed the police department's racial profiling and frequent brutality toward minority residents.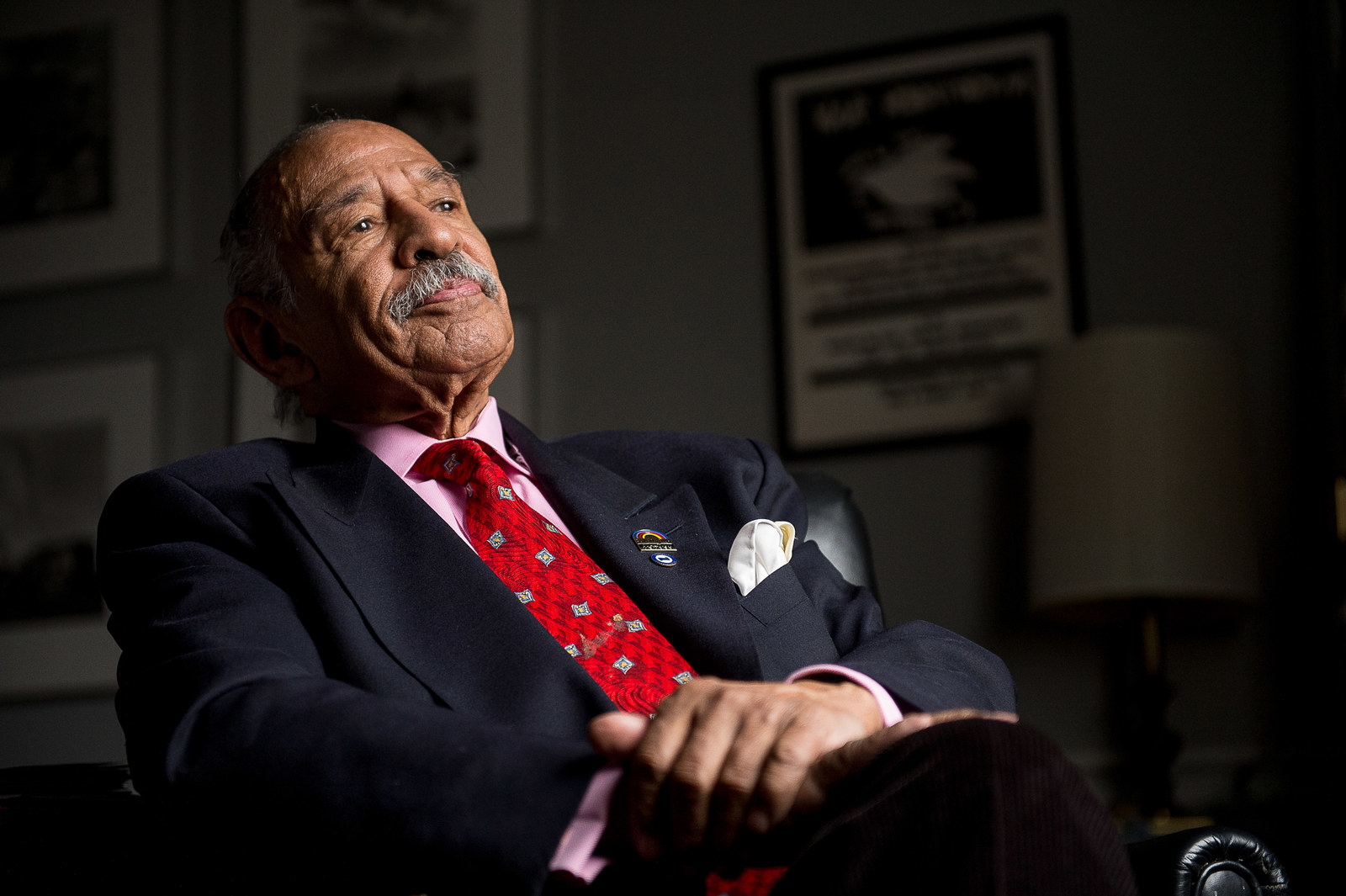 "Dallas was having a real serious problem," Conyers recalled.
In the year before the hearing, Dallas police had killed 10 people — six of them black — and wounded 19 more in shootings. Dallas police, according to one analysis, were killing more people per capita than any other department in the nation.

One particular case that drew the congressional committee's scrutiny was the 1986 fatal shooting of 70-year-old Etta Collins at her South Dallas home by officers responding to her burglary call. The rookie officer who fired the fatal shot said Collins, a Sunday school teacher, had refused to stop pointing her revolver at him.
"When you get to the level of not only shooting unjustly our young men but now you have moved to our grandmothers, something is grossly out of place here," activist and then-Dallas City Council member Diane Ragsdale told the the Morning News.
The congressional hearing led to reforms, Ragsdale told BuzzFeed News, including de-escalation training for officers and another change to the department's deadly force policy.
In 1995, Dallas voters elected Ron Kirk as its first black mayor. In 1999, the city's first Latino city manager chose Terrell Bolton to be the city's first black police chief.
But those changes didn't mean troubles with the police were over. Bolton was fired in 2003 amid a scandal in which confidential informants working with street-level narcotics officers planted fake drugs on about 30 mostly Latino immigrants, sending them to prison for crimes they didn't commit.
"So obviously," said Dr. Elba Garcia, who was then a council member who chaired the city's public safety committee, "when you talk about minority feelings about police, it's a work in progress."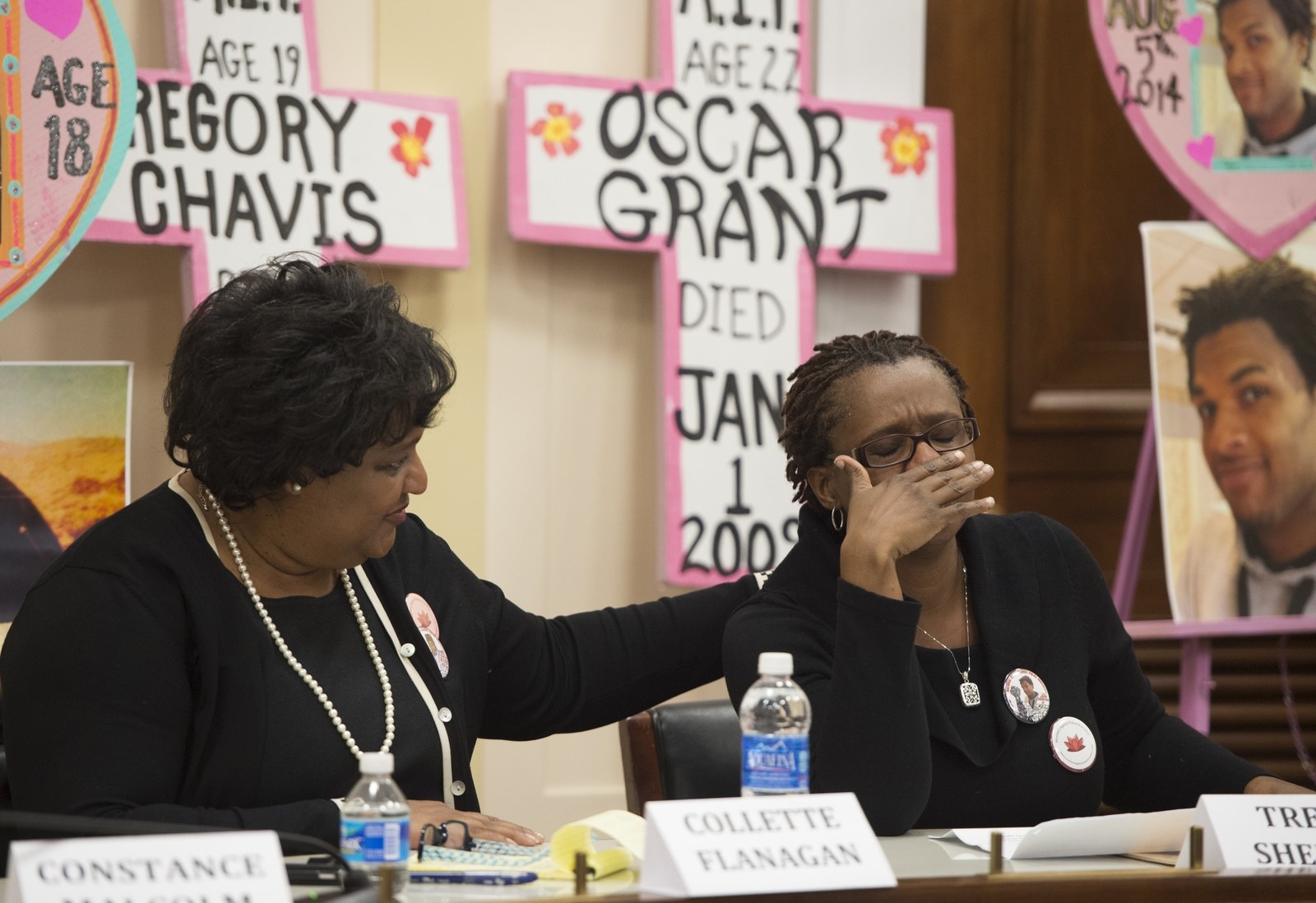 Collette Flanagan gave her son Clinton what's become known as "The Talk" when he was 14.
"He asked me if he could go to a park with some boys," Flanagan recalled. "And I had to tell him because you're in Texas and there's racist cops, if there's five black boys riding in a car they're going to assume you're robbing a Dairy Queen, up to no good, or fit the description of something that didn't happen."
"He didn't understand," she said. "Clint had a very privileged life."
Clinton graduated from Dallas Carter High School in suburban South Dallas and went off to college at Texas Southern University, a historically black university four hours south in Houston. As he got older, Flanagan said, he came to understand her earlier warnings.
"He'd been racially profiled so many times," she said. "So he knew how to behave with policemen."
That explains her refusal to believe the official police report about her son's death on March 10, 2013: Officer Clark Staller was responding to a call about a disturbance at an East Dallas apartment complex when he saw Allen jump over a fence. Staller said he pulled his weapon and shouted at Allen to show his hands. Staller said he put away his gun and pulled out his stun gun when Allen complied, but then Allen grabbed him around the neck.
According to the report, Staller said he and Allen then flipped over a walkway railing as Allen began choking him. The report said Staller, then struggling to breathe, pulled out his gun and shot Allen. Authorities went on to claim Allen was high on PCP and marijuana; Allen's family said the toxicology report shows the drugs in his system were smoked at least a couple days before the fatal confrontation.

The autopsy report would show that Allen was shot seven times: four times in the chest, once in the abdomen, once in the arm, and once in the back.
Getting that autopsy report, the police report, or even her son's belongings turned into a long and maddening task, she said. "No one would talk to us," Flanagan recalled. "We couldn't get anyone to tell us anything. It was totally disconnected from us, so it was a wild goose chase."
Today, she sees Mothers Against Police Brutality as a way to fill the void left by city officials, the district attorney's office, and particularly Chief Brown.
"I went and I started looking at all the things that he was supposed to change," Flanagan said. "And it never changed."
The last of the funerals for the Dallas officers killed last week will take place Tuesday in Detroit for Michael Krol. It will put a close to the formal mourning process for Brown and the Dallas Police Department, but Brown has already indicated that he knows the grieving will last much longer.
"We're all on edge," Brown said in a news conference last week. "We want to be supermen and superwomen, and we are not."
The challenge of lifting the spirits of his battered department is formidable enough on its own. But Brown will return to a set of challenges that earlier this year threatened his job as Dallas's top cop.
"We want to be supermen and superwomen, and we are not."
In a time of rising crime, his agency is down 200 officers since he took over in 2010. Recruitment of new officers has lagged, partly because the starting pay, $44,000 a year, ranks among the worst of law enforcement agencies in the metro area.
To compensate, in April Brown proposed creating new task forces and assigning officers to more late-night and overnight shifts, a plan that was roundly blasted by rank-and-file officers.
It was Brown's latest round in a now years-long fight with the police unions, which joined together last fall to call for "a change in leadership philosophy." The Black Police Association actually called for Brown's resignation.
"They just don't appreciate him," said Kirk, the former mayor.
But in the days since the shootings, that's all changed. There has been little if any public criticism of the chief. He is almost universally revered.
Activists, meanwhile, find themselves on the defensive.
On a sleepy afternoon earlier this week, Olinka Green burst through the door to the Pan-African Connection bookstore, a bustling small business in an otherwise dilapidated old South Dallas shopping center.
Store owner Akwete Tyehimba warmly beckoned to Green, one of Dallas's best-known black activists. They hugged, and then wasted little time trading stories about their newfound infamy.
Both women's names had been publicly linked to the killer, Johnson. Tyehimba hosted a festival in May honoring iconic black activist Malcolm X at her store, where she briefly met Johnson. Green was one of the organizers of the protest last week that Johnson used as a cover for his deadly plans.
From just those tenuous connections, the women said, some in the media, law enforcement, and critics of Black Lives Matter were attempting to draw nefarious conclusions.
"I'm so stressed," said Green. "I haven't slept in three days."
Johnson, she said, '"was a ghost" — nobody in activist circles knew him. "But I feel responsible. This really hurts Black Lives Matter. This hurt the movement."
Last weekend, one of the founders of Mothers Against Police Brutality called for a demonstration. Patterned after Black Lives Matter protests held recently in a number of big cities last week, it would stop traffic during the Monday afternoon rush hour on the North Central Expressway.
The goal: "to make it clear that, as sad as this moment is and was, there are issues going on that still need to be addressed," said Sara Mokuria, a co-founder of Mothers Against Police Brutality. "It was an intervention to the narrative that took over — 'Back the Blue,' 'Dallas Strong' — without any type of criticisms of the police."
Eight protesters showed up. They spread out across the freeway, a well-manicured and heavily trafficked thoroughfare that runs adjacent to some of the priciest real estate in town. The protesters held up their banners and tried to stand their ground.
Motorists just drove around them.