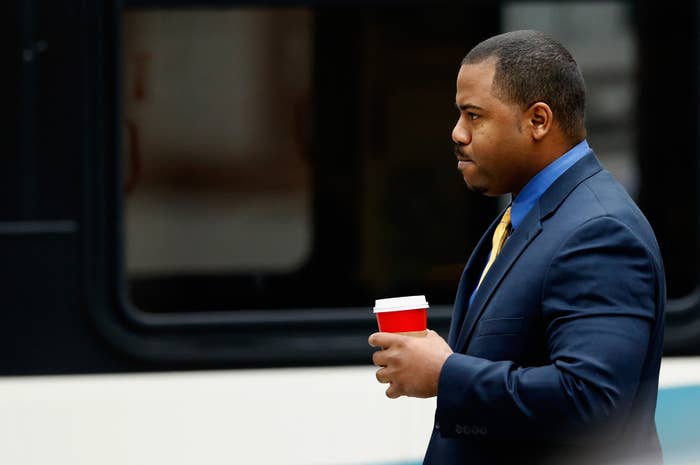 William Porter grew up in West Baltimore, just like Freddie Gray. But Porter was drawn to sports instead of the streets, joining the local Police Athletic League and deciding he wanted to someday become an officer.
That was how Porter eventually became familiar with Gray, who was also 25 years old and had had a number of run-ins with police on that side of town over the years.
So when Porter saw Gray in the back of a police van on April 12, he immediately recognized him. "It was always a big scene when you tried to arrest Freddie Gray," Porter's attorney Gary Proctor said. "He didn't go quiet."
Nonetheless, when Gray — who was cuffed around his wrists, lying on his side, and loudly complaining that he couldn't breathe — asked for help, Porter lifted the 132-pound Gray to his feet and placed him on a bench.
"That's the kind of cop he is," Proctor told jurors Wednesday. Porter's trial is the first of the six Baltimore police officers charged in Gray's death. The incident sparked heated protests last May and ultimately a riot that devastated part of West Baltimore.
Wednesday featured Porter's first public account of what happened in April when Gray, an unemployed high school dropout who'd been in and out of prison on various drug crimes, was arrested on a weapons charge after running from an officer in his West Baltimore neighborhood. During his arrest, Gray suffered a severe spinal cord injury in the back of a police van that led to his death seven days later.
Porter faces charges of involuntary manslaughter, second-degree assault, misconduct in office, and reckless endangerment associated with Gray's death.
Porter, who's been on the Baltimore police force since 2012, has pleaded not guilty.
The other five officers will be tried consecutively, starting Jan. 6. Judge Barry Williams, a former attorney who made his name pursuing police misconduct cases for the federal government, said the trial should conclude by Dec. 17.
The day started with the selection of the 12-member jury, which includes five black women, three black men, three white women, and one white man. Of the four alternates, three of them were white men and the other was a black man.
In a city where nearly two-thirds of the population is black, the racial demographics of the jury was one of the most highly anticipated developments in the case. Defense attorneys had previously argued there was no way their client, also a black man — but a member of a police force long dogged by accusations of racial profiling and brutality — could receive a fair trial in Baltimore.
Later in the day, prosecutors finally launched into their case against Porter with State Attorney Marilyn Mosby and Gray's mother, stepfather, sister, and a handful of other supporters watching from the wooden pews in the courtroom.
From the time of Gray's arrest to the time he was taken out of the van, prosecutor Michael Schatzow said Porter was there for five of the six stops police made before getting medical treatment for Gray. By the time help arrived, Schatzow said, it was already too late for Gray.
The nature of Gray's injuries has led to speculation that he was subject to a "rough ride," in which a handcuffed suspect is placed in the back of a police van and deliberately jostled.
From his training as a police officer, Porter should have known to get medical treatment for Gray once he asked for help, Schatzow said.
"If someone asks for a medic, you get them a medic," Schatzow told jurors. "When someone says they can't breathe, you get them a medic. [Porter] knew that."
Porter neither properly secured Gray in the van nor promptly got him medical treatment, Schatzow said. Because of that, prosecutors say Porter should be held responsible.
"At the conclusion of the presentation of all the evidence," Schatzow said, "we're going to ask you to find the defendant guilty as charged."
But Porter's attorneys argued their client, a member of the department since 2012, was ill-equipped to determine if Gray was truly suffering from his injuries because of inadequate training ("the academy isn't college, it's a short, sharp journey," Proctor told jurors) and because Gray didn't immediately indicate to him that he was in distress.
Proctor also argued that Porter, 26, had a mostly esteemed record as an officer and had previously shown no indication that he was an indifferent officer.
"He didn't become a police officer to swing a big stick," Proctor said. "He became one to help people."
"Mr. Gray's death is a tragedy," Proctor said. "So is charging someone who did not precipitate it."
Porter's attorneys have previously indicated Porter will likely take the stand.
One witness took the stand before the end of the day, Officer Alice Carson-Johnson, an 18-year veteran of the department and one of the instructors at the police training program. She was questioned for more than an hour over her classes, which included Porter for three days in 2013, and how an officer should respond to an injured suspect.
Asked if an officer should call for help if someone indicates they're in physical distress, Carson-Johnson said, "It's part of their general responsibility, yes."
CORRECTION
Freddie Gray died in April. An earlier version of this story misstated the date.