Bloody UVA Arrest Raises Questions About Virginia Liquor Agency
State lawmakers and activists are demanding the Department of Alcoholic Beverage Control's authority be curtailed following the controversial arrest of a University of Virginia student.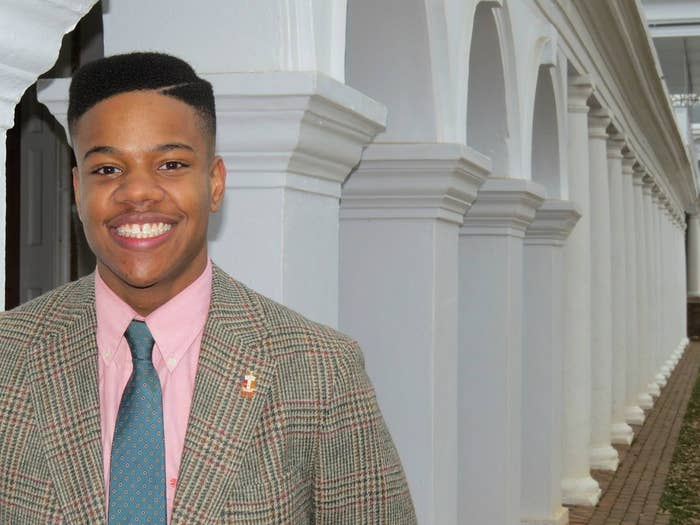 CHARLOTTESVILLE, Va. — Widespread images of the bloody arrest of Martese Johnson, a popular 20-year-old University of Virginia student from Chicago, triggered a swift response from authorities around the state.
Lawmakers and activists are demanding to revisit the role of Virginia's Department of Alcoholic Beverage Control (ABC) law enforcement officers, days after images emerged of the arrest.
Virginia Gov. Terry McAuliffe has called for an independent investigation by state police, and the Charlottesville prosecutor has also requested a criminal investigation into the arrest of Martese Johnson, the student who was detained by the ABC after he tried to enter a local bar. The renewed scrutiny comes eight months after the state reached a $212,000 settlement with another UVA student stemming from an arrest that she claimed involved violations of her constitutional rights and excessive use of force by plainclothes ABC officers. State lawmakers who have criticized the ABC's conduct in the past have renewed their calls to narrow the ABC's authority.
"You have more proof that the reform that I've suggested is necessary," said state Sen. Creigh Deeds, also a gubernatorial candidate in 2009. "What I've heard [about the arrest] isn't very good. I'm willing to wait until the investigations are over. But it just sounds heavy-handed in terms of their enforcement." Deeds has proposed giving responsibility for enforcing laws against underage drinking to state police. Currently, ABC agents are sworn law enforcement officers with the authority to make arrests.
Johnson was arrested early Wednesday morning just outside Trinity Irish Pub, less than a quarter mile from the University of Virginia's campus in Charlottesville. Video of the arrest shows blood dripping down Johnson's face while bystanders try to point out to ABC agents that he is injured. Preventing underage drinking is a top priority for the ABC, and its agents often work with businesses that serve alcohol.
In the days since the images of Johnson's bloodied face went viral on social media, hundreds of students took to the streets in Charlottesville to protest Johnson's treatment, chanting slogans that have been heard at anti-police-brutality protests from Ferguson to New York City.
Students have also called for an administrative response from the school, creating the #BlackUVAdemands Twitter hashtag as a means to address concerns about racial division and discrimination known for its fealty to old Southern customs and tradition.
In a letter on the school's website, UVA President Teresa A. Sullivan said she was committed to getting — and releasing — details on Johnson's arrest, and encouraged students and other witnesses to the arrest to come forward if they have information.
"The safety and security of our students will always be my primary concern, and every member of our community should feel safe from the threat of bodily harm and other forms of violence," Sullivan said in the statement.
"By and large, it's pretty rare to have an eruption or a really severe event. Unfortunately two of them have happened in Charlottesville in the span of one year," said a former high-ranking Virginia ABC official who would only share his knowledge of the agency with BuzzFeed News on condition of anonymity. "That tells me something is wrong in Charlottesville ABC regional office. Something isn't right. If VCU [Virginia Commonwealth University] in the city of Richmond has 32,000 students and haven't had anything like this, what's happening in Charlottesville?"
This is the latest round of criticism for ABC's handling of a case in Charlottesville. Elizabeth Daly, a then-20-year-old UVA student, was arrested in April 2013 after agents confronted her and two roommates outside of a Charlottesville shopping center. The agents wrongly suspected the sparkling water Daly and her friends were carrying to be beer. One agent drew a weapon on the women and another tried to smash open a window in Daly's SUV with a flashlight. Panicked, Daly fled, grazing two agents with her vehicle. Prosecutors later withdrew two felony charges of assaulting a law enforcement officer and felony eluding.
In November 2013, ABC announced a series of policy and procedural changes as a result of the arrest, acknowledging the agents went too far and failed to exercise common sense. Some of the changes included requiring agents who point a weapon at someone or damage property in the line of duty to file use-of-force reports, and making agents wear an overgarment marked "ABC Special Agent" on traffic stops or when assisting local or state police during violent crime incidents.
Daly's Charlottesville-based attorney, Francis McQ. Lawrence, told BuzzFeed News he didn't know enough details of Johnson's arrest to comment, but said, "I think that it's clear to me our ABC agents should get extra special training in dealing with young people."
ABC officials had backed off some of their enforcement efforts in Charlottesville, but Sullivan told the Washington Post she asked McAuliffe to bring agents back last fall, hoping they would focus on bars and restaurants that serve underage drinkers. "The help I wanted from ABC was with establishments, not with going after individual students," she said.
At a panel Friday organized by the UVA Student Council, more than 200 students — many of them dressed in all black — packed into an on-campus auditorium to demand answers from public officials, including Virginia's secretary of public safety, Charlottesville Police Chief Tim Longo, and Ryan Washington, a policy analyst with ABC.
A group of students who've been leading protests on campus over the past couple days got things started by casting doubt on how serious the officials and school administrators were about addressing their concerns.
"We were not invited to be involved in the formation of this event," said Elshi Zenaye, standing behind a podium onstage with the panel. "This event was not planned with black people in mind. So we must ask, 'Who was this event planned for?'" The crowd greeted that line with thunderous applause.
Students aggressively questioned the officials, and when they failed to get answers that met their satisfaction, they yelled in unison, "Please answer the question that was asked!" Washington, in particular, was interrupted several times when trying to answer a question about whether ABC agents received "adequate" training. "I can't answer that question with a yes or no," he said.
Minutes later, Zenaye and others led a walkout of the meeting, with about 100 students raising their fists and chanting "black lives matter" on their way out of the auditorium.
Afterward, Washington said he didn't take the students' frustration personally. "I think that was probably directed at the agency as a whole." He declined to answer any further questions, and ABC officials didn't immediately return several messages from BuzzFeed News seeking comment.
ABC, which was founded in 1934, is responsible for patrolling alcohol business at more than 16,000 licensed establishments across the state, policing underage alcohol sales and cracking down on illegal booze-making. But in recent years, many state legislators have tried — and mostly failed — to push for changes to the structure of ABC's leadership. Prior efforts at establishing greater supervision for ABC agents have been resisted by the rank and file, according to the former ABC official.
"I think the process just needs to be fixed," Deeds told BuzzFeed News. "We have [a] too widely scattered system of law enforcement."
Claire Guthrie Gastañaga, executive director of the Virginia ACLU, hopes Johnson's arrest might renew calls for the agency to start keeping data about its arrests to see if there are problems with racial profiling.
"Maybe things have finally shifted so that we can talk about them being transparent and accountable," she told BuzzFeed News. "We've fought for years for a requirement for data collection. And we've not been successful. Maybe the time is now."
Charlottesville Delegate David J. Toscano told BuzzFeed News in a written statement that "reforms" were needed.
"It is clear, based on the 2013 incident involving ABC actions against a student at the local Harris Teeter as well as from the recent events, that ABC policies, protocols, and training are inappropriate for dealing with these kinds of cases, and state and local leaders must take all efforts to enact reforms to protect the civil rights of our citizens as they enforce the laws of the Commonwealth," Toscano said.
The former ABC official said lawmakers seeking to limit the agency's authority were going down the wrong path.
"If you got the wrong people doing the wrong thing, clearly there needs to be supervision and reassignment," the official said. "Limiting the ability of everyone to do their job is unwarranted."
With additional reporting by Mary Ann Georgantopoulos in New York.