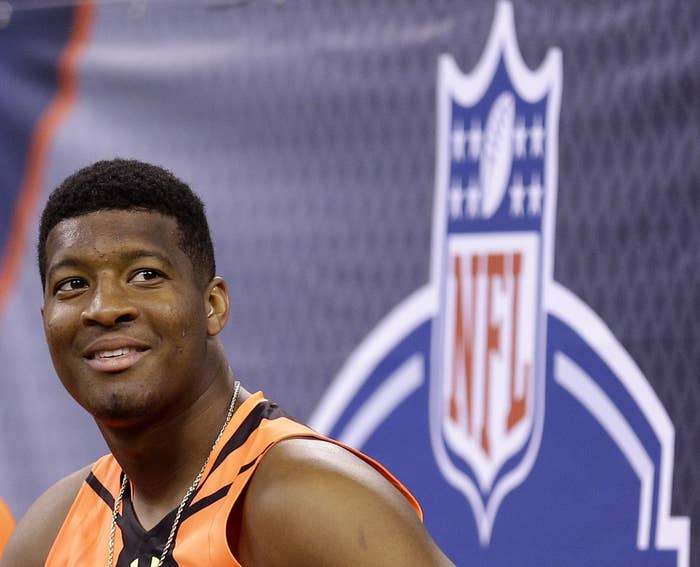 PHILADELPHIA — The attorney for former Florida State quarterback Jameis Winston repeatedly criticized the woman who has accused Winston of sexual assault at a sports law symposium on Friday.
"She lied and said Jameis hit her on the back of the head. She lied and said she had been drugged," said David Cornwell, a prominent sports agent who's represented Pittsburgh Steelers quarterback Ben Roethlisberger and Milwaukee Brewers outfielder Ryan Braun.
"The media only reported half the story," Cornwell said. "It's the first time we've seen the vilification of an athlete drop into amateur ranks at this level."
Cornwell made those remarks at the Jeffery S. Moorad Sports Law Journal symposium at Villanova University's law school, which included several panels featuring NCAA's executive vice president Oliver Luck, former NFL head coach Dick Vermeil, and former NFL player Warrick Dunn. Cornwell held court on stage by himself for more than a half-hour, criticizing what called "biased coverage" of the rape accusations made against Winston in 2013, while he was a star quarterback at Florida State University. No charges were ultimately filed against Winston, though the Tallahassee Police Department and Florida State were criticized for their handling of the case.
"Her name had been known for months and reported," said Cornwell when asked why he insisted on using her name publicly. "And it's a media policy. How can the media dictate to me how I will defend my client?"
Media organizations typically refrain from identifying potential victims of sexual assault. Winston's accuser, Erica Kinsman, names herself in a recent documentary about sexual assaults on college campuses, but some media organizations have continued not to use her name.
Cornwell has also previously identified Kinsman on Twitter, posting a document that clearly shows her name.
Little more than a month before the NFL draft, Cornwell said he wasn't at all concerned that his comments would affect Winston's status in the draft. It's widely thought Winston will be go No. 1 in the draft to the Tampa Bay Buccaneers.
Cornwell later said Winston needed to mature more before entering the professional ranks, saying, "Jameis is ready to be an NFL player on the field. He's not ready to be an NFL player off the field."
Cornwell later clarified those remarks exclusively to BuzzFeed News, saying that Winston wasn't so different from any college player preparing to enter the NFL.
"I don't see why it's controversial that a 20-year-old doesn't have the life experience to navigate the treacherous water of being a professional athlete without availing themselves of the resources available to them," Cornwell said. "I don't think he's unique. I don't think anyone is ready."
The moderator for his panel asked if Winston, the 2013 Heisman Trophy Winner, would go No. 1 in the draft on April 30.
Cornwell paused for a second, then smiled.
"Book it," he said, setting off a few chuckles in the audience.
A previous version of this post focused on the naming of Winston's accuser, but she has already publicly named herself in a recent documentary.