ACLU Calls Baltimore Jail "A Crumbling Victorian Dungeon"
The ACLU is asking a court to reopen a lawsuit over conditions at the "crumbling" and "vermin-infested" Baltimore city jail.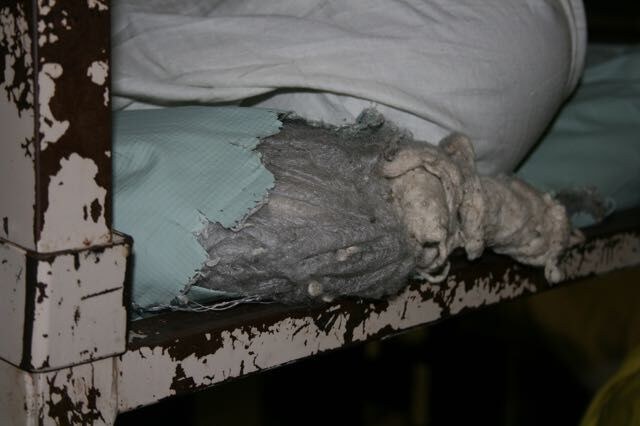 Despite nearly half a century of litigation, the Baltimore city jail remains a "crumbling, filthy, and vermin-infested infrastructure" with conditions that may have resulted in the deaths of at least seven detainees over the past two and a half years, civil rights advocates argue in a motion filed today in federal court in Maryland.
Several civil rights organizations say the jail's conditions violate a prior legal settlement with the federal government forcing the state to improve conditions at the jail, and they are asking to reopen a long-running lawsuit over poor medical treatment and unsafe conditions at the facility.
Calling the Baltimore City Detention Center a "violent" and "dank and dangerous place," the 100-page motion lists a number of ways the state failed to comply with the agreement, ranging from not providing status reports on compliance efforts to failure to provide insulin and HIV antiretroviral medications for inmates who need them. The motion argues that "the promises of government officials are still unfulfilled, and only court intervention will put an end to the endless cycle of new promises followed by failure to honor those promises." Tuesday was the court's final deadline for keeping the case open.
"In 20 years of prison litigation, it is easily one of the worst places I've ever seen," David Fathi, director of the American Civil Liberties Union's National Prison Project, told BuzzFeed News this morning. "It is a crumbling Victorian dungeon."
Today, Baltimore's only jail — which is run by the state — holds around 2,500 people, about 80% of them black. "This jail, like most jails, houses people who are pretrial detainees and are presumed to be innocent," Fathi said. "In those cases, if they had money to post bail, they wouldn't be in jail at all."
Tuesday's motion is just the latest chapter in a long-running legal battle over conditions in Baltimore's jails that began with a federal lawsuit in 1971 to challenge the detainees' conditions of confinement. Now known as Duvall et al. v. O'Malley et al, the original 1971 case was consolidated with a 1976 lawsuit over overcrowding at the jail. In 1993, the matter was resolved by a consent decree, a way of resolving the case in which parties resolve a dispute in a publicly filed agreement over which the court maintains jurisdiction. That decree was put on hold in 1999 after Congress passed the Prison Litigation Reform Act, which allowed states to end litigation if the original constitutional violations identified by the lawsuits had been corrected.
The ACLU grew concerned again with conditions at the detention center in 2002, when it asked for and received a temporary restraining order regarding excessive heat at the city's Women's Detention Center. A Department of Justice report that year also pointed out health and safety violations at the jail. In 2003, the detainees' lawyers moved to reopen the consent decree.
Maryland settled the suit in 2009. "Basically, most of the things that are discussed in the settlement [have] already been underway and been improving through working together with the Department of Justice over the last five to six years," a spokesperson with the state's Department of Public Safety and Correctional Services told the Daily Record in 2009.
The motion comes on the heels of a number of complaints about the jail in the wake of protests over the death of Freddie Gray, an unarmed 25-year-old black man who died while in custody of Baltimore police. An 18-year-old Baltimore college student who was arrested during demonstrations in April told BuzzFeed News that detainees were packed into cells, mocked, and held in terrible conditions.
A Baltimore public defender later wrote that "the holding cells are approximately 10 by 10 (some slightly larger), with one open sink and toilet. The women were instructed that the water was "bad" and that they shouldn't drink it. There are no beds — just a concrete cube. No blankets or pillows. The cells were designed to hold people for a few hours, not a few days. In the one cell which housed 15 women, there wasn't even enough room for them all to lie down at the same time."
However, Fathi said today's motion is unrelated to those recent developments.
"We've been concerned for many months about the state's persistent noncompliance and certainly well before recent events in Baltimore," he said.