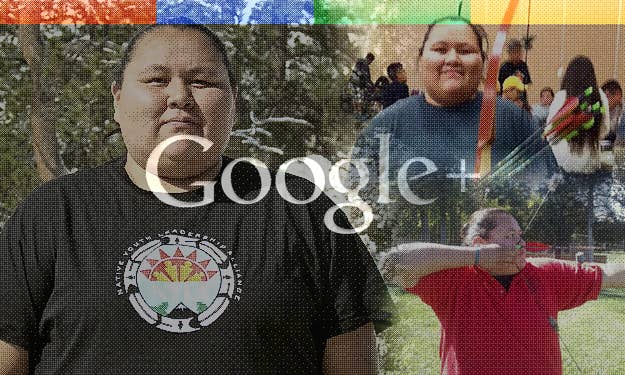 Here are some facts about Elaine Yellow Horse, who is a real person:
• She is a resident of the town of Wounded Knee, on the Pine Ridge Indian Reservation in South Dakota.
• She is a student at Oglala Lakota College, and a co-captain of the school's national championship archery team. (Disclosure: I'm the coach of that team.)
• She works 48-hour shifts as an EMT and helps to run a small mail-order coffee company to help pay for college.
• She is a popular poster of funny little life observations on Facebook.
• She's even been featured on BuzzFeed before, giving her thoughts on the controversy surrounding the Washington Redskins' name.
It's easy enough to prove any of these facts simply by Googling Yellow Horse's name, and to reach the irrefutable conclusion that Elaine Yellow Horse is, in fact, a real, 29-year-old person.
And yet Google, the company that knows more about us than any other company in the world, last month disagreed.
On Feb. 20, Yellow Horse and two of her co-workers at Hoka! Coffee sat down to log into a Google+ video chat to discuss business for the week, including handling what they hoped would be an influx of new orders now that their coffee is selling on Amazon. But Yellow Horse was unable to log in to her Google+ account.
After an hour of uninstalling and reinstalling software, she realized her account had been suspended. Yellow Horse clicked a tab to file a quick suspension appeal and figured the problem would be solved quickly. But the next day she received an email rejecting her appeal. It read, simply, "Your name does not comply with the Google+ Names Policy." (That policy, which met with a fair amount of controversy when it was introduced in 2011, requires a real, verifiable first and last name.)
Of course, Elaine Yellow Horse's real identity is plain to see on her birth certificate and her high school diploma. "Yellow Horse" is a fairly common name among the Oglala band of the Lakota peoples who live on Pine Ridge Reservation, and that type of name — with its adjective-plus-noun construction — is very common among Native Americans throughout the country. The Google+ mix-up was annoying, the kind of cultural error that Yellow Horse has grown accustomed to from a lifetime of dealing with American bureaucracies.
"It happens when I go off the reservation and use my debit card, or sometimes with the post office," said Yellow Horse, although even the latter is a little more adept at handling the situation than Google. "They still deliver the mail, they just ask to make sure it's my real name. They don't just suspend my mail like Google."
Yellow Horse, who says she tries to keep her sense of humor about such mistakes, considered dropping the matter after the rejected appeal. "I was busy at the time and it just seemed like so much work to get it fixed. But then I read that email and it was just so obvious that I was suspended for having a Native last name. I mean, how many other people have they done that to?"
For Yellow Horse's second appeal, she couldn't find a place on the form to make a personal appeal or to explain that her last name is, in fact, Yellow Horse, but there was a spot to include a URL, so she linked her Facebook profile, which she assumed would clear the whole matter up. Then, two weeks later, Google+ rejected the second appeal.
Yellow Horse was frustrated again, but she and her business partner in Hoka! Coffee, Sharice Davids, aren't the type to give up. A member of the Hochunk tribe, Davids is a Cornell-trained lawyer and quite literally a professional fighter, as a competitive mixed martial artist. Like Yellow Horse, Davids chalked the mistake up to a stupid bureaucratic oversight, not an act of intentional racism, but the the fact remained: Google, as an institution, did not believe that this was a possible name.
Google's name policy states, "First and last name [are] required: You need to provide both your first and last name for your Google+ profile so it'll help you find people and enable people to find you." But it simply does not account for the existence of the naming conventions of Native cultures.
"Being an entrepreneur is hard enough, and starting a business on the rez [reservation] adds a layer of complexity," Davids said. (Pine Ridge Reservation has one of the highest poverty rates in the country and an unemployment rate usually estimated at around 80–90%.) "There are different kinds of business licenses, different rules, and a real lack of infrastructure to help businesses. I think of Google as being like one of the 'good guys' in terms of big companies, and for them to have this added layer of arbitrary red tape that we now have to deal with is frustrating."
So Davids began drafting a lawyerly letter, invoking the constitutional rights to equal protection and equal access. By this point, I was reporting the story of Yellow Horse's suspension for BuzzFeed and sent a press inquiry to Google about it. Yellow Horse had not yet filed a third appeal, and all told it had been three weeks of suspension and two rejected appeals. Six hours after I sent my press inquiry, Yellow Horse's account was reinstated, and she received an email that read: "You're right: Your name does comply with the Google+ Names Policy."
Within an hour, Yellow Horse and Davids were on video chat, talking business.
"I'm glad it got fixed, and I still think Google is a pretty good corporation," Yellow Horse said. "But it's frustrating that I had to have a lawyer and journalist looking into it for things to change. What if I didn't have those connections? How many other people with names like mine have been suspended?"