This photo of Devonte Hart, a 12-year old boy, hugging a police officer at a Ferguson protest in Portland, Oregon, on Tuesday has gone viral and been dubbed "the hug shared around the world."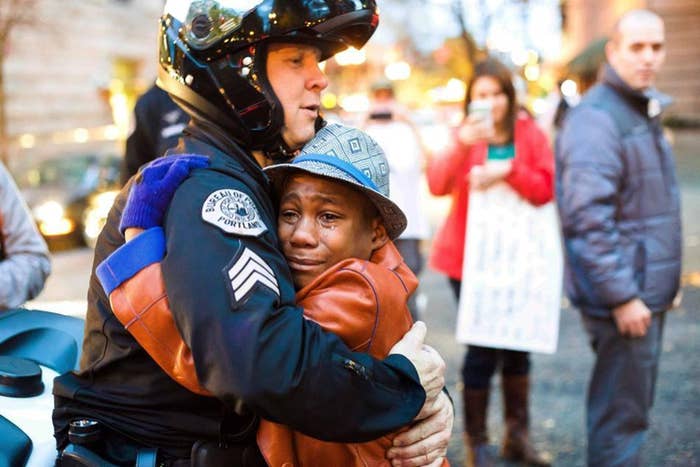 According to the Oregonian, the interaction happened at the beginning of the rally.
As speakers addressed the crowd, Sgt. Bret Barnum saw the young boy with tears in his eyes, holding a "Free Hugs" sign.
According to a widely-reported Facebook post by Devonte's mother, Jen Hart, that has since been deleted:
[Sgt. Barnum] asked Devonte why he was crying. His response about his concerns regarding the level of police brutality towards young black kids was met with an unexpected and seemingly authentic (to Devonte), "Yes. *sigh* I know. I'm sorry. I'm sorry." Brett (the officer) then asked if he could have one of his hugs.
Sgt. Barnum explained:
Knowing how he struggled with police, his bravery and courage to catch my eye and approach me were impressive.

And it's a blessing for me that I didn't miss an opportunity to impact this child.
In her Facebook post, Jen Hart explained why her son was crying during the protest.
I noticed Devonte was struggling. Tears. He wouldn't speak. He was unconsolable. My son has a heart of a gold, compassion beyond anything I've ever experienced, yet struggles with living fearlessly when it comes to the police and people that don't understand the complexity of racism that is prevalent in our society.

He wonders if someday when he no longer wears a Free Hugs sign around his neck, when he's a full grown black male, if his life is in danger for simply being. I assure you his concerns do not arise from watching too much television, because we don't have tv.

He draws from his own personal experiences and from the discussions we hold as a family about things/events that are going on in the world. As a mom raising black children, it's undeniable that these concerns weigh heavy on my heart at times.

People don't want to talk about racism. People do not want to dig to the root of the issue. It's so much easier to stick to your belief and avoid engaging in dialogue with someone that you don't share the same opinion/view/belief with.
A profile by Papertrail reveals more about Devonte's life.
He was born to a drug-addicted mother, and by the time he was only four-years-old he had suffered extreme neglect; he had smoked, been given alcohol, handled guns and been shot at. His abusive childhood meant that he could barely speak, and he suffered from a number of disabilities.
Devonte and two of his siblings were adopted by Jen Hart and her wife Sarah when he was five. Jen said it was a frightening experience: "That night, after we finally got him to sleep, I cried harder than I had ever cried in my life," she said. "I felt like there was no way we could raise this child, and the five others we had adopted."
She knew, however, that it was the right decision to adopt him. "I felt more connected to this fragile little boy more than I had ever felt to anyone in my life," Hart said.
Hart explained how grateful she is to have Devonte in her life. "He inspires me every single day," she said. "He has proven doctors, psychologists and teachers wrong. His future is most definitely not bleak, he is a shining star in this world. His light shines bright on everyone on his path."
"People always tell us how lucky he is that we adopted him," she said. "I tell you, we most certainly are the lucky ones. Yes indeed he is living proof that our past does not dictate our future."
On social media, the photo inspired an outpouring of love for Devonte.