On the premiere episode of Mama June: From Not to Hot, the nine-episode makeover series that recently finished airing on WE tv, Mama June Shannon — the 37-year-old reality TV matriarch of Here Comes Honey Boo Boo — is lying in a hospital bed about to undergo weight loss surgery. Her daughters, Lauryn "Pumpkin" Shannon and Alana Thompson, stand next to her; they're crying, worried that Mama might not wake up, or worse, that she'll be "a whole new mama." Alana, now 11 and shed of the over-the-top Honey Boo Boo personality that made her famous first on Toddlers & Tiaras and then on her spinoff, breaks the tension: "I kind of got something to say, but I really don't want to. I'm hungry." Her comedic timing is as perfect as ever. When June is finally wheeled into an operating room, her familiar Southern drawl interrupts the action and announces, "Hold up, stop the frame. Y'all are probably wondering how me, Mama June, got right here."
Cue a flashback to the Honey Boo Boo days. From 2012 to 2014, Mama June and her family starred on Here Comes Honey Boo Boo, TLC's enthralling celebration of white trash culture. While Honey Boo Boo was supposed to center around the Thompson/Shannon family's antics, it was Mama June's unfettered embrace of lower-class redneck stereotypes (improper vocabulary, questionable hygiene, a camo commitment ceremony) that made the show a hit. (During the height of Honey Boo Boo's popularity, Alana earned roughly $15,000 to $20,000 per episode, and its ratings — 2.2 million viewers for its premiere episode — were on par with the final season premiere of Mad Men.)
Like The Anna Nicole Show before it, Here Comes Honey Boo Boo became a cultural phenomenon that took poor white folks and turned them into a freak show. When viewers watched and responded to Mama June's body, they were reacting to society's expectations for how women should behave and look—namely, the notion that women should be thin, polite, and quiet. This expectation creates two opposing cultural body types: the classical and the grotesque. As explained by Kathleen Rowe in The Unruly Woman: Gender and the Genres of Laughter, "the grotesque body exaggerates its processes, bulges, and orifices, whereas the static, monumental classical body conceals them." Most often, the grotesque woman is perceived to be lower-class and socially unacceptable. And because these women do not conform to cultural norms, they are instead treated as parodies of womanhood. Here Comes Honey Boo Boo solidified the image of Mama June as a modern female grotesque. Her outlandish behavior both fascinated and appalled viewers, until a scandal seemingly upended her reputation for good.
In October 2014, TMZ broke the story that Mama June was dating the man who had been convicted for sexually assaulting her eldest daughter 10 years prior. The show was abruptly canceled and the public backlash was resoundingly brutal, especially after Radar Online unearthed the horrifying police report. Here Comes Honey Boo Boo's cancellation ultimately occurred because Mama June endangered her children and audiences were no longer comfortable with being complicit in their exploitation. In the wake of the cancellation, Mama June became a warning about what happens when you cross a line from fascinatingly grotesque to unforgivable. For a while, it seemed as though Mama June would be cast off into the land of reality TV has-beens, but her life (a lawsuit! A sex tape! A Baywatch-style photo shoot! A strip club tour!) became perfect tabloid fodder and allowed her to stay just relevant enough.
During this time, Mama June's physical appearance, particularly the excessive weight that made her notorious in the first place, remained unchanged. But then, seemingly motivated by her partner Sugar Bear's cheating ways and with a new network willing to broadcast her story, Mama June launched her comeback. WE tv billed From Not to Hot as "the most shocking transformation in reality TV history," but June's 300-pound weight loss wasn't just a revenge fantasy. If Mama June was going to regain favorability with audiences, maintain a place in the public sphere, and ensure her family's financial security, then she needed to perform a physical and emotional makeover to reposition herself as nonthreatening to society.
Mama June Shannon made her television debut in 2012 on Toddlers & Tiaras, TLC's long-running reality series about the strange world of child beauty pageants. Back then, her youngest daughter Alana, nicknamed Honey Boo Boo, was just a 6-year-old hyped up on her special "go-go juice" (Mountain Dew and Red Bull). During one episode, as Alana prances around onstage in a skimpy Daisy Duke costume, June shouts "Shake your butt!" from the audience. Meanwhile, Alana's father, Mike "Sugar Bear" Thompson, ambles around in background; he is mostly seen but not heard. Looking back at the moment when Alana sassily brands herself "Honey Boo Boo Child," it is absolutely unsurprising that this family would go on to become reality stars.

Here Comes Honey Boo Boo — the spinoff series about June, Alana, Sugar Bear, and daughters Lauryn, Jessica "Chubbs" Shannon, and Anna "Chickadee" Cardwell — debuted later that year, in August 2012. Reviewers called the show horrifying, heinous, and reprehensible and even reprimanded TLC for "producing this without a conscience." Mama June's refusal to conform to traditional beauty and behavioral standards startled and enthralled audiences. She constantly misspoke, calling herself "beautimous" (which went on to be a cultural catchphrase) and boasting about her poor hygiene. She had neck crust (it's exactly what you think it is) and a signature turkey neck. The sound of her farting even interrupted the classic image of a family in front of their home during Honey Boo Boo's opening credits. Audiences loved the Thompson/Shannon family and their redneck authenticity. They were uneducated and dirty, rejected "big fengaly words," and loved their "sketti" dinners. Gross smells were so essential to the show that TLC aired a Watch 'n' Sniff event in 2013, complete with scratch-and-sniff cards and six unidentifiable scents. More importantly, the family seemed genuinely happy. Ratings for the series' fourth episode famously beat out the 2012 Republican National Convention. The Season 2 finale episode, which featured Mama June and Sugar Bear's camo-heavy commitment ceremony, broadcast in 2013, set a series high with 3.2 million viewers.
If Mama June was going to regain favorability with audiences, then she needed to perform a physical and emotional makeover to reposition herself as nonthreatening to society.
Given its popularity during this time, endless discussions about the show's cultural relevance followed. Honey Boo Boo's Alana was compared to a Flannery O'Connor character, and Rosie O'Donnell likened her to Shirley Temple. For some the show signaled the return of the hillbilly in American culture; another reviewer declared it "exactly the kind of cultural product America should be exporting." For a reality series that was readily mocked on late-night TV and in the tabloids, Here Comes Honey Boo Boo undeniably made a mark on American culture.
Just when the show seemed unstoppable, the scandal turned Mama June into a pariah. June denied all rumors about her relationship, but eventually her oldest daughter Anna confirmed that she was the victim, telling People that if her mother was dating her molester, "I would feel hurt. I would not feel betrayed, but I would feel hurt." TLC quickly canceled Here Comes Honey Boo Boo (a fifth season remained unaired until recently), and Mama June's personal life fell apart. Her daughter Anna cut all ties with her and appeared on Dr. Phil in 2014 to discuss the fallout. June finally broke up with Sugar Bear for good in 2015 after an explosive stint on Marriage Boot Camp, WE tv's staging ground for has-been or insignificant reality talent to hash out their relationship troubles and cling to fame.
By the time Mama June and Sugar Bear appeared on the show, they were just another pop culture punchline. The season's promo capitalized on the scandal, presenting it as June's big return to TV and one that should not be missed. When June entered the room in the season premiere, a group of D-list reality stars, like The Bachelor's Catherine Lowe, squealed excitedly, gaped, and whispered, "That's Honey Boo Boo's mom!"
The attention from Marriage Boot Camp opened the door for June to return to television with From Not to Hot and rewrite the established narrative about herself. The show focused on June's obsessive desire to both show Sugar Bear "how hot" she can be and show audiences "the real Sugar Bear," but most importantly, it focused on June's own emotional journey of self-discovery. After struggling to keep up a healthy diet and workout routine, June booked several weight loss surgeries. During the tense scene that follows, her family expresses their fears about the upcoming procedures.
"It's just a little much," warns her sister Doe Doe.
"I don't think you should do it. 'Cause I think you look fine the way you are," says Alana.
Meanwhile, her niece Amber assures everyone that June will just be "a more healthier mama."
The one looming question June's family cannot answer: What happens to June once she loses the cultural signifiers that present her as both female grotesque and authentic redneck working-class woman?
Portrayals of the white working class are a staple of reality television, and like Here Comes Honey Boo Boo, these shows (for example, A&E's Duck Dynasty, MTV's Buckwild) create and sustain the image of the reality TV hillbilly. Duck Dynasty, perhaps the most successful example of this type of programming, ran for 11 seasons, attracted a record-shattering 11.8 million viewers, built a $400 million empire, and actively influenced national conservative politics. Other series, like Discovery's Deadliest Catch, overtly romanticize working-class white men with tough jobs and give their characters heroic narrative arcs. And on shows like Ice Road Truckers, Pawn Stars, and Alaska State Troopers, white working-class masculinity is considered worthy of sustained attention and respect.

But this kind of cultural value is not a luxury awarded to Here Comes Honey Boo Boo, and it is especially denied to women like Mama June. The family's redneck values and heightened personalities turned them into a spectacle for white middle- and upper-class female viewers, TLC's target demographic. TLC is also a network whose programming gleefully embraces grotesqueries of many kinds: megafamilies, fundamentalists, little people, Mormons, Palins, and extreme couponers. When Mama June and her family became TLC's resident redneck train wrecks, they proudly embraced all the stereotypes of white trash culture and cemented Mama June's perceived lower-class status. Her large, unkempt body cemented the image of her as both a bad mother and the pinnacle of the female transgression.
Mama June's positioning also made it easier for TLC to cut ties with her, a fact made apparent by the network's continued relationship with the Duggar family. TLC canceled 19 Kids and Counting in 2015, also following a molestation scandal (Josh Duggar allegedly sexually abused his sisters). Yet the Duggars are framed as a good white Christian nuclear family, which masks their nonconforming religious fundamentalism. Although canceling 19 Kids cost Discovery $19 million (whereas Honey Boo Boo was an easily replaceable commodity), the Duggar children, excluding Josh, were given a spinoff series, Counting On, which is currently in its third season. This no doubt pushed Mama June to follow the trajectory of many reality stars, leapfrogging between programs to stay relevant.
What happens to Mama June once she loses the cultural signifiers that present her as both female grotesque and authentic redneck working-class woman?
It was Anna Nicole Smith who first powerfully embodied — and will be forever synonymous with — the female grotesque. On her way to becoming a household sex symbol, Smith profited from white trash stereotypes and her physical imitation of Marilyn Monroe. Her pursuit of a blonde bombshell physical ideal — the body mocked and exploited by The Anna Nicole Show — led to a very public drug addiction and eventually her death in 2007. Smith's troubles — slurring her words, excessive eating, cursing — played out on the show. What we have come to learn from Smith is that while the female body can be created, failing to maintain a fantasy body is a terrible sin. Jeffrey Brown, writing in Feminist Review in 2005, explains that "the case of Anna Nicole Smith illustrates that the desperate and vehement attempt to punish transgressive individuals is symptomatic of deeper cultural politics." Simply put, Smith broke too many rules. Her presence in the tabloids and reality television destabilized and challenged the moral codes and actual laws designed to keep poor people like her in their rightful place. Her demise seemed inevitable.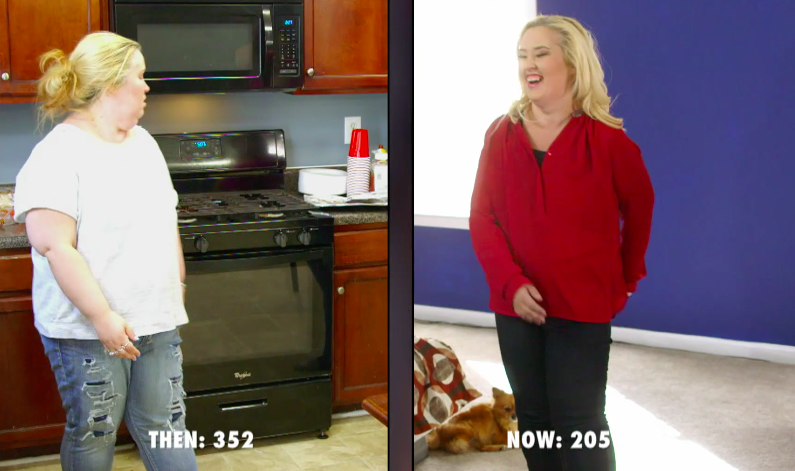 Mama June's version of the female grotesque is fitting for a new decade of reality television. While she too has bought a body in order to transform herself and transcend her redneck life, she differs significantly from Anna Nicole Smith. June has never been an idealized beauty. She was never a Playboy Playmate. June has never used her sexual capital to gain upward mobility and destabilize class systems. When June put on Marilyn Monroe's iconic white dress during a Halloween episode of Here Comes Honey Boo Boo, she was both lusted after by Sugar Bear and mocked by her children. For a viewer familiar with Monroe's idealized body, it is potentially off-putting to witness June emulating her. But with her new revenge body, June could finally adapt to traditional image standards and become classically beautiful in order to win back audiences. From Not to Hot reveals the limits of public memory after scandal and shows the power of a physical makeover—which brings us back to how Mama June "got right here."
2.4 million people watched Mama June reveal her new size 4 body on the penultimate episode of From Not to Hot on March 31. The episode coincided with a PR blitz in People magazine in which pictures of June making duckfaces and eating grapes in ball gowns are displayed alongside the breakdown of her $75,000 cosmetic surgery overhaul. In another photo, June is lying on a couch in a ball gown and snapping a selfie, skin removal scars visible. June tells us, "I thought of myself as being sexy before. Now I'm the shit." She insists the makeover was solely about her, her happiness, and not her fame. And she wants you to know she paid for everything herself.
Through a calculated physical makeover, commitment to an emotional journey, and the solidification of her celebrity status through reality television, Mama June has achieved the ultimate rehabilitation of the female grotesque. From Not to Hot gives audiences permission to ignore June's failings as a woman and parent, for the sake of entertainment.
Perhaps Mama June will continue playing a bit role as reality TV's redneck mom. But there is a twist developing: Mama June wants her daughters to eventually adopt healthy diets, telling People, "I do worry about their health, but I'm not going to say, 'You got to eat salads all the time,'" —perhaps paving the way for a family makeover show. At the very least, June is curtailing the excessive grotesqueness that made them famous in the first place. It's necessary for the family's survival: Mama June still needs a man and a second season. Whether she'll be able to maintain this standard of popularity remains to be seen, but nearly three years after a scandal that should have wrecked everything, it's clear Mama June Shannon is here to stay.
Joanna Arcieri is a freelance writer with a MA in media studies. Her interests include the intersection of politics, spectacle and reality television.

Want to read more great essays, poetry and short fiction? Sign up to receive BuzzFeed Reader's monthly newsletter, which also includes exclusive interviews with esteemed authors and columns from our editors.