Look At What Syrian Men Are Telling Germans After New Year's Eve's Assaults
"Our cultural values were trampled by these crimes."
A group of Syrian refugees are distributing a message about the New Year's Eve attacks on women in Cologne, Germany.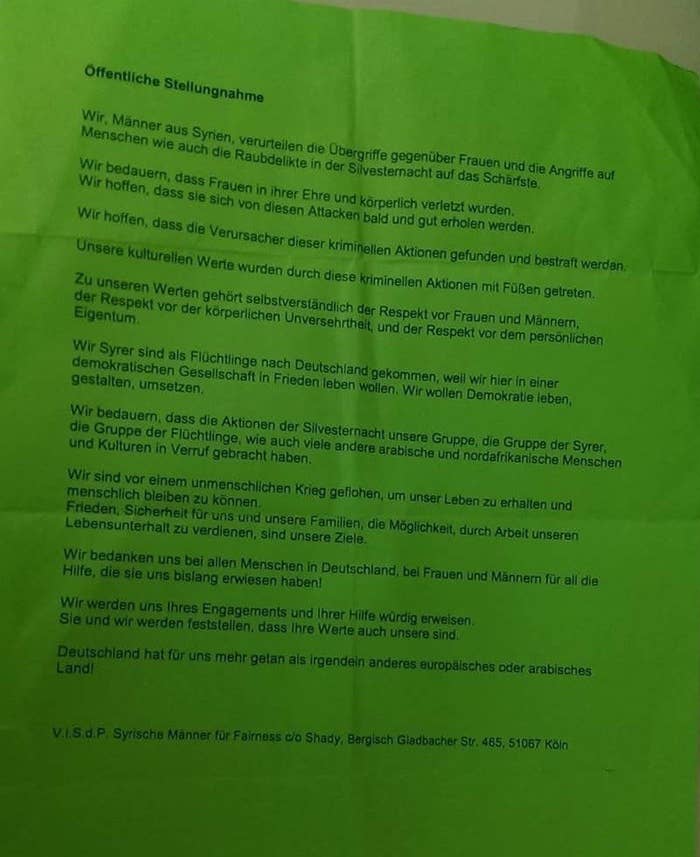 The flier is being handed out in different places in Cologne. This one was given to an American man at the cafeteria at the University of Cologne, who shared it on Facebook. Here's what it says:
We, men from Syria, condemn in the strongest possible terms abuse against women and the attack and robberies on New Year's Eve.

We regret that women were injured, physically and in their honor. We hope that they will recover well and soon from these attacks.

We hope that the perpetrators of these criminal acts will be found and punished.

Our cultural values were trampled by these crimes. Those values include respect for women and men, respect for bodily integrity, and respect for personal property.

We Syrians have come to Germany as refugees, because we want to live freely in this democratic society. We want to shape, to speak, and to live democracy.

We regret that the acts on New Year's Eve have brought our group — a group of Syrians, a group of refugees and of other Arab or North African people — and our culture into disrepute.

We've fled an inhuman war, in order save our lives and our ability to remain human. We want peace and security and the opportunity to provide for our families through work.

We thank all the people in Germany, both women and men, for all of the help they have so far offered us.

We want to show ourselves worthy of your help. We remain united: Your values are our values.

Germany has done more for us than any other European or Arab country!
The leaflet is signed by "Syrian Men for Fairness," run by a man called Shady and with an address listed in Cologne.
A local broadcaster identified him as Shady Chaaban, a Syrian refugee whom it said was distributing the leaflets at a train station on Monday.
Mordecai-Mark Mac Low, who shared the flier on Facebook, said the reaction was mixed.
He saw at least two young men handing out the fliers at the University of Cologne campus, where he was visiting to give a lecture on his research.
Low was heading to a work lunch, and none of his German colleagues talked about the flier directly, but they "have certainly been discussing the issue," Mac Low said. "The general mood among my colleagues is a sort of wary trepidation: there is a great deal of acknowledgment of the plight of the refugees, but also a lot of concern about the practical implications, including very personal stories of low level harassment," Low told BuzzFeed in an email. One of his colleagues told Low that his 14-year-old daughter had been cat-called:"Hey, baby, what's your number?"
It's not the only gesture of solidarity between Germans and immigrants. Last week, some members of the Tunisian Youth Association gave out white roses with messages insisting that women reporting abuse be heard.
UPDATE
Adds comments from Mac Low.