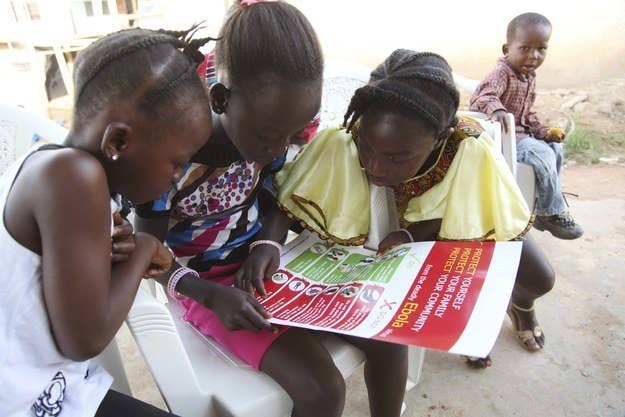 NAIROBI — Five months after the start of the deadliest Ebola outbreak in history, global response measures are beginning to be scaled up.
The death of a Liberian traveler to Nigeria last week created a sense of urgency about containing the deadly virus, which was first confirmed in the West African nation of Guinea in March. Since then, the virus has spread to neighboring Liberia and Sierra Leone. The World Health Organization (WHO), a global monitoring body, counts 1,440 suspected or confirmed cases of Ebola, with 826 deaths.
Those cases include a handful in Nigeria, where health workers who came in contact with the Liberian traveler have been confirmed or suspected of having the virus.
Ebola is a rapidly moving virus with symptoms that include fever, weakness, and internal and external bleeding, according to the WHO. Ebola is transmitted through contact with an infected patient's bodily fluids, or exposure to environments where those fluids have been. Ebola is only contagious when patients are displaying symptoms, and the disease can only be spread through contact with bodily fluids. That makes it comparatively hard to transmit, and relatively rare — but this outbreak has proven hard to contain, in part because the national and international response has been so slow.
"I would say...that it wasn't taken seriously by many partners at the beginning," said Fadela Chaib, a spokesperson for the WHO in Geneva. "It was also a failure of the international response that we weren't able to work with local communities."
This is the deadliest outbreak of the disease since it first appeared in the Democratic Republic of Congo in 1976. It's also the first multi-country outbreak of Ebola, and its spread has been something of an anomaly.
"Usually, it starts in a village and it stays there. There's a national or international response and after a few weeks... it is declared over," Chaib said. "This time it started in one village, then went to another, then to another, then to another, then to another."
Chaib also said frequent movement across informal borders in West Africa, which artificially separate linguistic and cultural communities, has made it difficult to break the chain of transmission.
So, too, has fear, she said. In the first weeks of the outbreak, many communities resisted sending their sick loved ones to hospitals, following medically appropriate burial protocols, or even allowing health officials to set up containment wards.
Health workers in all three countries say those challenges have eased as communities better understand the disease, but more outreach needs to be done.
The World Health Organization (WHO) will convene a meeting Wednesday of the International Health Regulations Emergency Committee, made of independent experts on the disease and representatives from affected nation countries. The two-day meeting will advise the global health body's director general on whether to declare Ebola a "public health emergency of international concern," a formal designation that would include recommendations by the committee's technical experts on temporary measures to curb the spread of the disease.
Those measures are up to the committee but could include "travel restrictions, more technical support, more experts to be sent," said Chaib.
The WHO already has nearly 250 experts working on the outbreak in four countries. Last week, the WHO announced an additional $100 million in support for Ebola-stricken countries. The World Bank on Monday announced $200 million in emergency funding, and the African Development Bank has pledged around $60 million — all five months after the outbreak first began.
So far, the WHO has refrained from advising that affected countries implement border or airport closures or other travel restrictions, and it doesn't recommend passenger surveillance, which it considers to have a low chance of catching meaningful cases.
But that hasn't stopped Liberia and Sierra Leone from doing just that: Both countries formally closed most land borders last week and have employed passenger surveillance at international airports to try and intercept sick travelers.
Other countries in Africa and abroad have opted for surveillance methods too, in particular thermal scanning, which detects elevated body temperatures in passengers as they move through airports.
Kenya, South Africa, and Nigeria — the major air transit countries in Africa — say they are all employing heightened surveillance. This week, Morocco reported the death of a Liberian traveler from Ebola, two days after he arrived in the country.
But panic about Ebola seems to be traveling as quickly as the cases themselves. This weekend, a woman traveling to England from West Africa on a plane that originated in Sierra Leone, was tested for Ebola after she collapsed and died at Gatwick International Airport; the test came back negative. On Monday a man feeling "feverish" and returning to England from Benin and Nigeria tested negative for Ebola at Birmingham hospital.
Also yesterday, Mount Sinai Hospital in New York City tested a man complaining of stomach problems and fever. A hospital spokesperson said that " "odds are it's not Ebola" but confirmation would take 24 hours.
And the Ohio Department of Health on Tuesday cleared a man returning to Columbus from West Africa, according to a local news report.
So far, closing airports isn't on anyone's radar. The International Civil Aviation Organization, a United Nations body that regulates air travel and monitors, convened its public health committee two weeks ago to talk about Ebola preparedness, but the focus was on other, less drastic response procedures.
Global health officials say the likelihood of the disease hopping countries by airplane is very low, in spite of the two cases of infected Liberian travelers landing in Nigeria and Morocco. Airport closures are also disruptive and costly.
"It's not an easy decision to declare travel restrictions. If you remember well the SARS, we did travel restrictions — and that had a huge, huge impact on trade, on people's movement," Chaib said.
It's also not likely to help contain the outbreak. "The most effective measure to bring this outbreak under control is to go back to the source," usually in villages, she said.
Dr. Teresa Bassey, a Nigerian and the lead technical adviser for the African chapter of that committee until she retired in December, said she had long recommended that airlines keep a universal hazard kit on board.
"If ASKY had it on board," she said, referencing the airline that flew the infected Liberian to Nigeria, "the cabin crew would have worn gowns, put on gloves, and the kit contains a chemical which when you pour it into a body fluid, it solidifies it so you can scoop it and put it in a biohazard bag."
Bassey said that especially after SARS — the severe acute respiratory syndrome that spread from Asia to more than 12 countries roughly 10 years ago and killed nearly 800 people — airports frequently hold simulations around public health emergencies in order to keep staff trained up.
"For Ebola," she said, "we thank god it's not airborne."