HEIDELBERG, Germany; BELGRADE, Serbia; and TOVARNIK, Croatia — Layan's thick, black hair is a waterfall. It zigzags down her back in frizzy waves. In normal life, in the better days back in Damascus, it was all smoothed out, closer to curls, but things haven't been normal for a while, and right now, in a Heidelberg refugee camp, her hair is the least of her problems.
It's her glasses that are driving her crazy. They snapped on both sides somewhere between Macedonia and Germany. She's wrapped them with white tape so thick it looks like gauze, but inevitably, they fall apart on her face while she's talking. Layan can't see much without them — people and places become shapes and shadows — but she just presses them back together and hopes for the best. It's the only way.
Layan is practical, focused, and no-nonsense. She's a fighter, which is not a thing you should have to be at 15.
These are traits that came in handy when a man tried to snatch Layan at a public restroom in Macedonia.
It was evening, around 8 p.m., and dark. Layan was waiting for the bathroom, in a mixed line, men and women all waiting for their turn. There was a bar nearby, and some of the men around were drunk. She felt someone grab her, just above her wrist, and then try to wrap a hand around her mouth. She was already screaming — shrieking her brother's name, pushing out any sound she could. Her screaming caught the man off guard, and her brother came running. The assailant — a man she thinks was a Macedonian — ran away.
She felt someone grab her ... and then try to wrap a hand around her mouth.
Layan and her mother think the man wanted to rape her, and it turned the brave teenager timid. "After that, I was always with my brother," she said.
Layan was lucky, but there are probably hundreds of moments like this on the dangerous journey that nearly half a million people have already made this year from Turkey to western Europe. It's a journey that seems safer than the alternative: Most are escaping Syria's nearly five-year civil war, which has killed an estimated 250,000 people and forced another 4 million to flee. Others are fleeing fighting in Iraq and Afghanistan.
There's no official count of how many women are making this journey, and there's hardly any official acknowledgment of stories like Layan's, or those of other women who described to BuzzFeed News a danger that's so far been invisible on this journey — those moments where a man senses opportunity, or feels his circumstantial power, and tries to coerce or force sex, or otherwise uses violence on women.
In fact, the major authorities responding to the crisis will say that stories like these do not exist.
Over two weeks, BuzzFeed News interviewed more than a dozen officials in the major organizations responding to the refugee crisis, including the United Nations High Commission for Refugees (UNHCR) and national offices of the Red Cross, in capitals and at border points spanning the common route from Greece to Germany. These officials said they had never heard of a case of sexual or gender-based violence along that route.
"I don't see how there's a gender issue here, honestly," said Melita Šunjić, the senior public information office for the United Nations High Commission for Refugees (UNHCR) Serbia office. "I'm fully aware of what you're talking about, but these issues happen when you register women in refugee camps, when certain people get privileges and aid and others don't, things like that. There's not even time for that … At the moment, this [sexual assault or exploitation] is definitely not the problem."
Except for when it is.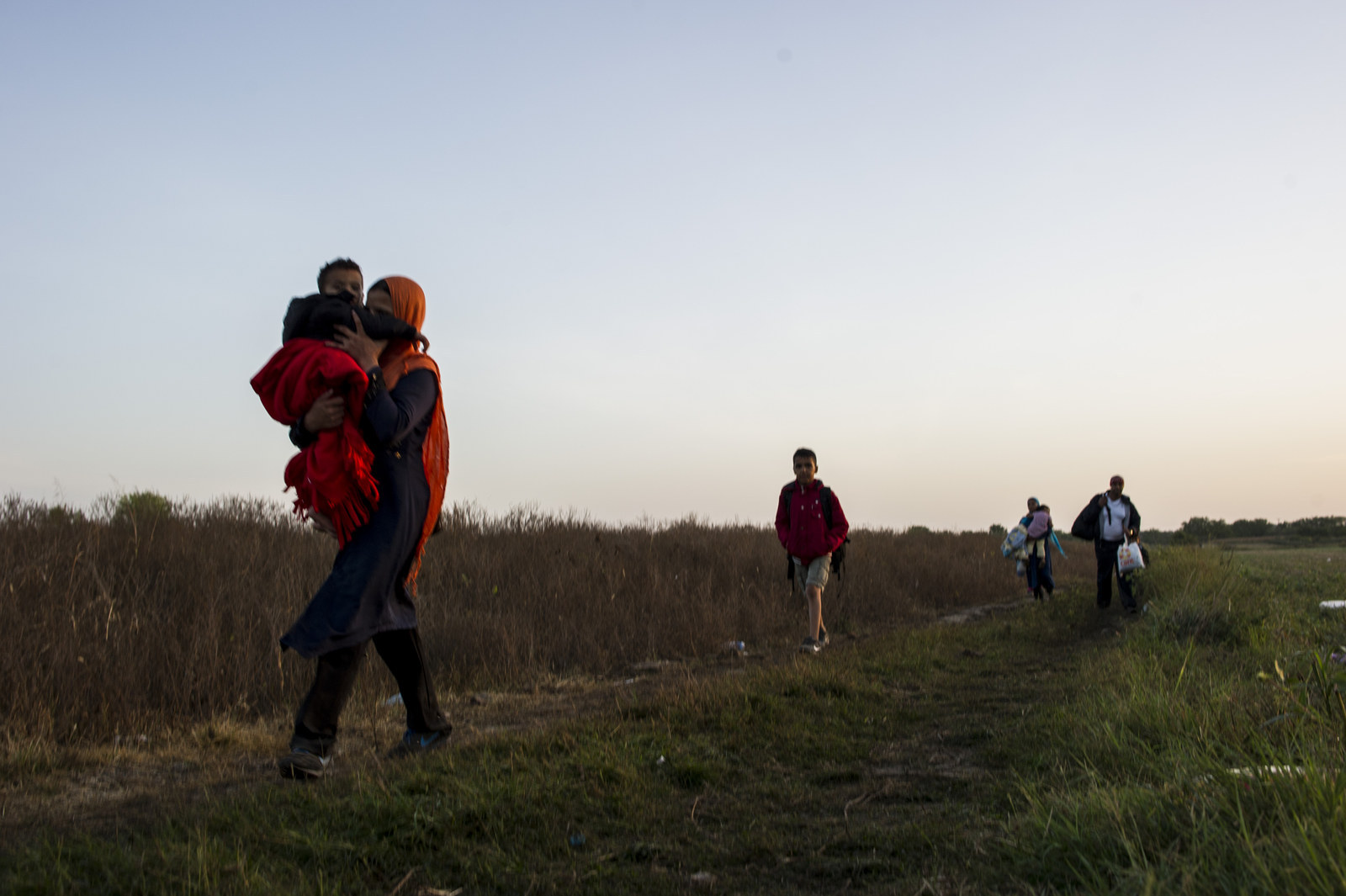 Aya, 25, left Syria with her four sisters and a gaggle of children — her two toddlers, her young niece and nephew — and her husband's two brothers, in their late teens but dependent on her for everything. In Aya's group, there was no patriarch. There was only her.

Unlike many other refugees, who had relatives who'd made this trip before them, Aya didn't have a good guide. Mostly, she and her family followed the crowd from one country to another. But in Budapest, the crowd scattered, and they didn't know exactly what to do next. Aya's brother was the only other family member who'd gotten to western Europe, and he'd flown from Greece to Belgium. A distant relative suggested she find the Seni Studium Hotel, on the outskirts of the capital, where Syrians would shelter and then smuggle them on to Germany. "You'll be safer there," she remembers her relatives advising. "And we believed them."
The place was grimy and packed with Syrians — refugees sleeping in haphazard arrangements in the hallways, and hotel staff connecting the refugees with a network of smugglers.
The rooms were already overflowing, and Aya and her family were told to pay 15 euros each in exchange for a colored paper bracelet, their "key" to sleeping on the floor that night. No charge for the children.
One night stretched into another. She pleaded with the smuggler to organize the trip faster — we're women traveling alone, with all these children! — but the more she pleaded, the more slowly he seemed to move. So instead she pleaded with a man who was giving out the bracelets.
"This is too much. You're taking 15 euros for sleeping on the floor!" she remembers telling him. "At least make it 10."
"This is the only choice you have," she remembers him saying. "Or — you have another choice. Maybe you come with me to my room."
"You're joking," she told him.
"No," he said, with a dead stare. "I am not joking."
The man's audacity — his ultimate power — terrified Aya.
"I didn't do anything — I couldn't do anything," she said. She said no and paid again for her family to sleep on the floor, but she didn't tell anyone about his solicitation. "I was trapped in this hotel. And he could call the police, or do anything."
She didn't specify what else "anything" might mean, but her sister, Manal, had some idea. A friend of hers had already traveled to the Netherlands and sent Manal a clear warning: Be careful who you trust, where you sleep. Her friend's group had lost four children, three girls and a boy, in a cornfield in Hungary. The children had been relieved when a man approached them speaking Arabic, telling them he'd come from Syria, too. His house was nearby — did they want a place to rest and wash? The children followed him.
The girls, Manal was told, were raped by several different men before three escaped and were reunited with the group in Holland; the fourth is still missing. The boy, who witnessed the rapes, escaped through a bathroom window. He hasn't spoken a word since.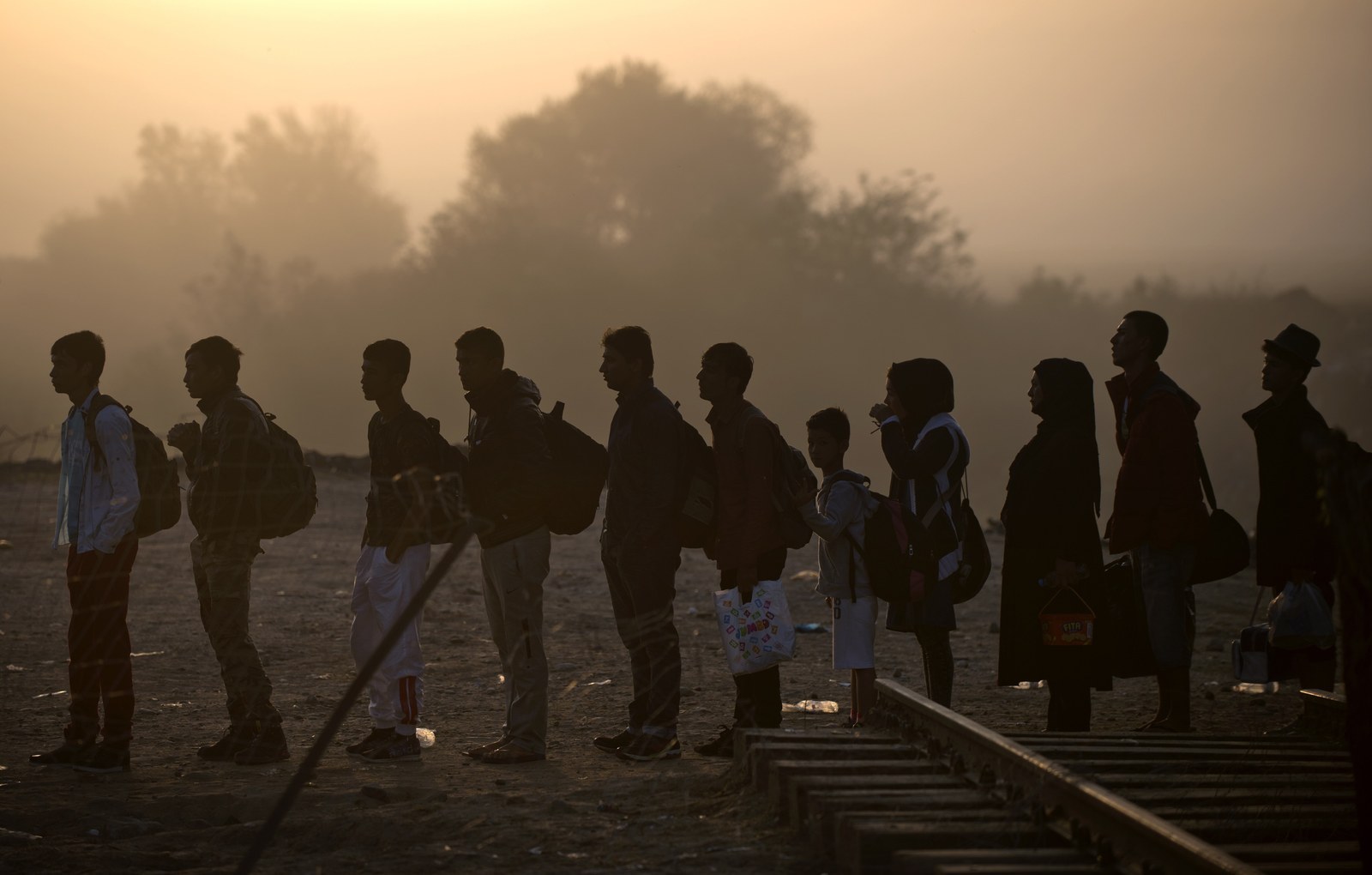 Like other officials interviewed, Šunjić, of UNHCR, pointed out that the fast-moving flow of people — what she called "the human pipeline" — makes it more difficult to identify or intervene in potential cases of sexual assault or exploitation, gender-based violence, or human trafficking.

No doubt, that's true. But none of the major authorities, national or international, responding to the crisis appear to be proactively looking for these cases, either. The International Office of Migration, which keeps an official tally of the number of people crossing the Mediterranean to Europe, doesn't break down that tally by gender — meaning that, officially, no one knows how many of the nearly 500,000 people to land in Greece or move on through Europe are women. (IOM said that, for methodological reasons, it won't offer a gender breakdown until it's working with annual figures.) A UNHCR team at the Croat–Serb border town of Tovarnik estimates that women are about 15% of the 7,000 people coming through a day but said that percentage increases noticeably, for reasons unclear, when the bulk of those crossing are Syrians.
No organization on the front lines of the crisis had deployed a single gender or women's protection officer when BuzzFeed News began investigating risks for women and girls in mid-September, and none had added any officers by press time. (Only one, the International Rescue Committee, said it was organizing to be able to train staff in gender-based violence protection, but those trainings had not yet begun.) But massive numbers of people have been risking their lives in dramatic numbers since April — and in lower but consistent numbers every summer for the last two or three years — to cross the Mediterranean and move, ad hoc, more than 1,500 miles from the shores of Greece to Germany.
Those who make the trip from Syria, Iraq, or Afghanistan can count on the volunteers to cook them food, UNHCR to give them blankets, and, in some places along the way, the Red Cross to offer medical checks. But from what BuzzFeed News has learned, few of them can expect to be protected from sexual assault, coercion, or exploitation on that journey.
"This is a story that I think is absolutely not being told."
These vulnerabilities are clear to gender experts, even if data doesn't exist on what's happening in Central Europe at this moment. "We don't actually know for sure what's going on [but] what we can glean from every humanitarian crisis ever, and from our [earlier] work, is that … a large number of women and adolescent girls who run from violence are subject to violence in flight, and then are still preyed upon… when they get to the 'safe haven,'" said Deni Robey, director of strategic communications at the Women's Refugee Commission, a New York-based group that advocates for the rights and safety of female refugees. "This is a story that I think is absolutely not being told."
The vulnerabilities, especially to sexual exploitation, are also clear to trafficking experts like Nicoleta Muntean. "Someone who has knowledge of something — either the [local] system, or the local language — will take advantage of people who don't have anything relating to where they're going — no skills, no local knowledge, no language," said Muntean, a human rights lawyer with extensive experience in counter-trafficking efforts in the Balkan region. "Those people can become victims."
But the refugees are determined to push quickly to western Europe; volunteers say it's hard to get people to pause on the journey even for medical care. That pace, coupled with the lack of formal complaints about sexual assault or exploitation, seems to have persuaded officials that there is little opportunity for gender-based crimes to occur.
"Transactions are happening in full view of everybody, so there's not much room at the moment" for sexual exploitation or coercion, said Šunjić, of UNHCR. "People go out of the [refugee] camp, get on the bus or taxi, pay, and then leave. Also, women are not traveling alone, they are traveling with their husbands, or in large family groups, with 20 or 25 people, which in itself is the protection system they usually also have at home."
Šunjić wasn't the only official to express these views; she was simply the most blunt. But human rights experts say the prejudiced view, which surfaced in several interviews, that Arab men protect "their" female travelers is deeply problematic — and may contribute to making the gender-violence problem invisible.
"That's a really dangerous assumption — that we only have to worry about women who are coming over on their own, because that's not true," said Hillary Margolis, a researcher in the women's rights division of Human Rights Watch. "Someone in her family could traffic her, abuse her, exploit her, or there could be domestic violence, the threat of forced marriage, any number of things."
Even female travelers accompanied by men can easily face risk. Layan, after all, was nearly assaulted at a public bathroom, even though she was traveling with her protective older brother. In Hungary, Mayada Salama and her daughter were separated from her brother and her son by a local taxi driver, who promised the Syrians a 400-euro lift to Austria.
But another Hungarian man already sat in his passenger's seat, and he insisted he didn't have enough room for the whole group. He called another taxi and split the family of four into two, sending the men in the other car and taking the mother and her 11-year-old daughter. Salama watched as her son's taxi took off. Her own driver didn't move very far — she remembers the distance being less than 100 yards — before he pulled over and dumped her on the side of the road. He already had all of her money; he took her phone, and as he left, he called the police over and they took her and her daughter to jail.
"I thought we'd be safer because there was a child, and we were female, so people would be nicer to us," Salama said, speaking through a male translator while sitting outside the social welfare office in Berlin on a cold October morning. "But it was the other way around. The men got through." But she wouldn't learn that for more than a week.
In the meantime, worried about the boys, Salama said she and her daughter spent two days in jail, locked in a cell with 19 other people, and another two days in a refugee camp, before the Hungarians moved her on to Austria. She'd memorized her son's phone number, and in Austria, spent four days begging to borrow a phone so she could call him. They reunited in Berlin.
It was clear that Salama felt her imprisonment in Hungary was the worst part of her journey. Yet women like her, who end up in detention along the way, are also invisible in the narrative of crisis response. What is already known suggests yet another vulnerability: A Human Rights Watch report released in September documented the abuse of migrants and asylum-seekers by the police in Macedonia, including several cases of gender-based violence.
Jelena Hrnjak, a program coordinator with a Serbian anti-trafficking organization called Atina, said women are at higher risk for price-gouging on this journey, and more likely to have their money and belongings stolen — or sometimes worse. "There's a [border] gang that cut one girl's finger off because she didn't have enough money to pay," Hrnjak said. "Some people are taking 'justice' into their own hands … We're seeing a lot of violations, a lot of people hurt in so many ways."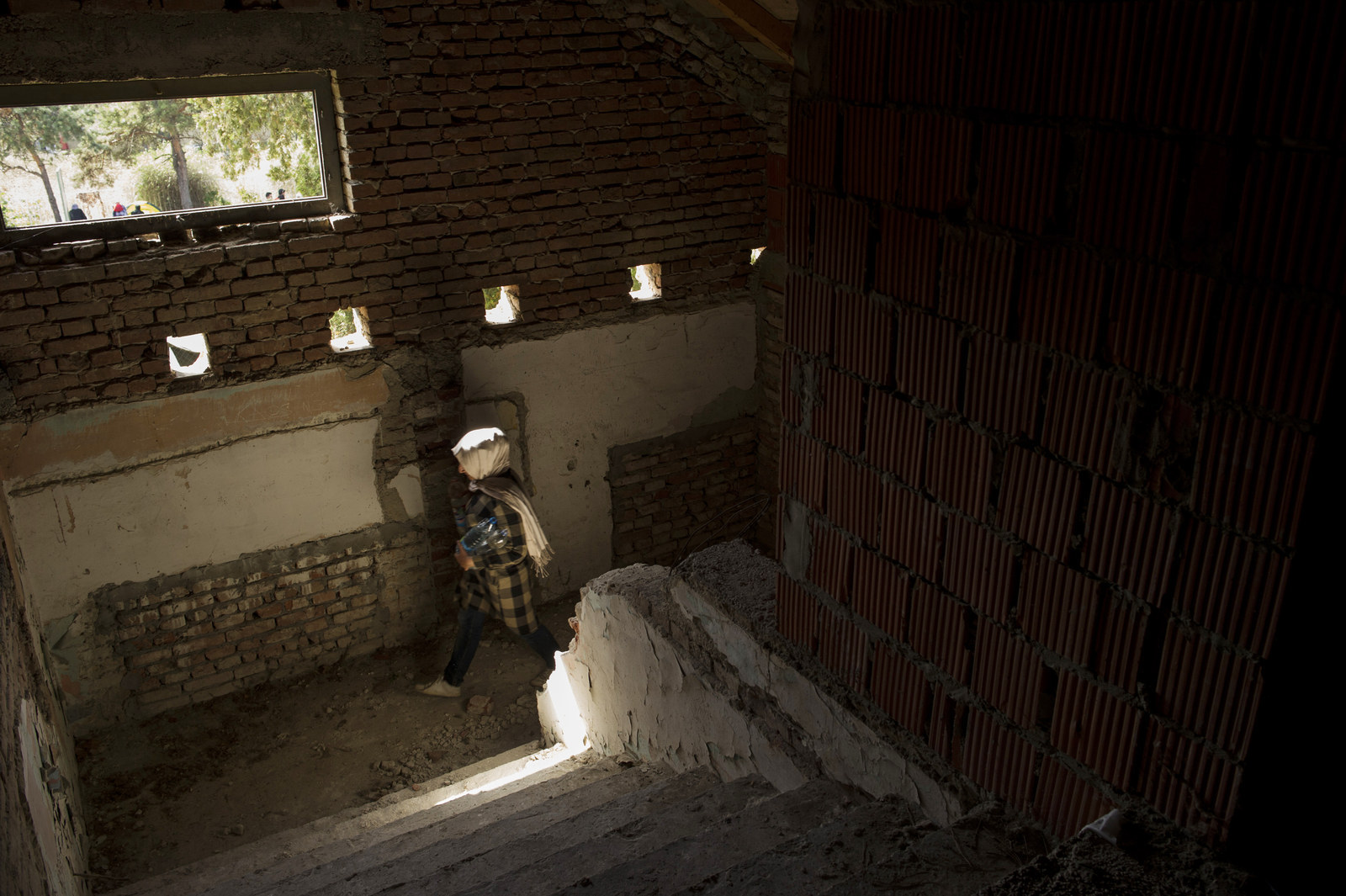 Atina appears to be the only organization looking systematically at the gender risks inherent in the journey. (BaBe, an anti-trafficking organization in Croatia, said that it isn't working directly on the issue at this time, although it considers sexual assault and exploitation a probable risk of this kind of population movement.) For more than a decade, the Serbian grassroots group has been working to disrupt human trafficking circles in the Balkans, a region the U.S. State Department considers lax about investigating or prosecuting trafficking crimes.
So Atina knows, better than most, how risky moving through the region can be. In fact, the organization first warned national police about dangers to women and girls in this refugee migration two years ago. The number of people coming through Central Europe was smaller then, but the problem was already apparent: In 2012, the group was asked to help two Afghan girls who had ended up in traffickers' hands.
"We were raising this [at] the police level, and people were saying, 'Oh, shut up. You are always talking all this blah-blah.' It was actually like that," Hrnjak said.
Marijana Savic, Atina's executive director, says the risks should be obvious. "Thousands of people are moving. Of course a lot of bad things are happening," Savic said. "It's a logical thing, but it's hard to identify. That is the problem."
Several children who had been the victim of sexual assault by a gang that operates in the "no-man's-land" between Hungary and Serbia were referred to Atina in September by UNHCR. But the crime against the children was only identified, Atina staff said, because one of them fought back, and in the scuffle that followed, a gang member was fatally stabbed. (BuzzFeed News is withholding some details about the incident, including the nationality and number of the children, to protect the identity of the victims.)
Hrnjak, Atina's program coordinator, said gang activity on the borders is an old story. During the Soviet era and the conflicts that followed in the 1990s, "there were people who lived off of smuggling goods — you say what you need, they say the price — and these people know the right roads."
Atina is working on creating a referral network between like-minded organizations from Greece through Germany, hopefully making it easier for at-risk individuals identified in one country to receive outreach in the next. Hrnjak is concerned about children, especially girls, traveling alone, given the sophistication of trafficking circles in the region.
"You have small children traveling who get lost from their families."
"You have small children traveling who get lost from their families, who go up and ask strangers, 'Can I join your group?' Or kids who meet in Turkey, or smugglers make a group of them. This can lead to real trouble," Hrnjak said. "But it's not everybody who can work on this in the field, who can recognize this, because not everyone has expertise in [gender risks]."
Atina is pulling together "mobile outreach teams" to assess the border points these risks. Every border is different, and conditions can change quickly. Three weeks ago, for example, the border between Tovarnik, in Croatia, and the Serbian town of Sid was flooded with people desperate to get a seat on a train to Austria. News photographs show people looking desperate and scared as they were loaded onto trains. One volunteer, working as an Arabic–English translator on the border, told BuzzFeed News he had seen a child plead with a Croatian police officer for a seat on the train, where his family was already packed in; the officer pushed the child into another group and told him, "Here, this is your new family."
Today, that same border is the picture of calm: Refugees are bussed from one side to another, given medical checks, food and blankets, and sheltered under tents as they wait, usually around six hours, for a train to Hungary and another to Austria.
Hrnjak says Atina wants to do outreach with people while they're waiting at these border points to encourage them to make reports, at whatever stage they feel comfortable, about gender violence, trafficking, or violence against kids. The group hopes better organization in recent weeks by national governments and international agencies can make this possible.
"A system of identification, of someone who is exploited or who is going to be exploited at the end of the journey — there is no mechanism for that, still," said Savic.
The kind of work Atina is doing isn't revolutionary in the world of crisis response. In other situations like this — in South Sudan or Lebanon or northern Nigeria, where people have fled the violence inside or nearby their villages, or even in Haiti or Nepal, where natural disasters force people from their homes — gender officers or women's protection officers would do the fact-finding and outreach Atina has begun.

In particular, they would assess what makes women and girls most vulnerable to sexual assault or exploitation. In South Sudan, for example, it's often leaving a camp to fetch firewood. In Haiti, on the other hand, it might be trading sex for food, which is classified as sexual exploitation by the human rights community.
But somehow, that kind of analysis hasn't caught on in Europe yet. There's no discussion of public toilets as points of potential abduction, as what had nearly happened to Layan, or of the potential threats posed by taxi drivers or halfway-house proprietors or other privateers with power over whether women — and the families who rely on them — can keep moving. And there's all but denial of the possibility that border guards or police officers might trade sex for entry, a risk that may only get greater as border controls tighten.
BuzzFeed News also contacted the national police of Greece, Macedonia, Serbia, Croatia, and Hungary — the major transit countries — for any information they had about gender-based violence. Several did not respond to repeated requests for information. The Hungarian national police told BuzzFeed News by email that it does not collect information related to asylum-seekers, including reports of rape or attempted sexual assault. The Croatian national police said it could not disaggregate crime reports by victim category; it later said it had no reports of asylum-seekers experiencing gender-based violence.
It's therefore impossible to have any official picture of how many women and girls have been raped, exploited, or harassed on their journey. And it's difficult for women to report abuse when there are no gender or women's protection officers on the ground.
When asked why UNHCR has no women's protection officers in its response, Babar Baloch, the chief spokesperson for UNHCR in Central Europe, said, "Oh, for us, wherever we have staff, we have a lot of female colleagues."
But women's protection officers are more than women who work in some capacity for an aid agency; they need to have special training in the unique vulnerabilities of women and girls in an emergency context. When pushed on these points, Baloch said, "Try to look at it from this angle. Our mandate is refugee and asylum-seeker protection. So all of us are there for protection."
And, he reiterated, "A lot of my colleagues at transit [points] are female."
Update: The language in the paragraph about the vulnerability of women in detention has been clarified.
Ed. note: The women featured in this article are not the same women who appear in this story's photographs.