Why It's Hard To Board A Bus In Nairobi Today If You Look Like A Somali
A day after two deadly attacks on public buses, riders begin profiling each other.
On Sunday in Nairobi, explosions tore into two buses, killing at least three people and injuring more than 80.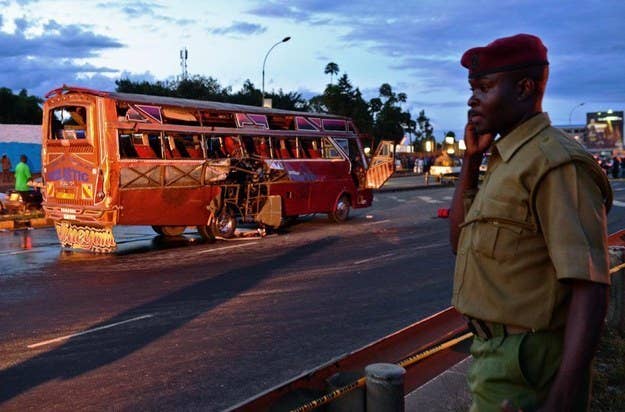 NAIROBI — A pair of deadly bombs exploded Sunday on two packed buses here Sunday, killing three people and injuring 86.
While bus blasts aren't rare in Nairobi, Sunday's explosions come at a time of heightened tension about terrorism and ethnicity.
Kenya has been rooting out illegal immigrants, especially in Nairobi's big Somali neighborhoods, because it considers them a terrorism threat. Somalis have been rounded up in house-to-house raids to have their residency papers checked, and some have been reportedly held for as many as eight days in a local soccer stadium. Many Somalis and Kenyans of Somali heritage have complained of feeling profiled since the terrorism crackdown began a month ago.
Monday, it's pretty hard to board a bus in Nairobi if you look Somali.
Twitter users report seeing Somalis kicked off buses, or buses emptying when Somalis get on. (For my fellow Americans, alights means "gets out.")
"I felt very embarrassed, helpless. I went out and looked for a taxi to come to the office."
Kenyans of all backgrounds responded with disapproval.
And there were some calls for wider action – by Kenya's president, Uhuru Kenyatta, and by ordinary Kenyans.