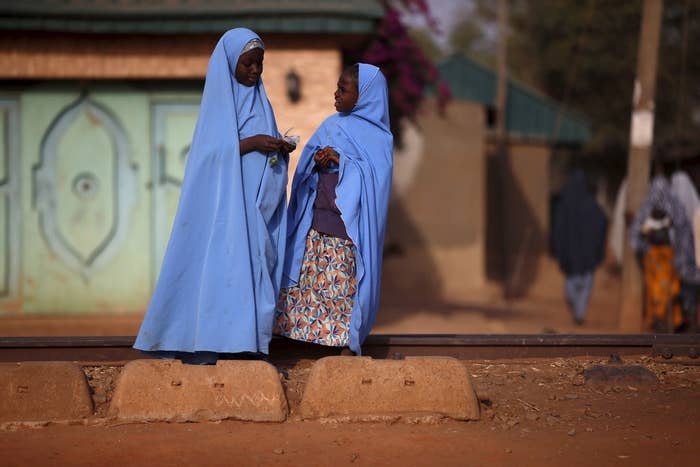 Nearly three-quarters of Americans would like women who've been raped to have access to safe abortion care, according to a new poll.
The poll found that 72 percent of Americans support "allowing" women to have an abortion if their pregnancy is the result of rape. That support includes 59 percent of respondents who identify as Republicans.
The poll comes as the issue is gaining increasing domestic and international urgency. The Zika virus is renewing debates about abortion access in Central and South America, where legal restrictions have long limited access. This month, the U.S. Supreme Court will consider a case that could limit abortion access in the United States. And the sexual assault of women and girls by Islamist extremist groups like ISIS and Boko Haram have given momentum to advocates seeking to loosen restrictions on U.S. aid.
The telephone poll of more than 1,000 adults was commissioned by the Center for Health and Gender Equity (CHANGE) and conducted by Lake Research Partners in early February.
CHANGE is one of more the 70 organizations, including faith-based groups, pushing the Obama Administration to soften its interpretation of the Helms Amendment, a 1973 regulation that prohibits federal funding "for the performance of abortion as a method of family planning or to motivate or coerce any person to practice abortions."
Advocates say the amendment has been interpreted too broadly, resulting in the denial of safe abortion access to women who've been raped in conflict zones.
But the poll shows a drop in support for using foreign funding in those cases. When asked about women or girls victimized by Boko Haram in West Africa or by ISIS, 59% of respondents supported using American foreign aid for access to safe abortion, among other medical options. Nearly one-quarter of respondents said they strongly oppose the use of U.S. aid in such cases.
Serra Sippel, president of CHANGE, says the drop is most likely to reflect opinions about foreign aid, not a change in opinions on abortion when it's carried out abroad.
"The fact that it's still a majority even when talking about US foreign aid is significant," Sippel said.
The issue of foreign funding and abortion access has been gaining traction since President Barack Obama's visit last July to Kenya, where local officials estimate that at least 900 women and girls were raped during the violence that followed the 2007/2008 elections.
Kenya is also a place where Helms has created direct obstacles to women's access to abortion care, even though it is legal under local law. BuzzFeed News found that in 2013, a health specialist at U.S. Aid for International Development (USAID) warned local partners against attending government trainings on national abortion guidelines because of Helms. Activists say the warning contributed to effectively a two-year moratorium on abortions.
"The president is really isolating himself on this issue," said Sippel. "I don't get it. This is an urgent situation ... and I think that's why Congress is starting to speak out about this."
In an August letter, 81 members of the House of Representatives urged Obama to soften his stance on Helms, arguing that the administration's restrictive interpretation on use of federal funds abroad is inconsistent with domestic law, including the Hyde Amendment, which explicitly allows Medicaid and Medicare funds for abortion in cases of rape and incest. Federal funds also cover abortions in those circumstances for women in the armed forces and the Peace Corps, the letter said.
In October, 28 senators, all Democrats, sent a separate letter, urging the implementation of a "correct" interpretation, to the White House.
Brian Dixon, a senior vice president at the Population Connection Action Fund, has been pushing to make Helms an issue in the 2016 presidential campaign. Last month, both Bernie Sanders and Hillary Clinton promised to loosen their Helms interpretation if elected, but so far Republican candidates have not spoken about the issue, Dixon said.
Advocates have been pushing for the change for years. A collection of Clinton's emails, released recently in tranches by the State Department, show that advocates met and discussed the issue with high-level staff across the State Department in 2011 and 2012. The emails suggest advocates believed the issue to be of particular concern to Clinton as secretary, but no policy change was made.
The final call on Helms comes from the White House. Sippel finds Obama's silence on the matter "remarkable and unbelievable."
"He's spoken out five times now on women and girls raped in conflict, in very emotional terms. The logical step would be, okay, you're acknowledging the horror these women and girls are going through. Now you can do something when it comes to getting them the care they need that includes abortion, and he's not taking that step."
Dixon, whose group has delivered petitions with nearly 700,000 signatures supporting a change on Helms, says an issue this sensitive needs more time.
"I just think changing abortion policy is always hard in this country, and it takes a lot of time and a lot of work and a lot of pressure and eventually you get there," he said.