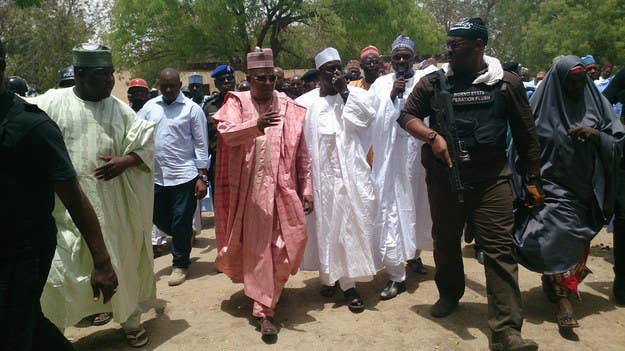 Saddened parents are turning angry in northern Nigeria, where more than 200 girls, ages 15–18, were kidnapped from their boarding school two weeks ago.
Boko Haram, the Islamic terrorist group, is believed to be behind the kidnapping. The girls were abducted around midnight on April 15 from the Government Girls Secondary School in Chibok, in Borno state, in northern Nigeria.
Boko Haram is generally thought to be active in northern Nigeria but two days ago claimed responsibility for an explosion in a bus park that killed 75 people in Abuja, the country's central capital. The explosion happened the day before the kidnapping.
In February, the group killed 59 students in a boarding school in neighboring Yobe state.
Reliable information about the kidnapping has been difficult to come by. Chibok is in a remote and dangerous part of Nigeria. Initial reports indicated that roughly 100 students had been kidnapped, but a week later, parents whose children were still missing put the number at 234.
The Nigerian military claimed the day after the kidnapping that it had rescued all but eight of the students in "ongoing search & rescue operations." It also claimed to have captured one of the terrorists allegedly involved in the kidnapping.
But local authorities contradicted that statement, saying only 14 girls were free, and they had themselves escaped. The Nigerian military later retracted the statement, and mentions of it have been removed from government websites.
The school's principal has said she believes 43 girls have escaped and 187 are still missing. They are believed to be held in Sambisa Forest, near Nigeria's northeastern border with Cameroon.
BBC correspondent Will Ross in Lagos said parents are getting angry. Ross said on air:
"I've spoken to one father who told me they feel thoroughly let down by the government. When I said the military put out a statement saying they are intensifying the search he said, 'They haven't shown us they have don't anything yet, I'll have to see it.'"
Last weekend, frustrated parents and volunteers reportedly searched the forest themselves. According to a local newspaper, one parent told the Borno state governor on Monday:
We were in the forest with over 200 volunteers who only had cutlasses, bows, arrows and sticks, we came across different makeshift camps suspected to be owned by terrorists. It is however unfortunate that we had to turn back when we met one good Samaritan in the forest who advised us that it was in our own interest to go back because the area we were approaching in the forest was a dead zone dominated by terrorists.

If soldiers had accompanied us to the forest, we were optimistic that our missing children would have been rescued, or we would be satisfied if we can just see the dead bodies of our daughters.
Boko Haram threatened to kill the girls and their parents if the rescue operation continued, according to English summaries of Voice of America broadcasts in Hausa, a local language.
Ordinary Nigerians, too, seem to share that frustration. #BringBackOurGirls began trending on Twitter Thursday afternoon, bringing forward desperation and demands for action.
A civil society organizer, Dr. Peregrino Brimah, meanwhile called on Nigerian Muslims to join the organization Muslims Against Terror in "this great Jihad against the cursed men of Boko Haram in the Sambisa forest" by "set[ting] out to sack the Sambisa forest of all terrorists and rescue our kidnapped daughters."