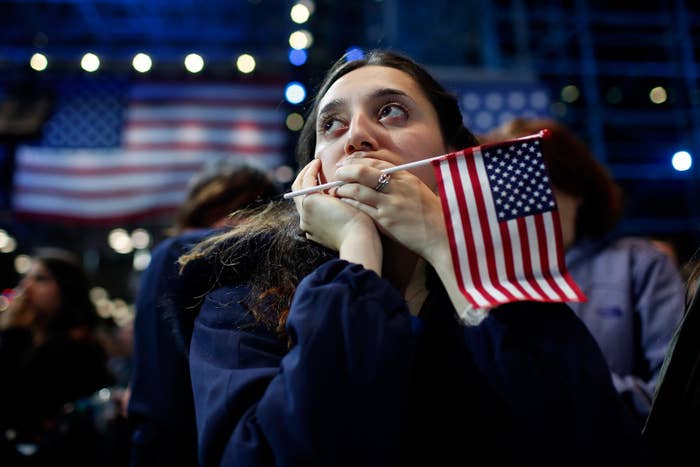 NAIROBI — You'll forgive the global women's rights movement while it catches its breath.
"I'm shellshocked. I have no words. I don't even know what to say," said Lina Abirafeh, director of the Institute for Women's Studies in the Arab World, at Lebanese American University in Beirut. "I don't see [Donald] Trump championing any women's rights issues. I think he's a massive setback and the world's women are conscious of that."
She was far from alone. When advocates and activists worldwide woke up to the news that Donald Trump had become the next president of the United States, they were sad. Stunned. Disappointed.
"It would have been a very, very nice thing to have a woman heading the world superpower," said Visaka Dharmadasa, founder of the Association of War-Affected Women of Sri Lanka and a key figure her country's peace process. "It's a shattered dream for us."
"It's frustrating in terms of not seeing the first American woman be elected as president. That was our dream," Bineta Diop, the African Union's Special Envoy for Women, Peace and Security, told BuzzFeed News by telephone from Dakar, Senegal. "For us in the global women's movement, we were hoping that Hillary would make it."
What was at stake for the global women's movement wasn't simple symbolism. Hillary Clinton's candidacy — her very name — has long been synonymous with a push for stronger women's rights. That push was a feature of her foreign policy while Secretary of State, a foundation of her tenure as First Lady, and — to hear her friends and political allies tell it — the motivational force of her decades in public service.
But on Tuesday, she lost the presidency to a man whose last weeks of campaigning sealed his reputation as a sexist.
Outed on tape as someone who feels entitled to gawk at and touch women's bodies without their consent, Trump fought back with denials and denigrations. "Believe me, she would not be my first choice, that I can tell you," he said of one of his accusers.
Beyond his blithe willingness to objectify women, including his own daughter, we don't know much we about what Donald Trump thinks about women's rights. He changed his position on abortion during his campaign, adopting an anti-choice stance in a flip-flop that instrumentalizes women's health and bodies in the same way his sexism objectifies them. He proposed child care for new mothers, in a policy that it turned out would apply only to married biological mothers, not adoptive parents, single mothers, or any fathers at all.
With so few lines to read between, it's not yet clear what a Trump presidency means for global women's rights. But until President-Elect Trump shares more specifics, senior women's rights leaders around the world are worried — to put it mildly — about what they've been hearing Candidate Trump say.
"I'm extremely concerned about what this means for foreign policy, in particular any hope of having a feminist foreign policy where we see women's rights enshrined in law and values," said Brita Schmidt, the executive director of the Women for Women International-UK, in London.
"This could not be more important than ever before. If you look at wars and crises we are witnessing, women are disproportionately affected by the sexual violence that occurs as part of war. They are disproportionately affected by poverty. We need to find a way to work with Donald Trump and his government, when he puts it in place, to ensure we don't go backwards," said Schmidt.
"We are deeply concerned about the election of a man who has been accused of sexual assault by numerous women and who is openly racist and xenophobic. Under Trump women's rights and rights of minorities are under threat, and we must work harder than ever to ensure the protection of vulnerable groups," the Brussels-based European Women's Lobby said in a statement to BuzzFeed News. "This election has revealed to the world the deep misogyny of the American people, and made it clearer than ever how important the global struggle for women's rights is."
Ana Helena Chacón Echeverría, the second vice-president of Costa Rica, called a Trump presidency a "very unpromising" outcome that illustrates "contempt towards women."
A Trump victory, she wrote in a statement to BuzzFeed News, is the continuation of "centuries of discrimination and exclusion regarding the political participation of women [from] the presidency of the country" and a clear message "from one of the most powerful democracies… that it does not matter if a candidate despises, excludes, and discriminates against women: He can be President of the United States."
Diop, the African Union special envoy, all but demanded a Trump apology.
"We hope that in the long run… the message of Donald Trump will disappear, and apologies will come to the women of the world, [because] their bodies and their integrity have been used during this campaign," Diop said by phone. "[We hope] that those who have been victims will continue to ask…that their dignity be restored."
Women working at the grassroots level around the world felt similar outrage, but they also felt fear — especially for Afghanistan, which became an emblem of Clinton's devotion to women's rights as Secretary of State.
"It's going to be a disaster, not only for Afghanistan but also the rest of the world," said Manizha Naderi, the director of Women for Afghan Women, based in New York. "We all know what Donald trump thinks about women. If he can't respect women in this country, he will definitely not respect women or women's rights in the rest of the world.'
But Samira Hamidi, the chair of the Afghan Women's Network and the Afghan Human Rights Defenders Committee, both in Kabul, is also worried about the effects of the election on the security of Afghan women.
"You know the security situation is deteriorating," she said by telephone from Kabul, citing several recent attacks. "Women activists, women who are front lines, are really facing a lot of threats and challenges, both from insurgents but also from [politically] conservative elements."
A United Nations report from February said that anti-government forces — including the Taliban — have been targeting prominent women's rights defenders.
Naderi, in New York, says that would undermine more than a decade of work, under both Democrat and Republican administrations, to improve Afghan women's lives.
"Without security, education is not going to go well; people won't send girls to school. There will be more violence against women [in the home]. Women won't be able to be mobile, to go to work," Naderi said. "Security affects everything."
Some advocates worry Trump's win may set back global gains for women's sexual and reproductive health.
"He has got very little respect for women as equal decision-makers, as individuals in charge of their own bodies, as equal human beings," said Schdmit, of Women for Women. All of that makes Schmidt suspicious that he won't support — and might roll back — recent progress.
The Trump victory also comes at a time when Ireland is fighting activists who want to change the country's constitution to liberalize abortion; Poland opened the door to a nears-total ban on abortion; and courts in Latin America are reconsidering abortion regulations so strict that women are sometimes jailed for miscarriage.
Schmidt, of Women for Women, doesn't think Trump's win will determine the outcome of those battles — but it likely won't hurt, either.
"I think they'll do it anyway, but this will embolden them for sure," she said.
Karuna Nundy, a Supreme Court lawyer in India, thinks Trump is likely to follow other global strongmen before him and become even more emboldened himself.
"When Erdogan was elected, when Modhi was elected, when Sisi was elected," she said, referencing the autocratic rulers of Turkey, India and Egypt, "there were people who said that institutions of democracy will contain them. The thing is we have seen repeatedly that that doesn't happen very often.
"When your institutions are aligned [around one party], and... you have a kind of mandate that is pretty clear then there is no reason for you to modulate what you think you should do," Nundy said.
"What worries people the most are the sexist statements of Donald Trump during the campaign," said Amna Popovac, a Bosnian businesswoman and member of the Women Waging Peace network. "But we've had a nationalist coalition [leading] this country for the last 20 years. We are used to hearing such inflammatory speech during campaigns, and then, very pragmatic politics after the campaign. So this is what we hope will happen with Trump.
"Don't worry," she added. "You will survive. If we've managed 20 years, you can manage four."