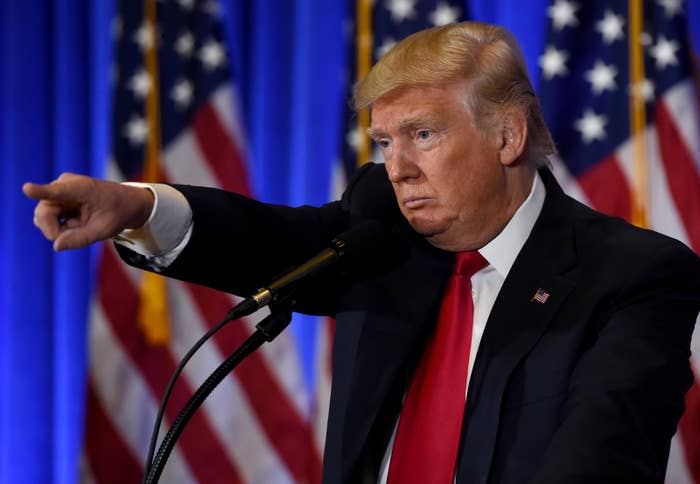 President Donald Trump has reinstated the controversial "global gag rule" — a policy reversal that women's rights and health advocates fear will bring a rise in unsafe abortions around the world.
The Reagan-era rule essentially prevents foreign organizations that receive US money from talking to women about abortion. President Trump's decision to reinstate the rule comes one day after the 44th anniversary of Roe v. Wade, the US Supreme Court decision that legalized abortion. The language of his rule goes further than previous versions of the policy.
Conservatives welcomed the move, while some Democrats and many public health experts decried the change as dangerous.
"It's a pure political giveaway at the expense of some of the world's most vulnerable women," said Aram Schvey, senior policy counsel and manager of special projects at the Center for Reproductive Rights.

Here's how it works: Foreign organizations that take US family planning money can't use any money, from any other donor, on abortion-related services. It's a restriction on how they use their other, non-US government money, and it applies to providing abortions or giving any information about abortion, including medical advice or referrals — even in countries where abortion is legal.
US foreign aid has never been used to pay for abortions as a method of family planning. That's illegal, under the 1973 Helms Amendment, which is a US law applied to every administration, and not an executive order that presidents can repeal or replace at will.
USAID's two biggest family planning partners, Marie Stopes International (MSI) and the International Planned Parenthood Federation (IPPF), will refuse to sign onto the policy, officials at each organization told BuzzFeed News.

Experts expect the Mexico City Policy, as it's also known, to lead to an increase in abortions and maternal mortality worldwide.

MSI estimates there will be an additional 2.2 million abortions globally each year — 2.1 million of which will be unsafe, Newman-Williams said.

"The death rate both from maternal mortality because of more pregnancies and from those seeking unsafe abortion is going to rise quite dramatically," said Marjorie Newman-Williams, vice president and director of international operations for MSI.

The World Health Organization (WHO) estimates that unsafe abortion causes 13% of maternal deaths globally.

"It's going to be really easy for this president to send a tweet and dismiss the impact of things like the global gag rule ... [or] funding cuts on women's health, both domestically and internationally," said Jonathan Rucks, advocacy director at PAI, a reproductive health organization in Washington, DC. "It's really scary for me."

Earlier research also suggests abortion rates will rise. A 20-country study by the Stanford University School of Medicine, published by the WHO in 2011, found that abortion rates actually went up 40% the last time the gag rule was in place, under President George W. Bush. In countries most heavily affected by the policy, contraceptive use dropped, and a woman's odds of having an unsafe abortion were more than two times higher after the policy went into effect.
Newman-Williams said MSI also expects an increase in the number of women seeking care for infection, bleeding, or injury due to unsafe or "back alley" abortions. But even women who carry unwanted pregnancies will strain health systems with complicated pregnancies and deliveries, or even just the sheer number of additional births.
"[There will be] skyrocketing health care costs," Newman-Williams said. "The knock-on effect in public health is really dramatic. This is a policy that's really shortsighted and frankly just harmful to women."
The Mexico City Policy is an executive order that comes and goes depending on the party in the White House: Ronald Reagan first wrote the rule in 1984; Bill Clinton reversed it when he came into office; George W. Bush put it back eight years later; and Barack Obama dropped it again.

Serra Sippel, president of Center for Health and Gender Equity (CHANGE), based in Washington, DC, said the rule may be more harmful now than ever before.
"This is a policy from 1984. It's failed. It's outdated, and so much has happened since it was first instated," Sippel said, pointing to global pledges to increase family planning funding and integrate HIV prevention into reproductive health, and to changes in abortion regulations. Since 1984, 40 countries have liberalized their abortion measures, she said.
"The idea that this policy is going to come back into play is unconscionable and it's pretty ridiculous, frankly," Sippel said.
Public health experts also point out that global public health systems changed during Barack Obama's administration, making the domino effect of the gag rule more dramatic today than in the past.
"Over the last eight years alone, we've made a lot of progress in getting our US global health programs to look at women's health holistically, to integrate HIV with family planning and contraceptive choice," Sippel said. "For a Trump global gag rule to appear at this time threatens the health and lives of women and girls, because it is going to cut off their access to these lifesaving services."

The rule narrowly targets abortion, but health experts say the policy will impair women's access to contraception. USAID provides nearly half of all global funding for women's contraception, according to CHANGE, and contraception is a key tool in HIV prevention.
Contraceptive access relies on a complex supply chain which, once disrupted, isn't easy to fix. "There's an infrastructure at the other end — where they're received, where they're kept, how they're delivered," said Judy Kahrl, a board member at Pathfinder International, a Massachusetts-based reproductive health organization. "It doesn't take time to shut it down, but it takes time to set it up."
Curtailed USAID funding is also expected to lead to staff reduction and clinic closures. Under the Bush-era global gag rule, a network of clinics that served more than 1,300 communities in Ghana had to cut its nursing staff by 44%, according to research by PAI.
That, in turn, can impact HIV rates, Sippel said.
"Family planning clinics are really critical. Sometimes they're the first point of entry into the health system when it comes to HIV prevention and treatment," she said. "People are getting access information about using condoms to prevent HIV. It's a place where an HIV diagnosis can be made."
Family planning organizations say the rule also has a "chilling effect" that effectively silences any conversation about abortion — and even about important health issues that have nothing to do with abortion.
"These organizations won't be able to participate in discussions around public health aimed at reducing maternal mortality and maternal morbidity associated with unsafe abortion. That's really one perverse outcome," Schvey said.
BuzzFeed News uncovered precisely that impact, from a similar federal law, in 2015.
"The big takeaway from our community from last time this [rule] was in place and generally from working with US policy restrictions that already exist [is that] we often see chilling effect go so much farther than the policy itself," said Chloe Cooney, director of global advocacy for the Planned Parenthood Federation of America.
Losing USAID funding will leave MSI with a $30 million budget shortfall, or about 20% of its annual budget, and 1.5 million women without access to contraception through its clinics, Newman-Williams said. IPPF said that it expects to lose $100 million, or roughly 25% of its budget, affecting programs in 30 countries.

"This is on the US government," Sippel, of CHANGE, said. "It's not like Marie Stopes or IPPF are choosing not to take US funding. It's the US government cutting them off from critical funding they need in order to provide lifesaving reproductive health services."
"I applaud President Trump for taking this important action and look forward to continuing to work together in advancing pro-life policies and protecting taxpayer dollars," House Health Subcommittee chair Michael C. Burgess said in a statement soon after the order was signed.

In a statement, New Hampshire Sen. Jeanne Shaheen, a Democrat, called the move an example of Trump's "dangerous obsession with rolling back reproductive rights" and said returning the rule "ignores decades of research, instead favoring ideological politics over women and families' futures."
Sheehan promised to introduce a bill repealing the rule on Tuesday, a day after Trump's reinstatement.