Three Accused Of Gang Rape In Kenya Get 15 Years
Nearly two years later, a 16-year-old girl gets some justice. But three of the alleged perpetrators remain at large. BuzzFeed News' Jina Moore reports from Nairobi.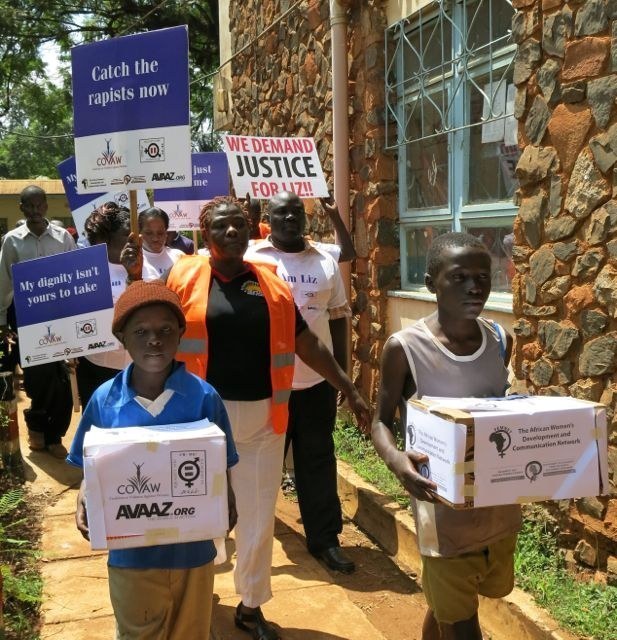 NAIROBI — Three men were convicted in a court in rural Kenya of the gang rape of a 16-year-old girl whose quest for justice became a global cause.
The girl, known by the pseudonym Liz, was raped in 2013 on the way home from her grandfather's funeral. When Kenyan police initially punished the six accused perpetrators by asking them to cut the grass at the local police station, a local advocacy group launched a petition for courtroom justice that was picked up by global activists and garnered nearly 2 million signatures.
"[T]he judgment means a lot to [Liz] emotionally. She's definitely feeling like indeed justice came her way," said John Chigiti, one of the two special prosecutors appointed by Kenya's Department of Public Prosecutions to try the case.
Three of the six accused were convicted of gang rape, under Kenya's sexual offenses act, and sentenced to 15 years. They were also convicted of committing grievous bodily harm, a lesser charge and part of Kenya's general penal code, and convicted to seven years. The sentences will be served concurrently, according to Jane Serwanga of Equality Now, a women's and girls' advocacy organization.
The other three accused remain at large. "There is lots of speculation as to where they could be, but it is very clear that when it was apparent this case could go further, they ran off into other parts of country," Serwanga said. Warrants for their arrest remain active, she added.
Kevin Luchivya, defense attorney for the three on trial, said he plans to appeal. Luchivya told BuzzFeed News that he presented witnesses who testified that they had been with Liz during the time of the crime and had not witnessed any assault, and that the medical evidence presented to the court was gathered "much later, after the offense had occurred."
Members of the media were barred from the courtroom during any of the testimony, and court records were not immediately available for independent review.
Chigiti, the prosecutor, said that the conviction, in his view, represents an expansion of the kinds of evidence that can prove rape in court. Typically, rape prosecutions rely on the collection of physical evidence of penetration gathered in a medical exam immediately following an assault. Chigiti says this verdict may suggest an expansion of the judicial view of evidence in rape cases.
A written copy of the judgment had not yet been released to lawyers, but Chigiti said the verdict suggests that "we are moving away from the regular way of seeing that there must be 'proof' of penetration [to convict on rape charges]," Chigiti told BuzzFeed News, citing the usual standard of proof in rape cases in Kenyan courts. "We have other forms of corroborating proof that indeed there is a very high probability that gang rape or a sexual offense took place. And of course we also had Liz's evidence to say indeed offense occurred."
Advocates say the trial has helped catalyze more police investigations and courtroom prosecutions of rape cases nationally. The number of rape cases prosecuted in Kenya nearly doubled last year, to almost 14,000, Kenya's Chief Justice Willy Mutunga said in March.
Kimberly Brown, a legal advisor to Equality Now, an international NGO which pushed for gang rape charges in this case, told BuzzFeed News that the sentence is part of a tidal shift in western Kenya, where 70 cases were investigated and forwarded for prosecution last year.
"I think we're satisfied in that [LIz's case] is sending a strong message that the tide is changing around attitudes of sexual violence in Busia," Brown said.