This Piece Of Paper Has Become One Of The Most Prized Things In South Sudan
Without it, you can't prove your kids exist.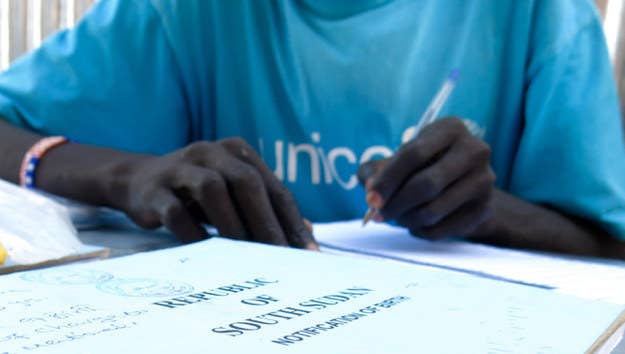 BENTIU, South Sudan — Mary was pregnant the last time she saw her husband, and he was on the run. It was April 2015, and the South Sudanese army was battling a rebel group in the country's oil-rich, conflict-wrenched north.
Mary and her husband got separated in the fighting, and she ended up here, in a United Nations "protection of civilians" (POC) camp with more than 100,000 other people. (BuzzFeed News is withholding the last names of women whose relatives are missing or known to be fighting so that they cannot easily be singled out for retaliation.)
A few weeks after arriving at the camp, Mary, 31, gave birth to a son. A few weeks after that, she secured for her new baby something she herself has never had: a piece of paper proving you exist.
On a sweltering day in early July, Mary was one of 150 people, mostly mothers, filling out a "birth notification" form. The paper is effectively, but not technically, a birth certificate. Four years after it became a country, South Sudan still doesn't have birth registration law, but once it does, Mary can trade in the notification she filled out for her newborn son and get a full, legal document.
In the interim, she gets something equally valuable: inarguable proof of life. With the paper, Mary said, "I will not forget one day where or when this child was born."
"Basically, the child doesn't even exist legally if he doesn't have a birth notification," said Ettie Higgins, the deputy representative in South Sudan for Unicef, which is running the notification program.
Without that paper, Higgins said, children "won't be able to go to school … to get any access to basic social services, or to get vaccinations or health care." They are also more susceptible to child marriage or human trafficking, she said.
All of those risks could be true anywhere in the world, but here, in the heart of warring South Sudan, children are even more vulnerable. The country has been fighting since December 2013, when South Sudanese President Salva Kiir and his former vice president, Riek Machar, took up arms against each other. Their dispute has roots in an earlier struggle, the 21-year civil war southern Sudan fought against the north, which ended with a peace agreement in 2005 and a national split, into South Sudan and the Republic of Sudan, in 2011.
In today's conflict, Bentiu is crucial. It's the capital of Unity State, Machar's homeland, and it changes hands frequently and violently. A surge in fighting in April and May pushed thousands of people into this POC — a U.N. refuge meant for 60,000 people maximum and bursting, today, at over 100,000.
With all that fighting comes a special vulnerability: Children who can't prove they're too young to fight can be intimidated into taking up arms. "In South Sudan we have a major issue with child soldiers," Higgins said.
Unicef estimated in June that as many as 13,000 children have been forced to fight. Higgins said the notification scheme may help children, or their parents, to fend off eager recruiters, and even defend themselves in future post-conflict prosecutions, depending on the legal technicalities at play.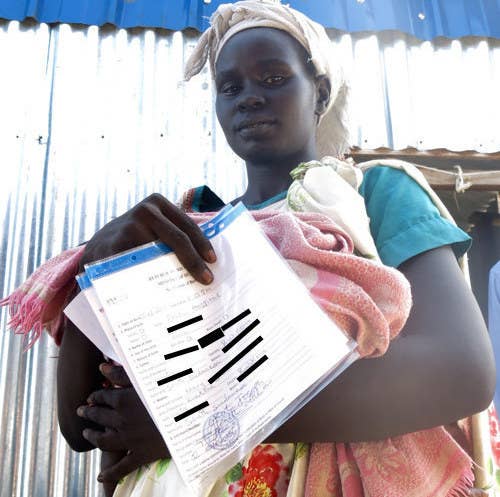 The birth notification program began as a joint effort by Unicef and the South Sudanese government in 2011. Solla Asea, a Unicef child protection specialist who oversees the birth notification program, estimates that the agency has issued between 1.5 and 2 million notifications. Asea initially worried that notification registrations in the camp would be harder: Bentiu is seen as a rebel stronghold, but birth notifications are a government initiative, and she thought people in the POC might reject a government program out of hand.
"We discovered that actually in emergency situations, the South Sudanese like documentation," Asea said. That's partly because people here have experience with crisis: They spent two decades at war with Sudan. "So many people during that conflict really wanted to have documents, have identity, and the ability to move on."
Nyeruon, 19, spoke with BuzzFeed News as she lined up for a birth notification for her year-old daughter. She knows the birth notification will help with all the basic bureaucracy of daily living, once that gets back to normal, but the conflict has also given her a new perspective on what these papers may mean even under tragic circumstances.
"Before, if a child dies, we [would] no longer keep a picture, a certificate — nothing from that child," she said. "But now we know the importance of what has been created. If he's been created, we can remember him, and with this certificate, it can help us remember."