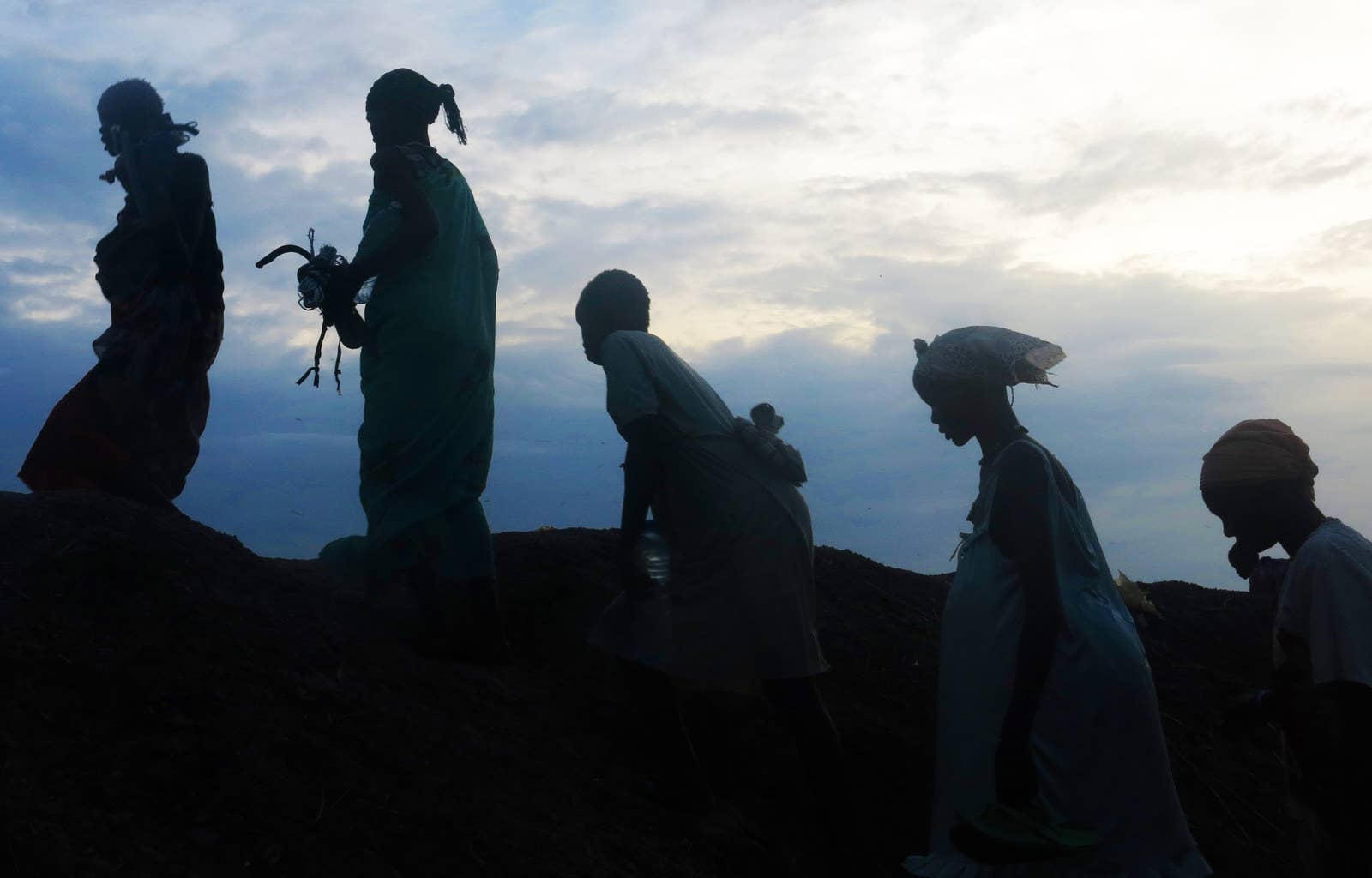 BENTIU, South Sudan — Martha Chuol Nyalen has a new baby she can't feed.
Mother and child sit together on an iron bed under a green mosquito net in the middle of a hot July day. Rain threatens, and so do soldiers. From this field tent turned maternity ward, it's easy to hear sporadic gunfire in Bentiu town, a 10-minute drive from the United Nations "protection of civilians" camp where Nyalen fled, with her family, four months ago.
Outside, war is felt in its usual ways. The soldiers of South Sudanese President Salva Kiir battle the rebels of former vice president Riek Machar. They've been doing this since December 2013, as the two men — proud southerners who once fought the north in a two-decades-long civil war that ultimately split Sudan into two separate countries — vie for control of their nation.
As they do, civilians like Nyalen flee. It can take weeks to get from their remote homes to this U.N. refuge, trekking and trudging across fields and dirt roads and swamplands, all at their least hospitable now, in the rainy season. And then there are battle lines to take into account: The dispute between two former allies is hardening into a war between their peoples. Kiir is Dinka; Machar is Nuer. The animosity between the two groups grows as the conflict drags out, and people in the U.N. camp say that wherever Kiir's soldiers are in control, it's not safe for a Nuer to cross.
When there's a window of safety, families make a run for it. There's nothing to eat — women in the camp say they survived by eating water lilies — and there's miles to walk. There's no choice but to sling your baby on your back, stack your most crucial belongings on your head, and put one foot in front of the other, hoping for the best.
Nyalen — a tall, tough mother of seven with literal battle scars — got a mixed version of the best: Her husband was killed in the fighting, but in February she made it to the U.N. camp with all six of her kids and a baby still growing in her belly.
A few months later, she gave birth without complications, and now she fusses over her baby and beckons visitors for help. She wants anyone who looks like they might have even the smallest bit of authority to feel the child's fever. Nyalen's baby is glowing heat, and hungry. The baby came almost two full days ago, but Nyalen's milk hasn't followed. She thinks the U.N. survival rations — grains, cooking oil, salt — aren't nutritious enough to kickstart her milk. There's no fish, no sorghum — none of the things family members brought to her home when she gave birth before, in peacetime.
This is how women here feel war: on their backs, in their bones, within their empty breasts.

As soon as her milk comes in and her baby can eat, Nyalen will take the child to her tukel, or hut, in the U.N. camp, and then she'll pick up the grueling routine hundreds of women here are following: rising before dawn, collecting water, and walking four, five, six hours to find firewood, and then four, five, six hours back, to cook with it or sell it.
At that point, ironically, the breast milk she's been waiting for might not matter that much. She'll be gone so long, and so exhausted by walking in the sun, that she might not have many nutrients for her baby anyway.
"We're struggling to manage the stress," Nyalen says.
This is how women here feel war: on their backs, in their bones, within their empty breasts. Mothers manage trauma as they flee gunfire, but even in the relative safety of the U.N. camp, their stress is chronic.
And it can show up in the maternity ward. Medical staff told BuzzFeed News that only a few mothers or babies die each month, but when it does happen, they say they aren't surprised.
"The psychological stress may look like it's not shouting, but it is there," said Grace Saita, health adviser for CARE, an international nongovernmental organization that ran the maternity ward in the Bentiu camp until a month ago. (It is now run by another organization.)
There's not especially good science on how fleeing conflict affects maternal health. A 2007 study in the Journal of the Royal Society of Medicine suggested that conflict may push maternal mortality up by as much as 44%, but the authors noted they only had patchy data, much of it now 15 years old.
Simon John Deng, the doctor in charge of the maternity ward in the camp, said the effects of the war's trauma were evident, even if research has yet to measure them well. "There's no food. You're walking long distances, carrying heavy items — including the other babies," Deng said. "As professionals, we can see these factors, even if there is nothing like a clear study."
So could some of the women in the recovery room. Most nuzzled new babies, but one young girl, who looked no more than 15 years old, lay silently. An older woman sitting next to her said she was the girl's mother. "Her baby died in the womb and she had to deliver," the older woman said. "I do not want to tell you more about it, but I want people to know that this is happening too."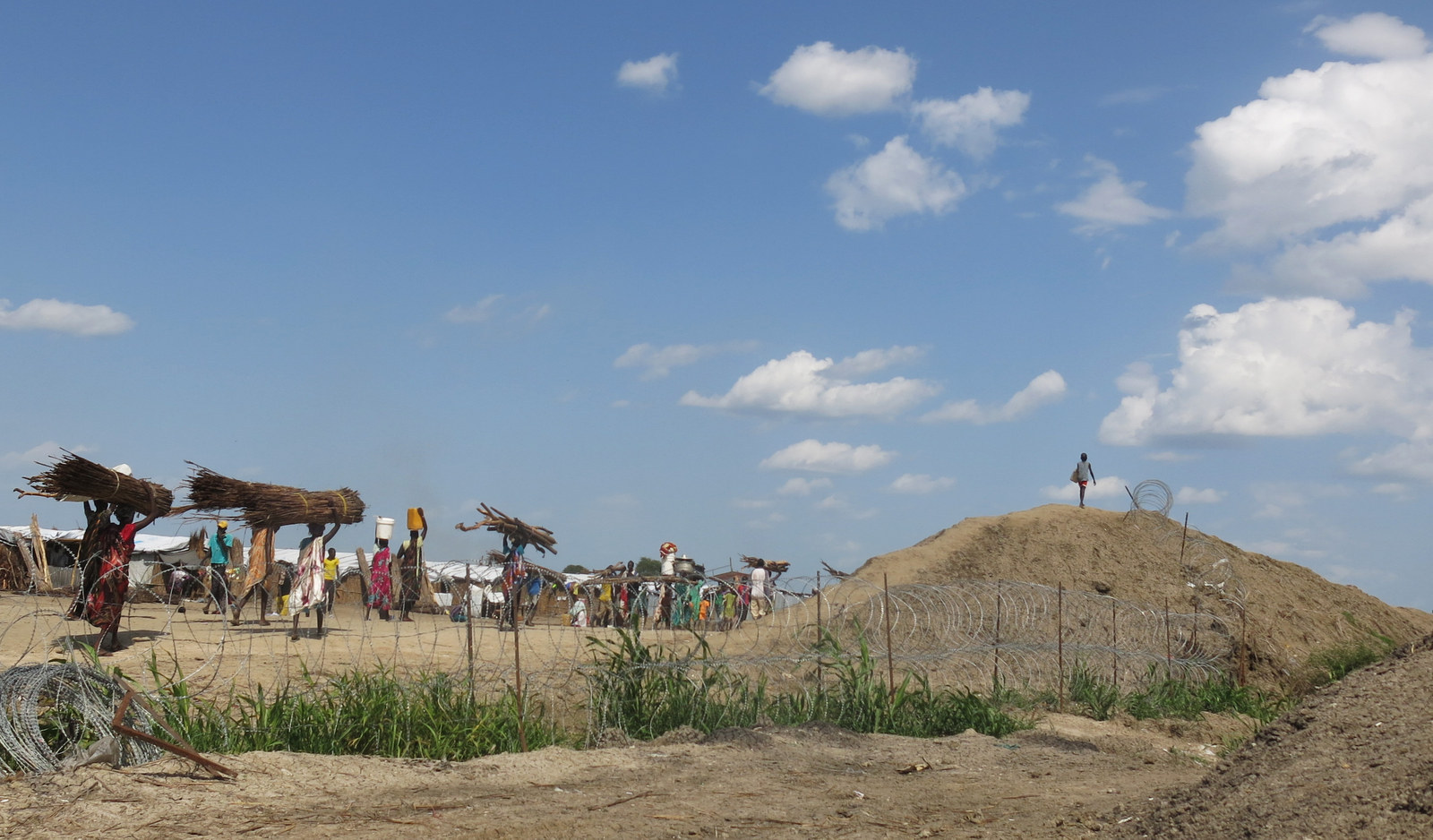 Mary Tifo, the trained midwife in charge of the Bentiu camp's maternity ward, warns that not everything is tragedy, even in the middle of war. "With these deliveries now, there are also good things," said Tifo, 45, who worked for 20 years as a midwife in Malakal, another of South Sudan's big but remote towns. "Earlier, during delivery in the villages, there was no medical support. Here [in the camp], if you bleed, you're given a drip. You can be injected so the labor becomes shorter and less painful."
Nyalen, with her feverish and unfed newborn, has also noticed that birthing children in the camp has its benefits. She missed the celebration in her village — the visits, the laughter, the ululating women — but she preferred the experience of childbirth in the camp. "Delivering in the camp is actually easier," she said. "Maybe we should have more children. Actually I want to have five more, so my children add up to 12!"
Deng, the chief doctor, said the camp clinic has also made it easier for women to get prenatal checkups — or any kind of maternal care at all. "For many, this is their first exposure to [maternity] services," he said. "The crisis brings them all in one place."
Deng was a general practitioner at the hospital in Bentiu town, where he grew up, for seven years before the current conflict started. "Then, we were seeing two to three women a day" for prenatal care, he said. "Now, we have seven or eight a day. It means they're changing their minds, their behavior."
On the other hand, much has been lost. When Bentiu changes hands, whoever's just won a battle sacks the city. Bentiu's hospital, like many across South Sudan, has been destroyed.
"For a long time [the hospital] was occupied by armed groups," said Aimee Ansari, outgoing country director of CARE, the NGO. "All the investment that we made is gone. The beds, the scales, the fridges, the chairs, the desks, the files. Files sound like just pieces of paper, but in a health center, those are files on what complications women have had in birth before — so you've lost all of their medical history. That's devastating."
In today's South Sudan, there's nothing loss doesn't touch. Schools have been ransacked, too. Thousands of cattle have been stolen, the equivalent in this culture of looting an extended family's entire assets. Men have been shot as they fight, of course, but also as they flee with their families, trying not to get sucked into the conflict. More than 2 million people have fled their homes, according to one U.N. estimate; no one knows exactly how many people have died, although the International Crisis Group estimated 50,000 dead as of November 2014. No one's really counting.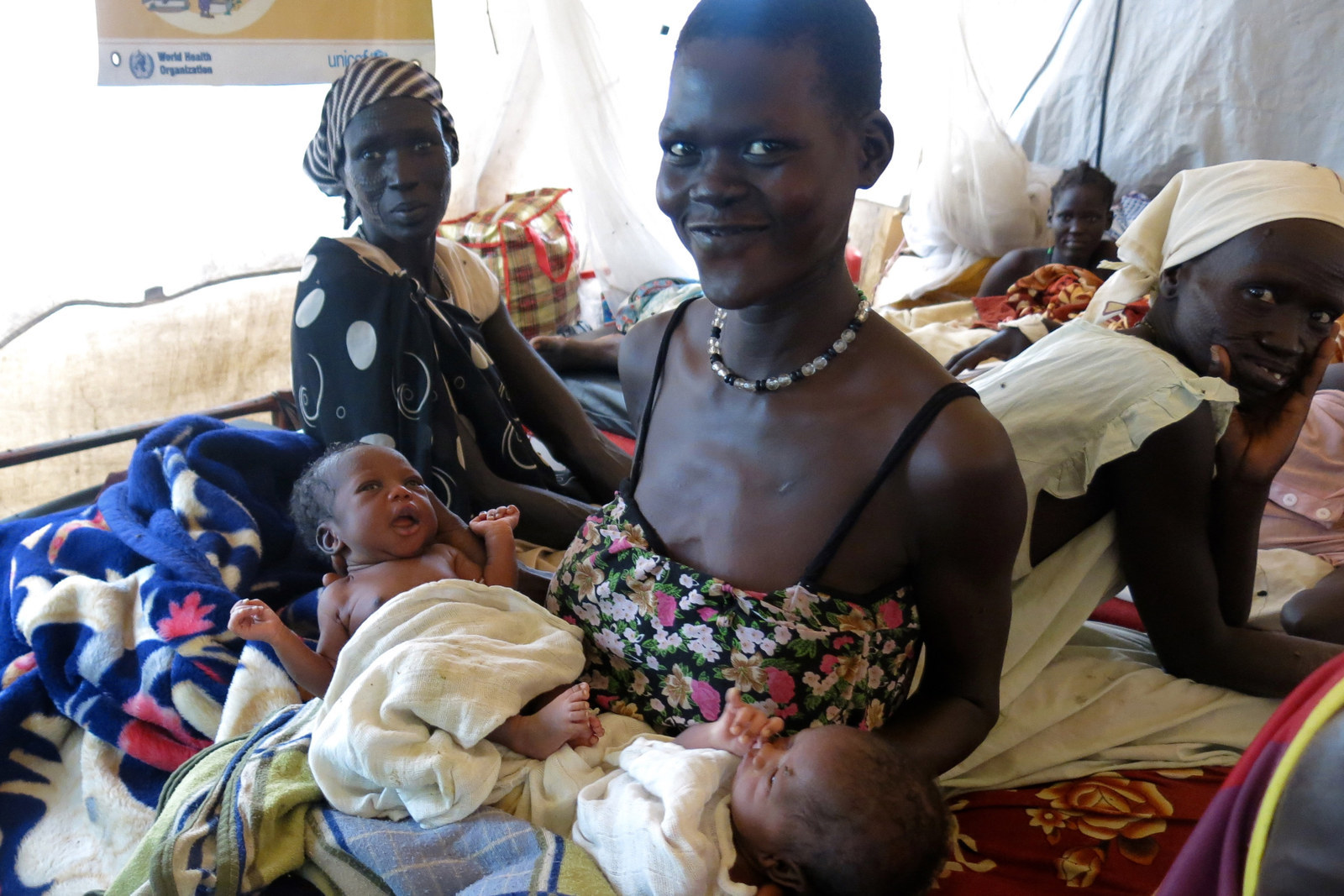 And children are dying, some in horrific ways. Anthony Lake, the top Unicef official, said in June that in Unity State, where Bentiu sits, "boys have been castrated and left to bleed to death … Girls as young as 8 have been gang raped and murdered … Children have been tied together before their attackers slit their throats ... Others have been thrown into burning buildings." Still more children fleeing the violence have been lost to simpler ravages: snakebites, diarrhea, starvation.
All that loss makes women feel even more pressure to give birth. Saita, health adviser for CARE, remembered one young woman, who barely survived a life-threatening pregnancy, refusing advice about delaying her next birth. "My work is to give birth," Saita remembered the woman telling her. "Even if I die while I'm giving birth, it is OK."
Angelina, 27, made the same case. Her husband is fighting with the rebels (which is why BuzzFeed News is withholding her full name), and she is tending her hours-old twins, after a 10-day labor that left her shivering and weak. But she's only thinking about when she can have another child.
"In this country we have lost so many lives," Angelina said. "We must replace them with more children."