These Are The People Tracking What To Believe About Nigeria's Election
Civil society groups, local and international, are monitoring Nigeria's presidential election. BuzzFeed News' Jina Moore follows them through the day from Abuja.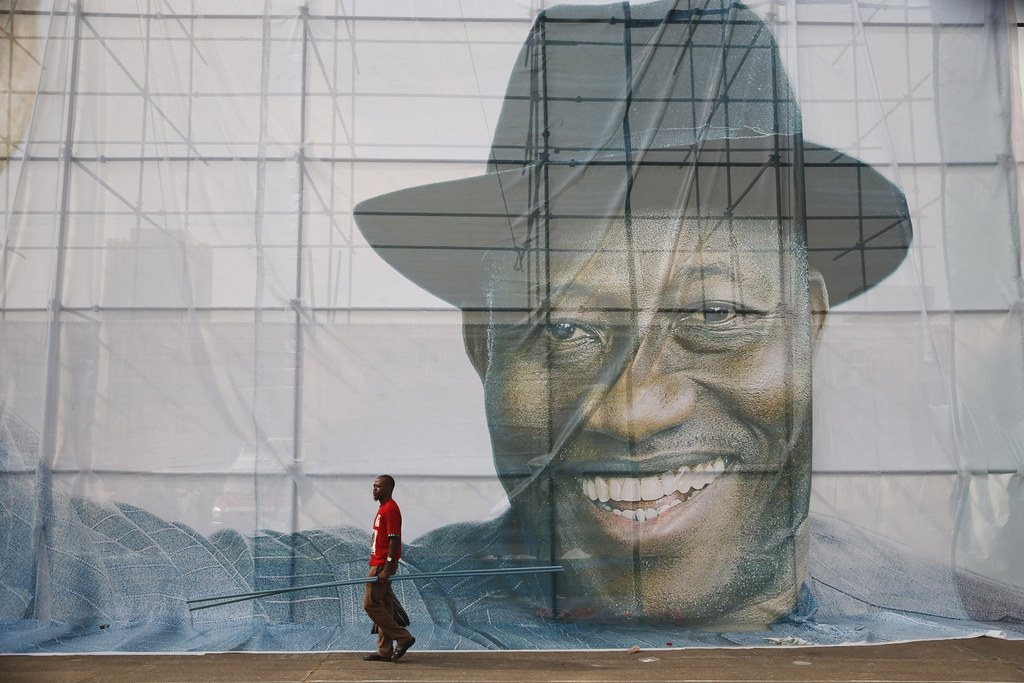 ABUJA, Nigeria — A small conference room at the swanky Transcorp Hilton has been humming since the early hours of the morning. Thirty-seven data clerks are verifying reports from more than 4,000 observers, in every state and in all 774 local government areas (think "counties"), on the day Nigerians finally get to cast a presidential ballot.
Today is Nigeria's presidential election, dubbed by many observers the most important poll in Africa this year. It's hotly contested — incumbent Goodluck Jonathan and leading opposition candidate Muhammadu Buhari are virtually neck and neck, in a ballot that's already been delayed once — and it's hotly scrutinized. At the Hilton, there are roughly 30 Nigerian civil society groups camped out in a high-tech "situation room." The National Democratic Institute is running an elections observation room, along with the conflict prevent group Search for Common Ground. So is the International Republic Institute.
But the biggest and possibly most important is the Transition Monitoring Group (TMG). These are the people who, essentially, can say at the end of the day whether or not the Nigeria's Independent National Electoral Commission (INEC) officials — and the presidential candidates themselves — are telling the truth.
TMG's "quick count" will crunch more than 20,000 SMS messages before the day is out. WIth that data, the group will answer what are probably the two most important questions to Nigerians today. Lazarus Apir, program manager of TMG, puts them simply: "Is the number from INEC correct? Can we trust it?"
TMG will render a verdict based on a whole lot of statistical science. Its observers are deployed at 1,507 polling units around the country, and over the course of the day, they'll send in text messages answering 20 questions, each precoded and pre-printed in a checklist. The day's first question: "Had any INEC poll officials arrived at your assigned polling unit by 7:30 a.m.?" The group released the results by 11 a.m.
Observers are also reporting on dozens of technical steps in the voting process, on security at polling stations, and on any incidents of intimidation or violence.
The whole process was set up to give TMG a representative, randomized sample — the golden key to statistically valid information. That means TMG can independently verify the official election results, which INEC is expected to release late tonight.
"Somebody is going to have to lose this election," said Apir. It's not uncommon for losers to dispute election results, of course. "The question is, are they crying foul because it was stolen, or are they crying foul because they lost?"
TMG monitored the election here in 2011, as well. The parallel vote tabulation method they're using was developed first in the Philippines, in 1986, and has been used in Ghana, Kenya, Malawi, and Zambia.
But in today's presidential election, there's another kind of parallel conversation going on, on Twitter. And most of it, statistically speaking, has been wrong.
"The problem with the massive conversation you're seeing on Twitter is it's all anecdotal," said Apir. And single anecdotes aren't always good proxies for the big picture.
This morning, Apir said, tweets about delayed poll openings or late election officials dominated the morning. Nationally, less than half of the polling units opened on time, but the scale of the issue changed from zone to zone, a shifting perspective hard to catch through Twitter feeds.
Apir said that Twitter is likely to be misleading today. "People are more excited about putting out negative [information]," highlighting what isn't working. "Perceptions are being shaped by those negative conversations," Apir said.
It's a turnaround from what Apir sees as the positive role Twitter played in the lead-up to the election. "If you said something like hate speech at a rally, there would be a lot of online shaming," he said. "People became more mindful of what they were saying. If you said something at a rally, the next day it was all over the world."
Apir wishes people would talk, on Twitter or wherever else, about trends. Sixty-eight percent of the polling stations were open by 11:30 a.m. — but more were open in the north than in the south. At that time, 78% of the polls were open in northeast Nigeria, the home of active terrorist group Boko Haram. But only 52% were open in the South East – and only 46% were open in the South South, where President Jonathan is from.
"And the incidents we're seeing so far," Apir said around 11 a.m., "are all in the South South states." Those included interference with observers by a party agent for the ruling People's Democratic Party (PDP) and a former PDP local government official.
As Apir spoke to BuzzFeed News, he was handed a new report, from Akwa Ibom state, in Nigeria's South South. "Voters are sending observers away," he read aloud. "That's a first."
And then: "A card reader was snatched away from a polling unit by the permanent secretary to the local government." Card readers are the machines that validates that people can vote, so that report was big news. "Wow," Apir said, "I have to escalate this."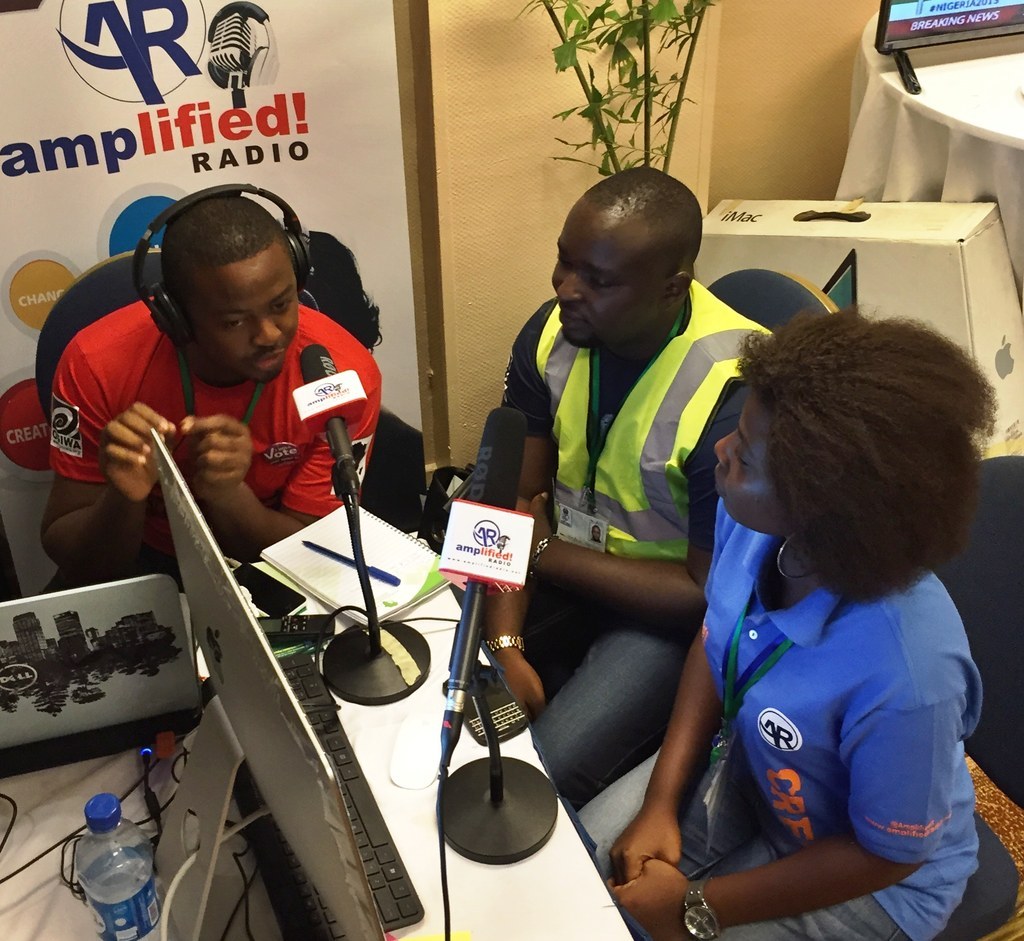 Just downstairs, Ukachi Chukwu hosts a election day coverage for Amplified Radio, an online pan-African radio station based in Abuja. The station has teamed up with reporters working around the country for other media, who call in and give listeners "a feel, a sense of the atmosphere among Nigerians" voting today.
Her team is also playing a verification role, albeit with a slightly less scientific methodology than TMG. "There was a story that went viral on Twitter, that a card reader was stolen" from a polling station in Enugu, in Nigeria's south, she said. "When we spoke to the official on the air, he confirmed that nothing like that happened." Other radio networks are in turn monitoring Amplified Radio, she said, and broadcasting the information they verify on their analog channels.
There's a hum in the background of her broadcasts — because literally behind her 60 civil society organizations are fielding phone calls, minding tweets, and updating each other the old-fashioned way, fixing time-stamped post-its about the various issues they're hearing.
"The idea is to support the combined strength of civil society elections both during the election and [after] ... so we can hold those who we have voted into office accountable," 'Yemi Adamolekun, of the youth coalition Enough is Enough Nigeria, told BuzzFeed News from the Nigerian civil society situation room.
So far, Adamolekun said, so good. "Nothing's burning yet. Well, a few things are burning, but there's not major-scale chaos."
Ayodele Ameen, executive director of the Human Rights Advancement, Development and Advocacy Center in Lagos, said the calm came as a surprise. "In River State, we expected a lot of fatalities," based on tense political rhetoric in the campaign season and the general dynamics at play. "But so far we've only seen one arbitrary arrest and one [political party] fight ... with one person dead." Elsewhere, his observers have reported and Ameen has confirmed four other deaths.
But by 6 p.m., he hadn't heard much from them in six hours. "I don't know why," he said.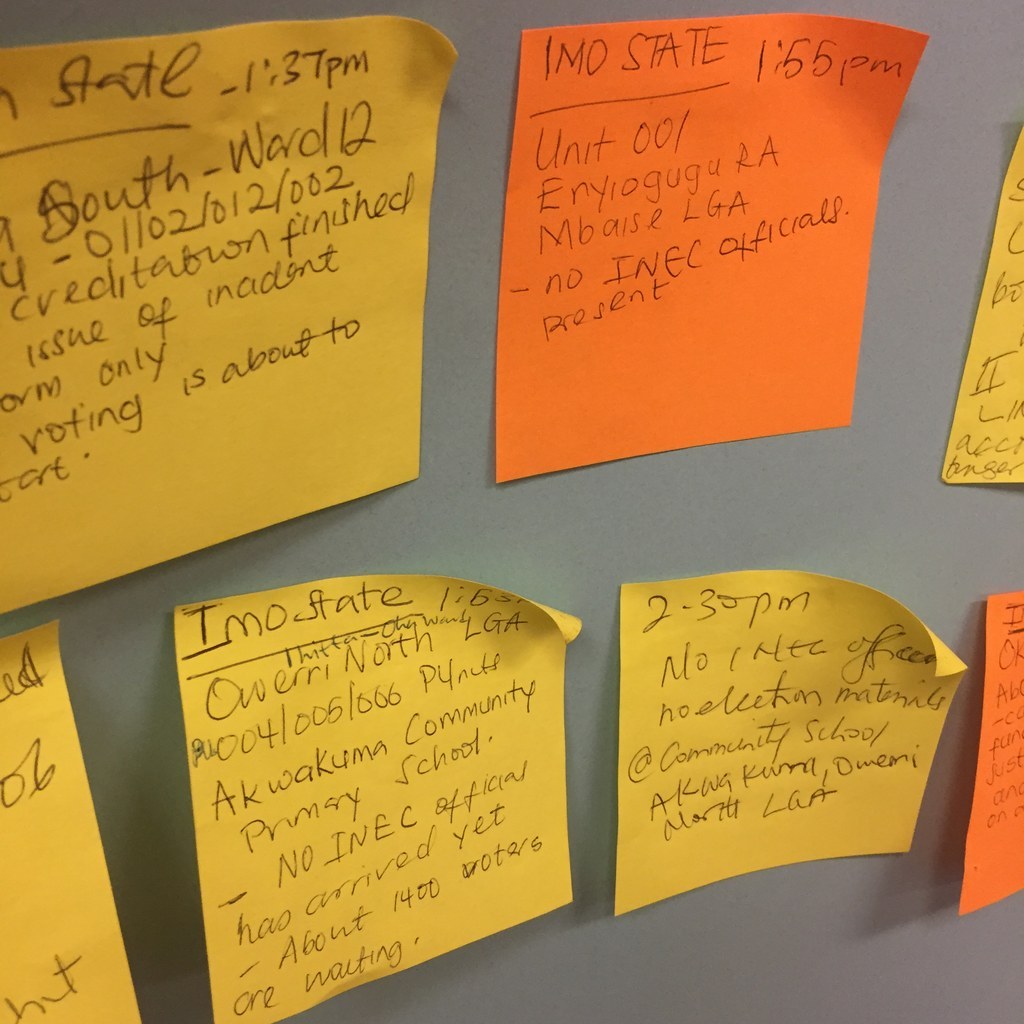 'Tunji Lardner, executive director of the West African NGO Network, said today's calm isn't just about preparations for today's poll. "You have to understand this within the context of an evolving democracy. A number of positive things have happened," Lardner said. "The processes and experiences of the last 15 years mean you can't crudely snatch a ballot box and expect the same political return. You have to be slightly more sophisticated now."
In that longer-term vision, he said, there's a lot of progress that can get missed. "We're attuned to processing only the bad news," he said. "A lot of positive things have happened. This is the first time we've had anything approximating a competitive election at the center. ... It's the first time there's a nexus between elections, governance, and our future."
That, in turn, means "this is not just about elections," he said. "There's a lot more riding on this."
Thanks to some malfunctioning voter registration card readers, there were delays in verifying voter identities in some areas, so INEC has extended voting in certain places into Sunday.
"We'll be here comfortably until Monday," Adamolekun said.
This version corrects an earlier statistic about the ratio of polls open by 7:30 a.m.