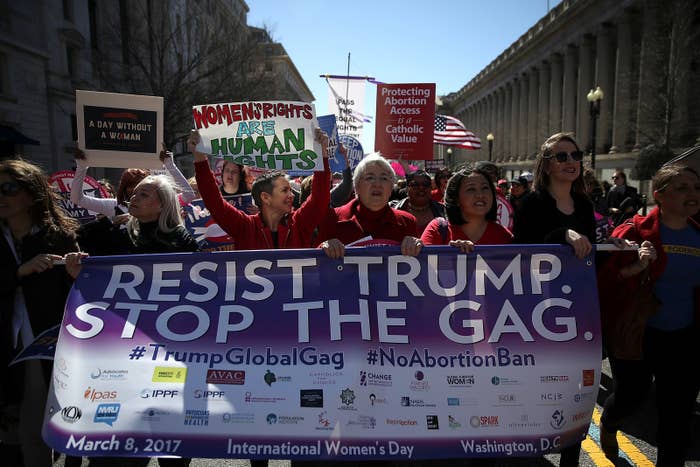 President Donald Trump's expansion of an anti-abortion rule may be unexpectedly fueling a congressional fight to permanently overturn the ban, some lawmakers say.
Trump revived the Mexico City policy, a restriction on family planning funding favored by Republican presidents, and applied it to all $9 billion in US global health funding, including initiatives to fight HIV/AIDS and malaria that have been credited with saving millions of lives.
The expansion pleased the anti-abortion part of Trump's base — but its effects may be so draconian, some say, that they alienate moderate Republicans or conservatives who support global health.
"We hope that you're going to see some folks on the other side of the aisle who are international policy-focused leaders realizing how damaging this is when it affects all global health," said one Democratic Congressional staffer.
Sen. Jeanne Shaheen and Rep. Nita Lowey have been building support for the Global Health, Empowerment, and Rights (HER) Act, which would permanently repeal the restriction, known to critics as the "global gag rule."
Shaheen called the expansion "insane" and said projected negative effects will undercut years of global health gains.
"If you're doing it to try and limit abortion, if you're doing it to try and support stronger families and healthier children and mothers — it does none of those things," she told BuzzFeed News.
Lowey said the new policy "doesn't make any sense," especially given emerging disease threats like the Zika virus — and that its irrationality worries her.
"I think irrationality may be the biggest concern, because they may not even realize the impact this may have," Lowey said. "If we give them the benefit of the doubt — we'll say it's ignorant. They could be irrational. They could be ignorant. I'd hate to say evil. Maybe they're caught up in their own world and don't know what the real world is all about it."

Ironically, that may help bring some Republican support to the push to gag the gag rule.
"Maybe the administration overplayed their hand," another congressional aide said. "Some people weren't going to get engaged when [the policy] was a family planning issue, but now that it's also malaria…"
The last time the rule was instituted, by former president George W. Bush, critical global health assistance, like the President's Emergency Plan For AIDS Relief (PEPFAR) and the President's Malaria Initiative (PMI), was excluded. Trump's expansion brings those programs under the policy for the first time.
So far, it's unclear exactly how deeply the rule will affect PEPFAR and PMI partners, and they are only two of the most well-known programs to newly face the abortion-based restrictions.

Effectively, the aide said, the policy forces "abortion into the middle of everybody's health care, no matter what it is. Disease surveillance, malaria — now it's all become about abortion," the aide said.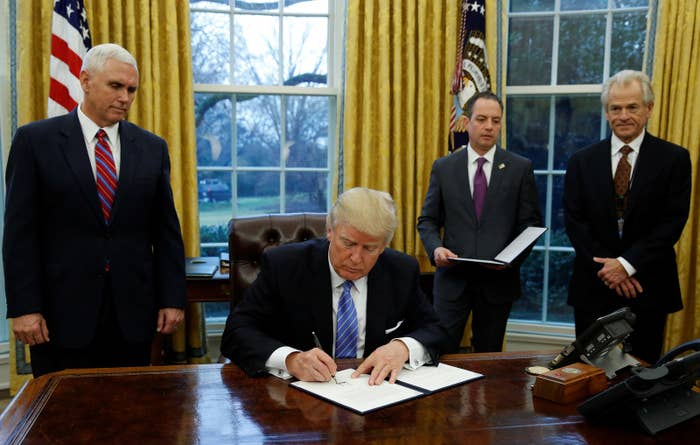 Katja Iversen, the CEO of Women Deliver, an international women's health advocacy organization based in New York City, said the policy preoccupation with abortion is a uniquely American phenomenon.
"I'm not an American, and it always blows my mind how much this topic of abortion is in the public debate here," she said. "That's not the case in most places in Europe and many places in the world. It's been an American export to discuss it."
Some countries in Europe are fighting back against the rule. The Netherlands led a fundraising initiative called She Decides, which wants to plug the funding gap. In March, the group raised $181 million, only a fraction of the funding that organizations could lose if they don't agree to the new policy.
Jason Cone, executive director of MSF-USA, the American arm of Doctors Without Borders, said it's impossible that private fundraising can make up for the funds organizations expect to lose. (The organization takes no US government funding and therefore is not financially affected by the policy.)
"They're not going to make it up. There's just no way....They're forced into a situation [of] mak[ing] a real ethical decision: Do they limit the scope of care they provide, or scope of care they counsel patients on?" Cone said. "This is getting between the patient and the doctor in terms of a life-saving procedure. because a safe abortion is a life saving procedure...I think that's the brutality of it."
Reproductive health groups have universally condemned the policy, citing multiple studies that show even the earlier, narrower version of the rule significantly impacts women's health. One study published by the World Health Organization even found a link between the so-called gag rule and an increase — rather than a decrease — in abortions.

The inability of the global health sector to make up lost funding, and the gap between the ideology and intention of the bill and its outcomes, are major reasons Lowey said she is still pushing her bill.
"I can always respect a colleague who has a different point of view intellectually, or emotionally — or their religious background may lead them in a direction different from mine," she said. "But this is so irrational I can't believe that [health policy leaders] wouldn't understand that this doesn't make any sense."

So far, Lowey's fight on the House side of Congress is far from bipartisan. Of her 146 cosponsors, none are Republicans. The Senate bill has 46 cosponsors, including two Republicans, Susan Collins from Maine and Lisa Murkowski from Alaska. Even if the bill passed, observers say, it's all but certain to be vetoed.
Shaheen isn't rosy about her bill's chances, given that Democrats are in the minority and can't force the bill to the floor, but she said she considers the fight crucial nevertheless.

"Women are worth political capital," she said. "We make up more than half of the world's population. And yet women, particularly in developing countries, are so much more likely to be to live in poverty, to be victims of sexual and domestic violence, to have to lack access to education, to health care, and to [employment] opportunities."
If it's merely a symbolic effort, she said, so be it.
"One of the important things, in response to the kinds of policies that we're seeing come out of this administration, is to make sure that we don't allow ... people to think that this is the new normal," she said. "We need to push back and keep pushing back."