South Sudan To Expel All Foreign Workers
The move would "severely hamper if not curtail" critical aid work in a country on the brink of famine, one aid worker said.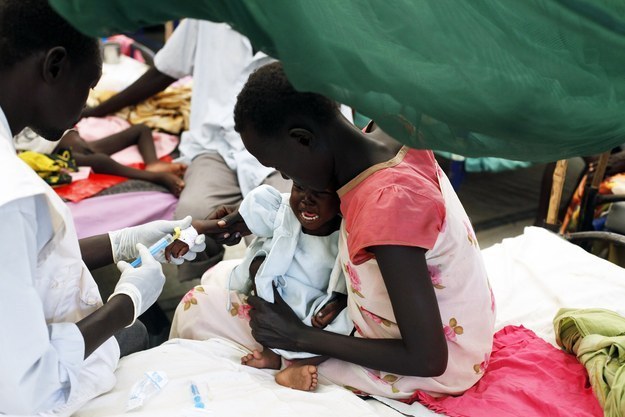 South Sudan's labor minister declared Tuesday that foreigners can no longer work for international non-governmental organizations, which are moving massive amounts of humanitarian aid in a country on the brink of famine.
The order, reported by a local radio station, also applies to communications companies, banks, insurance companies, oil companies and hotels. It says that foreign workers of any nationality must stop working by Oct. 15 and businesses or organizations must thereafter advertise for the vacant posts.
Armed conflict returned to South Sudan in December, spreading from the capital of Juba across the country as the army clashes with a rebel group led by Riek Machar, a former vice president. President Salva Kiir had accused Machar of attempting to overthrow Kiir's government last summer, an accusation Machar has denied.
The anti-foreigner move caught most organizations working in the country by surprise. Tariq Riebl, country director for Oxfam in South Sudan, said the order would "severely hamper or curtail" aid efforts in conflict- and hunger-wracked country.
"We are still confirming how resolutely this policy would be implemented. We are hoping that the government of South Sudan will reconsider its options," Riebl told BuzzFeed News by telephone from Juba. "If this policy is implemented however... it would be extremely difficult to envisage continuing our work at this scale if foreign nationals are not allowed to continue to work."
Riebl said most of his organization's staff are South Sudanese, but foreigners with technical expertise play critical roles in managing Oxfam programs. The group provides water sanitation and emergency response services in South Sudan, reaching nearly 175,000 people last year.
Doctors Without Borders is still a major player in South Sudan's health sector — despite having had its clinics targeted by parties to both sides of the conflict and its patients killed — and other international organizations provide assistance for everything from education to agriculture. A spokesman for the group said it had not yet had time to confirm and review the order.
South Sudan is at risk for famine, and aid organizations have been at the forefront of ensuring access to basic nutrition for millions of people. The World Food Program targets 2,000 distribution points once a month; in June the group reached 1.4 million people in need of food aid.
Relations between aid groups and the government of South Sudan have been tense for months, and aid workers say privately that the government politicizes aid and hinders their work.
"If you're operating in opposition areas, it's hard to get to the airport and on those helicopters," said one American aid worker with experience in South Sudan. "They don't make [aid delivery] impossible but they make it really hard."
The ministerial order comes as South Sudan's parliament is deliberating a bill to regulate the non-governmental sector. Aid groups had had concerns about that bill, but the surprise order is even more severe, all but eliminating independent hiring practices.
Aid organizations, meanwhile, can't find enough local staff to hire, Riebl said.
"It's not as if there's a huge level of staff still available on the labor market that we have not already sourced. The humanitarian sector is probably the biggest employment sector in the country," he said. "There is no excess capacity really available from what we can see."