Sierra Leone Banned Pregnant Girls From School And This Lawmaker Wants That To End
Sen. Bob Casey is urging the Obama administration to push Sierra Leone's government to overturn its ban on pregnant girls attending school.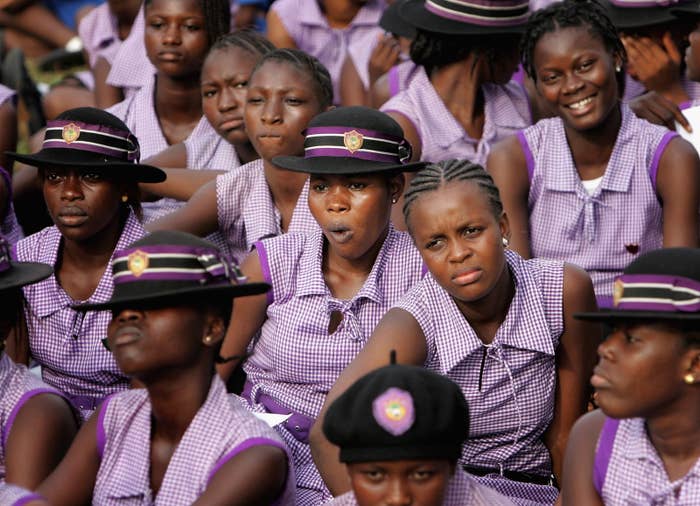 A month after an explosive report about Sierra Leone's ban on pregnant girls attending school, a U.S. Senator wants to see the Obama Administration push for a reversal of that policy.
Sen. Bob Casey (D-PA) this morning sent a letter to John Hoover, the U.S. ambassador to Sierra Leone, urging the embassy to push back against the policy.
Sierra Leone officially banned pregnant girls from attending classes or taking exams earlier this year. Teachers and administrators have also been accused of groping girls' breasts and stomachs to "verify" if the girls are pregnant. Some schools have required girls submit to urine tests before sitting for exams, according to a November report from Amnesty International.
"I ask that you press the Sierra Leonean leadership, especially the Minister of Education, Science, and Technology to reverse this policy and that you use Embassy grant opportunities to support girls affected by the ban," Casey wrote in a letter to Hoover.

Education minister Moijueh Kaikai pushed for a ban on pregnant girls in classrooms as early as 2010, according to minutes of a Sierra Leonean cabinet meeting marked "secret" and obtained by BuzzFeed News. His proposal was not made a formal policy until April, just as the country was re-opening schools that had been shuttered by the Ebola crisis.
Kaikai told Amnesty in an interview: "We cannot have pregnant girls sitting alongside normal girls in normal school. This will not send out the right signal at all. It sends the wrong message and it encourages other girls in the class to get pregnant. During the Ebola outbreak children were given clear instructions: do not touch… These girls could not even comply with basic rules and there must be consequences for their actions…"
Casey's letter also urged the U.S. ambassador to ensure that any Ambassador's Special Self-Help Program funds that have gone to building or supporting schools "support organizations and communities that do not discriminate against girls on the basis of pregnancy."
Chernor Bah, a prominent Sierra Leonean activist, welcomed the U.S. scrutiny.
"It continues to pile on the pressure. The thing is [the Sierra Leone government] thinks people don't care enough about this, that they're going to move on to the next issue," he said.
Bah has met with senior Sierra Leonean leaders, including President Ernest Bai Koroma, to discuss the ban. "I honestly think [Koroma] wants to do good. He wants to be seen as progressive; he cares about his image," Bah said. The best outside advocacy would "say, 'This is how it can be done. This is what's done in other countries, and this is how we can support you to do it,'" Bah said.
The ban on pregnant girls pursuing education violates a host of international human rights norms. But in Sierra Leone, that's a losing argument, Bah said.
"The rights argument is not the one that makes sense here. It's not the one that they [the government] want to listen to. They become slightly defensive and...they say 'Oh it's this outside invasion of our culture and our practices and our values,'" Bah said.
"You have to keep in mind, the way they think about these things, if you listen to the way they talk about it, they think it's the girls' fault, and therefore the girl is getting what she deserves. It's a very just system in their head," he said.
Bah has found it much more successful to push pragmatic points, like the cost to Sierra Leone of young mothers who lack education. "I argue, essentially, that this is why we're poor," Bah said. "It's a cycle: These girls who you kick out of school already have a kid, they're much more likely to have more kids, and you're taking away the one thing that they're going to require."
This kind of pragmatic logic was even more influential than international treaties when it came to passing the Safe Abortion Act. The member of parliament who pushed the bill, and health advocates who supported it, argued forcefully that legalizing abortion would save pregnant women's lives; Sierra Leone has one of the highest rates of maternal death in the world.
"[Sierra Leone] has got a proven history of being able to do this, to address challenging issues," said Esther Major, co-author of the Amnesty report. "We know that they can do it. We want to see them move forward, and leave this discriminatory policy behind."
Read Sen. Casey's letter in full here:
Download PDF