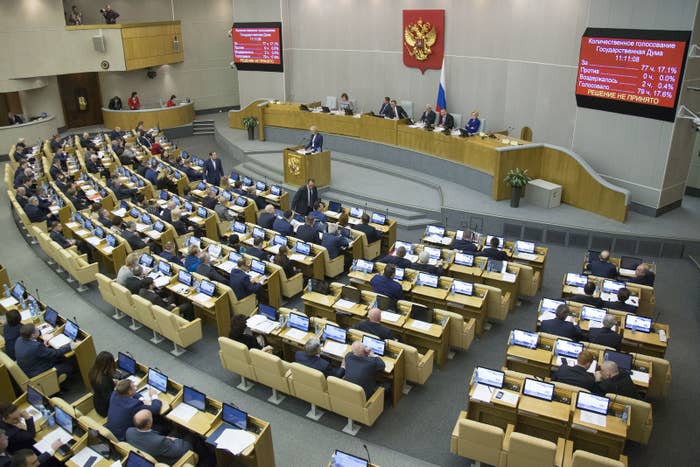 Russia's parliament voted overwhelmingly on Thursday to decriminalize domestic violence.
Only three lawmakers voted against the "decriminalization of battery" bill, which makes "minor" instances of family violence administrative, not criminal, infractions, and punishable with fines, community service, or jail terms of a maximum of 15 days.
It now moves to President Vladimir Putin for signature; Putin is widely expected to sign the bill.
The move essentially leaves domestic violence survivors in Russia without access to the criminal system, including police investigations.
"It was the only law we could use in a situation of domestic violence when it begins," said Mari Datvya, a lawyer who specializes in domestic violence cases. "We do not have any special legislation against domestic violence."

Russian law categorizes criminal assault by its severity. In July, the Russian parliament removed minor beatings, like pub brawls, from the criminal code entirely, making them an administrative offense. But the new legislation explicitly left violence between family members — even minor violence — in the criminal code.
Backers of the bill called that a "mistake" in Thursday's final reading, according to the Russian news site Meduza, and argued that the decriminalization simply completes that process.
The decriminalization bill will also deprive Russian police of the authority to investigate domestic violence cases that don't end in severe injury.
"Nobody understands why they're doing it," Datvya said. "In July, they said domestic violence is wrong and a very dangerous situation. Now they say we need to decriminalize that, too, because they want to protect the family."
"Protection" means walling the family sphere off from state interference, activists say.
"In our culture also we have this idea that if he beats you, he loves you. It means that if you are in the family circle, when somebody loves you, he beats you, and if he beats you, it's your fault," said Alena Popova, a women's rights activist in Moscow. "This is your problem, you should solve it yourself, without any help from our state."
Protecting "traditional values" is a hallmark of Russia's increasingly conservative ruling political party, and of the powerful Russian Orthodox Church. It's also a common theme of Yelena Mizulina, chair of the Parliamentary Committee on Family, Women and Children Affairs, who introduced the decriminalization bill in August.
Mizulina is an aggressive conservative force in Russian politics. She was behind the so-called gay propaganda law, which purported to "protect" children from homosexual influence by banning "the promotion of nontraditional sexual relationships." Last year, she introduced a bill to ban public funding for abortions, but that the bill went nowhere.
"She's said very clearly that battery is not [domestic] violence," Datvya said. "So what is violence? Sometimes victims can't go out for months because of bruises on their face."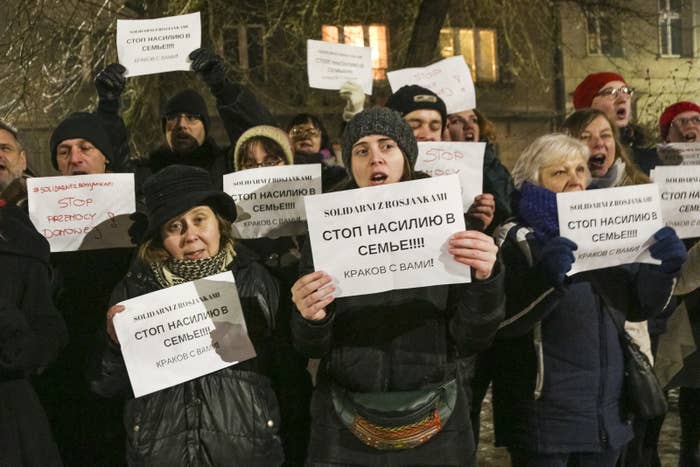 But allegiance to traditional values runs deep in Russia, and supporters of the decriminalization argue the move will help protect parents' rights to educate their children "properly," including with spankings or other forms of "light" violence — the kind of violence that, when committed by strangers, is now just an administrative offense, punishable by a fine or, at most, a two-week jail term.
"Criminalizing [family] violence is a violation of equality as they understand it," said Anita Soboleva, an associate professor of law at the Higher School of Economics, a top university in Moscow. "If a neighbor is trying to beat a child, the punishment should not be less than if his or her parents hit that child."
Only women who are beaten repeatedly in the space of the year will have access to the criminal system, where the penalty is a maximum three-month jail term, according to Meduza.
Women's rights activists say making domestic violence an administrative crime means most women will never bother to report it. Even if they do, their abuser is likely only to get fined — and that fine is partially going to come out the woman's pocket.
"If you pay a fine, it comes from the family budget," said Popova. "And you can just pay the fee and beat again. We know domestic violence is a systematic thing, and if you are beaten again, if you are a victim, you just keep silent."
Russian law allows women to pursue a prosecution privately, gathering evidence themselves and taking a case against their abusers before a family judge. But most abused women can't do that.
"It takes time. It takes funds. Most of the time women continue living with their abusers, so it's very challenging," said Yulia Gorbunova, the Russia researcher for Human Rights Watch. "Even lawyers that I talk to say that 90% of women who are subject to domestic violence never get to that point."
The speaker of the parliament claimed Tuesday that nearly 60% of Russians support the decriminalization move. Soboleva says many of those are likely women.

"The people who are for the decriminalization of beatings and who are against the law on domestic violence are women. They are mothers. These are not actually men who are against the beating," she said. "They think they are more protected in a family where the husband takes care of the family and probably they agree that their husbands can use violence to teach them, I don't know, how to cook. This is a surprise but that's how it's happening. For me this is ridiculous, but for them it's not ridiculous."