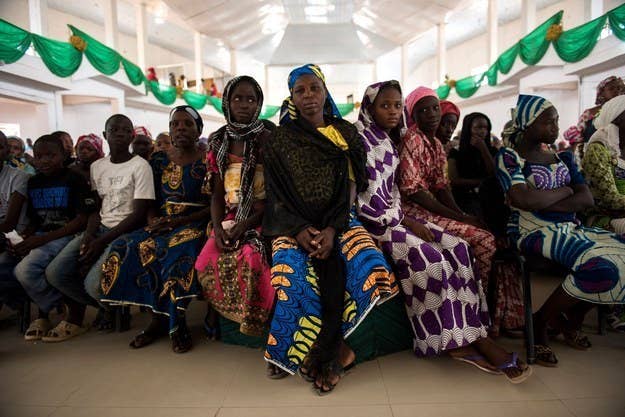 WASHINGTON — A dozen religious leaders called on President Barack Obama on Thursday to make it easier for rape survivors in foreign countries to access safe abortion care.
The Religious Coalition for Reproductive Choice (RCRC) wants "swift executive action" on expanding the Obama Administration's interpretation of the Helms Amendment, which applies to foreign aid. The 1973 regulation prohibits federal funding from paying for abortion "as a method of family planning" or from encouraging anyone to seek an abortion.
"In cases of rape or incest, or when a woman's life is at risk, abortion is clearly not family planning," Rev. Harry Knox, president of the RCRC, said at a press conference Thursday morning.
The amendment has long been interpreted as a ban on U.S. support for any abortion services in programs it funds overseas. The coalition says that interpretation is overly strict.
"We are here today to not only say that this interpretation is wrong; it is morally bankrupt," Knox said. "Obama talked about showing compassion… but he has failed to act with compassion."
Knox's group — which includes Catholics, Muslims, Jews and other Christian denominations — released a resolution it said that it would also deliver to the White House's Council on Women and Girls in a Thursday afternoon meeting. The resolution called abortion a "vital component of the standard of care and compassion" for female rape survivors and labeled safe abortion as a key component of women's health and rights.
At a press conference, the coalition specifically mentioned women and girls kidnapped and raped by Boko Haram, the terrorist group active in northern Nigeria, and ISIS, whose trafficking and rapes of Yazidi women from northern Iraq have been well-documented.
The first results from a Centers for Disease Control (CDC) multi-year global survey on violence against children, published today, offer a quantitative look at the problem of sexual violence. The CDC found that nearly 1 in 4 girls in the eight countries surveyed experienced sexual violence before turning 18.
Approximately 10% of girls in the seven of the survey countries had experienced forced sex, which can but does not always include rape (some countries' definitions of rape are narrower than others).
Five of the seven countries whose results were released today are in sub-Saharan Africa, where rape as a weapon of war has received special attention in recent years.
"Health support for people in Africa comes from America, and it's supposed to be holistic," said Jaqueline Mutere, a Kenyan woman who was raped during the violence that followed that country's 2007 election. Mutere said she tried three times to have a safe abortion following the rape but failed. (Kenya's constitution recognizes the right to safe abortion but access is severely limited in practice, according to the Kenya National Commission on Human Rights.)
Mutere founded a community organization to help survivors of rape, including others raped during election violence. Many of those women have suffered permanent physical injuries from attempting unsafe abortions, she said.
Serra Sippel, executive director of the Center for Health and Gender Equity (CHANGE), said the advocates have not heard from the White House, or from the U.S. Department of State or its development arm, USAID, about the validity of the group's interpretation of the Helms Amendment. Sippel said pro bono lawyers the group consulted supported its looser interpretation of the amendment, and she thinks most Americans would, too.
"Politically there is cover," Sippel said.
A recent BuzzFeed/Ipsos poll found that 82% of Americans support access to abortion with or without some restrictions, including in cases of rape or to save the life of the mother.
A similar domestic rule, known as the Hyde Amendment, was relaxed by a 1993 law that allows women receiving Medicaid support to access abortion in cases of rape or incest.
The coalition also wants restrictions relaxed on supporting abortion for women and girls who've been victims of incest and in cases where a pregnant woman's life is in danger.
"Ultimately we want to see the Helms Amendment repealed, but that would take an act of Congress. We don't need an act of Congress to implement the Helms Amendment correctly. This is something the president can do now," Sippel said.
But the Helms Amendment isn't the only barrier to abortion services. Abortion is essentially illegal in almost one quarter of the countries around the world, according to 2013 data from the Center for Constitutional Rights. Only five of those countries recognize rape as an exception to their abortion ban. Of the 72 countries that restrict abortion access, roughly half allow abortion in cases of rape.