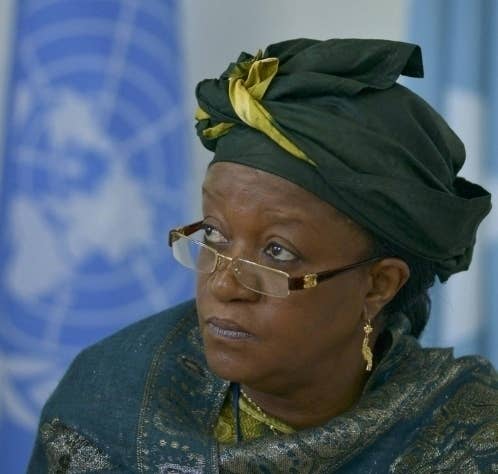 NEW YORK — The United Nations' top adviser on sexual violence in conflict, Zainab Bangura, said Thursday the last few years have seen "a political momentum that is unprecedented" on the issue.
"We're crushing it on the normative front, kind of unexpectedly," agreed Samantha Power, United States ambassador to the United Nations.
The officials spoke on a panel discussion at the United Nations aimed at "elevating the discussion" on the issue, joined by Congolese lawyer and activist Sylvie Maunga Mbanga, Electronics Industry Citizenship Coalition Chair Tim Mohin, and House of Cards star Robin Wright.
Bangura and Power spoke in unusually positive terms about the issue. Bangura catalogued high points of progress, including a U.N. declaration last year that 140 member states have since signed committing to end the use of rape in conflict, a similar declaration last year by the G8, and Democratic Republic of Congo President Joseph Kabila's announcement in October that he would appoint a special adviser on sexual violence for the conflict-destabilized eastern African region.
"I've worked very close with government with the DRC, which we all thought a year or two years ago, that [DRC President] Kabila would not talk about rape," Bangura said. "The foundation laid by various Security Council resolutions gave us the weapon and the opportunity to engage leaders ... I think we've broken the backbone of it."
Mbanga painted a less rosy picture. She said Congo's commitments exist "on the rhetorical level" and argued that there's still a gap between politics and justice. "It's really difficult to engage or fight against some officials who are involved in the rape issue," she said.
Power called on the U.S. State Department to do more procedurally to account for these war crimes.
"Our embassies need to institutionalize ... attention. We're working on that, but it's challenging," Power said. She added that Security Council members need to hold U.N. officials accountable for investigating this aspect of conflict with "questions on this set of issues... almost like a checklist. No special representative should come before the [Security] Council without having to account not only for the extent of abuse but also what's being done about it."
"What we have to do is make sure we know how to address it in the countries in which the crime takes place," Bangura said.
Bangura's comments broached a tension in the human rights and international justice community. Most countries home to war crimes don't have the capabilities to try war criminals domestically; some of those cases have been referred to the International Criminal Court, including two cases involving sexual violence charges. But that court has come under increasing criticism by some leaders and civil society groups in Africa because the court has never investigated a case anywhere but Africa.
Power said she is concerned about that backlash.
"I'm very worried, as I think are many members in U.N., about some of the tensions now between African countries and the ICC because... when you don't have means to prosecute these crimes [domestically], the ICC is a truly useful fall back," she said.
But for others, the political debate eclipses a more complicated reality. Mbanga, the activist and lawyer, pointed out that "Normal Congolese [are] not aware about what is going on in Holland," where the ICC is based.
Bangura emphasized that in spite of this progress, sexual violence continues, and even evolves. She referenced a report she had read alleging that women in Syria were being "stripped naked and ... march[ed] around their villages, watched by everybody, and then after that, they are raped, and they are killed. The crime of nudity is new; we have not been seeing this."