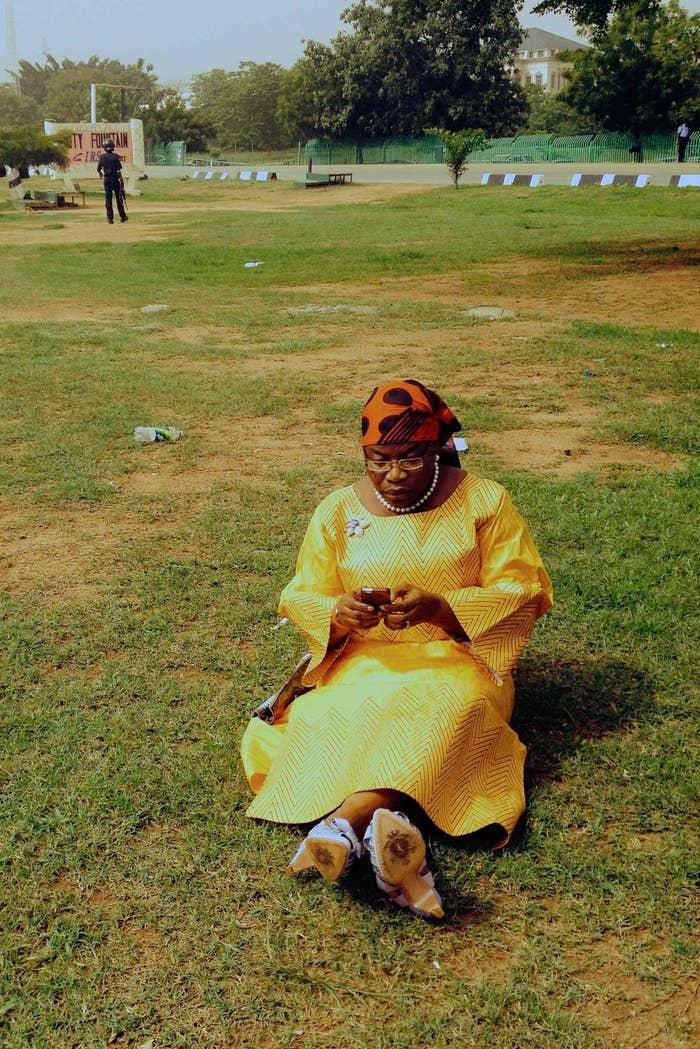 ABUJA, Nigeria — Oby Ezekwesili sat by herself in the grass near Unity Fountain, and this made the Shouting Man angry.
He didn't want her to sit there. He didn't want anyone to sit there.
But there she sat.
The Shouting Man had only a few minutes to scare the others away from joining her, and even though he was surrounded by men with guns – his men with guns – he could see the weapons were useless.
His men — the Shouting Man was said to be in charge of the 30 or so visible members of Nigeria's police force scattered across the lawn, and the 20 or so who'd scuttled offstage — hadn't scared the women when they first came to the grass. They hadn't scared a cameraman who filmed them nearby, even when several officers descended on him. And they hadn't done a thing to reinforce the message, politely delivered by an officer in uniform, that today's gathering would not go on.
It was the 12th day the crowd had gathered. On the first day, April 30, they marched from this patch of grass — in the shadow of the Hilton Hotel, next to the Unity Fountain that bore the names of all of Nigeria's states, across the street from the manicured walkways of Millennium Park — to the National Assembly. They delivered demands for greater action on behalf of the 276 girls still held captive by Boko Haram, the Islamist militant insurgency that had kidnapped more than 300 teenagers from their secondary school dormitory in Chibok, a village in Nigeria's unstable northeast.
That march had inaugurated a movement that spread across Nigeria, and then around the world. The Nigerian government's response had at first been lethargic, but in the wake of the rallies, the government found some momentum. Nigeria's President Goodluck Jonathan stopped insisting that the girls' families hadn't cooperated with authorities, and his wife stopped accusing the mothers and fathers of Chibok of making the story up. Jonathan asked the United States and Great Britain for help; he sent soldiers to man the borders and make sure the girls didn't slip away into neighboring countries.
But someone apparently had had enough of this public discussion. Yesterday, according to one attendee, police blocked a sit-in in Kaduna, in northern Nigeria. Organizers of the Bring Back Our Girls movement in Abuja said they had heard the would-be gatherers had been told to "take the protest to Chibok."
And when the leaders of Bring Back Our Girls arrived at Unity Fountain on Sunday — Mother's Day, and the first day Abuja was freed of the heads of state and other dignitaries who had descended for the World Economic Forum — they found armed officers waiting for them.
At first, the comparatively gentle officer, Amuda S. Aliko, pleaded with the crowd. "Don't take action here, please," he said to them.
But Bashir Yusuf, a leader of the group, was baffled by the request.
"There's no action. We're just going to sit here. We never do any action," he said. "All we do, we sit down. On mats."
The men began to discuss the situation, but then the Shouting Man came.
"What are you doing here!" His voice preceded him, tearing through the heat, sharp with fury. "Please! They are not to!" He was dressed as a civilian, but he was reportedly in charge. And he was not interested in being polite.
Aliko, who was uniformed, tried to steer things more calmly. He spotted Oby Ezekwesili — the movement's most visible leader, and the woman who would soon defy him and all the other officers by sitting, alone, in the grass to begin the daily meeting — and he tried to reason with her.
"Madame, I am sorry, there is not going to be any form of gathering here," Aliko said.
"Since when?" Ezekwesili asked.
Ezekwesili is formidable — the former minister of education, a former vice president of the World Bank, a co-founder of Transparency International — and this was not, in fact, a question.
There was murmuring. Then an officer again tried again to dissuade the crowd.
"I'm not saying there should be violence—" one officer began, but at the mention of the word, everything erupted. Voices shouted over voices.
"You can even use violence!"
"You need to respect the law of the state!"
"What does it—"
"If you know that you are able to walk—"
"My friend—"
And then the Shouting Man thought he had been captured on film by a young man in group.
"Don't video me! Don't video me!" His face roared with anger.
"Cool yourself," some advised him.
But he would not cool himself.
"He doesn't have the right!"
"Do not shout on me!" the young man yelled. But the Shouting Man outshouted him, and so he repeated himself, quietly, declaratively, with deep bass tones that bore underneath the Shouting Man's volume.
"Do. Not. Shout. At. Me. Do. Not. Shout. At Me."
But the shouting continued, and then one officer reached out and shoved the young man's shoulder. He stumbled.
"Don't you touch my son!" Ezekwesili yelled. "Don't do that! Don't do that!"
Sound splintered, and the Shouting Man became shouting men. Angry male voices tripped over each other, screaming about laws and rights and respect and the state, all of them yelling at each other and at no one in particular.
Then Ezekwesili's voice overtook them all.
"I! Am not going anywhere! I can assure you that I, Obiageli Ezekwesili, I am not going anywhere. I will say it again and again. I, Oby Esekwasili, am not going anywhere. This is my democratic right. I! Will not go anywhere. I! Oby Ezekwesili, will not be intimidated. By! the police. My rights! Will not be violated. I don't care who has given you this instruction. I, Oby Ezekwesili, will not be intimidated in my own country. I am not going anywhere!
"I am not going anywhere!" she continued. "This is a democracy. Even in military rule, I protested. I am not going anywhere, gentlemen. I ain't going anywhere. We're not going anywhere. Anyone who wants to go, you can go. But as for Oby Ezekwesili, I ain't going anywhere. I'm not."
No one else did, either.
Ezekwesili was the first to sit, but she was soon joined by a dozen compatriots, then two dozen. They rolled out their mats. They opened their meeting by reciting, as they always do, the second verse of the Nigerian national anthem.
"Oh God of creation/
Direct our noble cause/
Guide our leaders right/
Help our youth the truth to know/
In love and honesty to grow/
And living just and true/
Great lofty heights attain/
To build a nation where peace/
And justice shall reign."
And then they began to chant.
It was a chant they'd raised dozens of times before, when their crowd had numbered over a hundred. But in the days prior, they hadn't mustered with a hundred people the volume their two dozen bodies raised, surrounded by police on Mother's Day.
"What are we asking?"
"Bring back our girls! Now! And alive!"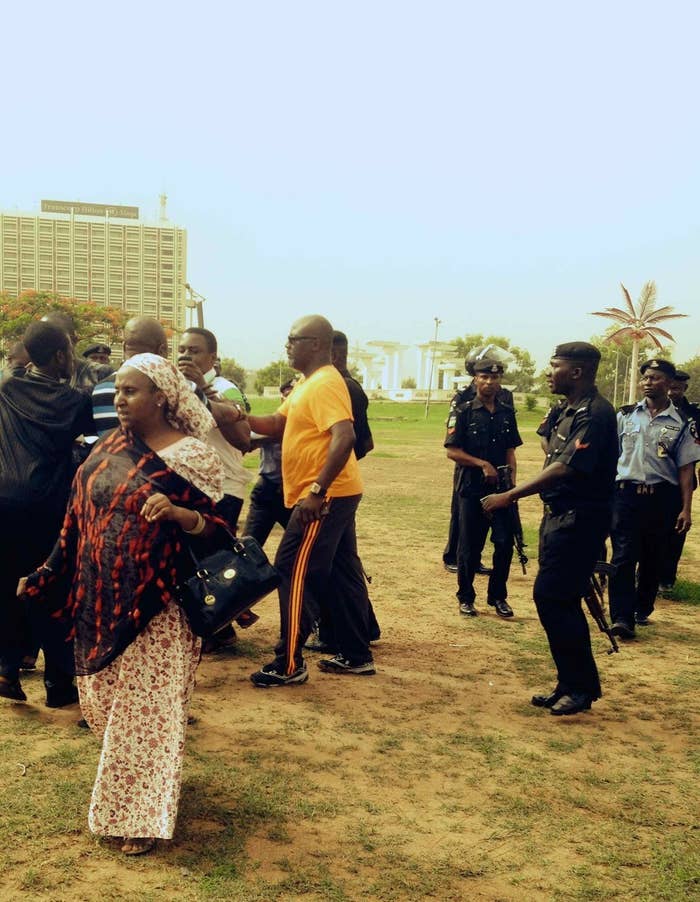 The crowd kept growing, even though the police had anticipated it. The crowd met every day at 3 p.m., so the police assembled early. By 2 p.m., roughly 50 officers listened to instructions in formation in the spot the crowd would meet. Three held scratched plastic shields and batons; the rest wore their usual uniforms. By 2:30 p.m., they'd split, half of the officers remaining on the grass, the other half moving off the site to wait as reinforcements.
By 3:30 p.m., they'd brought in a water cannon. By 4 p.m., they'd called in reinforcements, men wearing navy- and sky-blue fatigues and carrying AK-47s. They ringed the road around the fountain, and they tried to intimidate people into staying away.
But it didn't work. They kept coming.
They kept coming partly because Dino Melaye appointed himself an escort. A tall, muscular man with a shadow that could have eaten up some of the officers, he'd had a reputation, when he served in the House of Representatives, for being fiery. He scanned the edges of the grass for would-be attendants, and he dashed off to walk them across the patchy police line.
But mostly, what brought women and men alike through the police and into the crowd was the simple will to sit.
"Are we carrying guns?" one young woman asked as she ducked an officer walking beside her.
"When we need you people, you were not there. Why aren't you in Borno with your guns?" another hollered.
Pamela Odera is a mother; her daughter is 10. On Sunday, Odera walked through a line of police, head high and eyes straight on the crowd sitting not 10 yards away from her. They hassled her, follower her, tried to keep her away.
She walked straight through them, but by the time she reached the crowd, she broke.
"Are you kidding me?" she asked. Her voice shook, but she wasn't scared. She was disappointed.
"Did they touch you?" Ezekwesili asked. She shook her head; tears reached her cheeks.
"Don't let anybody make you feel weak," Ezekwesili said. "You are not weak. You are strong."
Ironically, the police presence may have had the opposite of its intended effect. It drew out the international media — like the officers, the TV crews multiplied as the afternoon wore on. It was the first sit-in in days to attract such a level of press attention.
The police presence also drew out new additions to the sit-in.
Fidelis Mbah had ditched plans to join the rally in favor of "a crucial football match" but when he saw the tweets coming from the crowd, he put on fresh white robes and went out to add to their numbers.
"When I saw the posts about water cannons, I thought, 'Let me come, so they don't intimidate the few,'" he said.
But when one of the newcomers said he wanted to speak out against police intimidation, Ezekwesili interrupted him.
"Where were you when I was standing before a gun?" she said. "I don't want someone like you to say we were intimidated. You were late. We got here when the police were here, and we stood our ground."