"Nobody's Ambition Is Worth The Blood Of Any Nigerian"
President Goodluck Jonathan conceded his re-election bid Tuesday in Nigeria's first ever peaceful democratic transition of power.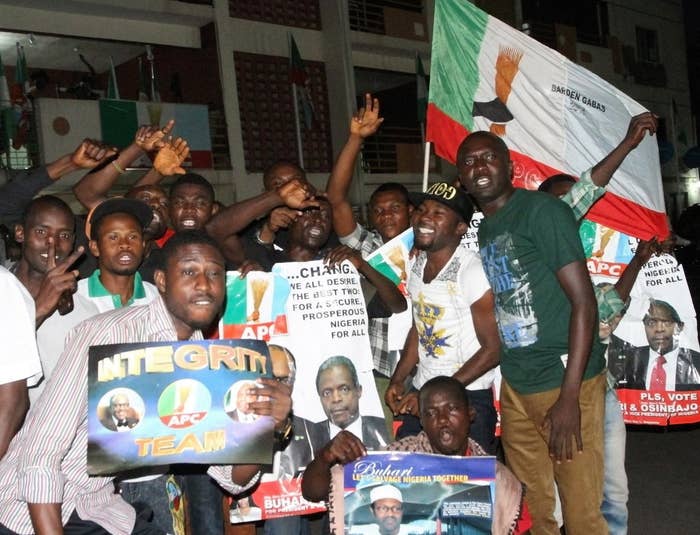 ABUJA, Nigeria — Nigerian President Goodluck Jonathan lost his re-election bid on Tuesday, making history when he conceded the race with a phone call to challenger General Muhammadu Buhari at 5:15 p.m.
"I promised the country free and fair elections," Jonathan said in a concession speech that ran early Wednesday morning.
He urged disgruntled supporters to express grievances through legal means, and he congratulated Nigerians for their participation in the vote.
"As I've always affirmed, nobody's ambition is worth the blood of any Nigerian," Jonathan said. "Unity, stability, and progress of our dear country is more important than anything else."
Buhari also spoke in the early morning, calling Jonathan a man who "led this nation to democracy" and formally accepting his win.
"In a more profound way, it is you, Nigerians, that have won," Buhari said. "The people have shown their love for our nation and their belief in our democracy."
Supporters had earlier streamed to his headquarters, dancing, singing party anthems, and waving the symbol of his campaign, the grass broom, in the air. The grounds were cleared at around 2 a.m., before Buhari's arrival.
Buhari held a crowded press conference on Wednesday afternoon and pledged a corrupt-free democratic rule and a more globally engaged Nigeria.
"Nigeria will become a more forceful and constructive player in the global fight against terrorism," Buhari said.
He seemed to speak directly to the marginalized population in northern Nigeria, a region beset by attacks from Islamic fundamentalist group Boko Haram and where he enjoyed overwhelming support in the March 28 election.
"None shall be so above the law that they are not subject to its dictates, and none shall be so below it that they are not availed of its protection," he said. "You shall be able to go to bed knowing that you are safe."
He also promised a deeper democratic transformation, engaging Nigerians who voted against him "or who did not vote at all" and redefining the relationship of the political party to the presidency.
"There shall be no ruling party again. APC will be your governing party," Buhari said, using the acronym for his All Progressives Congress.
Saturday's vote was largely peaceful, but as the count dragged on there were concerns that it might be manipulated. The U.S. and U.K. governments on Monday issued a joint statement warning against that. And Santiago Fisas, who heads the European Union election monitoring here, put it even more bluntly on Monday: "We are watching."
There were also concerns that Jonathan might not accept a loss easily and that his supporters might not remain calm.
Neither concern was realized.
The voting process was not problem-free, however. Nigeria debuted a biometric "card reader" meant to verify voter identity and reduce fraud. Many observers credit the card readers with increasing the transparency and integrity of this year's election, but the machines also had a rocky start. Jonathan himself had to try four readers before his identify and voter registration was verified.
Approximately 11% of Nigeria's polling units experienced the same problem, according to the Transition Monitoring Group (TMG), a Nigerian civil society organization that ran a "parallel vote" verification with a team of 4,000 observers and dozens of data crunchers.
TMG's process essentially functions as a check on the official results. The group confirmed the Buhari win, although TMG's estimates gave it a slightly wider margin than the official results.
The group also said in a press release that its numbers "strongly suggest" that turnout figures for the four states of the six-state South South region, a Jonathan stronghold, "was inflated during collation," the name for the vote-counting process here.
Buhari's political party made an official complaint about tampering in one state in that region. The elections commission investigated but declined to take action.
"Elections all over the world are not perfect and we do not believe that the allegations are substantial enough to cancel the results," said Attahiru Jega, the chair of the Independent National Electoral Commission.
TMG estimates that voter turnout was inflated in five South South states by nearly 11%.
Nigeria's national elections chair officially declared Buhari the winner just before 4 a.m. local time.
Buhari and Jonathan ran tough campaigns, and the election was considered too close to call by most observers until Tuesday afternoon, when the possibility of a Jonathan win fizzled.
But the particulars of the campaign's contenders or the party politics at play dissolved as Nigerians focused on a moment bigger than a single man, or a single election.
"It's about the president in Nigeria, yes, but we are really beginning now to think about what actually happened," said 'Tunji Lardner, a member of a 60-organization civil society coalition that monitored the vote. "It's something big. It's a big deal.
"The kind of trauma we've seen here, most other countries would have disintegrated. There is a particular value that makes Nigeria Nigeria. It's the freest collection of black people in the world.
"Elections are just part of it. There is a benevolent conspiracy toward a grand end, a benevolent conspiracy of people who kept quiet and went to the polls, people who came out and voted. The end [of the conspiracy] is a grand democracy ... the sense of ourselves as a truly great people with the potential to create a truly world-class country, and all the grand idealism of democracy enacted to the letter. To. The. Letter."
Updated with comments from Buhari's first press conference as Nigeria's president-elect.