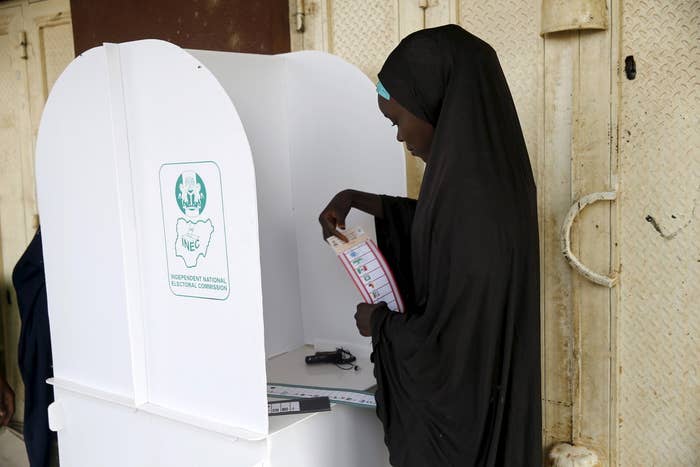 Nigerians went to the polls in droves on Saturday to vote for a president. Many were nervous in the days leading up to the election: The last time there was a presidential vote, 800 people died. But by many accounts, the fear didn't last long.
"That fear that was there, it disappeared," Emmanuel Olisaeloka Osemeka, the national coordinator of the Social Welfare Network Initiative, told BuzzFeed News.
Osemeka personally visited 30 polling stations yesterday, and members of his network visited two dozen more.
"The enthusiasm, the level of participation, and the excitement — for me, it was good."
Millions of voters turned out, waiting patiently under the sun for hours to have their identities verified. Then they waited several more hours to vote.
But many Nigerians (and some non-Nigerians) felt the idea that there might be large-scale violence seemed to dominate some coverage of the election.
They had a point.
Headline writers also really seemed to like to declare Nigeria's election "marred," though it was difficult to hear a Nigerian (speaking apolitically) use the word.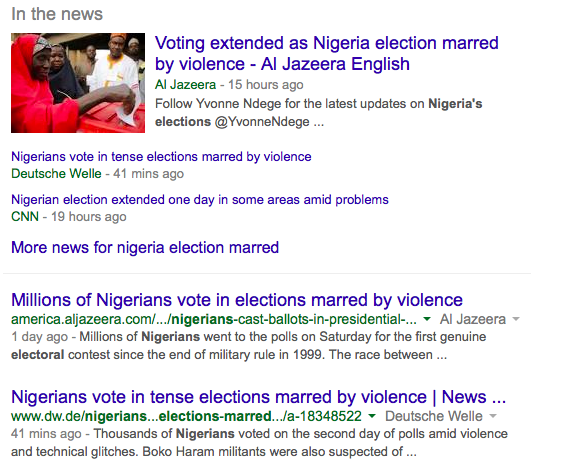 What actually happened is far less dramatic. "I thought Nigerians were exceptional," Dr. Chidi Odinkalu, chair of the National Human Rights Commission of Nigeria, told BuzzFeed News on Sunday.
No matter what else there was to say, the violence seemed to lead the story.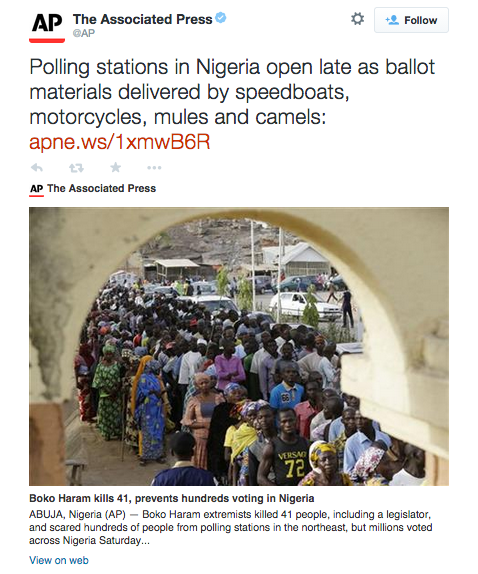 It definitely wasn't perfect.
"There were some pockets of violence," Yemisi Ransome-Kuti, a member of the Women's Situation Room, which monitors election and post-election incidents affecting women, told BuzzFeed News.
A coalition of 60 civil society organizations had recorded only 99 confirmed incidents of violence by Sunday mid-day. More updated numbers weren't available Sunday evening.
But the story of the day was much more mundane.
"Obviously things have happened," Odinkalu said, confirming attacks "by suspected Boko Haram elements" that killed more than 30 people in two states in the north. "It was within the boundaries of what we can address and contain. We'd like to keep it that way.
"But the bigger story is really what Nigerians did yesterday. The spirit they showed. The heroes and heroes of this are Nigerians — not politicians, ordinary Nigerians."
He also said Saturday's poll defied the kinds of divisions that usually creep into conversations about Nigeria. "People like to talk about the Muslim north and the Christian south," he said. "But yesterday, an old Christian woman was serving a pregnant Muslim girl in hijab. And an old Muslim woman was serving a young Christian girl food [as they waited to vote].
"People were bringing mats and chairs, sitting and chatting together. And they never met before. ... That's the Nigeria I grew up in."
There were some other problems.
Mostly with the card readers, a technology election officials used to verify people's voter registration documents.
Complaints about broken machines dominated conversations on Twitter and the news, and some polling stations faced delays so long that the Independent Electoral Commission (INEC) had to extend voting into Sunday.
Two Nigerians who work as journalists for Al Jazeera were restrained by Nigerian authorities in the north. The Nigerian military said they didn't have proper clearance or accreditation to report in restive areas in the northeast, where the militant group Boko Haram has been terrorizing villages. But local media reported that the two had accreditation from the INEC.
But even those problems weren't widespread.
INEC's top official told local Channels TV on Saturday night that only 450 of the country's 150,000 card readers had problems. INEC did not release a list of the places where the problem was serious enough to push voting into Sunday, but an independent poll monitor estimated that voting continued in only 4% of the country.
As the vote wound down on Sunday, concern about the coming hours remained high. Human rights advocate Ayodele Ameen said the overall death toll had gone up to 50, and he was focusing narrowly on Rivers State, where he said there seemed to be a flare-up.
There was also concern about unconfirmed reports of violence circulating on social media.
"Honestly, we're not home yet. Voting is important, but the most dangerous period is after the results [are announced]," Odinkalu said.
In the last presidential vote here, when Goodluck Jonathan first faced off against Muhammadu Buhari, voting was also reportedly peaceful — but after Jonathan was announced the winner, riots erupted, and more than 800 people died.
However, civil society election observers felt more optimistic about this year's vote.
"One of the the key things that will help curtail or even knock off any kind of violence is the level of transparency that took place," Osemeka, of the Social Welfare Network Initiative, said. "Once people see the process was transparent to a very large extent, that impression that, 'Oh, we've been cheated,' will be negated.
"The messaging around violence has changed. The analysis ... on violence has changed. Therefore, we've done better mapping the presdisposing conditions and weaknesses, and there's better [government] resource management and deployment for that purpose."
Tunji Lardner, executive director of the West African NGO Network, said these elections, the first truly competitive presidential race in Nigeria's history, give him hope.
"The incumbent's traditional advantage, given in all African politics, has not been as strong as expected," he said. "That means our democratic context is evolving."
Lardner isn't downplaying how high-stakes this moment is. "There's a cliché about Nigeria being at the cliff's edge, at a crossroads," he said. "This time it's a tipping point."
However, he pointed to the fact that Nigeria had already managed to get through so much throughout its recent past. "If this were any other place, it would have been already the end of a country as we know it," he said.
Above all, in Abuja at least, there seemed to be optimism. "When people seek to divide us, I like to remember those people who came together yesterday," Odinkalu said. "I feel awesomely proud to be Nigerian."