Nigerians Drive Home For This Weekend's Vote — If They Can Find Fuel
Fuel shortages aren't uncommon in Africa's biggest economy. Then again, driving isn't often an act of democracy.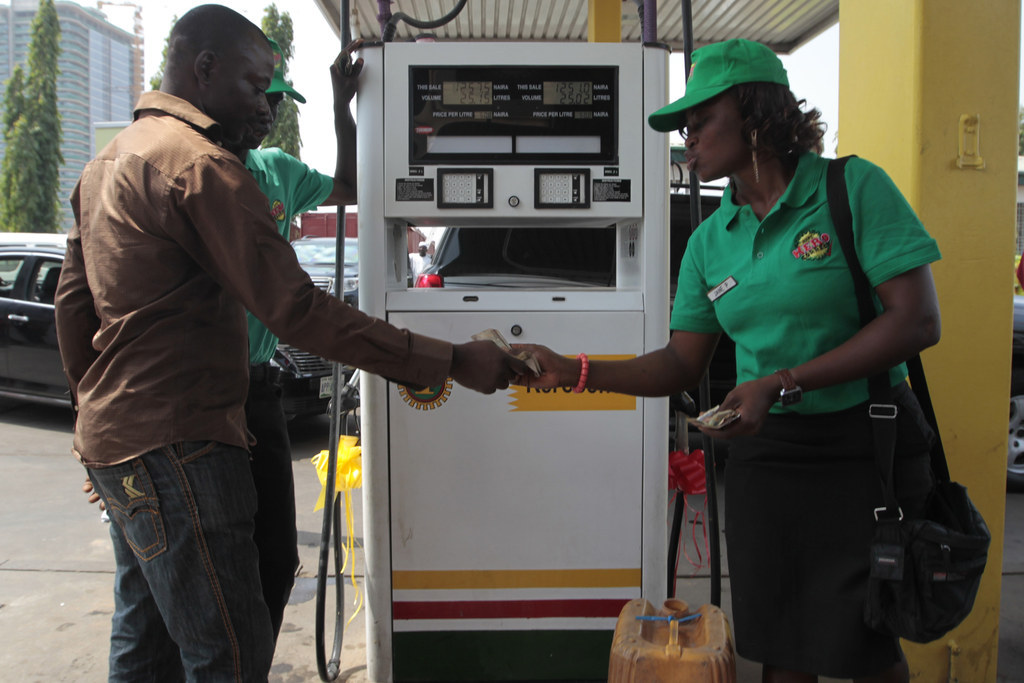 ABUJA, Nigeria — In the heart of the capital, at a Total station across the street from the Nigerian National Petroleum Council, Matthias Obanashe waits in line for fuel. Again.
"I waited here four hours yesterday," he said, the engine of his cab idling as he held his place in the line of nearly 20 cars queued for a fill up. He's not a man who likes to be idle, literally or metaphorically, but he doesn't have a choice. "This is my business. I don't have any other thing to do."
For a taxi man like Obanashe, time lost waiting in line is money lost collecting fares. But unlike past fuel shortages — and they aren't unknown, even in a country known as Africa's oil giant — this shortage has a twist.
Saturday is Nigeria's presidential election, and because of the way voting registration works here, most people who live and work in Abuja have to travel home to vote. Driving, this week, is a an act of democracy
The journey home can be long, but the wait for gas can be longer. On Tuesday, a man from Kaduna, about two hours from Abuja, told BuzzFeed News he waited four hours to fill his tank for the journey.
The shortage started in January and is largely the result of shifting fuel prices. But in this season of the ballot, most drivers seemed willing to blame the elections, which were postponed by the government from mid-February to the end of March — even if those drivers weren't entirely certain how a presidential poll might reduce supply at the pump.
For Bidimi Abdullah, the connection is that everyone, inside or outside politics, needs a piece of the pie.
"It has to do with the elections," he insisted as he also waited across from the national petroleum board. Gas stations like Total "have not been paid, and this is their chance to get something."
Charles Nyonelu, who waited at a gas station in an affluent district of Abuja called Asokoro, sees elections as a time everyone grips what they have more tightly. "I think it's maybe the elections," he said. "They will want to hold on to it. But really, I don't know why."
The why is, indeed, a bit in the weeds. Oil prices have tumbled globally in the last eight months, and Nigerians had been waiting to see savings at the pump. The Nigerian government regulates the price of fuel both at the pump and at the country's ports. In late January, just two weeks before the originally schedule presidential election, President Goodluck Jonathan dropped the pump price 10 naira.
That pushed the Petroleum Products Pricing Regulatory Agency to drop the price at the port, known as the depot price, but only by about 3 naira. A PPRA official said a government subsidy would make up the difference, but government subsidies don't have a history of arriving on time, and gas stations don't seem inclined to trust them.
Meanwhile, the two official price points are squeezing the companies that actually sell the fuel to consumers at the government-mandated price. They, in turn, may be squeezing the supply — although accusations about who, precisely, is to blame are many and contradictory. The subsidy scheme itself is also less than transparent, and money seems to leak by the gallon from the Nigerian National Petroleum Commission: Last year, the head of the country's central bank said $20 billion had gone missing from the Commission's books.
So David, who hawks petrol from a jerry can at a premium, isn't wrong when he says, "It's not our fault."
David is one of a half-dozen men roaming the road near an Asokoro petrol station, hoping that busy motorists won't mind paying double the price for a liter of fuel. And he's one of the cheaper black market sellers. Most guys are selling a ten-liter jerry can for 2500 naira, or $12.50 — a 300% markup on the government-regulated price. They sell night and day, shaking hoses at drivers along the roads near petrol stations, or from the median of Abuja's expressways.
"If the fuel were there, there would be no need," David said. "I would not be here, selling to you. We can't see people in the street selling if there is no one there who wants to buy."
Some drivers, like the taxi man Obanashe, can't afford the black market fuel. "The customers don't want to add money [to the standard taxi fare] because they say, 'We can see the fuel price!'" he said. "They don't care [that] the time we would normally be doing business, we are waiting in line."
Others, like Gody Osamedu, won't buy it out of principle. "These guys want to make a profit in collaboration with the [petrol station]," he surmised. Fuel pumpers "can make a lot more profits if they attend to them than customers."
The fuel buy seemed to reach a fever pitch around 5 p.m. Lines at two fuel stations in Abuja were two lanes and 100 cars thick, and lines at several more were dozens long — the last fuel-ups before an election-day travel ban takes effect, and everyone has to be where they need to vote.
From then on, the only thing longer than a fuel line, one taxi driver observed dryly, would be a military checkpoint.